Reaction to the latest twist in Liverpool's pursuit of the Premier League title and where it leaves them in the race with Manchester City…
THERE are times when I wonder if I take all this too seriously.
I'll look around at the non-obsessed whose weekends and midweeks are football free and wonder if their lives are simpler and more fulfilled than mine.
And there are times when I consider the opposite. Am I doing enough to aid The Reds' cause? Maybe if I shouted a little louder Trent Alexander-Arnold could hear me and it would spur him on a tiny percent more.
But ultimately the support and nervous energy we give means nothing. We can't affect a thing, individually. We're lone voices in the wind and have no effect on the ball and its destination. My own personal confidence or jitters add nothing to the bigger picture.
I'm lucky. l get to watch these lads in the flesh most weeks. I can add to the buoyant atmosphere or flatten it further if the crowd becomes quiet and jaded, but in the grand scheme of things it's only the tiniest fraction of the whole.
I get a bit like this, a bit philosophical, when The Reds come up short. I start to wonder if there's anything else I could be doing to help out more. All I could do on Saturday was look to the skies and raise an eyebrow at someone else's deity. Maybe that's what brought the equaliser.
It didn't lead to much satisfaction. Saturday felt like a defeat. It was different elsewhere. The away end's reaction to the final whistle looked like a cup final win, though in truth the point they earned was as useless as ours. That's if it is useless. We don't know yet.
Expectations are different for every club. An away draw is usually fine. I've often cheered and celebrated a draw when we're on the road but that was for lesser Liverpool sides. Not for this one. A draw is no longer fine. As John Gibbons tweeted on Saturday: "You should be able to draw a game in May, shouldn't you? Daft this league." He's right too but here we are.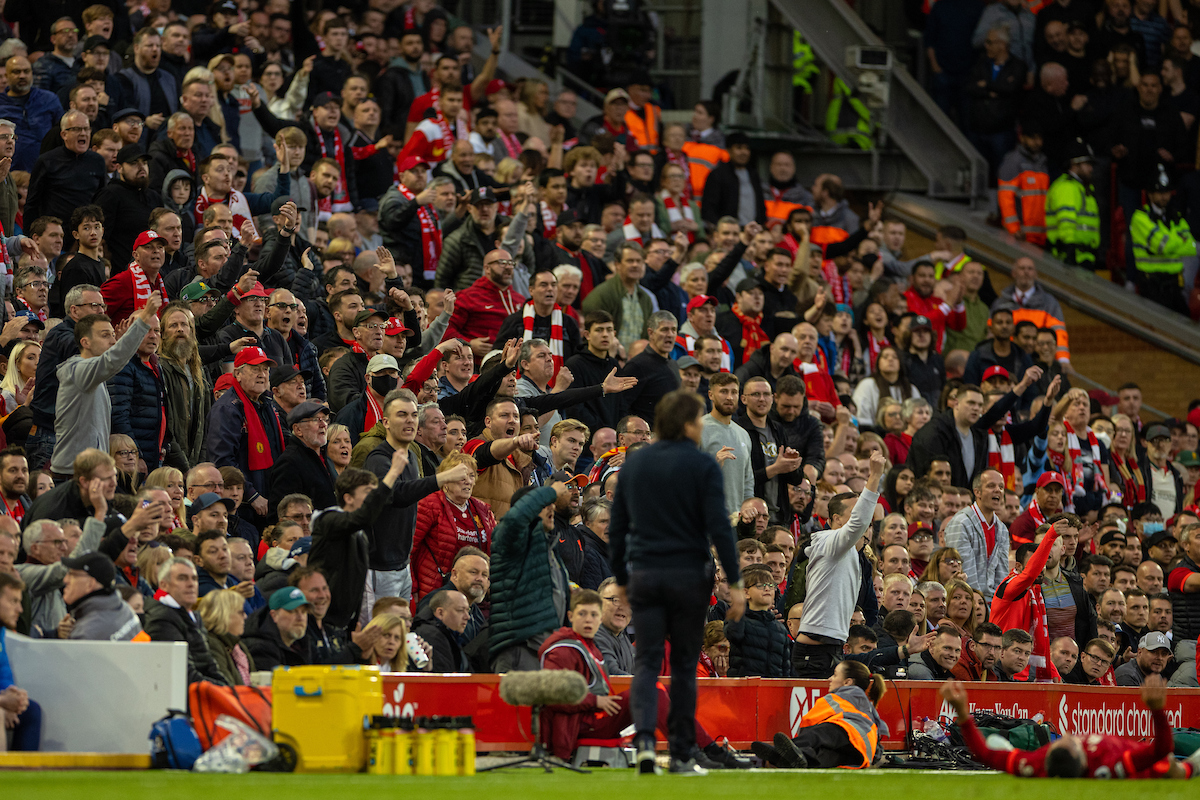 Expectation means a draw is a spoiled Saturday night in some quarters and bliss elsewhere, possibly everywhere. I get that. Winning means the joy of a trophy lift and the schadenfreude of your rivals failing. It's like a double hit.
And that benchmark is a good thing. You should never drop your standards. They give you a waterline as to where you should be and I can't stand it when that's lowered.
For example, I can never get on with points bargaining. You know? The argument that 'five points out of the next three games is fine'. That might sound perfectly reasonable in some worlds but I'm not here for that. Nine points should be the target and I love, love, love that Liverpool are on that page. It's what I've waited 30 years for, but it can also bite you on the arse.
There are no draws now. They're just defeats with a patronising point attached, though it could be a vital patronising point.
It wasn't a defeat and The Reds are still great, but it stung. We've not been used to that. The melancholia we felt leaving the ground was a natural reaction but it doesn't mean it's over. Tricky, but not over.
Those who have regularly read this column will no doubt be bored with the weekly mantra of 'no runners' — that is, the credo that you never run away when The Reds are in danger of failure or hampered by jeopardy.
Anyone with a social media account might remember the attitude to Jurgen Klopp's lineup in Munich in 2019. There was all the Jordan Henderson and none of the Fabinho in the middle of the park and there were hundreds of 'well, let's wave goodbye to the Champions League' posts before a ball had been kicked.
That's the attitude I can't abide. That sense of doom before the million vagaries of the game have played out. It's the same category as those who left the ground with a few minutes to go on Saturday. You don't bail. No war has been won by waving a white flag.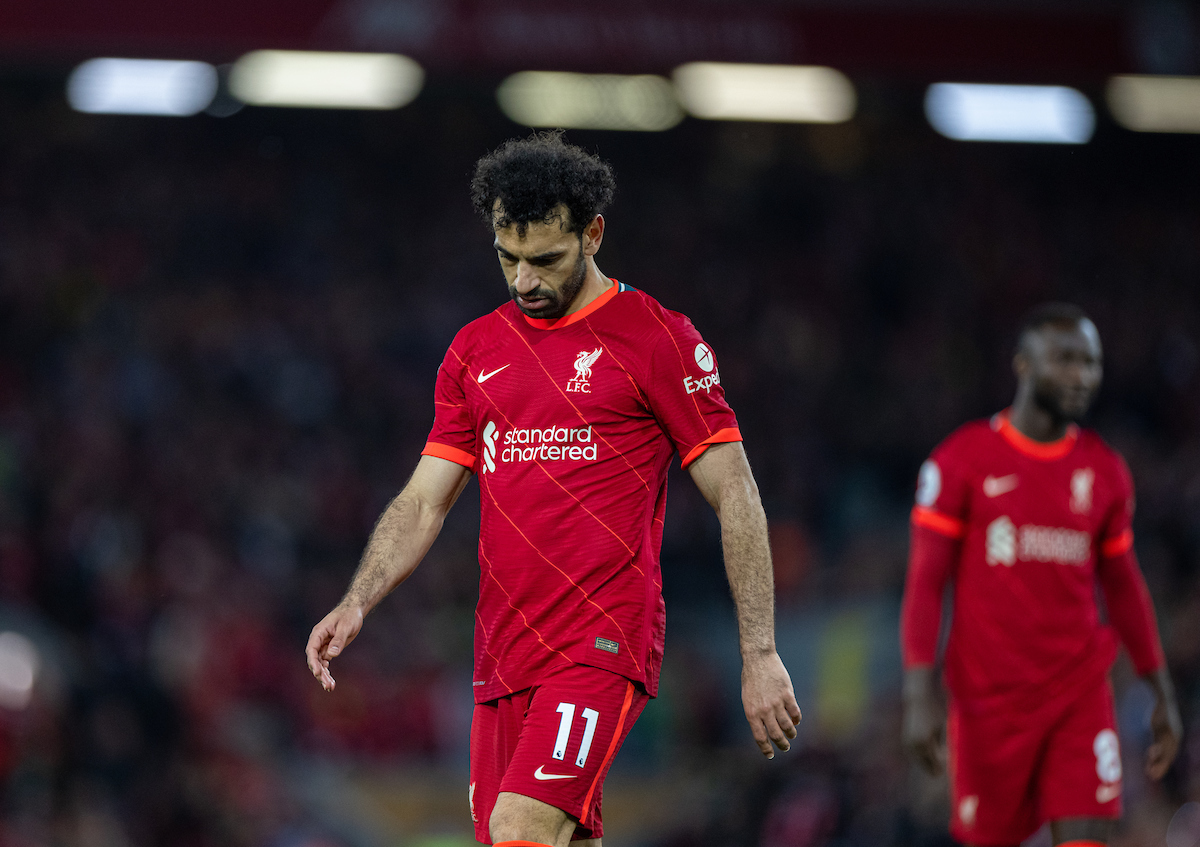 Of course, I'm going to double down on that despite the disappointing draw/defeat, but it'd be disingenuous to pretend that I wasn't deflated when Michael Oliver blew the final whistle. It affected me more than it should. It made me wonder if I care too much. Or not enough. I'm not sure yet.
But you can't throw in the towel because the outlook has gotten a bit rougher. More than that, you can't give in when this incredible team has given everything for the first 95 per cent of the season. They're standing up every week and we should join them.
We could win four trophies or we could just win the League Cup. This could just be 2012 but with a better league position. If it's the latter — and I don't think it will be — it will never detract from where we are and how far we've come since then. If they ended the season now it would still be one of my favourites ever. It'll still be spoken of as a landmark campaign.
Drawn then but not down and, though I can't see Wolves, West Ham and Villa getting so much as a corner in City's last three games (and it seems that Jurgen thinks the same), we have to chase them down in case the extraordinary happens. I can't plan for any other outcome than Liverpool finishing the season with 92 points. I don't want a weakened side for Villa. This isn't over until City get 93.
If they do that then fair enough. At least we pushed them all the way and never gave Guardiola a minute's peace. He has the most expensively assembled squad in history and he's still looking over his shoulder.
But all that is three games away and no one's won a thing yet. Funny things happen to teams when they're close. I hope it happens to them and I expect us to be ready if it does.
Until then I'll be like the rest of you. Dreaming of last-minute deflections at the Etihad and holding a place in my heart for David Moyes and I never thought I'd ever write that sentence.
Maybe I do take this thing too seriously, after all.
---
"It's harder, but I definitely don't think the league is over."

"We're more likely to win the league than Madrid were to qualify on 90 the other night…"

🎥 Post Match Pint: Liverpool 1 Tottenham 1

1️⃣ Download our app
2️⃣ Enjoy FREE tokens
3️⃣ Watch

👉 https://t.co/yTcwWTZN7t👈 pic.twitter.com/kuy195l1WL

— The Anfield Wrap (@TheAnfieldWrap) May 8, 2022
Recent Posts: