Reliving the roller coaster of emotions experienced by Liverpool fans inside Anfield on the final day of the Premier League season…
I THINK that might be the strangest game I've ever seen.
At one point we were drawing, but sort of winning as City were losing, but we were actually losing because we weren't winning. Then, by the time we were winning we were losing because City were winning. Then we won but lost and everyone else who didn't win the league either won because we didn't win, even though we won but we didn't, and nor did they. Simple really.
Then the opposition fans celebrated when they lost their lead because someone they have no affinity with won the league and the team who had just beaten them ultimately lost, and they all went home with 10th place and another defeat under their belts. A great day out.
Well, we didn't win the league. Another one gone for the sake of a solitary point. Disappointed, obviously, but I wouldn't have missed yesterday for the world. Give me days and drama like that rather than the sluggish beige of mid table.
Despite the 'realistic' and optimistic statements before the game we knew the odds were stacked against us. Ultimately though, it didn't matter what we did as it was all about what happened 30 miles away and they were never going to lose there.
But they were losing. Twice. And suddenly it was all about Anfield again. I didn't expect that.
Then there were rumours and counter-rumours of 3-3 (god knows how anyone got a signal in the ground, I had a permanent white screen for much of it) and it got weirder still. Pockets of fans would start celebrating then go eerily quiet.
The 14th Wolves player went down injured because it was his turn, they sang the national anthem (ooh, sooo edgy) and we all wondered if we'd ever get home given how much injury time there should have been.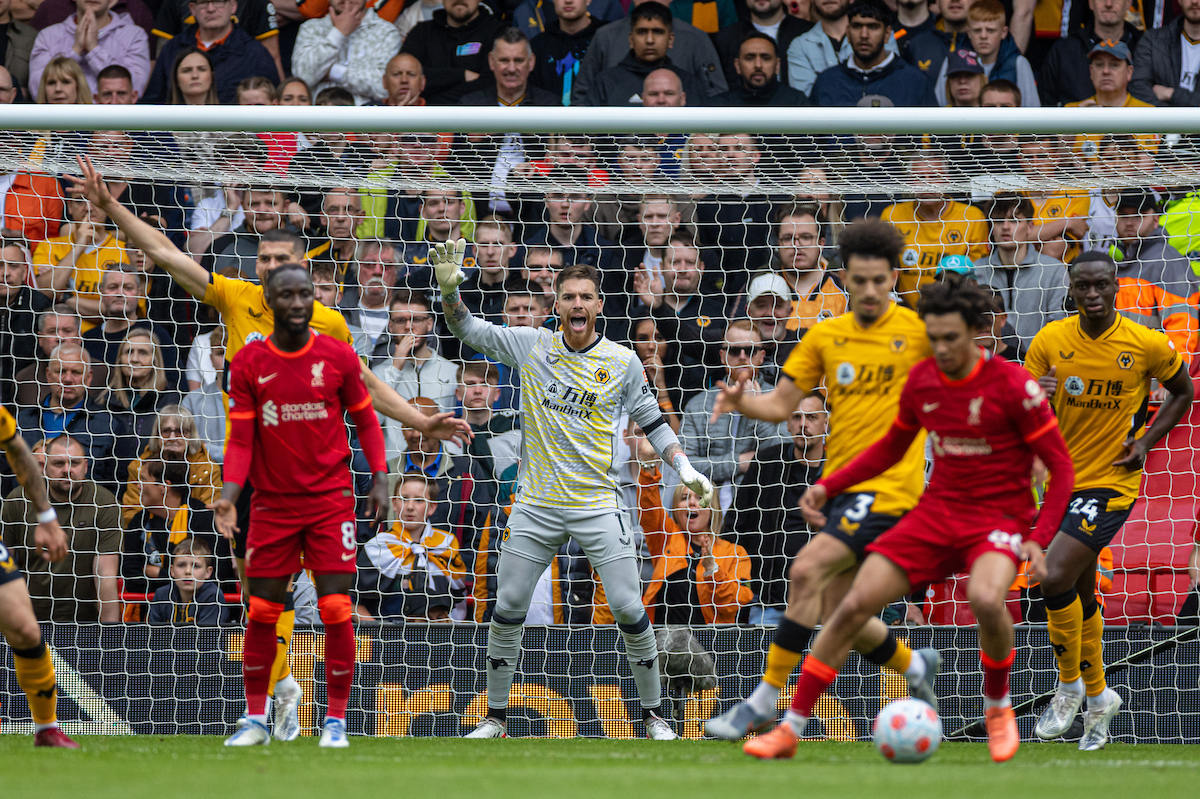 Then there was the odd relationship with time. I was pleased we had so long to take the lead when it was 1-1 but, at the same time, I wanted it to be different at the Etihad. Pleased with 20 left on our clock but less impressed that City had the same. An absolutely mad day out.
I was tempted just to write about what was going through my head at half time but it would only come out as some sort of fever dream. Like Red in the Shawshank Redemption, I couldn't hold a thought in my head.
If you're going to lose the league, that's the way to do it. With every conceivable emotion coursing through your veins until someone says it's all over and to go through the wringer knowing how close we came. Sod all those 'Battle for Top four' scenarios. This is why we're here — to be petrified and buzzing at the same time with the big trophies in touching distance. To be alive.
Schadenfreude is part of football and I get that but can we make this clear? Liverpool didn't blow this league. We dropped six points from 57 in 2022. That's 16 wins and three draws. How that can constitute throwing it away is beyond me. It wasn't as if it was always in our hands. Even yesterday we failed to top the table. We ran City all the way though. No one else did that.
Speaking of them, it was interesting to hear Ilkay Gundogan's comments after the game. He paid us a special tribute when he said that it was our abilities and mentality that made them go the extra yards. In any other decade City would have hoovered up the league months ago, but Liverpool won't let them rest. We're always there, tapping on their backs when they should be streets ahead.
Maybe he has a particular insight because he worked with Klopp, but it was nice to see a bit of respect flying between the two camps.
Oh, don't get me wrong. I'm with you when it comes to their dodgy handball at Goodison and dubious financial proceedings, but it's great to see these two teams duking it out and refusing to lie down. They're both relentless and come the end it looked like the last round of a Rocky film but the effort on show, both mental and physical, was frightening.
There have been many rivalries in the past: Manchester United and Arsenal, Manchester United and Chelsea etc. But I think this is the first one where everyone else has been battered by both teams and everything comes down to a single point. The way this is going, we'll end up playing them in next year's League Cup, FA Cup and European Cup finals with a play off for the league to boot. This is a real two-team domination.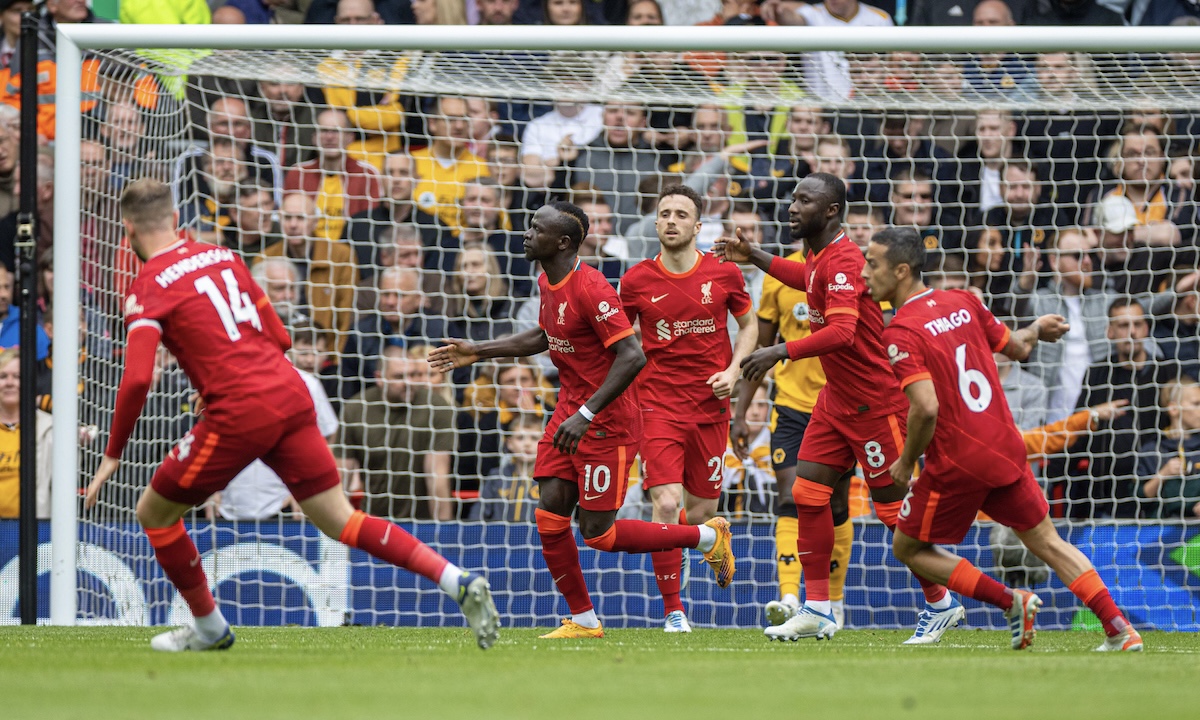 That's a shame in some ways. I like it when someone makes a dash to upset the big boys, but they'd have to be going some way to break up this duopoly. In 1997, Man Utd won the league with 75 points so you'd think there should have been a challenger somewhere there. That only gets us to game 32 these days.
That's not to criticise United back then. We were neck and neck with them for much of that season only to blow up in the final furlong. We ended up with 68 points. We would have got fourth place this season with that, thanks to a single goal. Up the 1997 Reds!
This league has been reinvented by the two of us, on the pitch at least.
There's no shame in falling short yesterday. Reaching 68 points is shameful now and that gets you into the Champions League. The game has been elevated to Holmes and Moriarty levels while every other club looks on and hopes we lose. I can live with that, given what we have. I can live with that all day.
A week to recover then before the big one. Time to recharge the batteries and think about what might be.
Give me the disappointment of yesterday if we can still be in every competition forever. Never give me beige and shrugs of indifference.
This place is alive.
---
"Im excited for the league next season as I've seen how this side has developed. We finished in such a stronger position than how we started, so it's really encouraging."

🎥 The Bacon Butty

1️⃣ Download our App
2️⃣ Enjoy FREE tokens
3️⃣ Watch in full

📱👉https://t.co/yTcwWTZN7t👈 pic.twitter.com/Ab89VuQm3O

— The Anfield Wrap (@TheAnfieldWrap) May 23, 2022
Recent Posts: