Match preview ahead of Chelsea v Liverpool in the FA Cup final at Wembley Stadium, reliving the journey that got us to this point…
HERE we are again. History beckons.
Liverpool are at least 90 minutes away from their second trophy of the season, and they don't come much bigger in this country than the FA Cup final.
But how did we get right here? HARRIET PRIOR and JOSH SEXTON relive it all…
LIVERPOOL 4 SHREWSBURY 1 — THIRD ROUND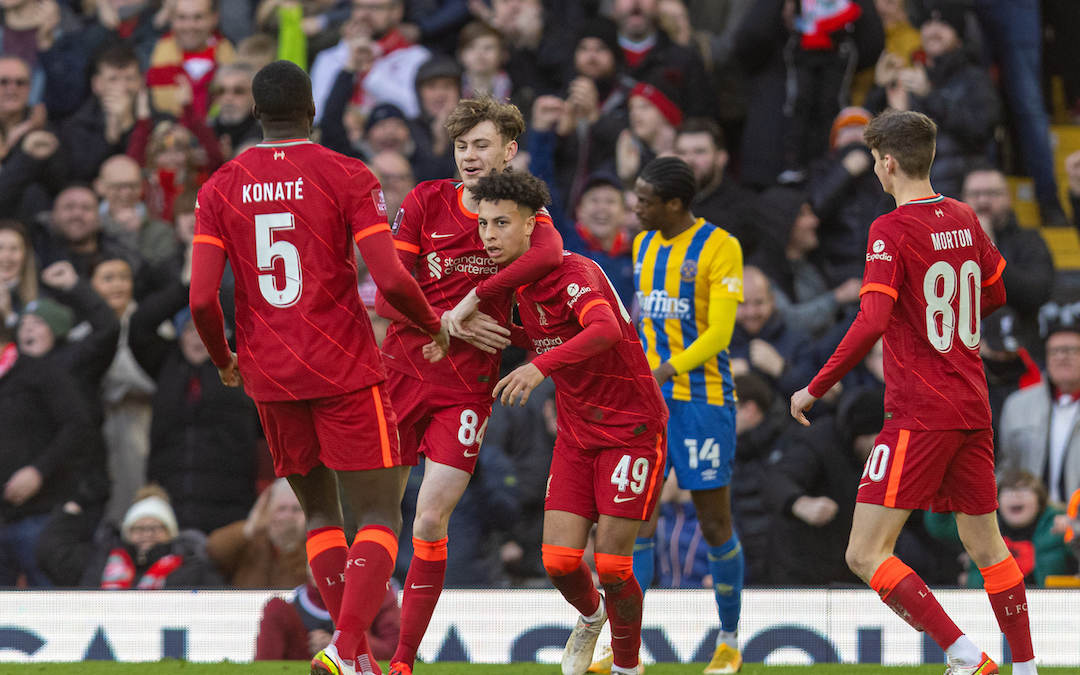 Harriet: With 27 minutes gone Daniel Udoh scores for Shrewsbury at Anfield. In that very moment you start back peddling and trying to convince yourself that none of this matters. Except you know that's a lie, because in the words of Mo Salah, with this time "winning should always be the only option."
Josh: With hindsight you can say it was nice that Udoh got to create a moment he'll never forget for the rest of his playing days. But at the time the jeopardy was too much to handle. Could we not just do this the easy way for once, Reds?
Harriet: And then a player who was barely even born the last time Liverpool won the FA Cup decides it is time to make himself known. Kaide Gordon scores the opener, becoming the youngest Liverpool player to score in the FA Cup, and from there the team sparks into action.
Josh: Speaking of moments to never be forgotten, what a way for Gordon to mark his home debut. We all dream of scoring in front of The Kop, and the 17-year-old got to do so with a belter.
Harriet: A brace from our unexpected and prolific January goalscorer Fabinho and a back heel from Firmino seals the deal, and any early FA Cup nerves begin to settle.
LIVERPOOL 3 CARDIFF 1 — FOURTH ROUND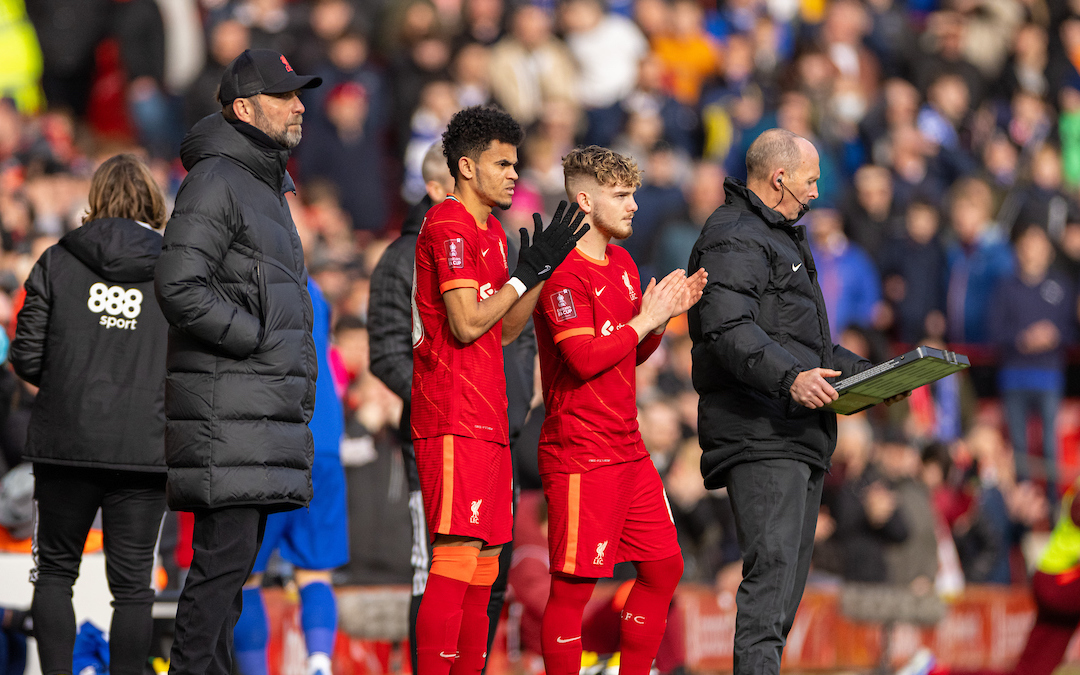 Harriet: Finding the perfect mixture of experience and youth has been key to cup success this season, and this was the game that epitomised it. Caoimhin Kelleher in goal behind Virgil Van Dijk, Curtis Jones alongside Jordan Henderson in the middle of the park, and a sensational first goal for Harvey Elliott on his return from injury.
Josh: As substitutions go, I've never seen a reaction quite like the one that saw Elliott and newboy Luis Diaz introduced at the same time. One a return of a promising youngster and the other the start of a promising career.
Harriet: Diaz was the real star of the show on his debut. Making an assist just 11 minutes into his Liverpool career, we could instantly see what a player we had on our hands. He left us in awe and continues to do so every time we have the honour of watching him play.
Josh: And the best part is he just keeps getting better and better…
LIVERPOOL 2 NORWICH CITY 1 — FIFTH ROUND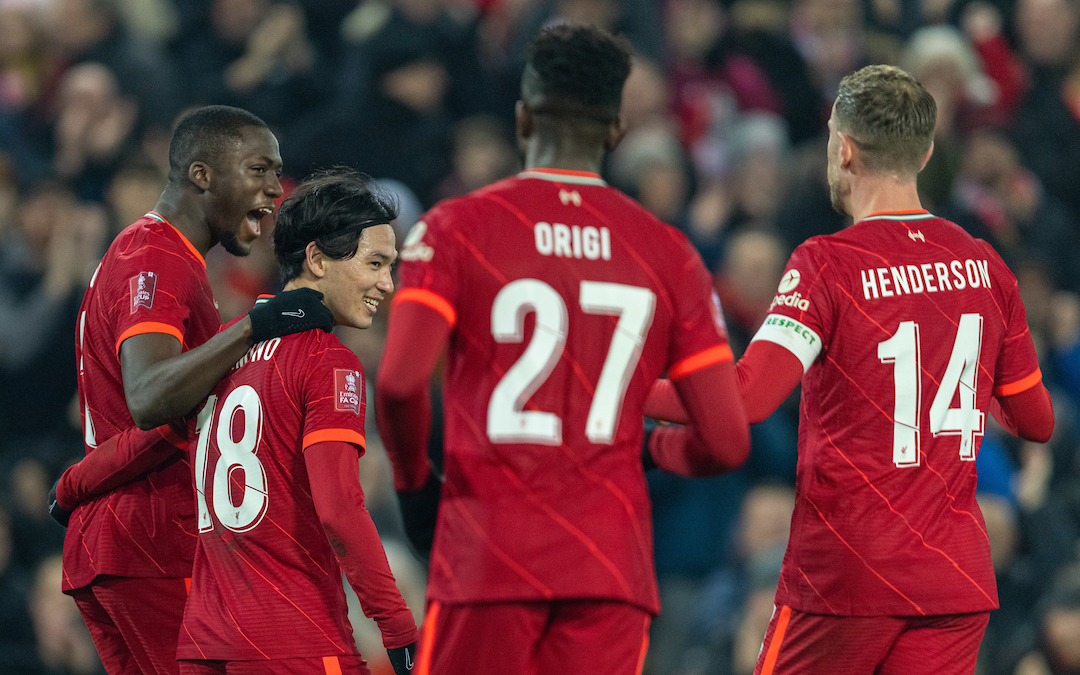 Harriet: Days earlier we'd won our first piece of silverware of the season and it's safe to say we all had real cup fever heading into this game. A return to Wembley was just two wins away, and we all wanted to be back there.
Josh: It was funny to hear Jurgen Klopp speak of his surprise at the sense of occasion that was created around the League Cup final. I think it caught us all off guard to some extent, but it's fair to say we'd all caught the bug.
Harriet: Ten changes were made to the starting lineup, and Norwich showed a lot of character on the day, but let's face it: cup games are Takumi Minamino's world and we're all living in it. His two first-half goals ensured we were through to the first FA Cup quarter-final in Klopp's reign, with a trip to Nottingham Forest on the horizon.
Josh: When we look back over this season, Minamino's contributions will feel like a mere footnote. But it's easy to forget just how crucial his goals have been to the success we've seen so far. What a finisher, what a fella.
NOTTINGHAM FOREST 0 LIVERPOOL 1 — QUARTER FINAL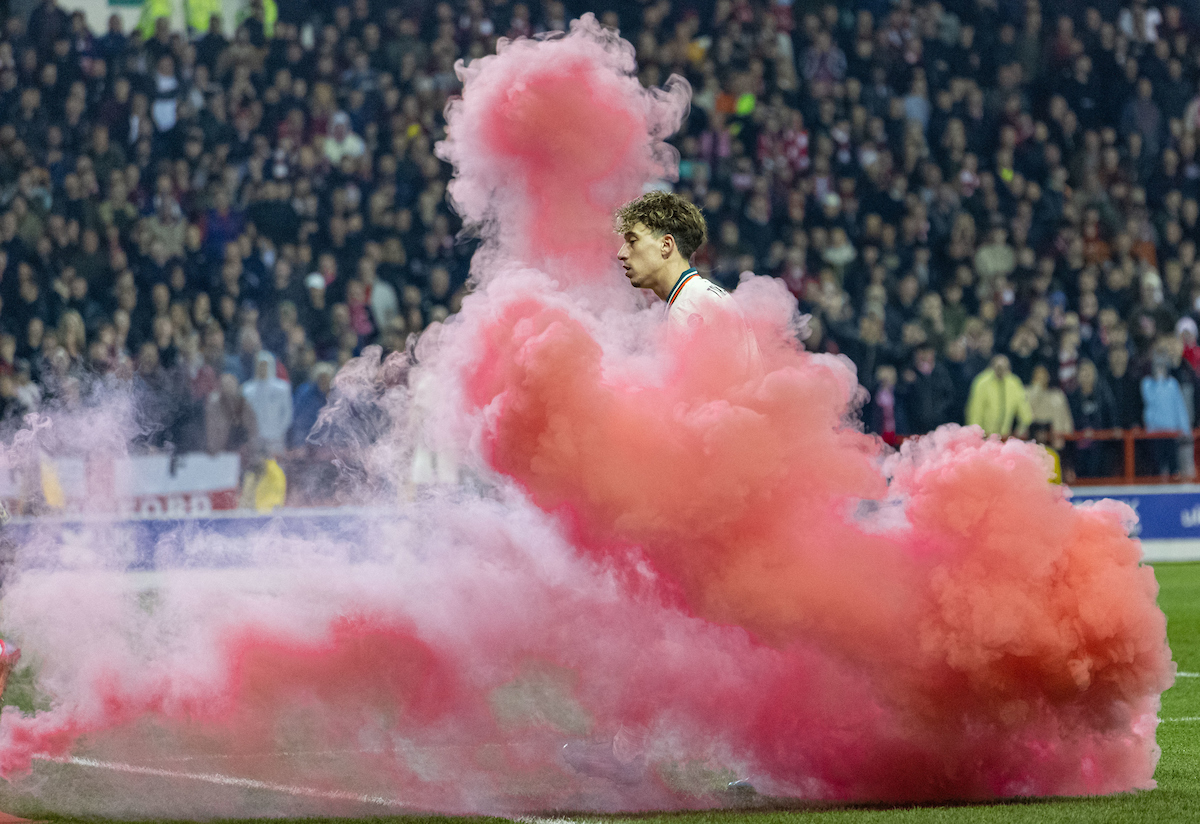 Harriet: There's something I hate about playing teams that have absolutely nothing to lose, and this game showed me exactly why. It was 90 minutes of pure graft and much harder to watch than it should have been, but there was an air of inevitability that Liverpool would get the job done in the end.
Josh: Nottingham Forest brought all the expected hallmarks of a 'sleeping giant' getting their chance back on the big stage. They fought tooth and nail, and The Reds had to rise to that and respond accordingly.
Harriet: Diogo Jota made sure of that as he broke the deadlock on 78 minutes and sighs of relief were heard across Liverpool. The slightest of touches catapulted us through to the semi finals of the FA Cup, and with no trains running all weekend, the tricky task of planning a route to the capital began…
MANCHESTER CITY 2 LIVERPOOL 3 — SEMI FINAL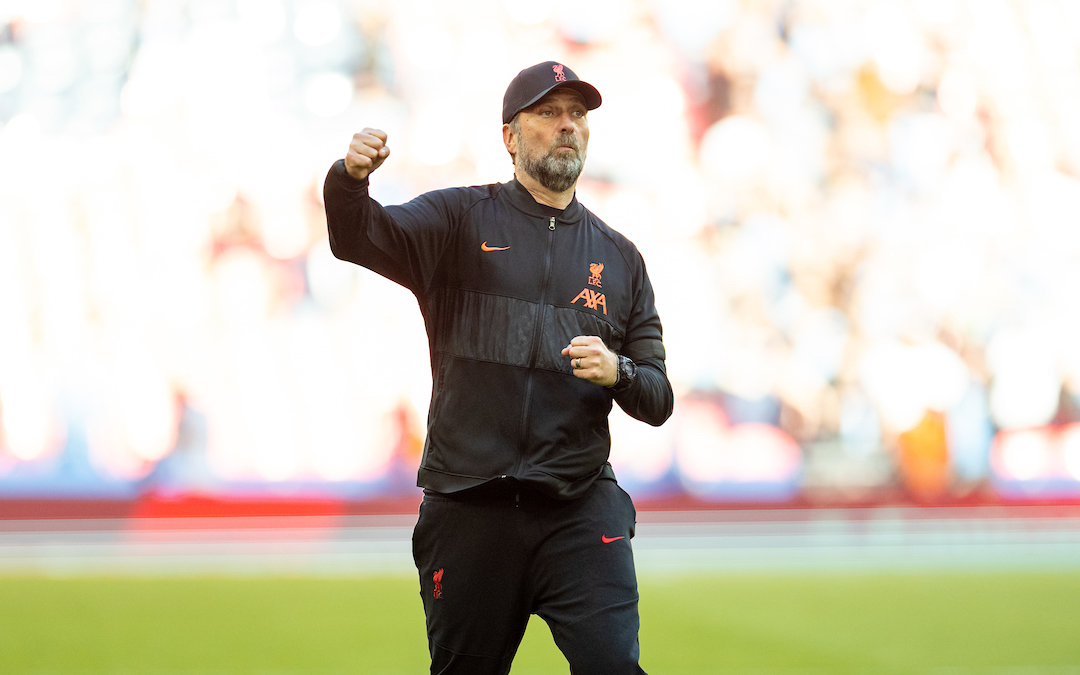 Harriet: I'm emphatically not a morning person, but how can you be in a bad mood when making your way to watch your team in a semi final? After a trip on the TAW bus we were in the ground, and I can't describe how quickly Wembley transformed into what felt like a home game at Anfield.
Josh: That excitement was palpable as we arrived at the ground. There was a real sense of anticipation from every Red we came across, which was only right given the combination of the opposition and the occasion.
Harriet: The atmosphere was electric, and my god so were the footballers. Ibrahima Konate carving out space for himself and firing a header into the top left corner kicked things off. Sadio Mane dispossessing the goalkeeper and making it 2-0 left us in dreamland. And a beautifully worked second Mane goal sealed the deal.
Josh: Those half-time celebrations will live with all of us forever. Grown adults dancing on the concourse as we all celebrated a first half beyond our wildest dreams.
Harriet: After a nervy start and end to the second half, Liverpool were on their way to the second final of the season.
Josh: As if it was ever in doubt…
CHELSEA v LIVERPOOL — FINAL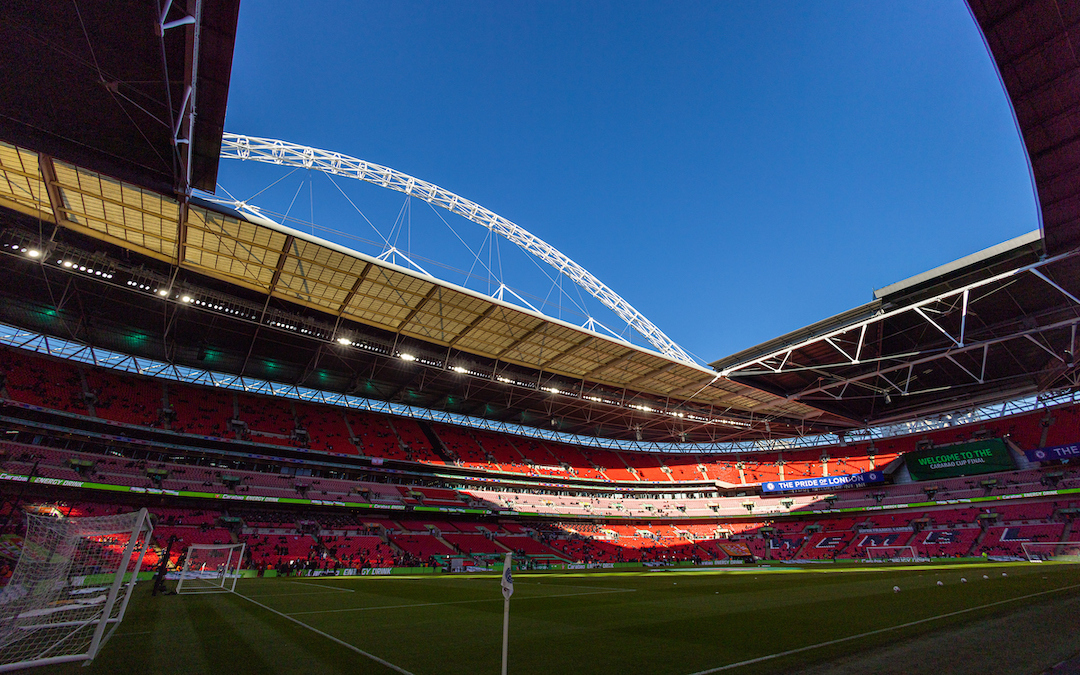 Harriet: A lot has happened in a decade. Probably too much, if we're being honest. But for the first time since 2012, Liverpool are in an FA Cup final and have the chance to put themselves in the history books once again.
Josh: Klopp spoke of not counting trophies in a row, but it feels like the FA Cup would be another marker of just how good this team is and just how good this season has been following them.
Harriet: I missed the League Cup final back in February, but my first Wembley final watching the best team of footballers in my lifetime is more than enough consolation.
Josh: I'm lucky enough to be watching The Reds for a third time at Wembley this season. Here's hoping for the same result.
Harriet: Let's turn Wembley into Anfield once more, and bring the cup back up the M6.
Josh: Bring home the double, Liverpool.
Predicted 11: Alisson; Trent, Matip, Van Dijk, Robertson; Keita, Henderson, Thiago; Salah, Mane, Diaz
---
"I think it will be a tough game and they'll have spells where they're right in it, but the psychology factor will be massive. We've been there and done it already this season."

🎥The Preview Show

1️⃣ Download our app
2️⃣ Enjoy FREE tokens
3️⃣ Watch

📱👉https://t.co/yTcwWTZN7t👈 pic.twitter.com/6e4d4CioMi

— The Anfield Wrap (@TheAnfieldWrap) May 12, 2022
Recent Posts: