Liverpool won't have too many complaints after another win over Everton, but there will be some more Merseyside derby disappointment…
HAS he taken the goal-kick yet?
The 240th Merseyside derby might not have been the perfect advertisement for the game but, cup finals aside, it probably had the most riding on it. Liverpool fighting to be a point off the leaders in a fascinating and tense title race and Everton doing all they can to be in the 241st and 242nd next season. It was strange to see how they went about it.
Firstly, as unpleasant as it was, Everton's tactics were perfectly valid. Their aim was to frustrate, disrupt and hope for a deflection or myopic referee. If we were playing someone streets ahead of us in terms of quality and desire and we just needed to get a 0-0 at 80 minutes for a chance then I'd be fine with it. You can say it isn't in the spirit of the game, but there's nothing in the rules to say you can't play that way.
Luckily, it's not easy to do. Mourinho was the master at it but his protégé didn't have the legs to complete the game that way and was soon seen off by a double substitution. Come the end all he had was the impression that his side fought well and were unlucky not to have a penalty. Interesting.
It took Pickford just under two-and-a-half minutes to 'take time out of the game'. The Blues defended well but I'm still not sure what the plan was other than to outrun the centre backs with a through ball.
True, it would have been unwise to go at The Reds in a gung-ho fashion and leave gaps all over the place, but their strategy for a win was delicate to say the least. A point would still have seen them in the bottom three. You have to have the ball to score and you need to score to win. He seemed to have forgotten that.
As for the pen, it was one of those which you shout for but raise your eyebrows if it's awarded. Both men were clawing at each other and Joel Matip seemed more pissed off than Gordon when they tussled. I'm not sure. Dejan Lovren might want a word about Calvert-Lewin at this point but apparently 'you don't get them here'.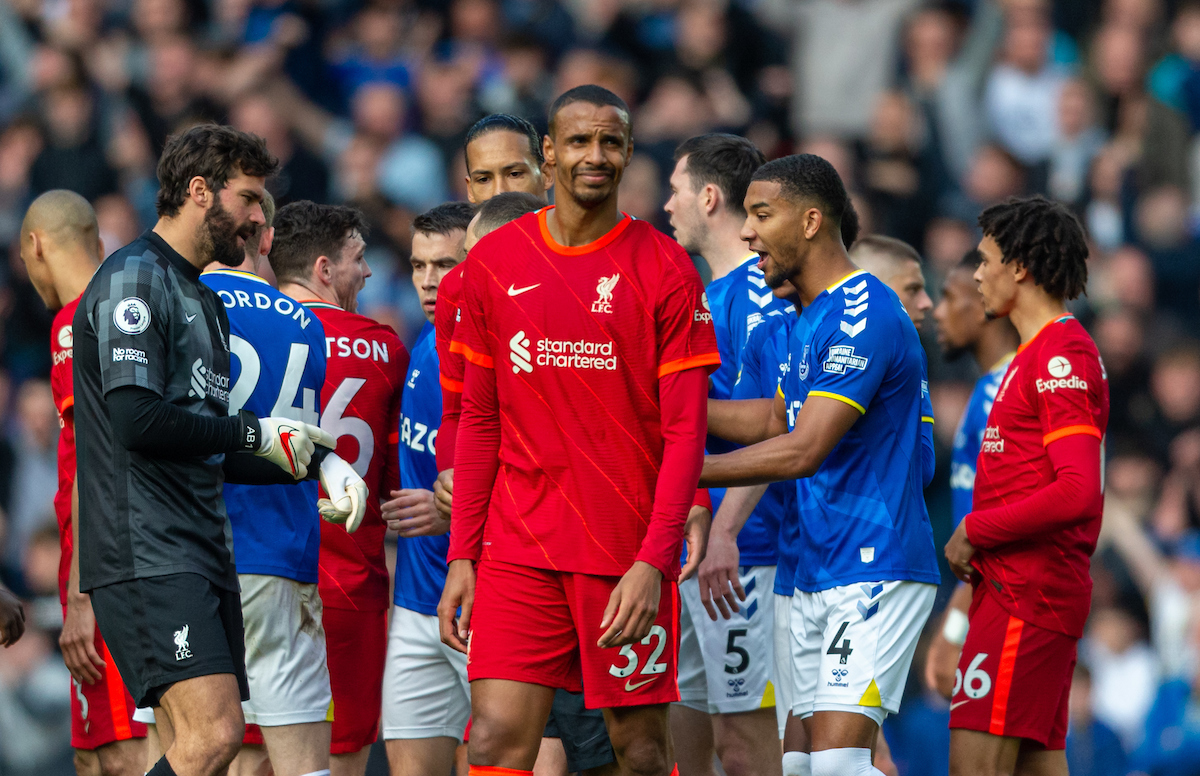 That said, if he doesn't dive (so badly) in the first half there's every chance he gets it.
In any case, Everton's top-flight status is under intense review and Reds seem to be at odds with their destiny. Some would celebrate their relegation; others are saddened by it. This might be a generational thing.
I'd miss the derby if they went down. I really would. The Goodison game is my favourite of the season. I love the walk across the park after a few in the pubs around Anfield and I love the atmosphere from that rank yet somehow attractive wooden stand.
(Never been a fan of plastic stadia and their cinema levels of comfort. You can order food from your seats in some places. I can't stand that. A match is a confrontational sporting occasion, not a drive-in movie.)
I'll go further and I'll take the brickbats for this. My dad was a Blue. Not a rabid one particularly, though he liked to rub a rare Everton win in my face, but he liked that we won stuff too. That side of the family are all Blue but all reasonable people who sing the name of their club rather than defaming ours. It would be a loss to not hear from them before our games.
Then there's the Everton amusement factor. Of watching them go from 'the Merseyside Billionaires' to 'we wasted £500m'. The entertainment of their delusions would lessen if they were looking at home games v Rotherham. We could no longer gain anything from that. It reminds me of comedian and Celtic fan Kevin Bridges discussing the Old Firm rivalry as being a two-horse race but 'we lost a horse'.
These views lightly dusted my feelings before the game rather than dominated them. I want Liverpool to win regardless of who we're playing. If I had to enter a Faustian pact where Liverpool win the League and Everton stay up then I'd expect a mosaic of me in the Gwladys St end next season.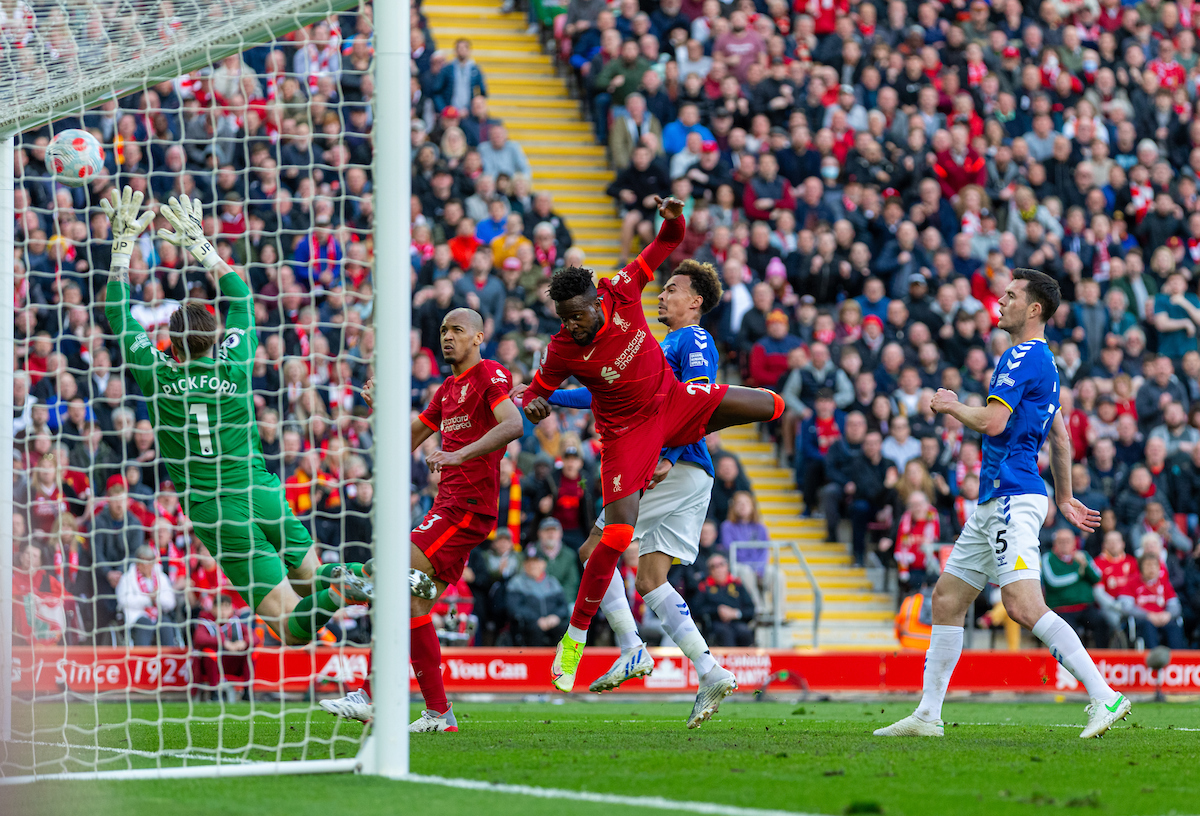 I think they stay up anyway so I wasn't fully invested in their precarious position.
Then the game started.
Doucoure on Fabinho, Pickford's wink to the dugout, Richarlison spending more time on the grass than fertiliser when he wasn't putting his foot through Jordan Henderson's knee, Anthony Gordon — a good player if he stops arsing around — and Lampard's protestations about everything despite being more than culpable for their alarming form. My mind had changed in 20 minutes.
Would I miss The Blues? Yeah, I think I would, but I wouldn't miss the 'always the victims' stuff. Is it bollocks about Heysel and Heysel alone. 'Always'. That's atrocious from people in the same city, particularly after the support we had from them in 1989. Absolutely shameful and if there's one fewer set of fans singing that 'ooh, no, we didn't mean that' shite at Anfield next season then fine.
It's particularly baffling as I've never heard of anyone claiming that we were the victims of Heysel. Victims of the Hillsborough disaster? Absolutely.
Stop kidding yourselves. Just a generation ago you were great when the club and its people needed it. Every airing of that song diminishes the memory of how we all came together. If you want to deny it and continue to sing it then I hope it lands on the ears of Wycombe Wanderers fans next season rather than ours. We'll see you in the cups.
Meanwhile The Reds go on and on. Manchester City showed no sign of pressure at the weekend (thanks Roy) and if they do take the league by a point then fair enough. That's the benchmark these days. You need a near perfect campaign to get past them.
Villarreal won't be easy but isn't it great to be here? These are the days.
---
"You can keep your 4-1s, you can keep your 5-2s, derbies are meant to be horrible but what a performance from the reds!"

🎙 Post Match Podcast

1️⃣ Download our app
2️⃣ Enjoy FREE tokens
3️⃣ Access our post match content

📱👉https://t.co/yTcwWTZN7t👈📱 pic.twitter.com/6XpN0bGD5l

— The Anfield Wrap (@TheAnfieldWrap) April 24, 2022
Recent Posts: