It wasn't pretty at times as Liverpool had to take their punches and ride it out, but The Reds showed they can match Manchester City again…
I WANTED a rope-a-dope game. It started as mostly dope. The bad sort.
The rope-a-dope expression comes from Muhammed Ali's fight with George Foreman in 1974. Knowing Foreman was a heavier, stronger and younger man, Ali adopted the strategy of taking body shots until the bigger man punched himself out to the point of exhaustion. Then he turned the tables and battered him in the eighth round.
Liverpool started the same way but didn't read that script. We languished on the ropes unable to get out of harm's way. The trouble was we forgot about the bit where we come back to win. Manchester City were too good, The Reds too nervy.
There are always fashionable traits in the modern game that begin with one team and then gradually extend to the whole league. I'm happy to be corrected, but I think Rafa Benitez was the first manager to regularly play 4-2-3-1. Pretty soon most managers tried it. Now 4-3-3 or a variant of it is in vogue.
Brendan Rodgers liked his keeper to roll the ball to the full back at a goal kick and have him pass it along the back four rather than launch it into the channels. This way they could provoke an opposing striker or midfielder into breaking from the shape to close him down and force a mistake.
Rodgers hoped that this lack of positional discipline would leave his space behind them for The Reds to exploit with a perfectly timed pass. It didn't always work because you need the right personnel for that. I liked Martin Skrtel but Franz Beckenbauer he wasn't.
City were the first team I saw do that for every goal kick when they played out a 0-0 draw at Anfield in 2018. To sit so deep with both full backs in the penalty area rather than pushing up and stretching the play seemed strange, but they did it perfectly. We were wise to it though. No one yielded a chance and we didn't leave any gaps.
The one thing you need for that to work is courage. Liverpool have courage. The whole philosophy is based on risk and reward. We play a high line when we don't have the ball, but are quite happy to come short when Alisson Becker is examining his options with the ball at his feet. The back four and Fabinho have no worries about being in possession when a swarm of wasps hunt them down.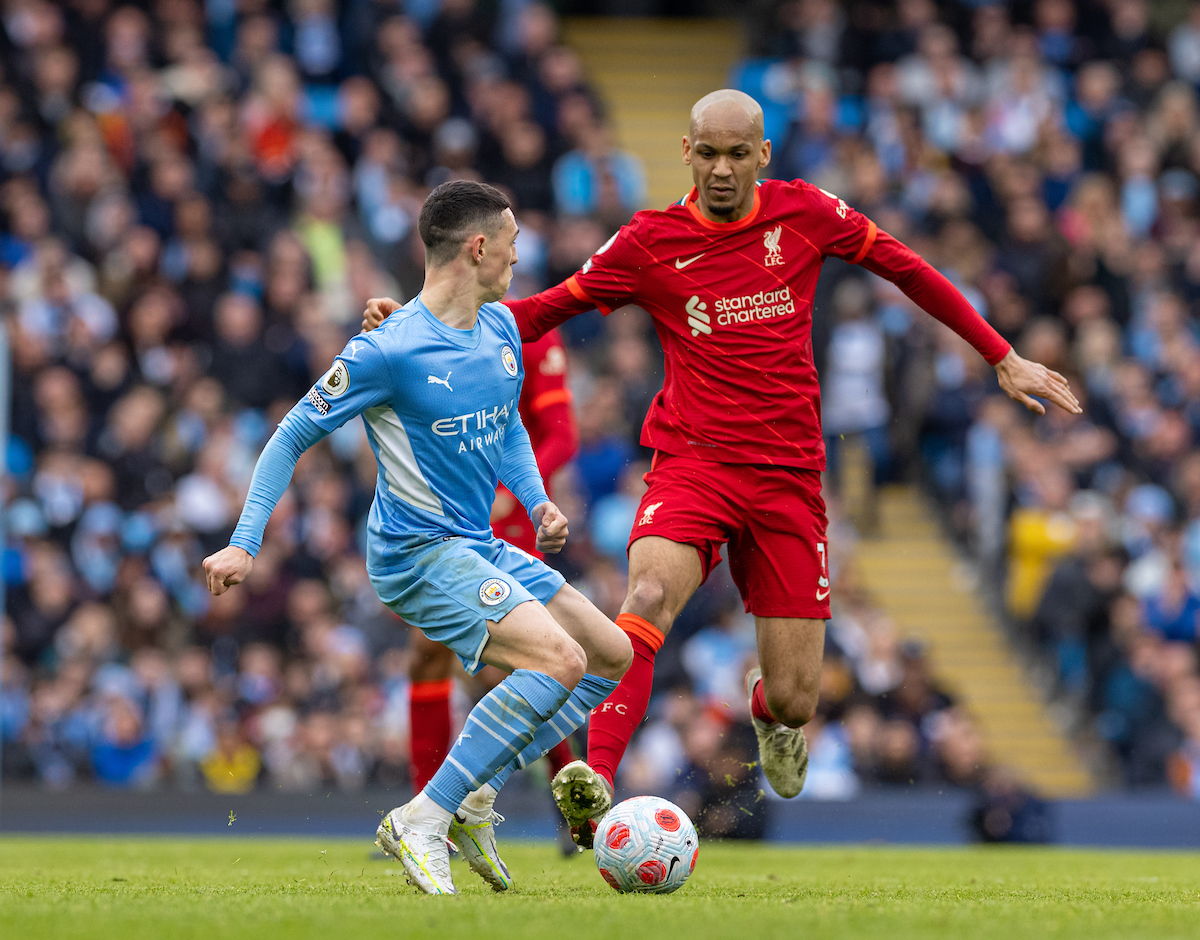 But yesterday Liverpool lacked courage. Everyone's head went.
The usually unflappable Virgil van Dijk was edgy, almost as if the ball had suddenly mutated into the shape of a 50p piece before his very eyes. Trent Alexander-Arnold repeatedly passed to the linesman, Fabinho regularly squared the ball to Rodri and Silva and our captain could only go backwards to a player who had no interest in the ball at all.
We took body blow after body blow and there looked like no tactic to come out fighting when they got tired. But we got the point. I've no idea how but we did.
In the end, 2-2 was a fair result but only just. I thought they were the better side in as much as they seem to have fewer problems on the pitch. They loved a ball down the side of the flank between centre back and full back and they loved a cutback from deep. They gain so much from those plays and everyone in the league knows it. Crucially, no one knows how to stop them.
Liverpool did. Just. But only just.
The Reds will be happier with the result than them. City should have had it won in half an hour but they were wasteful and we woke up a bit. Granted, the point difference still favours them but we should be proud that we didn't go down just because their punches landed.
We stood up in the second half and got to the final bell. A boxing jury might have given them the contest on points but this game doesn't work like that. We're still annoying them and they're annoying us.
What a side they are. What a side we are. Imagine being in the league and having to overcome both of us, not just one club. Look at Chelsea. They're European Champions. They've drawn with us twice and lost narrowly to City twice. They should be up here with us but haven't been anything like as consistent to keep up. That's the level you need to be at to break into the top two places.
No one in this division comes close and the games between us and City are played on the thinnest of margins. The best two clubs in the world playing in the same league 30 miles apart, each playing on those margins for a foothold. That's both unlucky and incredible.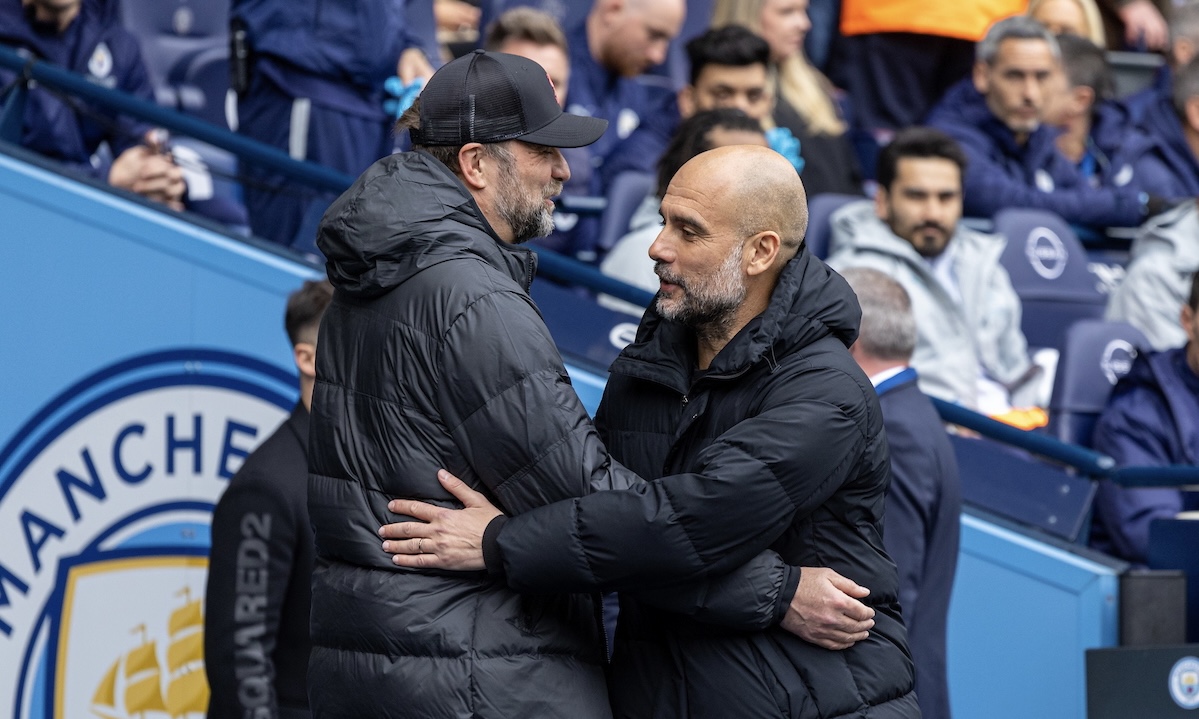 Sure, you can look at how they're funded, how their manager acts and ask how on Earth the referee gets to do that game, but that's a hell of a team. A worthy one on the pitch and if it wasn't my heart going through the mixer every time they got to the byline, I'd almost enjoy watching that game. They looked at us and tried to batter us. We looked at them and ignored their reputation and fought. It's fascinating.
It's ironic then that it'll be a lesser side (and I mean that kindly) that decides the destination of this title. A deflection at Saint Mary's, a dodgy penalty at Elland Road or whatever. Of course, we could both win all of our games and The Reds miss out but we can't countenance that. We just have to annoy them as they annoy us.
We got off the ropes yesterday. We got off the ropes in Portugal last week to some extent, though there was nothing wrong with a 2-1 win away from home in Europe. I don't always understand how we get off them at times but we somehow manage it. They won't lie down, these lads. Even when they spend the first 10 minutes in some sort of fever dream, they find a way and restore parity.
Seven games to go. The final round is still a way off but we're still standing. You love to see it.
I think next week's game will be different. That should be a slugfest. Nothing to protect, no home advantage. More of a 20/20 game than a Test match. It could be 7-6. It could be 0-0 followed by 1-0 on penalties. Oh, it's important but the league comes with more potential for damage than a one-off fight in a car park. They have a puncher's chance and so do we.
Not perfect then but nothing like over. Now it's all about nerves and Liverpool cannot be as nervous as we were yesterday. We should take comfort from that. This is a true contest and one that will go on and on for years. So here we are.
Deep breaths. Gumshields in. Keep your guard up and keep swinging.
This isn't over.
---
"We can get 94 points, so we just need to make sure we get 94 and if it's not enough to win then we've done all we can. We might just have to console ourselves with a cup treble!"

🎥 Post Match Pint

1️⃣ Download our App
2️⃣ Enjoy FREE tokens
3️⃣ Watch

👉https://t.co/yTcwWTZN7t👈 pic.twitter.com/hdcP5dMiKK

— The Anfield Wrap (@TheAnfieldWrap) April 11, 2022
Recent Posts: