With a series of huge games to come for Liverpool, fans can be forgiven for getting caught up – but we wouldn't swap it for the alternative…
MAY you live in interesting times. 
I've always liked that expression, but have just learned that it is, in some cultures at least, seen as a curse rather than a kind, benign wish.
May your days be full of verve and intrigue. May it be removed from the beigeness, toil and ennui of a tedious existence. May you always be aware that you are living and have lived. That's how I've always judged it.
However, further reading suggests that 'interesting' suggests upheaval, turmoil, endless jeopardy and unwelcome change — change that is seldom for the best. I don't wish that on you or anyone (afterthought — maybe Dejan Lovren, the weirdo). Just engagement to the best in this world.
There's no denying that Liverpool are going through fascinating times. An upcoming fixture list that reads Benfica, Manchester City, Benfica, Manchester City, Manchester United and Everton could hardly be described as anything else. Aston Villa were supposed to be in there too, but I'd like to think it was postponed solely due to its lack of intrigue rather than fixture congestion.
Those next four games could be labelled 'make-or-break' or 'season defining' if you like, but the truth is that every run of games since Christmas has had that billing. That said, we could re-rank the forthcoming games as European Cup deciders, a Premier League decider and FA Cup decider so there's that. Watford on Saturday was just the prosaic undercard.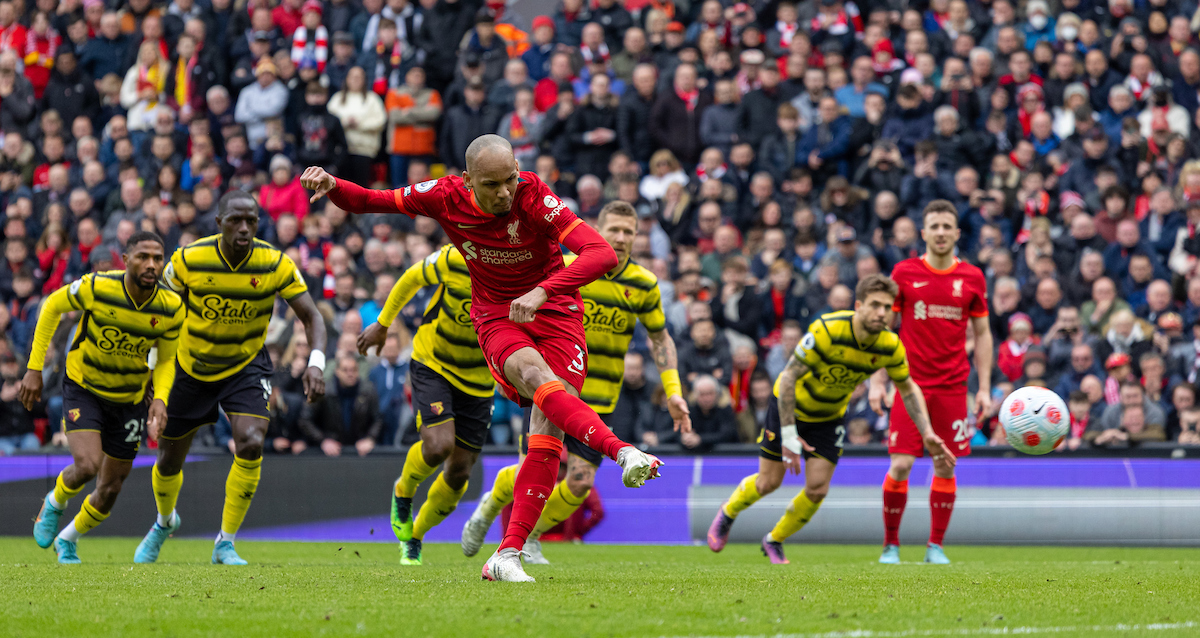 Jurgen Klopp called that game right when he said it was fine and we could have done a bit better but the points were the main thing. There was no mention of performance or entertainment, but we would have taken that before kick off which was just as well.
In months to come most of us will forget it ever happened, the mad penalty apart. I still haven't seen that incident back. Several of us in the Main Stand suspected the VAR were looking at a pen in our box rather than theirs. Anyway, that's enough about that. Points. Thanks.
Benfica, City, Benfica and City though. Now we're talking. That's a season.
There may be a few faint hearts out there and it would be understandable given the short amount of time between those affairs, but it's preferable to the alternative.
The 2012-13 season was over in February. Once we bowed out of the Europa League against Zenit St Petersburg at Anfield, a team let's not forget who had players called Danny (no surname) and Hulk (God knows), we had 11 Premier League games in front of us while our main rivals were eyeing up silverware. We began that run in seventh place and ended it in seventh place. Three months of merely fulfilling fixtures. Spare us that. Play havoc with our nerves instead.
There's a curious sense of the 2001 campaign about all this. At this stage that season, we played nine games in 29 days including an FA Cup semi final and a UEFA Cup semi at the Nou Camp (21 years ago today). We'd already won the League Cup.
That too came with a waking thought of 'which tournament is it today?' The games came so thick and fast that the club had to apologise for not sending the tickets out for the Sunderland game as they were too mixed up with the matches around it. The Sunderland fan forums took great joy at the gaps in the away end.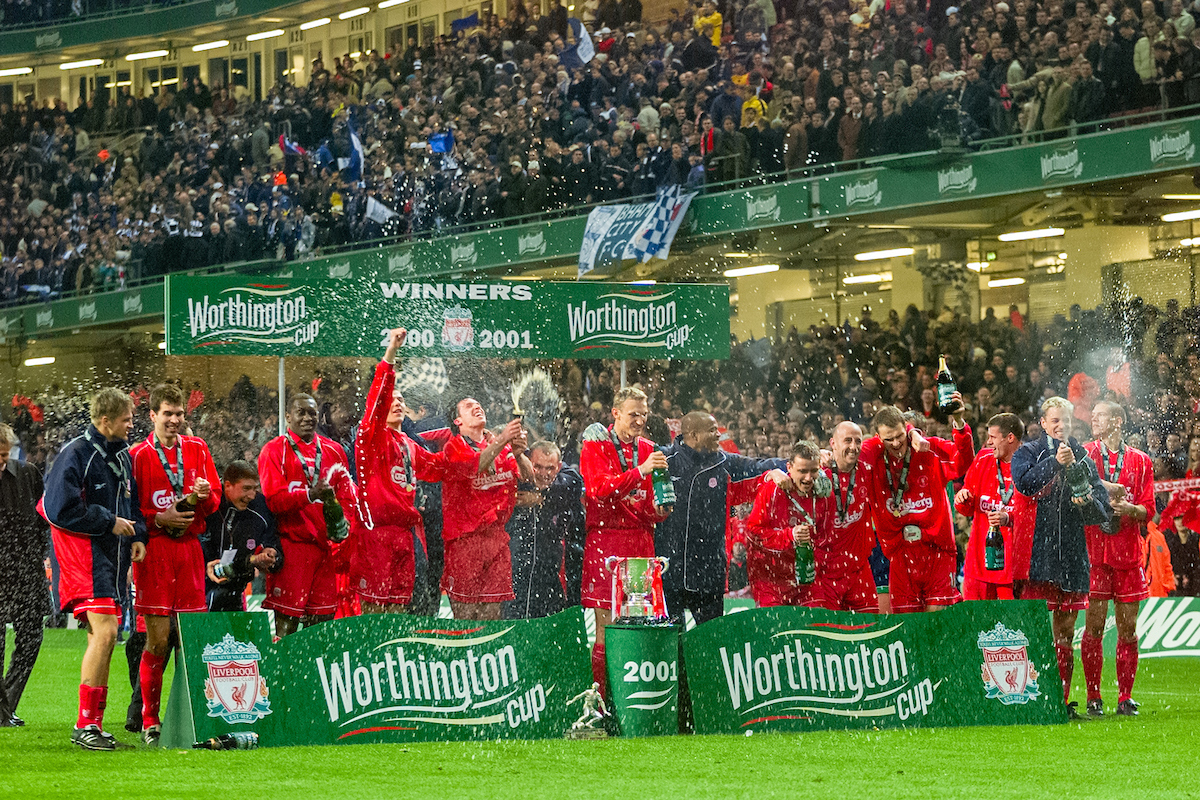 The calibre of opponent is so different this time. Benfica are no pushovers — they've already hammered Barca at the Estadio da Luz and drawn at their place — and the City games are going to be huge. It's strange to think that games against United and Everton are now of secondary importance, though the points they could yield are not.
Maybe this is revenge for that horrendous night in 1999 when United came from 2-0 down to win in Turin and reach their first European Cup final in 31 years while we were losing 1-0 at home to Leicester City, the winner coming from mulleted ex-Blue Ian Marshall. Dark, dark days.
And that's why we should be viewing these games with relish, rather than with concerns over our blood pressure. I'd much rather be wincing at poor passes than waiting for the end of the season and the start of the new one. That's why we're here, after all. To be onstage during the final act rather than getting bumped off with an hour to go.
These are the days of miracle and wonder and they just might be historical too. We've come close to multiple trophies before. We missed out on a Treble in 1977 and on three doubles in four years in the late 1980s and of course we won three in 1984 and 2001 but this is a new generation, one possibly formed and designed over the next four games. The successes of 2019 and 2020 might just be the preface to the book rather than the final chapter, and it's magnificent that we don't know which way it will go.
These are the days of which other fans dream. These are the days of which we've dreamt too when we've gazed forlornly at a goalless draw with Fulham and realised that it'll be another year before we can win anything. These are the days you've paid for so, so often. Cherish them. Cherish all of them.
May you live in interesting times.
---
"It wasn't pretty but now it's about ticking the wins off. It's about winning in a way that you don't overexert yourself."

"It was very first gear. Job done, roll on Tuesday…"

The Post Match Pint 🎥

Watch in full for free on @Youtube 👉 https://t.co/7D31Gqvonp pic.twitter.com/o8h9bA5KPG

— The Anfield Wrap (@TheAnfieldWrap) April 3, 2022
Recent Posts: