The Reds' rivalry with Manchester City has driven both clubs to maintaining unbelievable levels of consistency
LIVERPOOL's run of 10 consecutive league wins means they're the second club to achieve such a feat in the Premier League on five separate occasions.
The other isn't Alex Ferguson's Manchester United, a post-Roman Abramovich Chelsea or the Invincibles era of Arsenal.
It's Manchester City.
Of course it's City – a club that has become a model of economic controversy but also footballing consistency on the domestic front. In four seasons they have amassed 365 points. Remarkably, they remain without a European Cup.
But for Liverpool they'd have won leagues at a canter. We would've seen Bayern Munich-Bundesliga levels of dominance from Pep Guardiola.
But then there's Liverpool and Jurgen Klopp. As modest as they are talented, disciples to the mantra of "giving it a go". They have done more than keep City honest.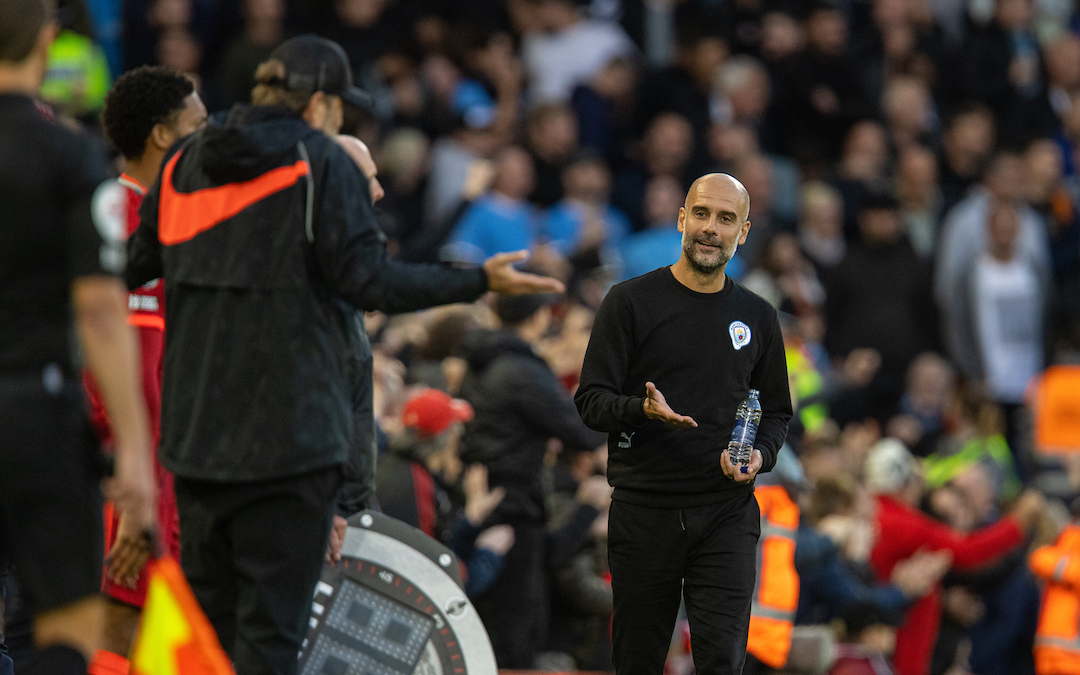 Guardiola knows it, stating recently:  "Hopefully Liverpool will lose against us but apart from that I don't think they will drop points. The opponent is so tough and good but they said, 'we will make a proper battle' and we accept that."
Despite every hand Liverpool were dealt last season, we knew they remained title contenders in the right circumstances. I had misconceptions about how good Chelsea were this summer, but to write off a 90-point-plus side was unthinkable to the majority of those who had watched them closely.
At times we've looked susceptible to a lowering of standards this season. Silly dropped points earlier in the campaign can be frustrating now looking back, but that's because those very standards are set so high.
Liverpool can achieve 96 points this term and the feeling amongst the squad is that they'll need to. That is incessant and relentless but it's also how they've honed themselves.
This week I spoke to the wonderful Damian Kavanagh and we chatted about the difference between this and other great Liverpool teams. Ultimately, it came down to the machine-like nature and intensity of the current squad that set them apart.
We know Liverpool have needed City to push them to this level. City have needed Liverpool to make sure they're perfect. They have stepped up with heartbreaking, Vincent Kompany strikes and been pristine in run-ins when required. The hope is that they finally buckle under some relentless pressure this time.
It's a pressure nobody should take for granted, however. Liverpool had to buy smart, coach clever and be mentally phenomenal to keep this pace.
Chelsea and Manchester United have pumped transfer funds into matching something built on sheer competence and belief in every department since Klopp came to Anfield.
The Reds are going to give it everything on Sunday, but the result remains one small fraction of the standards required. Every game is a test of will and nerve. The wonderful thing about this team is that it's never been one to engage in a giant-killing roleplay.
Ten consecutive wins sounds as easy as a midweek stroll to Benfica and back in a Champions League quarter-final.
It isn't, none of this is and that's the point. Enjoy the ride, marvel at its plausibility and remember; nobody would have gotten near Sunday's opposition in this Premier League era but Liverpool.
The great believers will stare down their destiny and know that only perfection will do.
In many senses, that's all they've ever known.
---
Recent Posts: