LIVERPOOL top of the league.
At the time of writing.
Liverpool probably not top of the league.
At the time of reading.
But you never know.
It's a tricky moment. Everything is about what happens next but there is this problem to surmount. Tuesday is massive. Next Sunday monolithic. But there is this, first.
We want to believe the idea that it is all one game at a time, that we focus in the moment, but it is so rarely true.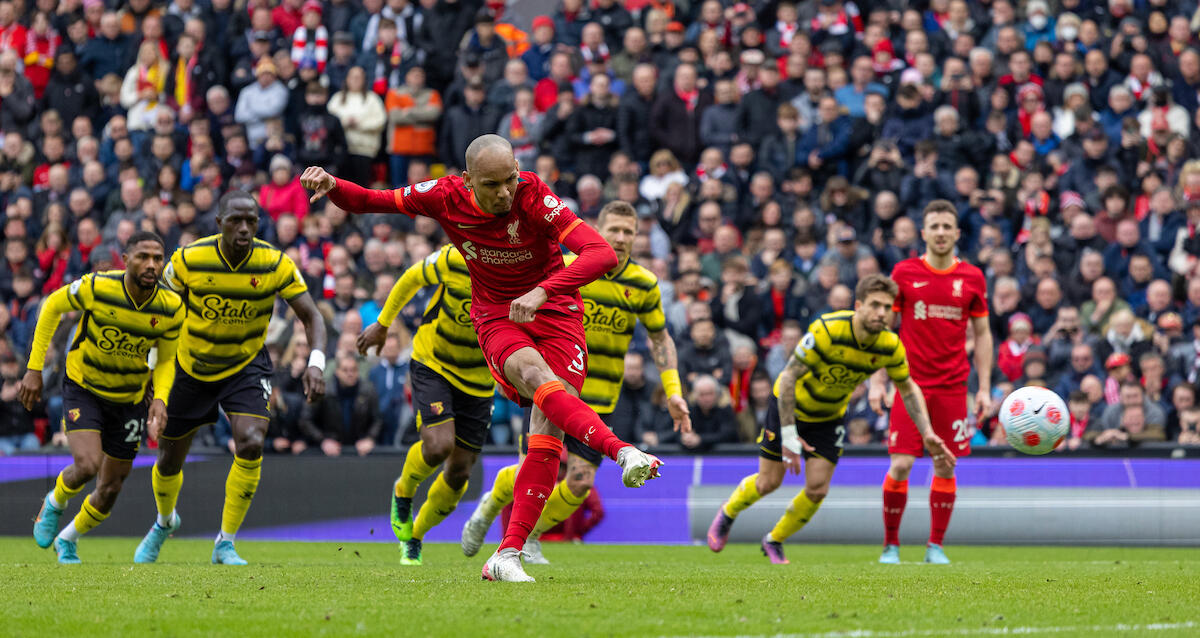 Liverpool were disjointed as they so often are after an international break but the disjointedness is then extended by the right-hand side disruption. Further the fluency down the left is a little lesser with Diogo Jota.
But the fact that matters through all the disruption is that Joe Gomez whips the ball in and Diogo Jota converts brilliantly.
The latter is and has been the reason for the price of admission. But Joe backing himself is part of the value of this squad and manager.
The news post match that Jota had told him he'd get the assist is the cherry on top. This is what this Liverpool side is, simultaneously at the very top of elite football and a group of young men willing one another on. Encouraging them to back themselves even in unorthodox situations.
Liverpool are at their most frustrating in the period from 1-0 to half time.
By 35 Watford are shattered – keeping Liverpool at bay can do that to a side. But Liverpool don't successfully force the issue. A couple are a tiny bit slack in key moments. Passes and touches go astray and what should be a hot knife through melting butter becomes a freezing cold knife through butter from the fridge. Watford get in 1-0 and stake their whole claim on it being that way by 85.
Liverpool oblige. Liverpool come out second half and cast every decent opportunity aside with bad decision making, appalling shooting or an infuriating combination of the two.
They did my head in. They didn't make me particularly anxious though. That midfield three once Fabinho came on, that centre back two and that goalkeeper kept the anxiety at bay. They are that good but more that certain.
It is emphatic the way they can defend when they turn their hand to it. The ball feels so far away from the net, the physics of it just verge on impossible.
Robertson verged on indefatigable at left back. These are people you can put all your faith in. They are the anvil you hammer horseshoes onto. Their collective belief and identity defines this side.
Everything for the whole glorious month of April is defined by what happens next. It is all about the next thing. Every win makes the next thing more important. The whole journey is one foot in front of the other, whether it is smooth as silk or rough as sandpaper. Find that next step and it becomes the next.
When I was growing up I loved Indiana Jones and I loved The Last Crusade especially. Indy jumping from letter to letter to find the holy grail is a metaphor that has always stayed with me for anything worth doing. Walking in the word of the lord. Unable to put a foot wrong.
I think about this all the time, maybe too often, maybe it holds me back at times, the idea of ground slipping beneath my feet, wanting only perfect steps.
But this is April. In the best possible way. Every step matters, every step needs to be perfect. The potential prize spectacular. So hot that you're hurting my feelings.
Everything remains alive. I have no idea how many hurdles any more really. Just one more step that ends up being perfect, however unsure it looked for a minute here and there. Everything remains alive.
---
Recent Posts: