While most Liverpool signings under Jurgen Klopp have taken their time to settle and adapt, Luis Diaz has hit the ground running…
OVER the years, patience has been one of the key principles upon which Jurgen Klopp's Liverpool has been built.
By progressively breathing fresh life into the club's philosophy on the pitch, he prompted a seismic shift in the atmosphere among supporters off it.
It is a practice best embodied by the club's dealings in the transfer market, with Klopp establishing form for his patient approach when calling on signings.
Taking time to adapt to Klopp's blueprint, the general trajectory for most new recruits has been one of patience, assimilating patterns of play and ingraining the club's philosophy within their DNA, adapting to its physical demands before gaining a starting spot. You put in the work, you bide your time and should you find yourself in the starting 11, you better justify your selection.
Andy Robertson found himself as understudy to Alberto Moreno when he joined in 2017 before making the left-back role his own. Alex Oxlade-Chamberlain followed a similar path in his first season, with his first Premier League start not coming until the beginning of November. Fabinho went from being unable to buy a game to being unbeaten in every one. Naby Keita, Ibrahima Konate, the list goes on.
Everything has been measured, every stage thought out. There is, as they say, method to the madness.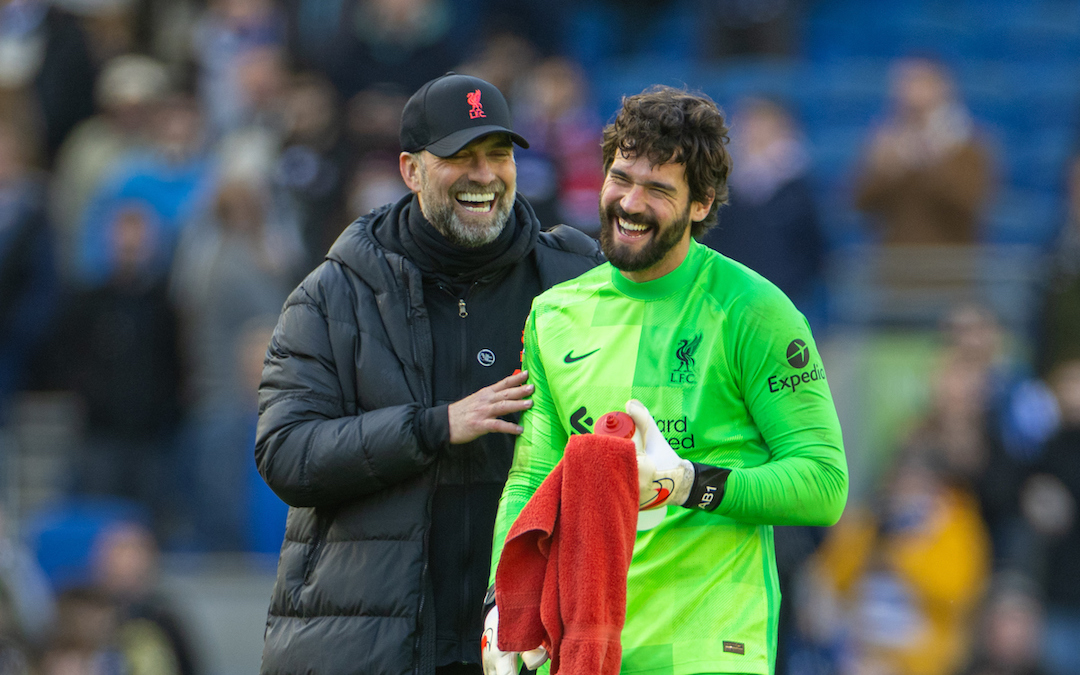 There have been exceptions to the rule, of course. Diogo Jota's form at the start of last season meant he quickly became a regular, but even he had the added benefit of knowing the league and previously playing for a team who focused on a possession-intensive style.
In Luis Diaz, though, Liverpool have a clear standout case.
They say good things come to those who wait, but that hasn't been the case for the Colombian; a player who came in completely fresh, moving countries and leagues and yet settling in without a hiccup to hit the ground running. It is no mean feat, particularly for a January arrival, but he has made it look so.
He has started five of Liverpool's six league matches since joining the club, and yet taken to the challenge like a duck to water, seemingly tailor-made to play on the left of the front three.
He is a nightmare for defenders in that he can take them on at will or drop the shoulder and go the other way. In doing so, he has provided an extra unpredictability to the front three while alleviating the onus on Mohamed Salah and Sadio Mane.
That he has slotted into one of the best attacks in world football tells you all you need to know. He is capable of picking a pass, always alert in his movement and ruthless in front of goal. Even when he hasn't found the net himself, his contributions have been clear.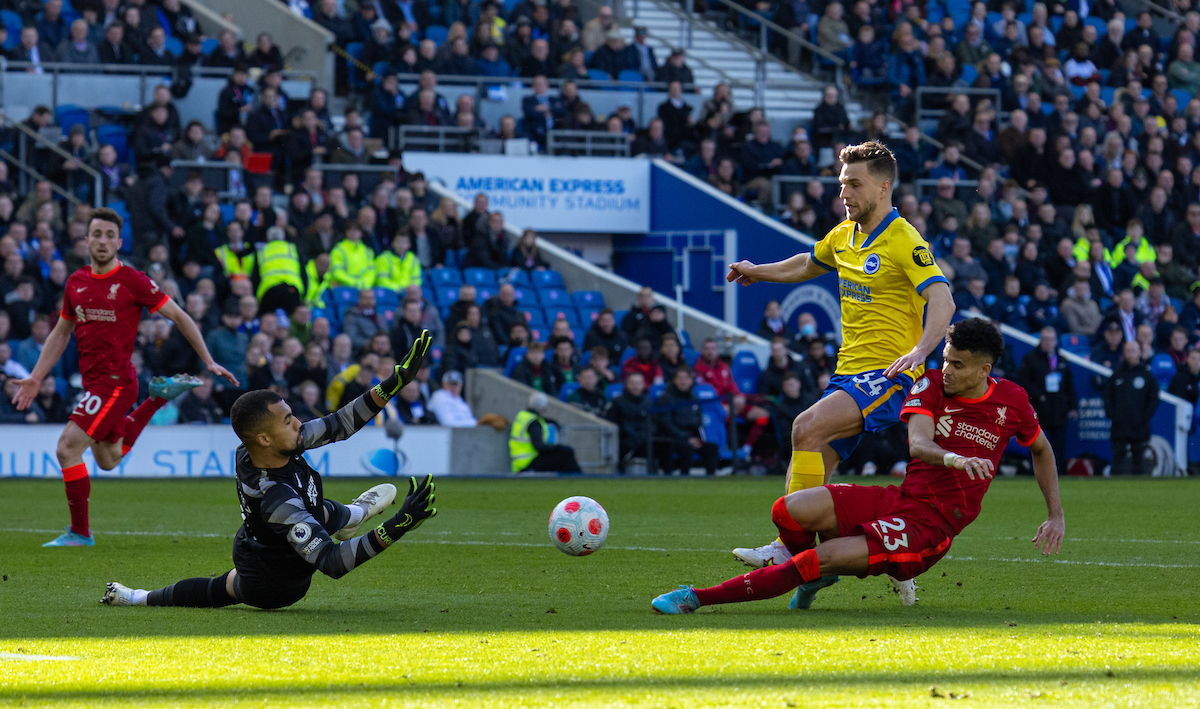 It is crazy to think that a summer move was only brought forward thanks to Tottenham, and yet he has already become an integral part of this team's search for silverware. Thank you, Mr Levy.
Since making his Premier League debut on February 10, Diaz is joint-fifth for shots at goal (19), sixth for shots on target (6) and joint-10th for chances created (11). He has already scored two goals in his first five league games — the first a sublime dink over Angus Gunn before a brave, potentially critical header at the weekend, both of which showcased his quality in front of goal.
It took just 27 days for him to win his first trophy in a Liverpool shirt and there's more than enough evidence to suggest he could yet prove to be the difference elsewhere.
The standout name against Brighton, Diaz's overall performance epitomised why he has endeared himself to fans so quickly. Constantly showing for the ball, playing off his teammates and driving forwards, he was the instigator on an afternoon Liverpool needed one. Rest assured, we'll need him a few more times this season.
Most importantly, though, his quality is as much about how he operates off the ball as how he does on it. Playing in a Jurgen Klopp side has certain demands and Diaz has embodied the attitude of his manager from day one. Work rate, determination, and a willingness to put in the hard graft.
He won two interceptions and two tackles, came out on top in six ground duels and one aerial duel and won back possession a total of six times at the weekend. No Liverpool player covered more distance than he did.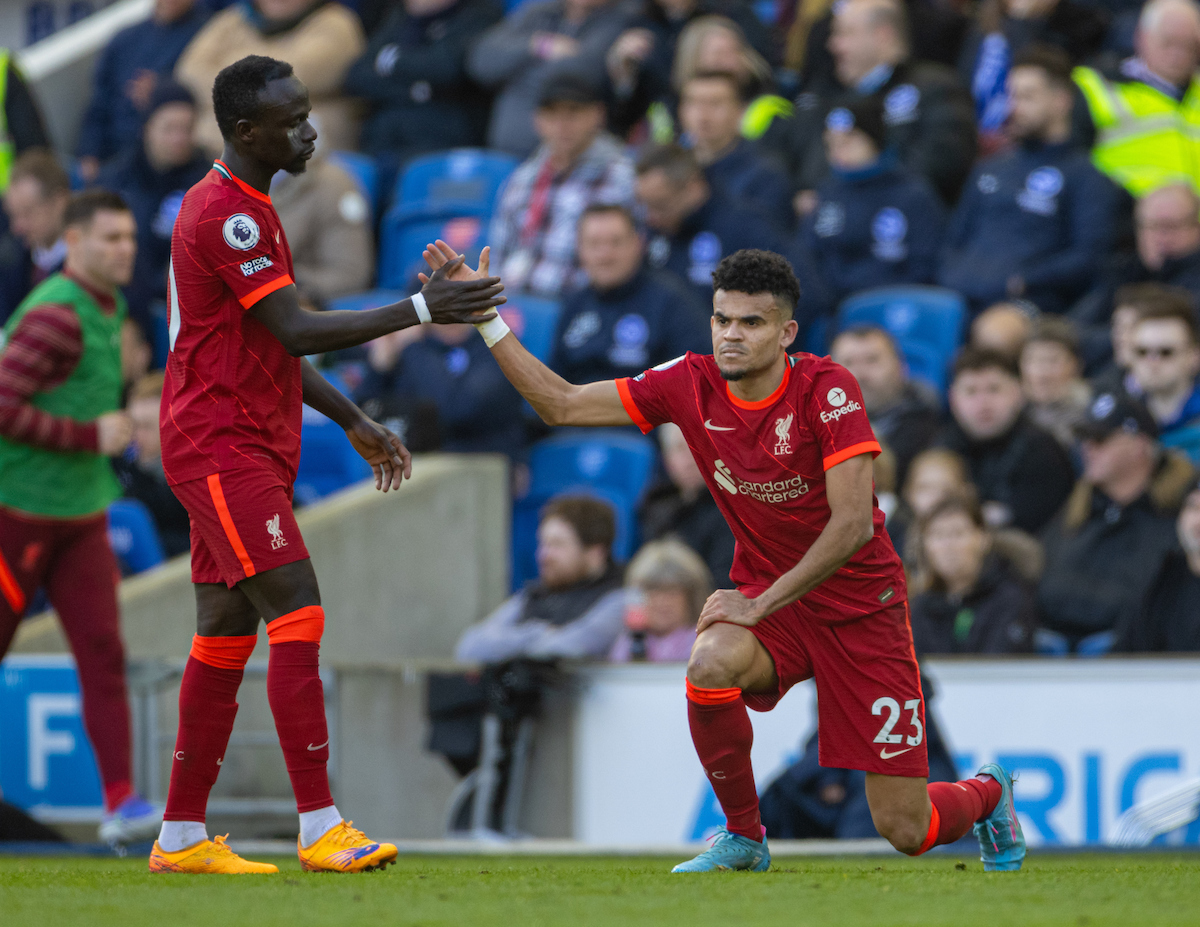 He is everything you want in a Liverpool player and more.
The most exciting part, though?
This is just the start of the story. As good as he has been so far, there is still so much more to come and next year with a full pre-season under his belt, Luis Diaz will continue to go from strength to strength.
Over the years, time and patience have been the hallmarks of Klopp's strategy with new signings. Luis Diaz, though, has already made his mark. One trophy in the bag, another three to go.
Even in such a small space of time, he looks every bit a Liverpool player, embodying the philosophy and intensity of this generational side.
What a player, what a signing.
Our Luis Diaz. Everything you could want and more.
---
"Diaz, again, played really really well. His decision making is fantastic. His awareness of where he needs to be is great and this is without much training time."

🎥 The Bacon Butty

1️⃣ Download our app
2️⃣ Enjoy FREE tokens
3️⃣ Access this video

📱👉https://t.co/yTcwWTZN7t👈📱 pic.twitter.com/KcaDeuPAsK

— The Anfield Wrap (@TheAnfieldWrap) March 14, 2022
Recent Posts: