Liverpool's players at all levels show they embrace different cultures and backgrounds, and that inclusion is something we can all get behind…
WELL, didn't I pick a great week to go away?
Missing the League Cup final, an FA Cup game and West Ham at home was not part of the script when I booked a holiday many months ago, although it made for a nice mood in the camp upon my return.
A nice mood is an understatement when you consider the fact that a year ago this week, Liverpool had just lost another league game at an empty Anfield to soon-to-be-relegated Fulham. It was our sixth home defeat in a row. Just read that again.
"I remember when we lost that game. The confidence of the team was really low," said Fabinho in a press conference this week. There was always belief, though, that things would be quickly turned around. That group of players wouldn't settle for anything less. And a year on, things are a little different to say the least.
So, there's no wonder I did my best to soak it all in and watch everything I could with a very dodgy internet connection. And there is absolutely loads I could use my column this week to talk about.
I could almost certainly write a few hundred words on Virgil van Dijk's and Fabinho's penalties alone, and the mindset required to pull that off in a cup final.
I could talk about Luis Diaz and the impact he has made since he joined. Like Diogo Jota, he has settled almost instantly, and it's hard to believe that he's only been playing in a Liverpool shirt for a matter of weeks. Unlike Jota, Diaz did not have the benefit of already having played in the Premier League. He is making a really quite difficult task look ridiculously easy.
I could talk about how Sadio Mane is thriving playing through the middle, while still naturally drifting to the left but dropping deeper and getting more involved in the buildup areas. The versatility we currently have upfront is frightening.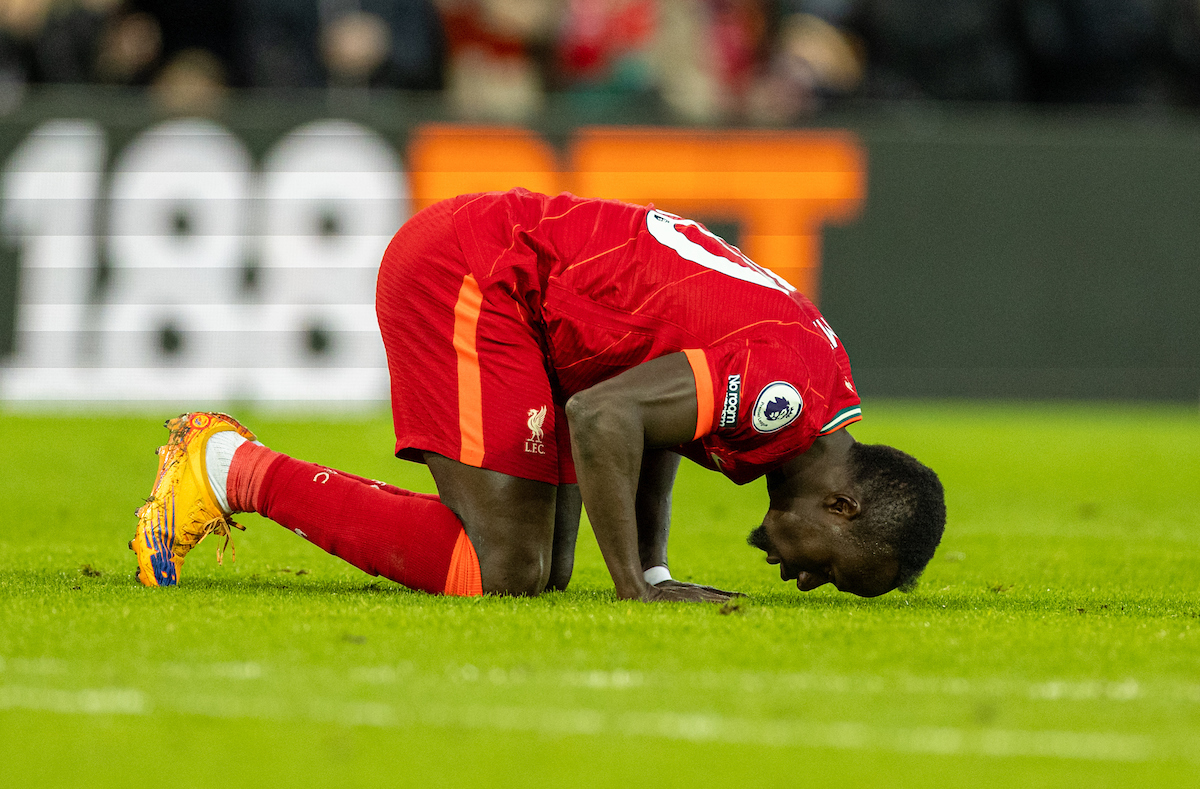 Of course, I could talk about all of these things at length, but despite all the good going on in a Liverpool footballing context, everything feels a little heavy right now in both the world and the world of football.
Dan Morgan's column last week served as an excellent reminder that removing football from real world events is both unrealistic and unattainable. The two are and will always be inextricably intertwined.
That often serves to highlight some of the worst aspects of humanity: greed, violence, divide, corruption. However, it can equally highlight some of the best.
"It's good that everyone feels like they can be part of this beautiful club," said Virgil in an interview with LFCTV last week. With all the uncertainty in the world, being part of this club is something I've been thinking a lot about the past few weeks.
I recently discovered that Anfield has a sensory room, enabling fans with a sensory need such as autism to experience football matches in a safe, comfortable and secure environment. They've been continually introduced to Premier League clubs across the country since 2017.
There is always more work to be done, but the development in these areas makes a clear and subtle statement: no one should be denied the opportunity to be part of Liverpool Football Club.
A couple of weeks ago I had the privilege of chatting with Liverpool Women's player Katie Stengel, and we touched on the emergence of the women's game. She's played across the globe in countries including Germany, America and now England, and has seen first-hand how the sport has become more inclusive.
"The support off the field has come a long way, and that helps us create a better product on the field because we have more opportunities and support, and you don't have to worry about little things like having access to healthcare!"
She spoke candidly about the struggles of going pro as a woman when she started, and how supported she has felt since she signed for Liverpool. It's how everyone should feel on their journey with the club, whether that's as a fan, a player, or someone working in the sport.
Particularly on International Women's Day, though, it's important to take a moment to acknowledge that it's still easier for some to be part of things than others.
In a world that now more than ever seems intent on dividing people based on their gender, race, sexuality, location, or religion, football becomes the least important of things. But, it should at least be a place where everyone feels they belong.
Across the club, the players we watch on the pitch are testament to how well inclusion can work in practice. It's clear that they view learning about different cultural values, backgrounds and experiences as an opportunity and an honour. They are clearly united in their stance that a little understanding goes a long way, and it doesn't take too much to achieve this. It's something we can all get behind.
"I just want the world to be a better place, in all kinds of ways. Make the most of it and be nice to each other, that's not too difficult to do."
Virgil is far more profound than I could ever wish to be, so I'll leave you with that.
And he's right, that's not too much to ask.
---
Recent Posts: