With Jurgen Klopp staying coy over his contract and future at Liverpool, what could be next for the manager and this club?
"THE plan, at the moment, is to get to 2024 and 'thank you very much'." — Jurgen Klopp on Friday.
Well, that's great. Thanks, Jurgen. I wasn't that interested in getting a full night's sleep for the next two-and-a-bit seasons so cheers for throwing that little hand grenade into my life. I'll just stare at it for a while and contemplate infinity, shall I?
He later clarified that comment by adding: "It's not so important how long I will stay, it is much more important what we do until then." I agree with half of that statement. I'm all for further progression, a vanload of trophies and a legacy until that fateful day, but I can't get on with the idea that his departure isn't vital to it. I trust the process, but I trust the man in charge of it more.
We're used to being devastated when a hero leaves but they're mostly players and forgotten once their careers end. I'm just at the stage where I could look at Fernando Torres in the face without my face betraying a bitter sense of disappointment. It's only taken 11 or so years.
It's different with some managers though not all of them. Rafa Benitez was burned by a toxic regime and a poor 2009-10 season, while the writing was on the wall for Gerard long before he was finally shown the door in the summer of 2004. They were hardly a shock.
Being too young for Bill Shankly, it's only Kenny Dalglish's two departures which have left me sat sullen in the corner of a pub, wondering what the hell has just happened.
It was interesting to see how Jurgen's words were interpreted — a perfect example of glass half full v glass half empty. Some spoke of the end of the days and sightings of the Four Horsemen of the Apocalypse trotting around the Main Stand car park, but many others saw it as a 'you never know' statement.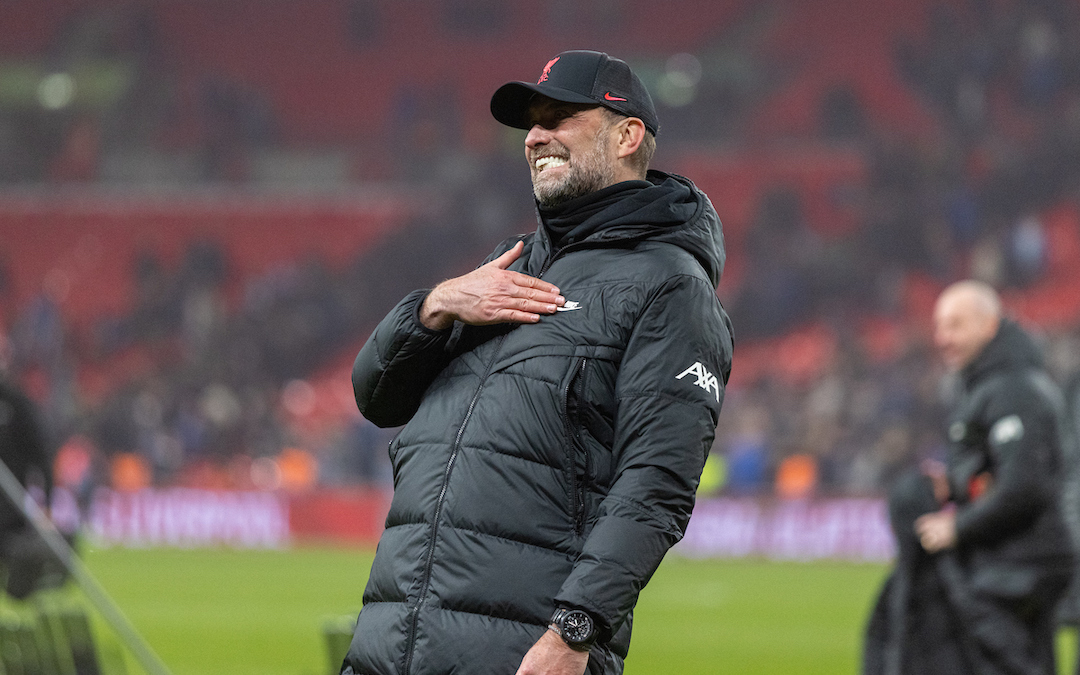 I'll admit that I didn't, and it's got to me a bit. One day there'll be a Jurgen-less and maybe, sooner than we'd like, a Mo-less Anfield if they don't sort out the latter's contract. Let me have some sleep for a bit, eh lads?
My best hope is that what he'll really need in 2024 is a few months off rather than leaving altogether. He seemed fine after his hiatus post-Dortmund so maybe he'll just need a couple of months on the couch with the remote and that sun hat thing he has. We all need days like that.
I've never really understood early retirement from the game. Shankly said it was the worst decision he ever made when he hung up his boots and maxims in 1974, and I can't see Jurgen getting on with watching from afar.
I suppose he could do his fist pump thing in front of the telly when he gets a good score on The Chase, but he'll soon miss the buzz of the dressing room, the training ground and the big nights at Anfield when he won't be able to interfere with tactics and substitutions.
I've no idea how any ex-manager can watch a game and not grow frustrated at the inability to change what must seem like a glaring mistake in front of them. Sorry, but I'm not having Jurgen just raising his eyebrows and laughing at an error he could have corrected had he the opportunity.
I have a theory. Maybe even a solution.
If the dark clouds have gathered over Anfield in 2024, the club will have to find a replacement. I'm still denying the entire thing but let's just say he goes. Who the hell do you bring in to replace a man who took that 2015 side, who were out-thought and out-battled at Wembley by a relegated side, and morphed them into multiple League and European Champions here (stay with me here)? It's hard enough managing this place without coming in from the cold and replacing a giant.
Continuity plays such a huge part in success. If you hit the right tune, you just play the same notes until you absolutely have to play different ones. You can't do that with whoever the next big name on the list is.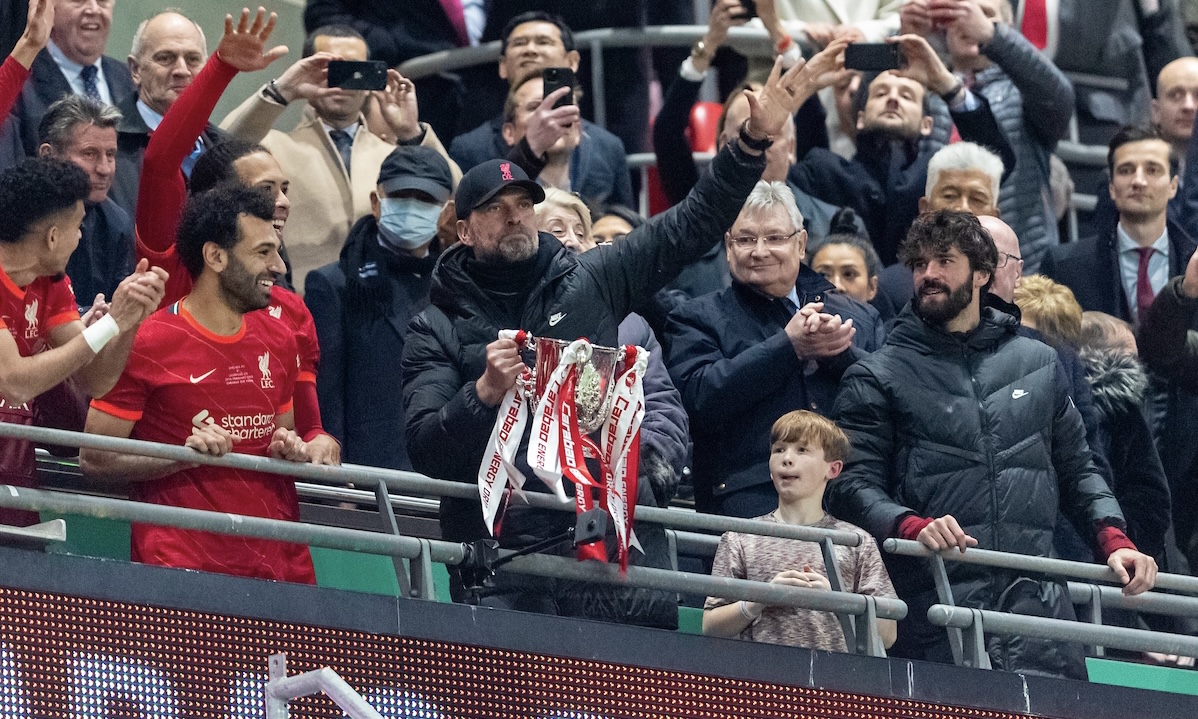 I realise it may seem like a thousand years ago, but Bob Paisley replaced Bill and was replaced in turn with Joe Fagan. Trophy, trophy, trophy. United went nuts when they replaced their greatest ever manager with a man who had never ever won at his ground or any of their three biggest rivals. You can't make a big change and expect everything to be the same.
Our Boot Room of yore has long since gone, but this is the time to resurrect it. OK, it's not staffed by men who know where the whisky is kept and appear to live in Gola tracksuits, but this is a time where we're transitioning from winning the big competitions to doing it regularly and building a legacy. One man knows how to run a Jurgen-like ship without the man himself being here. Will we one day see a league title scrap between Pep Lijnders and Pep Guardiola?
I'm sure Jurgen has no doubt that Lijnders can do the job. After all, the Dutchman is already manning the bench when Klopp isn't around as well as doing the odd press conferences. He's part of a unit which is responsible for bringing us to this point, so no one knows the process more. Sure, he had a disappointing time managing NEC in the Netherlands, but no one would bat an eye at the club should he take over.
Take over for a bit.
That would give Jurgen time to practise his bowling with the lads at Holy Trinity Club in Formby and allow him to recharge his batteries before Pepjin brings him back in to secure the fifth straight European Cup. The old team back together.
Of course, I'd rather he didn't go at all. All change comes with risk and it's frustrating that we've waited so long to see a team and management like this. We'd all respect his decision if he has no energy left, particularly as managers always look much older when they finally leave the club. This may not be the most stressful managerial job in the world, but I'm struggling to think of any that come close.
But that's for the future. I just hope that Jurgen and Mo sign their new extensions and we can all get some rest.
---
"It's difficult to talk about anyone anywhere near Shankly… but I think it's perfectly reasonable to talk about Jurgen Klopp in that manor. So great is he!"

🗣The Team Talk

1️⃣ Download our App
2️⃣ Enjoy FREE tokens
3️⃣ Listen in Full

📱👉https://t.co/yTcwWTIbIT 👈📱 pic.twitter.com/nfh6lKLN3H

— The Anfield Wrap (@TheAnfieldWrap) March 1, 2022
Recent Posts: