With a League Cup final imminent for Liverpool, and Jordan Henderson set to lead them out once again, their legacy is still being written…
LEGACY is often a problematic concept.
Legacy forces people to do preposterous things. Sometimes in football, the concept of legacy often falls on those spectating. We are the ultimate voyeurs of those we claim to love but leap to deem dispensable.
Nothing defines legacy more than a trip to Wembley. We've been so willing to hand-off domestic cups, mostly to Manchester City, in the pursuit of more valuable silverware.
Yet this club was built on clocking up triumphs in Liverpool south. To be in the conversation for league titles and European Cups while still able to annually converge on Wembley way.
For me, it was the Millenium Stadium in Cardiff which cemented my own love affair. Dark, wet days in February and March beating Birmingham and Manchester United in the League Cup final.
Jamie Carragher taking a penalty and starting his run up in Bootle. Marvellous stuff.
FA Cups won in six minutes and cramp-filled heroics in dying seconds. The days of our lives. Legacy.
We deserve more of the same to mark this journey. Today needs more reminders of what we exist for. Our time is marked by big football occasions. You get a feel of the late 1980s with two cup finals contested by Merseyside derbies.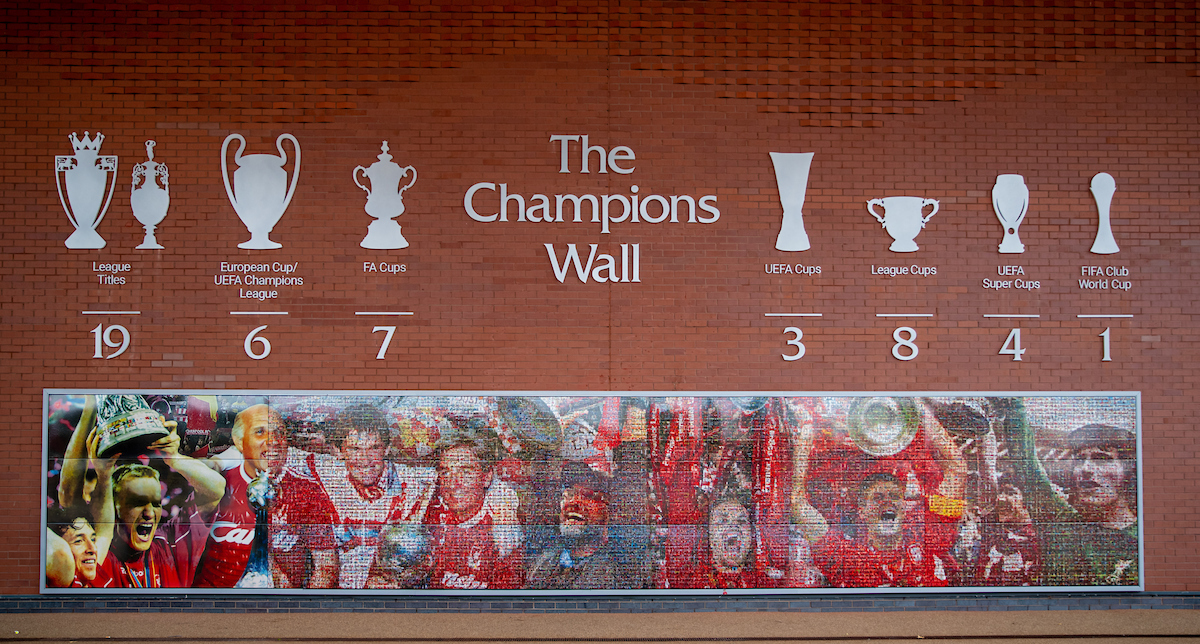 Liverpool's sense of destiny on Sunday will be tested by a problematic side, well-coached and equipped to make life extremely difficult. We will have to dig deep. We might need luck to influence key moments. You back us, but you know it's by no means a formality.
And so to who starts: We know who is in goal. We wait on a Diogo Jota decision and we ponder whether Joel Matip can go again at centre back.
Oddly though, we talk about the captain. Should we look to leave him out? Is he out of form and therefore undeserving of a start? What a strange narrative to bring about in a cup final — an occasion which on its own merit demands leadership.
Cup finals are made for captains, so don't question mine and yours.
Jordan Henderson knows all about legacy, some 426 appearances into his Liverpool career. He'll possibly break 600. His legend should be written in stone, the statue design agreed. Instead, he's questioned for not performing at peak levels from August to May.
While Henderson remains certain of his value to Liverpool, we should all take a moment to remind ourselves of what he brings to the table.
Henderson hasn't changed overnight. He isn't now somehow only able to shadow Fabinho in the number six role in the same way Sadio Mane is now only a number nine.
It was as recent as December when he produced one of the best Merseyside derby performances of the past decade. Yet what felt like one bad game against Burnley led to an existential crisis about his place and worth.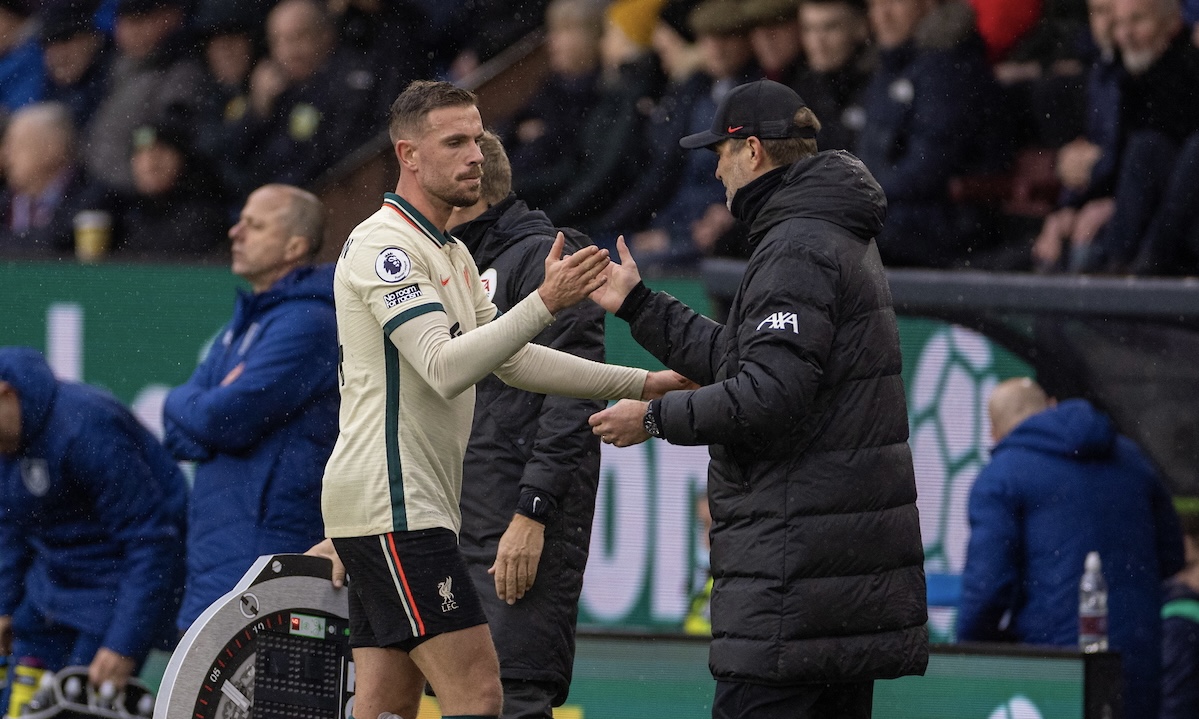 Liverpool will need his work-rate, tactical awareness and leadership on Sunday. They will be led by the man every bit as worthy as Steven Gerrard, Phil Thompson and Graeme Souness when it comes to this club's affiliation with the armband.
His breadth of achievement will only be noticeable when a curtain comes down. He will litter Anfield corridors with images of him lifting them all. It isn't so extreme to suggest he is the biggest embodiment of this modern era in that sense.
Perhaps some feel the lines have again become skewed between the captain and a player's worth. It has happened before. This team demands levels which won't allow for passengers. Henderson neither is nor would allow himself to become one.
On Sunday we could see the shuffle of feet we all got so used to. He wears winning cups well. It's been way too long since we saw it last.
A cup final is to be savoured and a chance to celebrate this team offers itself again. Remind yourself this team deserves the stage it's on. Remind yourself who is leading them out and what a serious footballer he is.
Legacy is there to be written. Liverpool's captain will continue to scrawl his own alongside a period in this club's history nobody should be looking to move away from this soon.
Enjoy him and them. Enjoy all of this while it lasts.
---
"The 2nd goal against Arsenal was nice and strange. I wasn't expecting the linesman to give an offside, I was really going for it with the celebration."

🎥Diogo Jota Interview

1️⃣ Download our App
2️⃣ Enjoy FREE tokens
3️⃣ Listen/Watch in full

📱👉https://t.co/yTcwWTZN7t👈📱 pic.twitter.com/k3nn35BDkl

— The Anfield Wrap (@TheAnfieldWrap) February 25, 2022
Recent Posts: