Match preview ahead of Liverpool v Chelsea in the League Cup final at Wembley, reliving the journey that got us to this point…
AND so we descend on Wembley once again, full of hopes and dreams.
It's the stadium where Liverpool sides from times gone by have built legacies, and it's a place this vintage can continue to cement theirs.
But how did we get here? It's a question that could follow several threads, given the current squad is one of the best we've ever had and The Academy is in as rude health as we've seen.
This particular journey, though, started away at Carrow Road. JOSH SEXTON and PAUL CONNOR relive it all…
NORWICH 0-3 LIVERPOOL — THIRD ROUND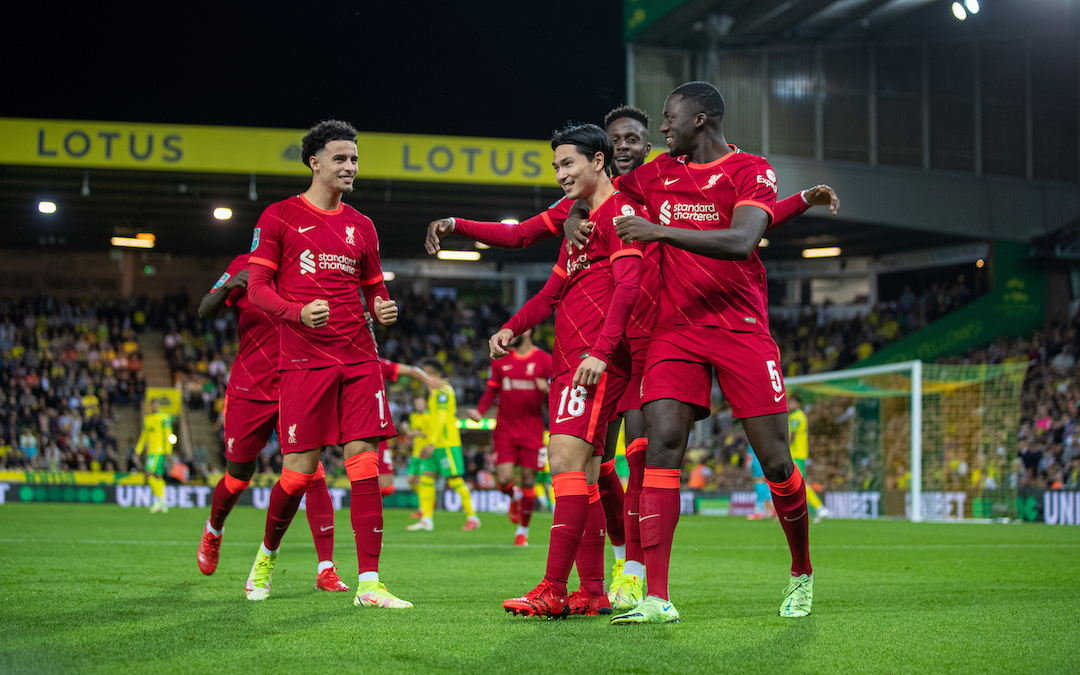 Paul: If you'd said to me that we'd get to the final at this point, I would've probably laughed. It was known that Jurgen Klopp didn't give a monkey's about domestic cups. Maybe a win here, then we'll draw Manchester City in the next round knowing our luck, and that'll be that.
Josh: Drawing Premier League opposition did bring some doom and gloom, but we needn't have worried in the end. It was the first time this season we've seen The Reds tap into those deep reserves. Divock Origi and Takumi Minamino ran wild, Conor Bradley and Kaide Gordon won hearts, and Tyler Morton gave us a first glimpse of what he could do.
Paul: It was a great win at Norwich and on our travelling Kopites went, oblivious to the spontaneous adventure that would lie in front of them…
PRESTON 0-2 LIVERPOOL — FOURTH ROUND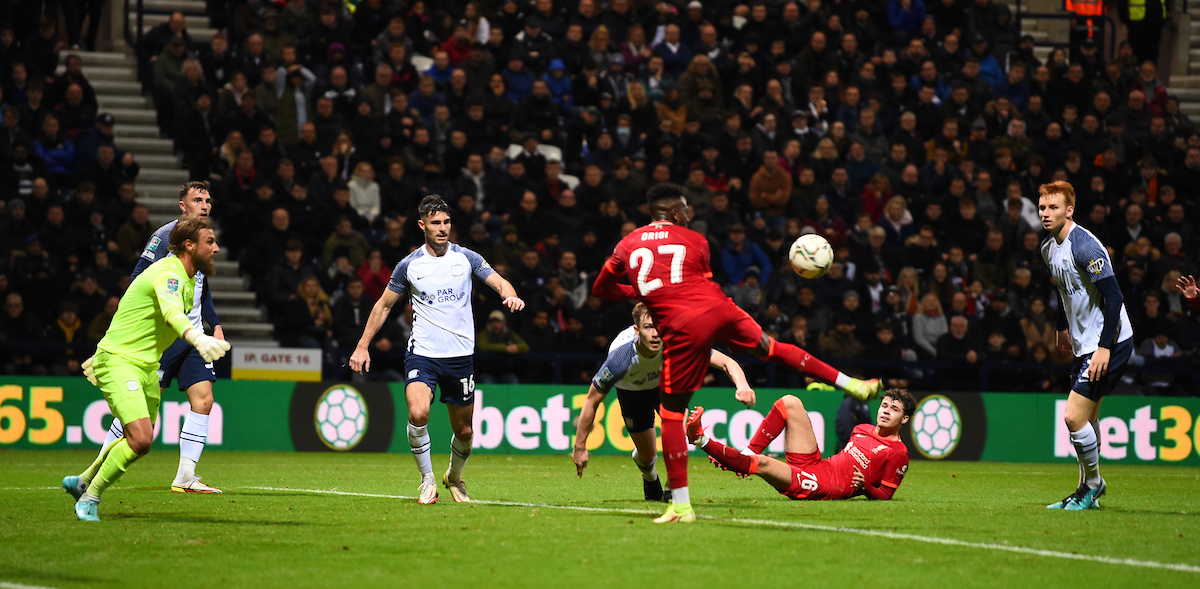 Josh: This felt more like it. No disrespect to Preston, but if our second string lads could see off a Premier League this was sure to be a breeze.
Paul: A failed attempt at obtaining tickets for this game meant that I watched The Reds at home with my Dad, feeling somewhat strange seeing our own defender, Sepp van den Berg, play against us — a very 'Spanish club' vibe to it all.
Josh: What did I say about it being straightforward? God, that first half was graft. Nevertheless, there was another goal for Minamino and more Origi magic. Probably our goal of the season, though he now has a few contenders for that on his own. What a fella.
Paul: A fairly comfortable second half in the end, which sent us through to the quarter finals — with old friend Brendan Rodgers awaiting us…
LIVERPOOL 3-3 LEICESTER (8-7 pens) — QUARTER FINAL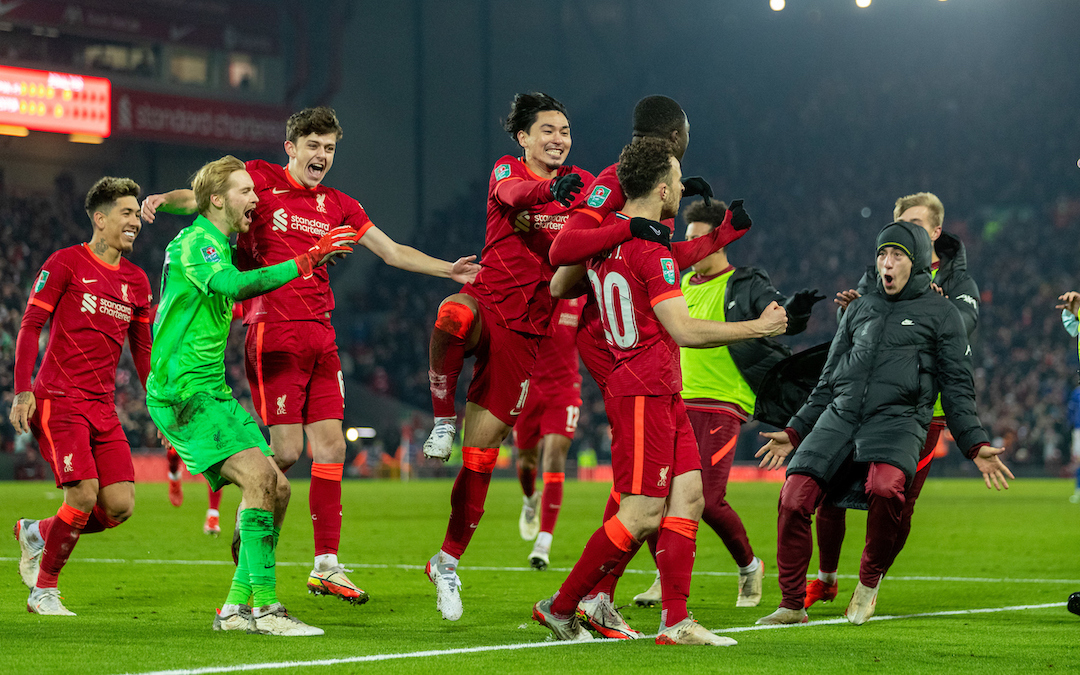 Josh: Another game of two halves, but this time with much more excitement. I don't think I've ever gone from not arsed to wanting to torch the gaff so quickly in my life. More lads getting the chance to write their names into the history books. Could well be the game of the season when we look back in May.
Paul: Alright, I'll admit — after this game I thought the unbearable Reds were going to win it for the ninth time. I fell in love. I was seduced. Aroused. It was all too beautiful, to quote Steve Marriot of the Small Faces.
Josh: I gave away my tickets that night and have never felt FOMO like it (behind closed doors title celebrations aside). It shouldn't have even mattered and suddenly it meant everything to everybody there.
Paul: To watch Liverpool do that to any side under the Anfield lights is special, whether that be Leicester or Barcelona coming to visit. It's magic, and it should be a natural right to all who seek it.
Josh: Manchester City lost and suddenly it felt even more possible. Their hold over the trophy was relinquished, and the path looked much clearer.
Paul: We were into the semis, and suddenly I could make out that famous Wembley arch in the distance…
ARSENAL 0-2 LIVERPOOL — SEMI FINALS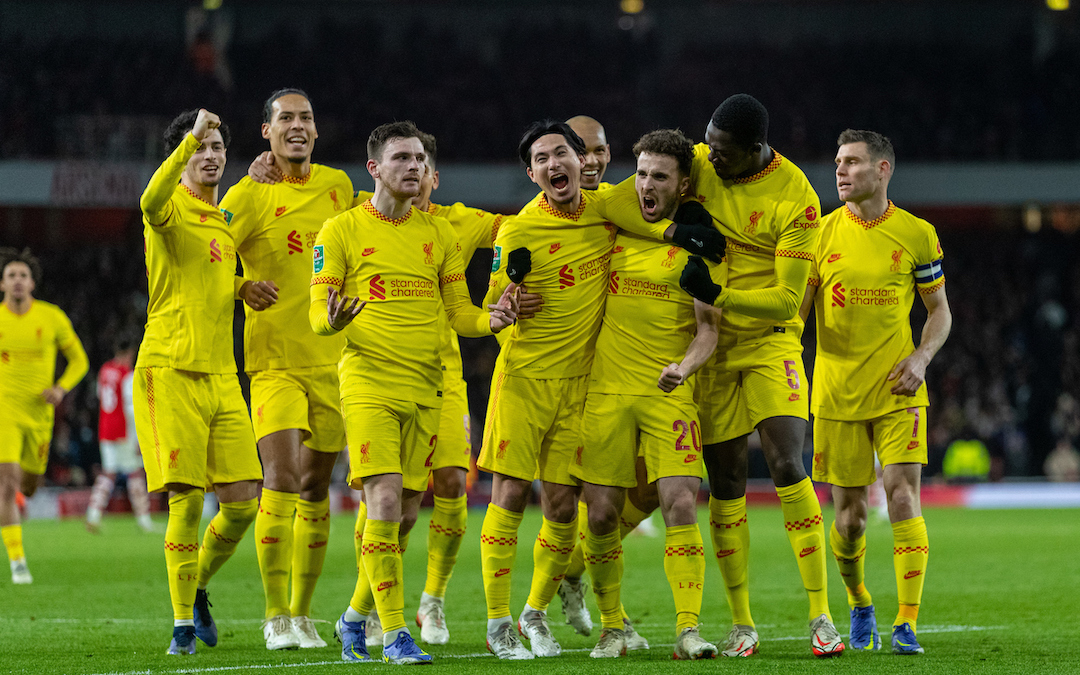 Josh: The first leg was what it was, any doubts that came from it at the time were banished within 20 minutes of the second. The second goal came in the second half courtesy of Diogo Jota. The away end was bouncing, and there was a new song to boot…
Paul: Better than Figo, don't you know.
Josh: A new song always feels like the start of something. A trip to Wembley could be the start of something for Liverpool this season…
LIVERPOOL v CHELSEA — THE FINAL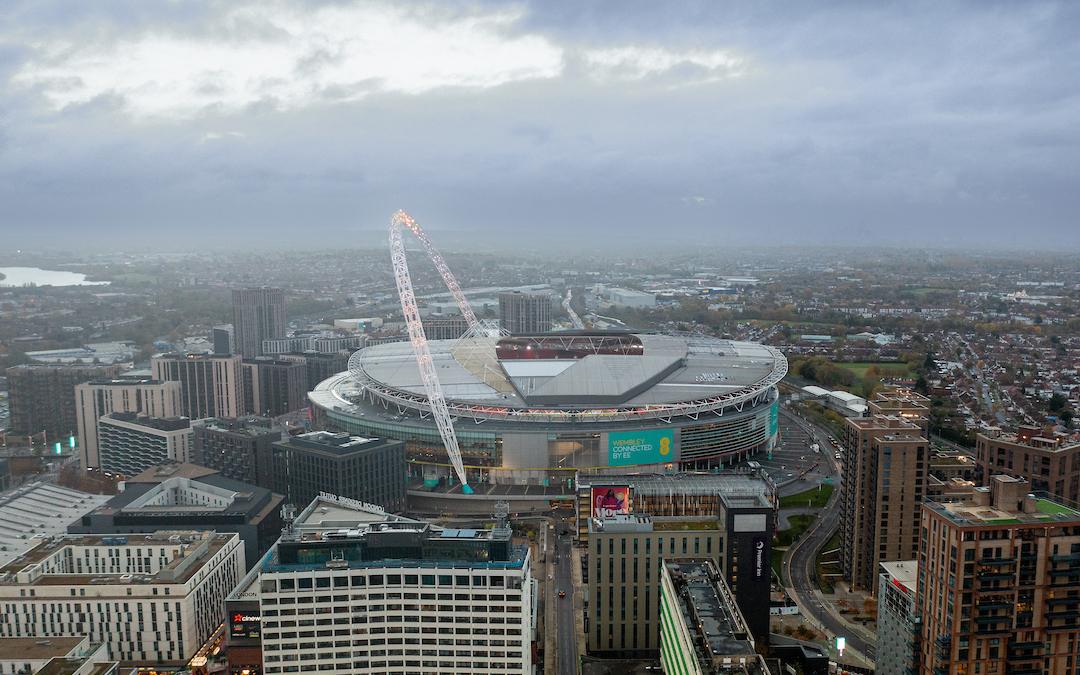 Paul: 'London's calling' said The Clash in 1979. Now The Reds will be saying it as they travel in their thousands down to the capital this weekend. I'll be there to watch The Reds, making my fifth pilgrimage to Wembley.
Josh: It will be my fourth trip down to watch Liverpool at the national stadium. I absolutely can't wait to see our lads put on a show for us all.
Paul: Viva la Mickey Mouse Cup.
Josh: Allez les Rouges.
Paul & Josh's Predicted 11: Kelleher; Trent, Matip, Van Dijk, Robertson; Henderson, Fabinho, Thiago; Salah, Mane, Diaz
---
"The 2nd goal against Arsenal was nice and strange. I wasn't expecting the linesman to give an offside, I was really going for it with the celebration."

🎥Diogo Jota Interview

1️⃣ Download our App
2️⃣ Enjoy FREE tokens
3️⃣ Listen/Watch in full

📱👉https://t.co/yTcwWTZN7t👈📱 pic.twitter.com/k3nn35BDkl

— The Anfield Wrap (@TheAnfieldWrap) February 25, 2022
Recent Posts: