When Joel Matip first arrived at Liverpool few knew what to expect, and he continues to positively surprise supporters years later…
I ENJOY the On The Whistle clips on The Anfield Wrap.
If you haven't seen them, they come, as the title suggests, at the very end of a game when a few contributors, either in the ground or at home or dotted around the world, take a minute or so to give our immediate reaction to what's just happened. They're great as they're immediate, emotional and without the buffer of analysis and interpretation that a podcast or article allows. For that reason, little moments get lost in the battle to cram everything of note into that snippet of digital content.
On Thursday night, I chose to pass over two Diogo Jota goals, the reception Mo Salah received from the crowd following his AFCON disappointment, a noteworthy win against a side who have already beaten us and more, chose to concentrate on the sight of a gangly centre half consistently galloping up the pitch to start attacks. Anything Joel Matip related usually gains priority in my stuff.
It speaks volumes that the crowd would ordinarily have reacted with glee at that, but instead there was a collective smile and shrug. It's just Matip being Matip. A wonderful thing, though not atypical of the man.
This has been a new element to his Anfield career. After signing on a free from Schalke in 2016, his initial role was as a standard centre back. Not especially adventurous in the other half but often a threat at set pieces. He could be a little soporific at times and no one complained too much when Jurgen Klopp played Joe Gomez in his place while the Cameroonian international was injured. He struggled to find a place in the team for a while and had to wait for Joe to be injured. There was only one berth available at centre half, as the other happened to be the best in the world.
In the 2018-19 season, he became more of a defensive sub whenever we held a precarious lead. If we were under the cosh, Jurgen would go to three at the back in injury time to get the game over the line in the same way James Milner does today. A perfect example of this came at the King Power in September 2018, when we led 2-0 in the first half before Alisson Becker gifted a soft goal. The big man came on for Trent Alexander-Arnold to deny Leicester space in front of goal when Virgil van Dijk and Joe Gomez were forced to play deeper. Though this was an important role, it wasn't really what he came here to do.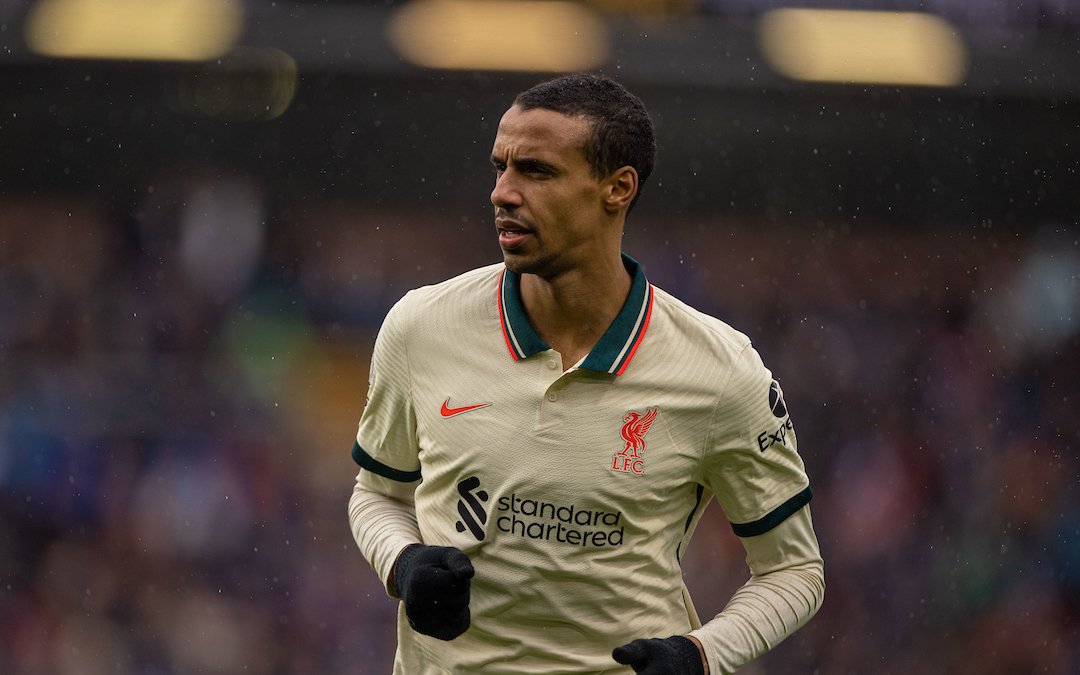 Mind you, he also wasn't expected to casually play an assist with his shin in the dying minutes of a European Cup final and he did that the following May.
There are great defenders and there are great defensive partnerships. It's no accident that the name 'Hansen' is usually followed with 'and Lawrenson', and Liverpool have had plenty of these over the years. The last great one was probably Sami Hyypia and Stephane Henchoz at the turn of the century, but the van Dijk/Matip is a firm candidate for the modern age.
And this is where we are blessed. Two years ago, the future looked like a van Dijk/Gomez partnership would be the basis for our defence for years to come, but Matip (along with Joe's injuries) kept forcing his way in.
It's well known that Jurgen puts an emphasis on character and personality as much as ability and technical play, so he's clearly noticed the very special relationship between his number four and 32. They really do get on and the Dutchman seems to delight in Joel's 'unusualness'. Last October he said of his teammate:
"He's a special, special character and we all appreciate him. Not only for his qualities — he's an unbelievable defender — but as a human being. He's how everyone should take life — very easy, be nice and put things in perspective."
It's easy to pour scorn on the footage of Virgil taking the piss out of him with T-shirts and what have you, but that closeness really helps. Not that that's the be and end all. Tommy Smith and Emlyn Hughes couldn't bear the sight of each other and they won pretty much everything between them, but that wouldn't be allowed today. There has to be a respect and even affection between players. It's no coincidence that the dressing room layout is designed so defenders sit together as midfielders and strikers do in their group. The rapport is important.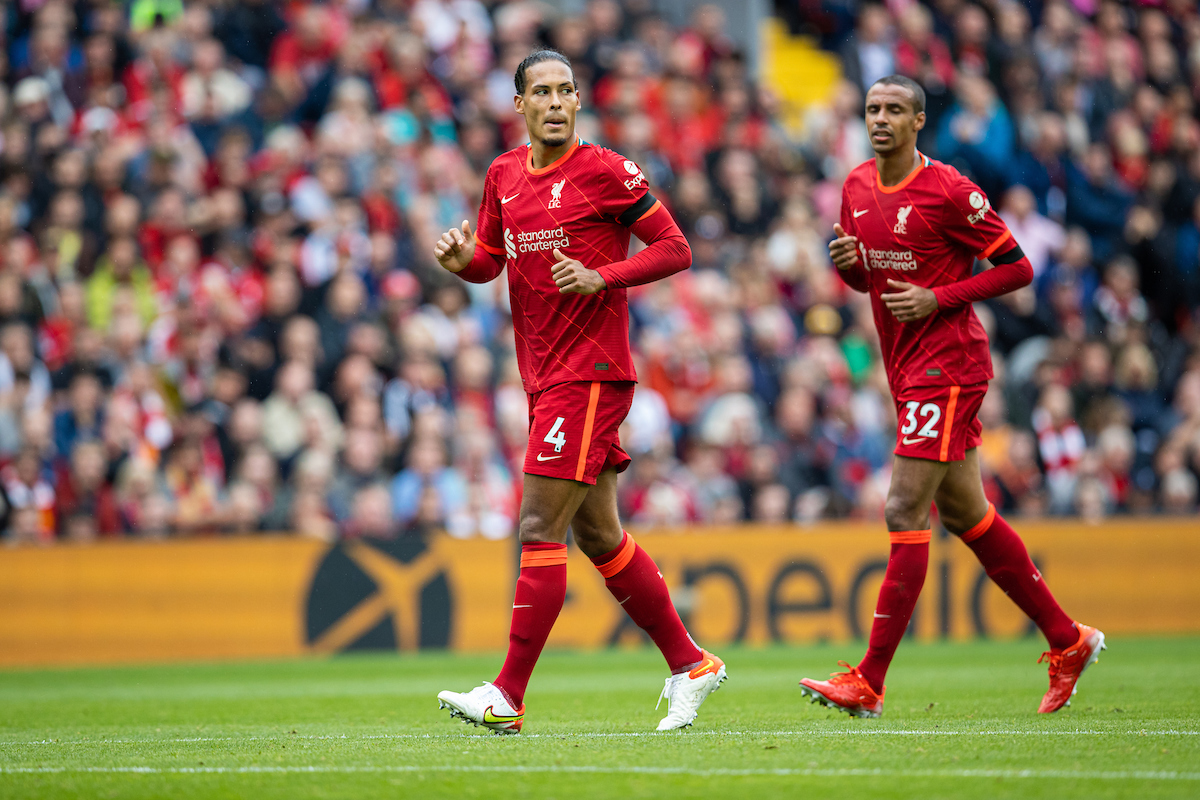 But back to Joel. Rob Gutmann once described a marauding centre half on a run deep into opposition territory as being akin to witnessing a horse run through a housing estate. No one has the first idea how to stop it and there's something glorious in watching it run in such unfamiliar areas. Joel always looks like his legs can't run with a ball at his feet but he can slalom through most sides when he's a mind to do so.
I mean, what do you do if you're marking Roberto Firmino or Diogo Jota and your midfielders are either marking zones or watching the run of our midfielders? What do you do when you see the 6ft5in defender come at you with his limbs all over the place? Do you close him? Do you leave your man? Do you just cut off his passing lane to his wide men? What if he doesn't pass? He doesn't look like he's going to.
And goals come from errors and overloading areas at the right times. Joel Matip is now part of our attack — a joyous gift of an attacker every couple of games. Our only hope is that one day he won't collapse McManaman-esque in the box and actually have a shot on target. (Macca was the king of the impossible mazy run followed by the lamest of backpasses to their keeper.)
Ibrahima Konate looks great and Gomez still has a career at the club, but as things stand Joel looks like being first choice for a while. If anyone doubts him, they may want to remember that he's often had a better game than his partner at times this season. A controversial view, true, but one I'm not ashamed to air.
I just wonder what he's going to do next. I hope I'm there to see it.
---
"On days like today, you need your centre halves to win everything in the air and I thought they were imperious. You really did get to see how good Alisson is 1 on 1."

🎥 Post Match Pint

1️⃣ Download our app
2️⃣ Enjoy FREE tokens
3️⃣ Access this video

👉https://t.co/yTcwWTZN7t👈 pic.twitter.com/t8rteRaKm5

— The Anfield Wrap (@TheAnfieldWrap) February 13, 2022
Recent Posts: