While we can feel uncertain about the future and forget what we have in the present, Liverpool's youngsters remind us that both are bright…
I WROTE on these pages a few weeks back about a feeling of impending doom.
It was a feeling that was tangible in the air at Anfield as Liverpool took on Newcastle United, with Covid cases on the rise and the walls feeling like they were closing in on us all again.
For most, some of those feelings haven't quite subsided. The past few weeks will have left many still not knowing quite where to place themselves in many senses. In a football sense, the postponements and rising Covid concerns around the club have left us literally not knowing when or how games will be played.
As Liverpool's third and fourth goals went in on Sunday, some of those fears seemed to subside — at least for the moment. We should be all about those moments right now, given that none of us really know what the future holds. We should be trying our best to not focus too much on what's around the corner and enjoying what we do have right now.
At Anfield, in the third round of the FA Cup, what The Reds had was fun. While the third and fourth goals felt like the pressure valve for some of the tension we've had in recent weeks, my own enjoyment started before the first whistle.
Of course I didn't enjoy Shrewsbury Town scoring or any of their subsequent half-chances to double their lead, but I think I was just prepared to ride the roller coaster. I was prepared because I wanted to see a load of deserving young lads getting a shot at the very thing they've been dreaming of their whole lives.
With hindsight at least, I can see that Daniel Udoh was one of them. But it's of course the Liverpool stories I care about more.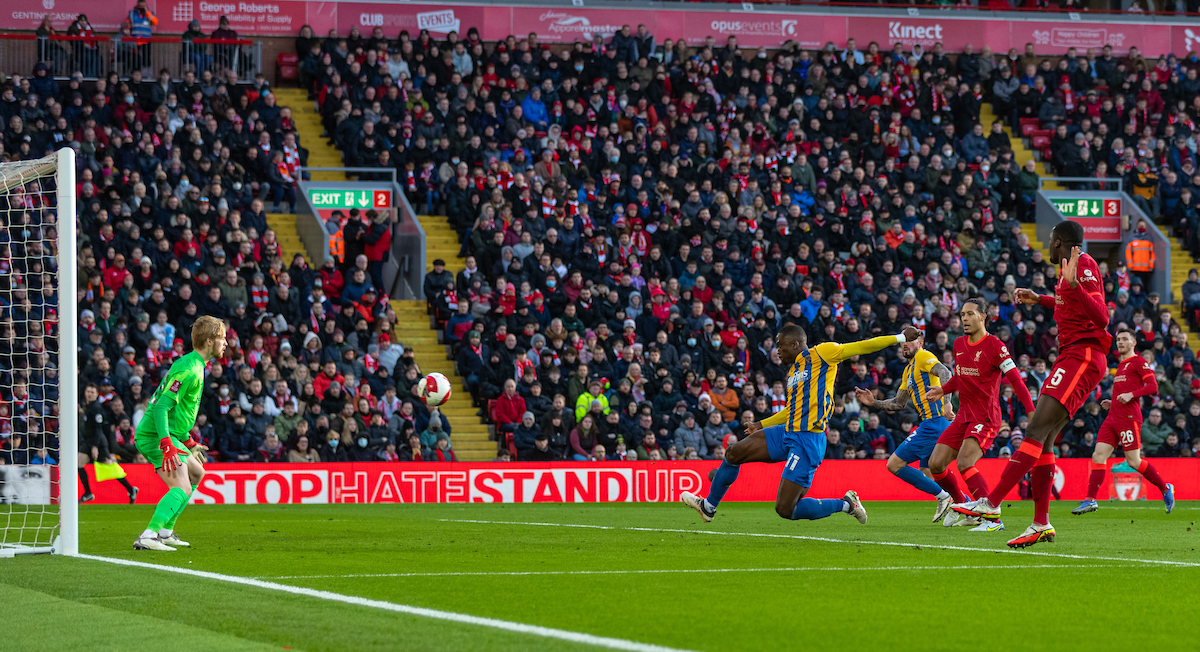 I've watched Elijah Dixon-Bonner in The Academy ranks for a number of years now and, while I've always been fond of his talent, I didn't really ever think I'd see the day he was playing first team football at Anfield. He was on trial at Portsmouth just this summer with a view to going and getting minutes at senior level, and then there he was on Sunday.
He was there and he was everywhere, in fairness. I loved the way he put himself about, flying into tackles and generally showing such a willingness to be on the ball, to win it back and to make things happen. He made me feel proud to have been a stakeholder in his development, and I hope he's proud of himself too.
Young Max Woltman was another of the young lads afforded a start who many may not have heard of. His 45-minute cameo may not have done much to cement his name even further in those people's minds, but the literal size of the task of dealing with Shrewsbury's towering defenders was always a big ask. Still, what an occasion for him. I've no doubt he'll be back.
We've seen a fair bit of the other lads by now. Caoimhin Kelleher, Conor Bradley, Tyler Morton, Kaide Gordon and even Curtis Jones. It's easy to forget, because we've seen more of them, that they're all our lads. I mean, lads that our club have literally developed into the players we saw out on that pitch. And they all did us and the club's staff proud.
Kelleher has shown in his past few appearances just how impressive he can be. He can occasionally get himself into tricky situations but he always bails himself out and shows great composure in doing so. His speed of feet and thought will serve him well at the highest level, and I hope that it's mutually beneficial to him and Liverpool for that level to be here.
Bradley's game followed a similar pattern to a couple he has played for The Reds. He makes half a mistake in not getting tight enough to the cross for their goal, but he shows such a strong mentality to recover from that and put in a really decent performance. He's a proper footballer and one the club are clearly working hard on, and I'm sure he's doing the same.
Morton grew as the game went on, and looked like he was just having a lovely kickabout with his mates by the end. He's played on some big stages for Liverpool already and has had a lot asked of him, and he seemed to be shouldering a lot of responsibility against Shrewsbury too. He can cope with that, though. He's a top talent and he's ours.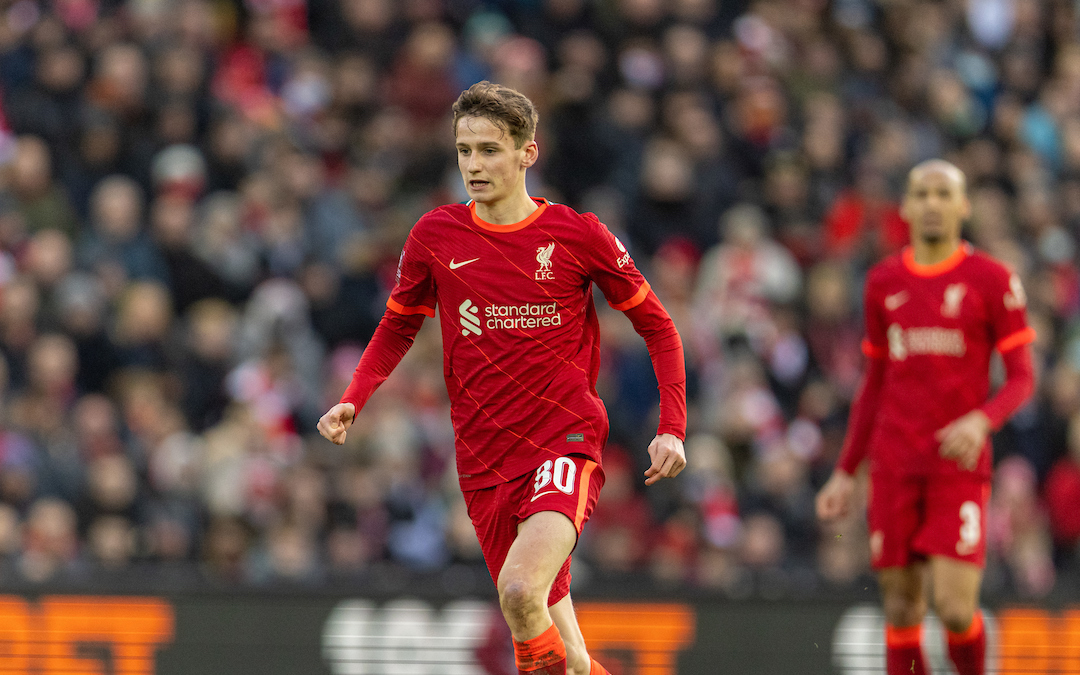 Gordon was the star of the show in my eyes, and I'm seriously excited about what he can bring. The composure and technique he displayed for his goal was so far beyond his 17 years, and it was an overall display that you'd like to think could be rewarded with more game time. He's quickly becoming a frightening prospect.
Even Curtis Jones. I say even because there's already loads of weirdness around this 20-year-old lad from Toxteth that is living his dreams while helping all of ours come true. He had a tough task on Sunday and still managed to show that he belongs at the top level. His presence is such a positive for this club and this city. I hope that continues to be the case.
I could worry about any of these lads not being resounding successes at Liverpool, but it's much more fun the other way round. I love them all to bits and want them all to realise the potential this club saw in them.
By the time the final whistle rolled around on Sunday, I can safely say I just felt grateful for what I had. I support a team and a club that make me proud. They give me genuine reason to be excited about the present and the future.
It may not always be the plainest sailing. But it's a roller coaster I'm prepared to ride, because I'm prepared to see these lads get what they deserve.
To their dreams and ours coming true.
---
"Watching these young players make [the kids watching] feel like it is achievable, that it is within reach. That in a few years that could be them [on the pitch]. That is brilliant."

1️⃣ Download our App
2️⃣ Enjoy FREE tokens
3️⃣ Access Our Videos

📱👉https://t.co/yTcwWTZN7t👈📱 pic.twitter.com/9T1psusvsY

— The Anfield Wrap (@TheAnfieldWrap) January 10, 2022
Recent Posts: