While Liverpool's title race seemed to be run after their draw with Chelsea, we mustn't down tools with so many league games left to play…
THIS is all about momentum or rather the lack of it.
While The Reds have been knocked by Spurs, knocked over by Leicester and frustrated at the Bridge, Manchester City have won and won and won. Sadly, those are the facts and, as we're constantly told, the league table doesn't lie.
They deserve to be there too. You can say what you like about decisions, VAR, oil money etc., but the simple fact is that City are an excellent side and one who are either not faced with our issues or are somehow overcoming them from within. They have momentum, Liverpool have two points from nine.
And, yes, that's a worry with this Premier League. In 2020 we literally had to be perfect for the first two-thirds of the season to cement our 19th title and perfection isn't easy. Perfection has no place for Mo Salah missing a pen at the King Power or Mateo Kovacic scoring worldies but this season has. It's frustrating to say the least, but it is what it is.
And to top all that we've now lost Mo, Sadio Mane and Naby Keita to the AFCON, but we've always known that would happen. And this is all before Covid came to watch us train. It's all gone a bit grim of late.
But you can't give up. You can't walk away.
Nothing is decided yet. Nothing.
I know, I know. He's going to bang on about 'no runners' with his stupid mindless optimism again, but there's no other way to be at the moment. I'd rather that than crying into my beer. Hear me out here.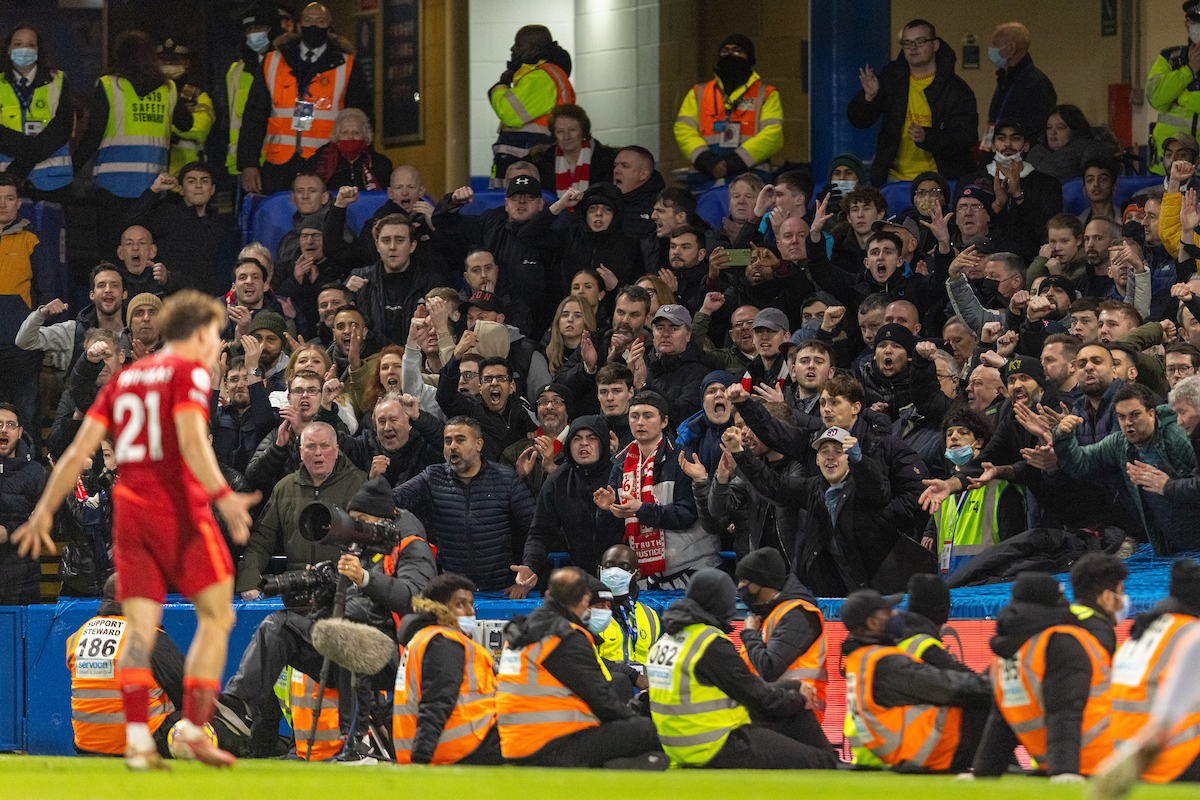 The year is three days old and we don't want to be in a position of giving up the league if City blow up. You can't afford to throw the towel in in January. If City do go on to win it, I'd like them to be looking over their shoulder at us all the way. I want sleepless nights for Pep in April, not parties.
I don't know, maybe the pressure will be off us now and the lads can go back to enjoying themselves again. We seem to play better when everyone is looking elsewhere and we can afford to smile a bit. It's not easy to smile when City are knocking in 96th minute winners, but you have to accept that sometimes.
That's not to say this isn't galling. The league is the one and, though we have a special and historic relationship with the European Cup, this is the one we want. Our 'bread and butter' as Shankly called it.
Don't get me wrong. I like a day out at Wembley and the three cup upcoming games are important in their own way, but I'll be guiltily thinking about the league table when they're played, like an unsure bride thinking about her ex on her walk up the aisle.
So, what exactly is going wrong? We've still got the best goalkeeper, centre back and striker in the world, so we're not doing too badly. The midfield seems to be Jurgen's biggest conundrum. No one has escaped criticism this season, including the usually untouchable Fabinho.
Jordan Henderson has been poor in recent months, though not quite as bad as some make out. James Milner wasn't a popular selection pre-game with some Reds and Alex Oxlade-Chamberlain and Naby Keita are alright at what they do, but I can't say I'm off my seat when they get the ball. I've misgivings about both. Heresy in some quarters, I know…
No one is really killing it in the middle of the park. No one is first choice save for the Brazilian, though I thought even he was poor on Sunday.
A couple of signings might help, though that's not a given these days. You can look across the pond to Boston and ask about new blood coming in but not with much confidence. The Covid/post Covid world still scares them and they don't seem overly keen on lashing out millions when they can promote from within. I expect players such as Curtis Jones and Tyler Morton are going to have great careers, but I'm not sure they can carry a title challenge just yet.
But this is runners talk. We're not in this to run when the going gets tough. We dig in and defy expectations. We've had nothing but faith in these lads for years now and they shouldn't be abandoned because of a sticky patch. Taken in isolation, a point at Stamford Bridge against the European Cup holders is far from shameful. If anything, they should feel more pissed off than us right now.
None of this is meant to be easy and it's worth remembering that this is a club capable of going on a run to frighten a few Mancunian hearts. This run of results should be unifying us rather than having us run to the hills. This isn't over no matter what basic mathematics says.
We just have to tot up some points. A solid win here, an edgy 1-0 there. Just keep chipping away unnoticed. Let City be the lightning rods of attention. Just win, Liverpool, and we'll see where we are in May. 
A few weeks ago, I said that only City, not Chelsea or United, matter now as the league is a head-to-head with them but that's changed now. Now they don't matter either. It's just us now. Us and the three times table. Add another three at Brentford, then Palace and then the gobshite arrivistes of the East Midlands. Points, points, points.
Let's just concentrate on that now. Not opposition fans, or Peter Walton, or whoever. Just Liverpool. We owe them that much. We owe them so much more.
Liverpool need momentum now and they need us. No walking away. No hissy fits. No tittylips.
This isn't over yet. Stay strong, Reds.
---
"I'm not interested in entertainment for the neutral. At 2-1, find a way to get to half time but instead Liverpool got themselves embroiled in a mad ding dong match."

Post Match Show 🗣

1️⃣ Download our App
2️⃣ Get 1000 FREE tokens
3️⃣ Listen for free

👉https://t.co/yTcwWTZN7t pic.twitter.com/nu6TR1H8UM

— The Anfield Wrap (@TheAnfieldWrap) January 3, 2022
Recent Posts: