After his double secured Liverpool's place in the League Cup final at Wembley, Diogo Jota has also helped reunite fans behind a common cause…
GOALS do indeed pay the rent, and Diogo Jota does indeed do his share.
David Coleman's infamous commentary following Kevin Keegan's tap-in after Liverpool's total-football move in the 1974 FA Cup final against Newcastle remains a piece of cherished narration.
As we approach 48 years since Bill Shankly's domestic cup triumph that spiralled Liverpool into decades of trophy-laden riches, we're again reminded of what is sentient for footballers and supporters.
A semi-final is a glorious thing. It's tantalising and enriched with endless promise. It's a day out and all that remains possible the night ahead.
Of this current squad only Roberto Firmino, Jordan Henderson, James Milner and Divock Origi have been to a Wembley cup final.
We can forget that even the most elite dressing room needs to fizz with the anticipation of winning another trophy. After all, the curtain of time comes down much quicker on the days spent living through your peak.
And to that end, you got to see how every man in yellow wanted it more last night. They were technically and physically better while having the experience and self-belief present for the occasion.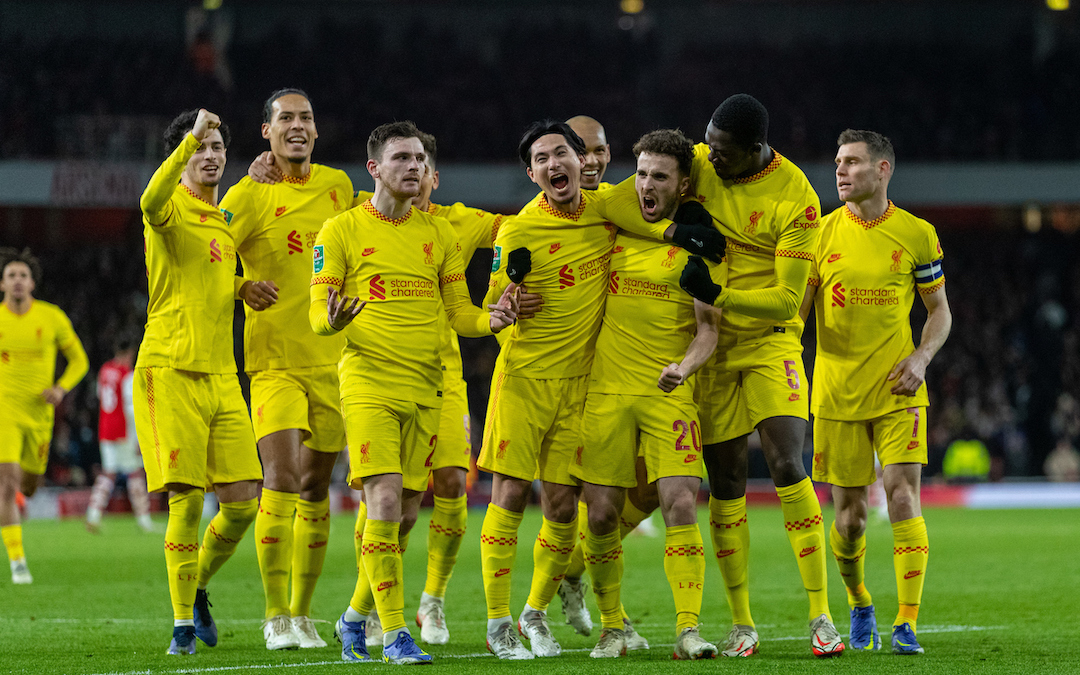 They have an incredibly difficult encounter left, but they are at the party. No guilt attached here. No suitcases of wine and no need to sneak around and be deceitful to the people who put them there.
They want the limelight and not the shame.
It's been a funny few weeks among this supporter base. Questions around match-going etiquette, behaviour and atmosphere have crept in and sewn slight division.
Maybe you can't be quite as sanguine when someone next to you shouts "shoooot" everytime Joel Matip gets the ball. Maybe you're the person who does it and can't understand the problem.
This happens with Liverpool. It comes and goes throughout the eras. Perhaps we should once again laud the phenomenal ability of Jurgen Klopp to unite such a complex beast to this degree.
The point is that as complicated as identity, Covid disruption and an 11-point Premier League gap out of seemingly nowhere is, sometimes football's deepest roots can reconnect you.
We all love the joy of reaching a final. We all love the heroes who are born from such an occasion.
If you didn't think he was already, Diogo Jota is every inch a Liverpool centre forward, verified and worthy of the title.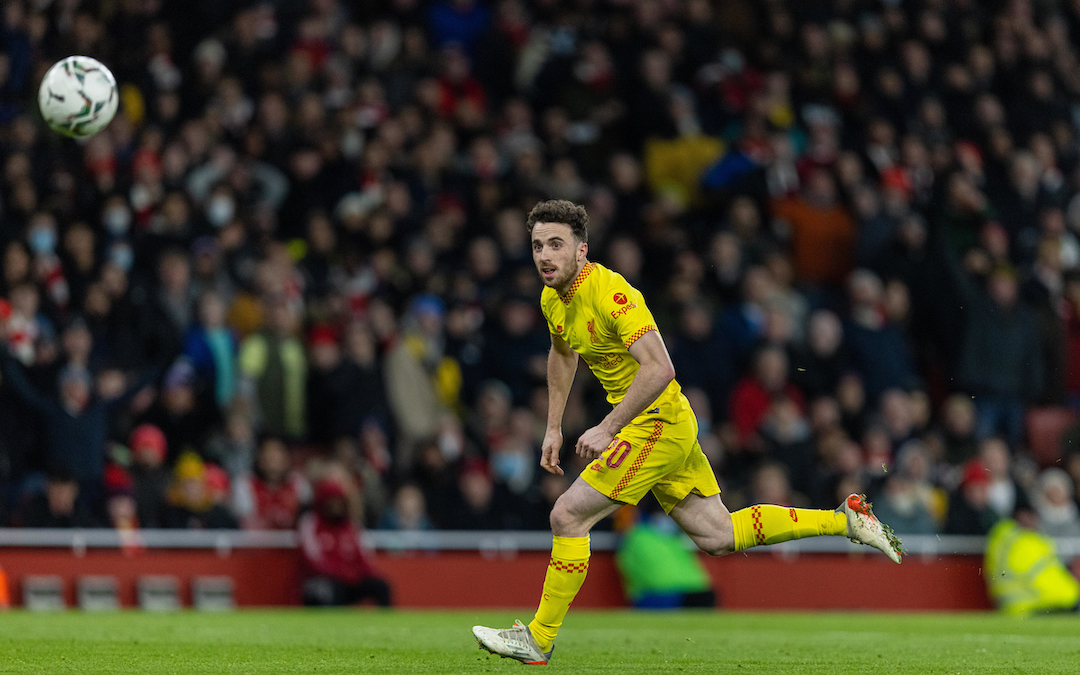 He has been paying rent on time for Liverpool since his move from Wolves. A clever footballer, a footballer full of devilish competitiveness and one who craves goals for this club.
He is the player will have left rival fans uttering the sour tones of "how the fuck did they unearth another one?".
Occasions such as last night are what gets his name sung — a privilege long overdue — but it's because winning to compete with Manchester City has become so incredibly arduous at times.
When can you stop and enjoy all of this? The journey that allows for no wrong turns can often result in the most underwhelming destination.
If we're reminded of one thing after last night, it's that letting your hair down along the way shouldn't be sniffed at.
Liverpool will bounce into Wembley with a new song to sing and a night to be had.
It feels like the tonic we all needed, doesn't it?
---
"The second is a beautiful Liverpool goal, at a crucial moment, in a big game. The ball from Trent is amazing, but the touch Jota takes is unreal."

🎥Post Match Pint

1️⃣ Download our App
2️⃣ Enjoy FREE tokens
3️⃣ Access Our Post Match Reaction

📱👉https://t.co/yTcwWTZN7t👈📱 pic.twitter.com/9A9y21xS7T

— The Anfield Wrap (@TheAnfieldWrap) January 21, 2022
Recent Posts: