Match preview ahead of Tottenham Hotspur v Liverpool, with Jurgen Klopp still leading the way in terms of transparency during these times…
THERE is a strange sense of anticipation around Liverpool Football Club right now, which was tangible in the atmosphere at Anfield last night.
While stood on the concourse, taking sips of beer between pulling my mask over my nose and mouth, myself and my friends commented on that atmosphere. It felt similar to Atletico Madrid back in March 2020, we said.
Back then there was a sense that things weren't quite right, without really knowing where said feeling would leave us tomorrow. COVID-19 hadn't quite gripped our nation in the way it would just a few short hours later, but you still got the sense that everything was about to change.
Last night at Anfield, after the team news confirmed that Virgil van Dijk, Fabinho and Curtis Jones had all tested positive for the Coronavirus, it felt like things weren't quite right but we really had no idea where it would leave us. Could everything be about to change again?
Everything is speculation for now, as we hang on the words of a fella once again ignoring experts to suit his own populist agenda. What we know is that by the time Liverpool travel to the Tottenham Hotspur Stadium on Sunday, Antonio Conte's side won't have played in a fortnight. On Wednesday it will be 10 days since Leicester City last played football.
We're in limbo, and the people we should be able to trust to pull us out of it are doing everything to serve their own interests.
👏🏽 Here's Jurgen Klopp explaining the vaccine better than any governement or public health official in the last year. Take note, listen, learn. pic.twitter.com/z36advQXL0

— This Is Anfield (@thisisanfield) December 17, 2021
Jurgen Klopp was once again full of transparency in his pre-match press conference. He wouldn't comment specifically on why others wouldn't be as transparent as he has been during these times, but he explained why he has maintained his transparency in a typically forthright manner.
"We don't have anything to hide. Our most important concern is that the boys are healthy. If someone has flu and you ask me, I'll say he has flu. If he has a broken toe, I'll say he has a broken toe."
He's right. We could all do with complete transparency at this time. The lack of it only allows those serving to mislead to fill the air with their own noise, as Klopp himself pointed out.
So what do we know right now? We know that Liverpool are unlikely to be able to call on the services of Van Dijk, Fabinho or Jones on Sunday, barring any false positives from their follow-up tests. There have been no other positives since then, but you feel it is only a matter of time before we get more.
Working with the information we have, I think Jurgen Klopp will look to go back to his most trusted men — the experts dedicating their lives to their craft, as the manager has so greatly re-emphasised this week. With that in mind, I think the only change from the Newcastle game will see Roberto Firmino accompany Mo Salah and Sadio Mane upfront.
Firmino needs the minutes before Salah and Mane travel to the African Cup of Nations, and it's likely Diogo Jota will see minutes from the bench even if that is the case. Klopp could also have an eye on getting those two on the pitch together more over the Christmas period, in order to build their chemistry for when they become the go-to options in January.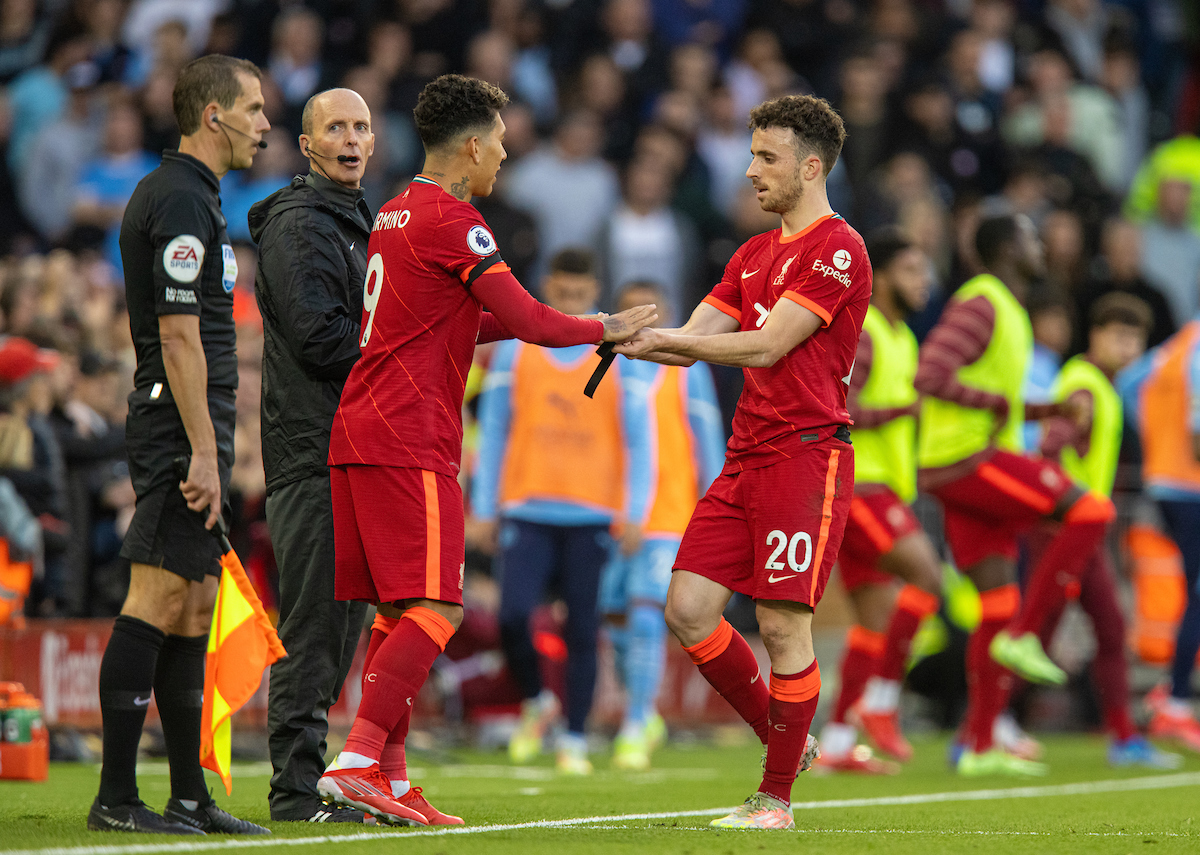 Joe Gomez and Naby Keita may also be hanging on the manager's words this week, hoping that he'll be looking to give them both a more even share of the minutes currently being taken up by Ibrahima Konate and Alex Oxlade-Chamberlain. Both should be shoo-ins to start on Wednesday, if it is to go ahead.
It might not go ahead, you know. But there's still a chance it might. Stopping football won't stop players catching Covid because it is still rife everywhere else. It would give the governing bodies a chance to find more time to play the games currently being postponed, though. Ploughing on regardless will only cause problems in both those camps.
It's time for transparency, but we shouldn't hold our breath. If the past 21 months have taught us anything, it's that our manager tends to be a world leader in this department.
We can thank our lucky stars he's ours. He's a figure of hope during these times, and we need every bit of hope we can cling to.
Look after yourselves x
Predicted 11: Alisson; Trent, Matip, Konate, Robertson; Oxlade-Chamberlain, Henderson, Thiago; Salah, Firmino, Mane
---
🗣Tottenham v Liverpool: Team Talk

Reaction to Klopp's press conference, as the boss discussed the schedule, Trent and more. @jsexton24 hosts @PhilBlundell, @lizzidoyle and @mxkes_, with Spur fan @DuhaneyPabs…

Listen👉https://t.co/jLljkAv92J
Subscribe👉https://t.co/oaOWcUzrlr pic.twitter.com/dB3hL4HInp

— The Anfield Wrap (@TheAnfieldWrap) December 17, 2021
Recent Posts: