Josh Sexton's preview ahead of Liverpool v Newcastle United at Anfield, as uncertainty grows around football and the wider world…
ALL got a bit concerning again, hasn't it?
Just as we thought we were beginning to establish some certainty again (more fool us, they laughed from their Christmas parties), all of a sudden all our freedoms have become surrounded by uncertainty.
Neil Atkinson of these pages loves the motto "these are our days of leisure," but what do we do when we feel like our days of leisure could come to a stop in the not so distant future?
My social media this week has not been conducive to this. Notification after notification of the Premier League and the NBA, in particular, being ravaged by Covid cases. It can feel like the pressure is only going one way.
Jurgen Klopp's press conference yesterday was full of questions about Covid, most of which were pie in the sky speculation about the future that the manager refused to be drawn on. I don't blame him. Now more than ever it is much, much easier to live with a day-by-day focus — or hour-by-hour if you don't feel as able to tackle the day.
In a number of hours we play Newcastle United. It's actually quite fitting how late I've penned this preview given all that is going on. Team news rumours are already floating around, but I've not really been able to process what I think it will all look like until now. Hour by hour and that.
In a matter of hours I think Jurgen Klopp will confirm that Alisson Becker is our goalie, the number one. I think he'll go with an unchanged back four, given the ongoing uncertainty around the Tottenham Hotspur game, knowing if that gets postponed and he has made a big decision in this one it could come back to bite him in terms of rhythm.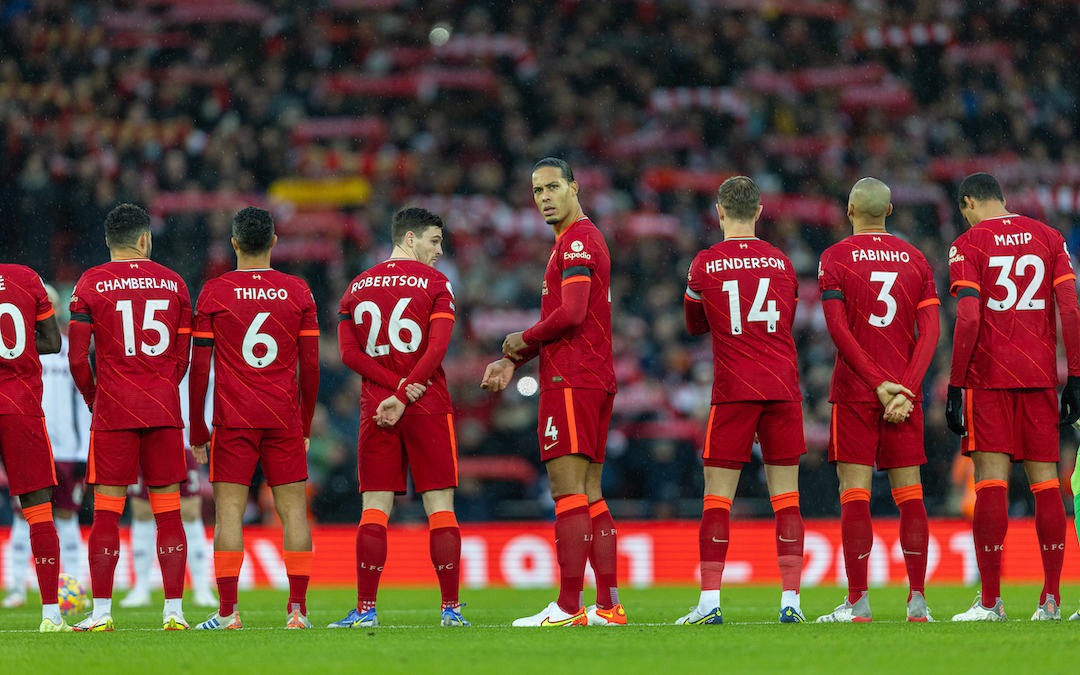 I think he'll go unchanged in the midfield for the same reason. He'll have an eye on Leicester City in the cup to give Neco Williams, Joe Gomez, Ibrahima Konate, Kostas Tsimikas, Alex Oxlade-Chamberlain, Naby Keita and possibly James Milner starts — with Tyler Morton and Curtis Jones waiting in the wings for minutes here or there.
Upfront I expect Diogo Jota to come back into the fold for Oxlade-Chamberlain. The latter didn't particularly impress at number nine against Aston Villa, and found himself often dropping deeper while interchanging with Jordan Henderson in order to try and get himself into the game. Henderson excelled more in both roles, but that's no slight on Ox.
Jota will more than likely be flanked by our duo of African dynamos Mo Salah and Sadio Mane, who will both be wondering what the New Year holds for them with more uncertainty surrounding the African Cup of Nations as a result of the wider global picture, and the ongoing situation in Cameroon.
The manager was able to offer certainty around Joel Matip's international future, a strong no on that one. He also confirmed Gomez won't be loaned out in January, with The Athletic going further to report that clubs are likely to stay away from doing loan deals until things settle down again.
Day by day, hour by hour. Today Liverpool should beat Newcastle United comfortably. In a few hours we will know whether that was the case or not. Tomorrow is anybody's guess.
Look after yourselves x
Predicted 11: Alisson; Trent, Matip, Van Dijk, Robertson; Henderson, Fabinho, Thiago; Salah, Jota, Mane
---
"With and without the ball, there is a relentless to Liverpool at the moment. It's going to be very tough for Newcastle."

🎙 Liverpool v Newcastle United: Team Talk

🗣 @jsexton24 hosts @emiliabona, @johngibbonsblog & @Adam_Smith_82…

Listen 👉 https://t.co/RZ5ckXvRKw pic.twitter.com/yL55S4Mu50

— The Anfield Wrap (@TheAnfieldWrap) December 16, 2021
Recent Posts: