With Liverpool finally able to field their favoured midfield trio, they've shown all the signs they'll be crucial to any success this season…
A DERBY should never be easy, but last night Liverpool made it look so.
Our lads were a cut above, dominant from start to finish and perilous in front of goal. That they have made these types of performances so routine is testament to their quality, and the latest statement about their title aspirations.
Liverpool's midfield has often thrown up more questions than answers but at Goodison, with the trio of Fabinho, Henderson and Thiago, the balancing act was spot on. All three worked well individually but even more so collectively, providing the perfect blend of ingenuity, creativity and discipline.
Their effect was clear to see. The passing was spot on, the interchanges almost effortless and the press so intense it suffocated Everton. It was a game decided as much by the work rate and combinations of the engine room as it was by ruthless finishing and dazzling feet.
Fabinho is a man made from the sturdiest foundations. He's a player who reads the game perfectly and snuffs out the danger. There is a comfort to watching him. A sense of calm. It's what we want, it's what Liverpool so often need. He is an anchor to the back four and facilitator for those ahead of him; the man who makes it all tick, changing the entire dynamic of the team and making everyone else in a red shirt better.
It is no coincidence Thiago Alcantara is enjoying his best run of form in a Liverpool shirt with Fabinho alongside him. The Spaniard has had his share of doubters since moving to the Premier League but those are growing quieter by the day.
Imperious against Southampton, then commanding and assured versus Everton, he dissected the defence and drove the team forward. His performances over the last few weeks have clearly demonstrated that he not only belongs in the team but elevates it to another level.
Then there's Jordan Henderson. Bending the ball in from 20 yards like nobody's business and banishing the frustrations of last season in doing so. His pass for the second, started by an interception before a swift through ball, single-handedly broke the Everton press and set Salah on the counter. It was a perfect summation of his evening. He is everything you want from your captain and more. A cut above the rest.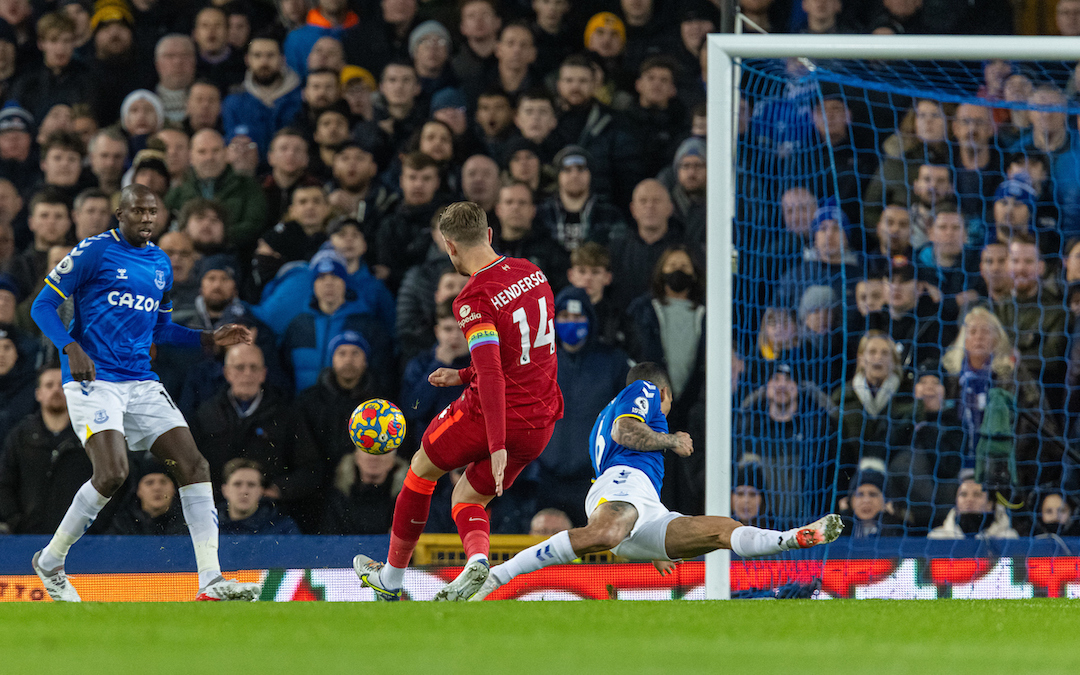 All three were Liverpool's commanders, perfectly complementing one another to make the midfield an area of real force. With Fabinho in the six, Thiago and Henderson were given a greater freedom to roam, able to influence the game in the final third while safe in the belief that the world's best holding midfielder would mop up where necessary.
It was calm instead of chaos; each component knowing their role and executing it to a tee. They have now started together on four occasions, and the hope will be that they can get a run of games together.
Liverpool's performance last night was at a level we've become accustomed to, but one that shouldn't be taken for granted. This is one of the best teams in Europe, the very best Liverpool team of my lifetime, and one that will undoubtedly be up there come the end of the season.
It is also one that now seems to have solved its midfield puzzle. Klopp has had to bide his time to field Fabinho, Henderson and Thiago together, but their performance last night and against Southampton emphasised it was worth the wait.
The balance was spot on, the energy unrelenting, the creativity clear. All three players are the very best and what they do, and Liverpool are reaping the rewards. Keeping them fit will be key.
For now, another derby day delight at Goodison Park and a sweet four-goal haul. We'll need more of that in the weeks to come during this gruelling festive period.
Rest assured, Fabinho, Henderson and Thiago will be right at the heart of it.
---
"It's the chances that they keep creating, that's what's astonishing about this Liverpool."

"It doesn't matter if they miss because they've got the attitude of another really good chance is its way and they make that happen."

Post Match Pint 🎥

👉 https://t.co/oaOWcUzrlr👈 pic.twitter.com/0cTFK4wP8t

— The Anfield Wrap (@TheAnfieldWrap) December 2, 2021
Recent Posts: