Josh Sexton's preview ahead of Liverpool v Aston Villa at Anfield, with sentimentality in question for several reasons…
I LOVE the sentimentality of football.
I doubt I'm alone in that, given there is now a generation of football fans disillusioned with the modern game and the ways in which its monied stakeholders have sapped a lot of that sentimentality out of our sport.
Still, amid all of the wagering with our emotions, something always pulls me back in.
Steven Gerrard returning to Anfield for the first time as a manager? Yes, please. Divock Origi performing the umpteenth resurrection of his Liverpool career? I'll have a big old bowl of that, thanks.
Gerrard has said he wants to take the sentimentality of Saturday's game and I can completely understand why. Since the day he took his first coaching role, the talk of him one day becoming our manager started. And since that day he has maintained that he wants to earn it as opposed to feeling like he's being handed it.
The visit of his Aston Villa side will feel like a big step towards that for him. It also will for us, and there's likely to not only be at least some acknowledgement of that, but also a lot of acknowledgement of the stature he's held in which sees him constantly being tipped for a return.
His brief return to the dugout to face Jurgen Klopp's Liverpool will be a lift to us all, something to warm our hearts on what is bound to be another chilling winter's day in L4. It will also lift the atmosphere beyond the usual. Steven Gerrard deserves that, but most importantly these lads deserve it.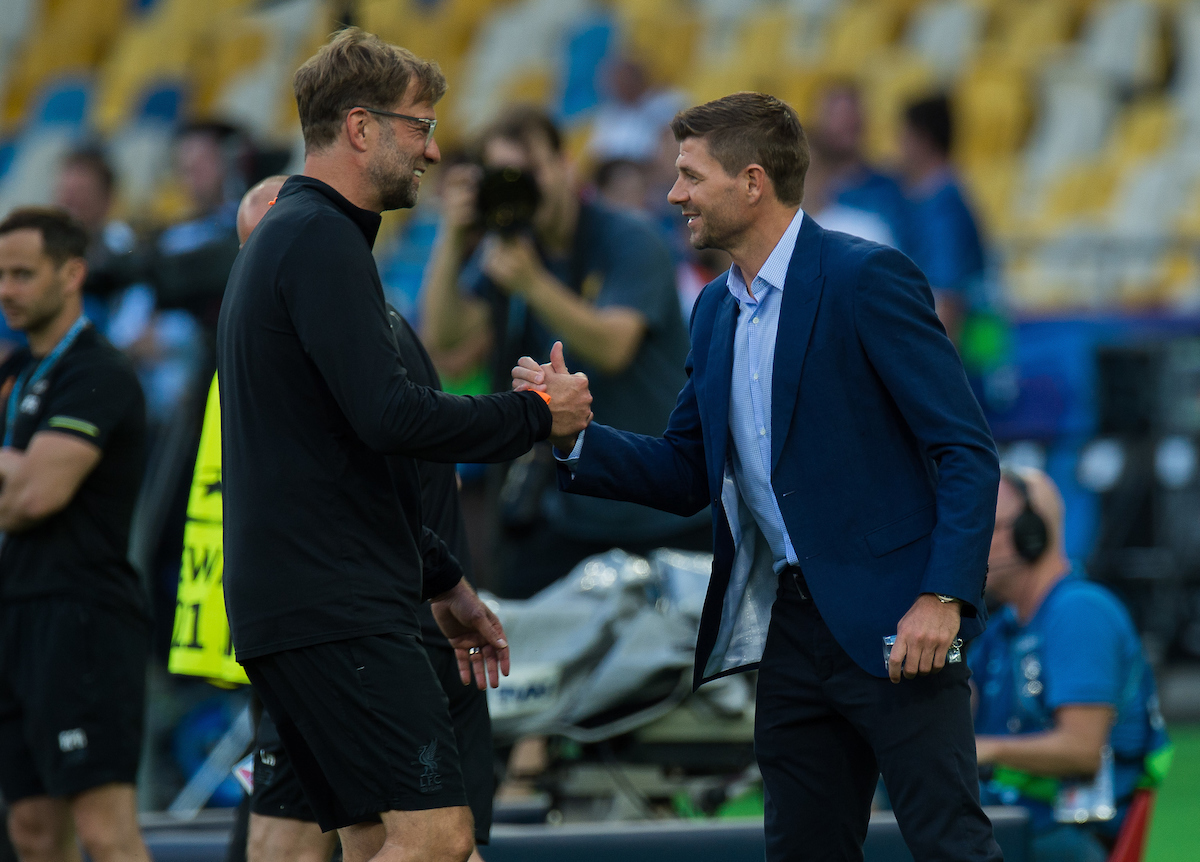 They'll be the ones with the professional job to do. While we as supporters and even our manager will get swept up in the sentimentality to an extent, for our lads it's Aston Villa at home in the midst of what already looks to be a nip and tuck title race.
We'll be reminded and in turn will remind them of that, but we all know the stakes. Divock always knows the stakes, and he likes them especially high. I'd secretly love him to start but would also like Diogo Jota to provide us with a fitness boost by being ready to play. Maybe we can save Origi for more late substitute action. He likes that too, after all.
Mo Salah and Sadio Mane should both keep their places having been taken out of the Milan game early on Tuesday. The midfield three which kept Wolves penned in last Saturday should see another start. And the back four should also stay the same from Molineux.
There was a time when I wondered if sentimentality was starting to rule my decisions on a few of Liverpool's current lads. It's always a fleeting moment of weakness, but I've at least allowed myself to imagine that Andy Robertson may have had too much of an intense time of it in recent years. Wondered if Joe Gomez's injuries would catch up to him, and so on.
I've had to remind myself of the value of keeping my sentimentality in check with the evidence in front of my eyes. The evidence is that I never had anything to worry about with Robertson whatsoever. I'm sure it will be the same for Gomez. Divock has reminded us all that he's got enough to be an intermittent force for good for this side.
Before 3pm on Saturday I'll let my mind drift back to remember the man who made my childhood dreams come true. Between 3pm and 4.30pm I'll salute the lads who have made my adult dreams come true. I hope after 4.30pm I'll be able to imagine new dreams for the future.
I love the sentimentality of football, and tomorrow I'll be toasting to all our lads. Old and new.
Predicted 11: Alisson; Trent, Matip, Van Dijk, Robertson; Henderson, Fabinho, Thiago; Salah, Origi, Mane
---
"Gerrard is obviously a legend of the club, but the history this Liverpool side has created since has been alright!"

🎙 Liverpool v Aston Villa: Team Talk

🗣 @jsexton24 hosts @Shaun_ODonnell, @Fuad058 & @Ian1892T to react to Klopp's presser…

Listen 👉 https://t.co/RZ5ckXvRKw pic.twitter.com/WWIrp5961l

— The Anfield Wrap (@TheAnfieldWrap) December 10, 2021
Recent Posts: