What Steven Gerrard's return to Anfield with Aston Villa told us about the past, the present and the future of Jurgen Klopp's Liverpool…
I'VE often wondered if there's a footballing equivalent of synaesthesia — the act of experiencing one sense through another.
There are some people who see colours when they hear music. The novelist Daniel Tammet sees numbers as shapes. For example, to him the number 15 is 'white, yellow, lumpy and round.'
I have a similar thing with football clubs, though it's based on experience rather than a random alignment of neurons. I'm not alone in this.
Since I was a kid, I've found Spurs to be flashy but formless. Sheffield United are solid and strong, but Wednesday are pale and washed out. Obviously, Everton and Manchester United fall into a darker, more distinct category. I've always loved Danny Baker's summation of QPR as 'a sort of courtesy side'. I get that entirely. Nice but eager to please.
Aston Villa though. I've never liked them and I've no idea why. We generally do well against them and I know several of their clan who are decent sorts. Furthermore, they have nice kits usually and a Scouse or near Scouse history in players like Peter Withe, Dennis Mortimer, Kenny Swain and Jimmy Rimmer, but the club itself bothers me.
I'd like to say it's down to the Feed the Scousers shite they came up with on Saturday, but I hear that most weeks from my spec in the Main Stand. The players named above are from Liverpool, Birkenhead and Southport, lads. They played in your 1982 European Cup final win. A bit like us mocking the village of Glenbuck.
No, they've just been an itch to me. I can't explain it.
It's for that reason I was concerned about the 2015 FA Cup semi final with Villa at Wembley. We were terrible that season and they were worse, but the billing meant nothing. I knew it wouldn't be the cakewalk many were expecting and my doubts were realised. We were absolutely abject and the manager went tactically nuts. It was that rather than the 6-1 at Stoke that was the final straw for Brendan.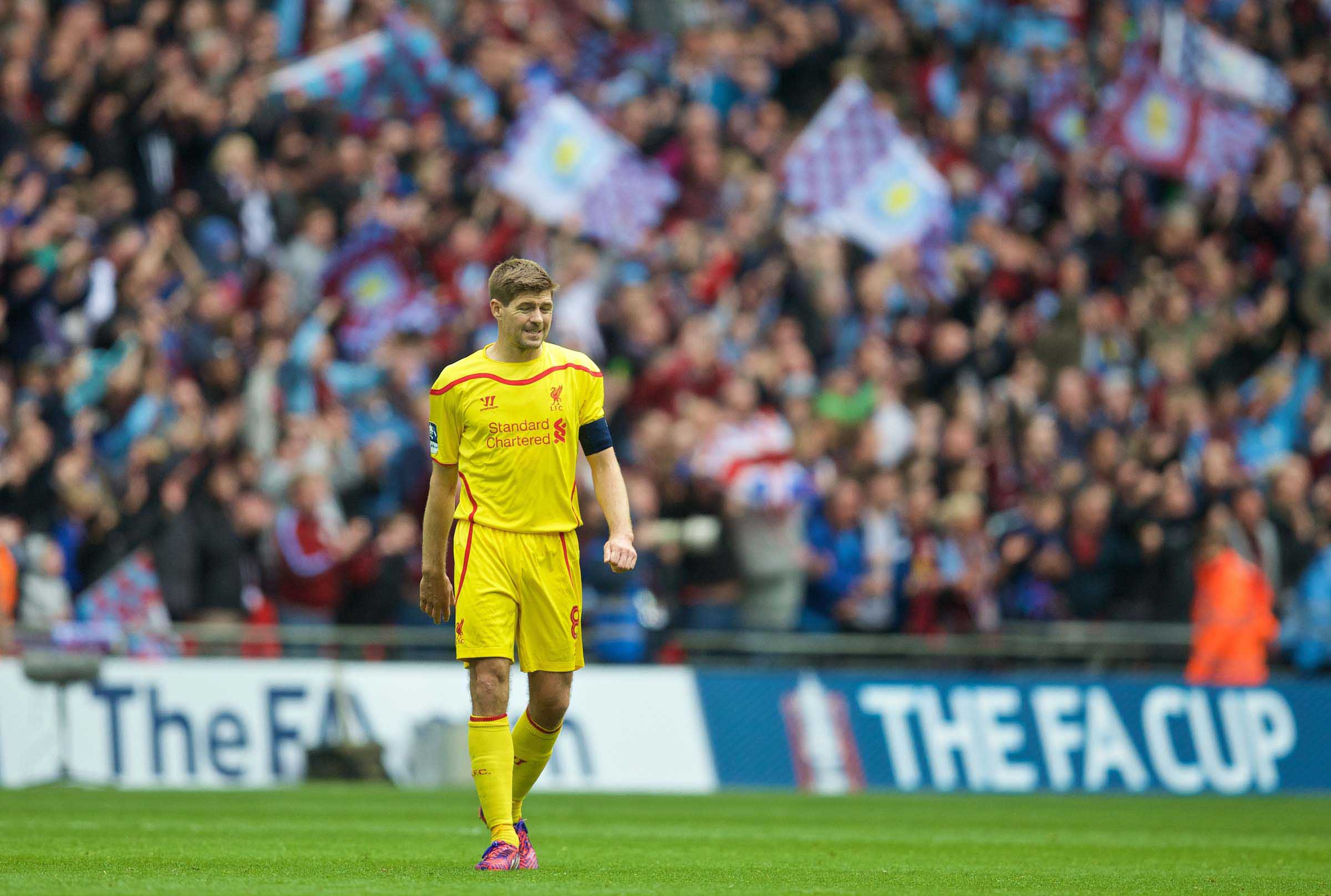 I wrote about that Stoke game in the final chapter of We're Everywhere Us — a collection of articles by different Reds from all over the world — and formed an unusual analogy. I'd been playing R.E.M.'s album Lifes Rich Pageant a lot around the time and, the irksome lack of apostrophe aside, it's long been a favourite. There's one song — Cuyahoga — I played more than most. It opens with the words:
Let's put our heads together and start a new country up,
Our father's father's father tried, erased the parts he didn't like…
That really struck a chord. I mean, fair enough, the song is actually about the pollution of the Cuyahoga River in Ohio, but I was keen to draw a line under the Rodgers' tenure and erase the parts I didn't like. To start a new country up.
It's hard to believe that that's what happened. I was no fan of Brendan but I don't mean that cruelly. Liverpool needed a change and not just of manager. We needed a new ethos. We needed to be ruthless, direct and focused. We needed Jurgen Klopp.
No offence meant but I think Jurgen Klopp wins that semi-final against Villa. That's the difference. I think he beats a team consisting of Tom Cleverley, Kieran Richardson and Fabian Delph and the tactical nous of Tim Sherwood.
The biggest change has been one of expectancy. The draw at Brighton was treated like a defeat while the result and performance at West Ham was baffling. We expect to win those games now.
That can have the opposite effect too. We can be a little spoiled and throw tantrums when not everything goes our way. If 1990 to 2015 has taught us anything it's that we're more than capable of throwing games we should be winning at a stroll. The level of expectation was to expect the whole gamut of outcomes from Istanbul to Northampton at home. We're much more balanced now.
Naturally the talk on Saturday was of Villa's manager becoming our next one. The BBC's Phil McNulty even provided an analysis of Gerrard's body language on the sidelines. Both the ground and Stevie played it perfectly. One song from us and a little wave from him. Fine.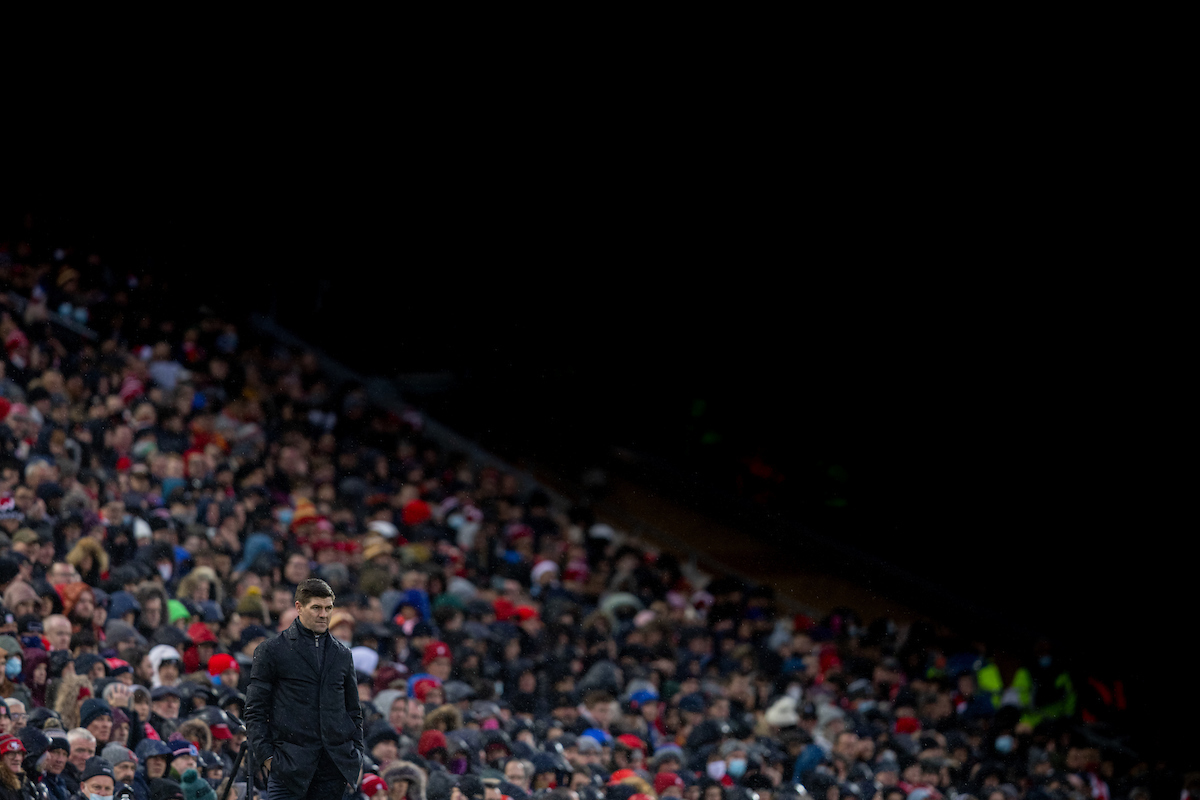 We both had business to attend to and, though it was nice that there was a mutual acknowledgement, it shouldn't have overshadowed the event in the same way his departure did. Back then there were bells and whistles followed by a crushing defeat to Alan Pardew and Crystal Palace. We did that sort of thing back then.
It's too early to talk about successors but I'd like to see Pep Ljinders more than the man with the best withering look ever. Then I'd like to see Jurgen come back. Then Pep again. I'm a big fan of continuity and the ex-hero approach doesn't always work. 
Villa seem to be the right fit for him. A good place for an apprenticeship and at least he's not making mistakes on our watch. I'm not sure how he thought Stuart Attwell was on our side though. Maybe Phil McNulty should have been watching him instead.
The change in mindset since Jurgen's arrival has been nothing short of staggering and it's only a shame it's come at the same time as Pep Guardiola and, possibly, Thomas Tuchel at Chelsea. Two of those three managers won't win the league this season. That would have been unthinkable in any other era. Ferguson pretty much won his battles against his nemesis Arsene Wenger, but he at least had the luxury of dropping points every now and then. No one can afford to do that now. 
United notched up 79 points in their treble winning season. That's usually good enough for the best team in the league who aren't us or City. That's how much things have changed.
And it's down to the manager that we're in this conversation. Following that Stoke defeat we ended the season with 62 points. It's harsh to judge Brendan on just that one season, particularly when you consider how close we came a year earlier, but that's what Klopp has done in six years. From there to here.
Liverpool are in this title race, though it will be much bloodier than the 2020 win. We had to fight against the elements of time-wasting, a sentimental media circus and Attwell on Saturday, but it's three more points and a step closer, hopefully, to number 20.
I wonder what that number would look like.
---
🗣Liverpool 1 Aston Villa 0: The Review

Our review of Liverpool 1 Aston Villa 0, including a deep dive into Jurgen Klopp's team selection. @dan_morgan3 hosts @Knox_Harrington, @Sean_Rogers and @paul7cope…

Listen👉https://t.co/ulmz0jFeFP
Subscribe👉https://t.co/oaOWcUzrlr pic.twitter.com/WnFOzTELBX

— The Anfield Wrap (@TheAnfieldWrap) December 13, 2021
Recent Posts: