Every set of away fans that experience the Anfield atmosphere ask the same question, but do they have a right to question our support?
I'VE ummed and ahhed about writing this.
It's an uncomfortable subject and I'm probably going to get some stick for it. I know I should be thinking about Harry Kane and VAR and England and Scotland, but this has affected my match-going 'experience'.
No one wants to slag anyone off who gets out of bed, travels miles and pays out a lot of money to watch The Reds at Anfield. No one. But this needs saying. 
Sorry, but Anfield is bloody awful these days. It's quiet enough to hear a mouse fart at times. It's more like a cinema than the cauldron of noise many believe it to be.
It annoys me and it annoys me more because I hate pointing the finger at people who give up so much time, money and effort to get into the ground in the first place. I'll admit that I'm also part of the problem and one I can't begin to solve.
I sit in the Main Stand this season. I'm reluctant to point out exactly where in case people spot me, point and stab me with their fingers as I pass, but suffice to say, I'm near the away end. Close enough that a well-lobbed pie could hit a visitor with a fair degree of accuracy.
This means I have to sit through the usual shite of 'is this a library?', 'your support is fucking shit' and the usual festive 'feed the Scousers' — often delivered from those whose home cities are seldom mistaken for the plush streets and boulevards of Dubai and Monaco.
(A nod here to those who run NUFC Fans Food Banks. Good people all. Poverty shouldn't be a topic of tedious persiflage as some of your lot thought on Thursday night. I know it's not representative of all Newcastle fans but one thing that song isn't is fucking 'banter'.)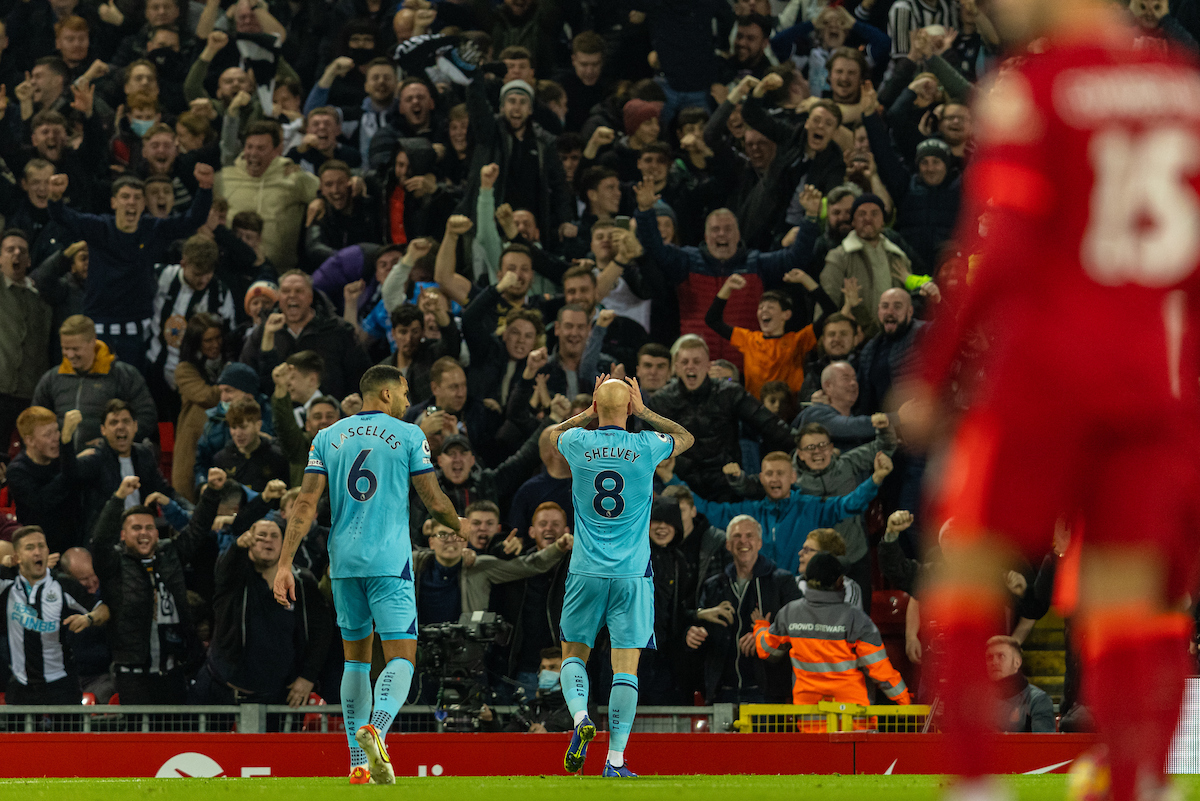 It's the library song that rankles the most. Of course, it isn't a library. You can't borrow books there and, looking at it from the other side, you don't need an NFC pass on your phone to get to the Catherine Cooksons in your local council library. They should know that.
But Anfield is quiet. Too damn quiet. True, it's not always easy to generate an atmosphere when there's little drama in front of us (most home games have been over in terms of the outcome with 20 minutes to go), but we shouldn't be able to hear the substitutes shouting to the bench as I could with James Milner at the Newcastle game.
Being next to the away fans makes it worse as they're loud, albeit with a mediocre song book. Southampton, Villa and Brighton sang the exact same songs, a perfect identikit portrayal of each other.
But it's worse when they slag off the atmosphere and have a point. I hate that the most. Not an original song between them but they're right when they ask, 'where's your famous atmosphere?' I'd like to know too. I'd also like to know why we don't answer. Loudly.
I could understand the lack of atmosphere if we were a bit shite. It was difficult enough to generate an atmosphere in the dark days of late Houllier or when the fans were at war with the owners in 2010, but this is an incredible side we're watching — possibly the best one we've ever seen — and we're refusing to paint it black.
Mo Salah is breaking records every week, Diogo Jota is fitting in nicely, the best goalkeeper and centre half in the world play here and a local lad is reinventing the role of the right back. Nothing. A half-hearted 'Liverpool' when it's 0-0. They deserve better than that and so does the ground.
Regular match-goers will either agree with me on this or shoot spittle at the screen, asking where the hell I get off slagging off our fans and I'm with them on that too. I hate drawing attention to it. I know the sacrifices so many make to do this thing, but sometimes you have to point to the elephant in the stadium. A pretty quiet elephant at that.
It should also be said that it's a myth that the ground was always vibrant back in the day. Just over 37,000 made it to my first ever game back in 1981, though that might have something to do with the mass unemployment of the time. Not every game was like Saint-Etienne.
I said that I'm part of the problem. The average age of the Kopite is probably in the 40s and I'm even older than that. Also, the Main Stand has never been the hotbed of atmosphere even in its previous guise, but it's quiet enough to hear people chewing hot dogs at times.
And yet it's so different for away games. It's cheaper at £30 so younger Reds can get in and paper tickets are easier to come by than a phone with an NFC pass. The result is that the travelling Kop is much more vibrant than the home version. Watford in particular was a laugh with noise and song, rather than me and people like me wondering if their bladders can hold out to half time.
I know what you're thinking. Give up your membership and credits then! Let some younger Reds have your spec, dickhead! It's a fair point and predictably my answer would take just two words. Hence, the difficulty in sorting it all out and bringing some life back into the place.
I've been in a similar situation with the manager in his early days here. Shouting at the crowd to get us going irked me more than I could say. We've been coming here for years, spending thousands, missing family occasions and sacrificing other opportunities to see often substandard Liverpool outfits and now a lad who's been here 10 minutes is telling us that it's not good enough. 
But he had a point and I hate that he did.
This might be the last chance we have of seeing The Reds for a while as more and more games are called off so can we just… Y 'know…
The players deserve better than we're showing and that's not always been the case. We should paint it black again.
Why not start tonight?
---
🎥🗣Tottenham 2 Liverpool 2 | #FreePodcast | #LFC

Looking back over Tottenham 2 Liverpool 2, and ahead to Leicester City in the League Cup. @Knox_Harrington hosts @MikeKearney1, @lizzidoyle and @StuWright78…

Listen👉https://t.co/vWscsAXi4N
Watch👉https://t.co/U3cxx6yyVu pic.twitter.com/5IOdfZcRNU

— The Anfield Wrap (@TheAnfieldWrap) December 21, 2021
Recent Posts: