With Thiago Alcantara making his first appearance since returning from his latest injury, what role will he play for this Liverpool side?
WEDNESDAY was a peculiar night in Anfield. I suspect had I been in the stadium the previous Saturday I'd be adding that to this particular list also.
It was a night when ideals collide — it happens. No attempts to create a local versus none-local divide here. No need for any Bot accounts named "Firmino0839472" to call me a "dipper" in the comments with a profile picture of Mo Salah.
But there it was in all its conundrum. To boo or not to boo Luis Suarez? Not for me. To sing about the current Manchester United manager? Not for me. To sing about the current Atletico Madrid manager? A clean sweep of 'jib it' from yours faithfully.
Where to find unity becomes obvious: Atletico Madrid are a team we'd rather not play for a number of reasons exampled? yes from me. Liverpool showed themselves as one of Europe's best? Yes from me. Thiago Alcantara is a visually wonderful enigma none of us can quite solve yet? Undoubtedly so.
His cameo on Wednesday included leaving an opposition player in some kind of hallucinogenic trance and coming the closest I've ever seen to a footballer putting a snooker-like backspin on the ball when passing.
The reminders serve to recount just how big a transfer coup he was for Liverpool in the summer of 2020.
He was deemed an orchestrator at the top of the game. He would add another level of control to a team which had rambled its way to the top of the mountain.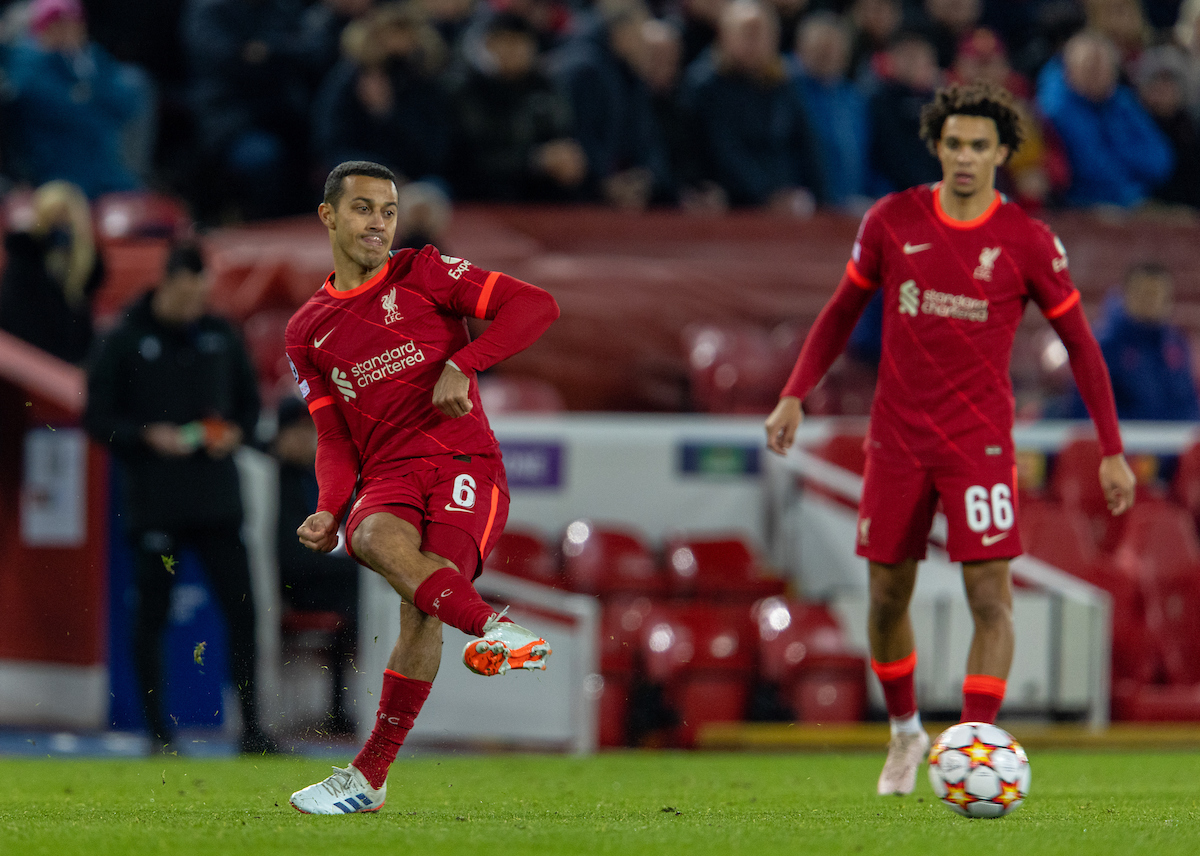 Where excitement once blossomed, uncertainty now reigns. Shithouse Merseyside derby tackles, adaptation problems and a season played behind closed doors might do that to you.
I don't want to do the whole story again. Repetitiveness on these pages is my most irrational fear after five years of writing for you. So rather than what he was, it might be time to focus on what he still might be.
Jurgen Klopp and his staff are unrivalled problem solvers who find solutions with what they have. One of their biggest tasks is to ensure Liverpool have the right blend of midfield ingenuity and freedom for every varying challenge they face.
This isn't more Gini Wijnaldum chat, either. Liverpool need to keep Fabinho and Jordan Henderson on the pitch as much as possible this season. That same importance would apply to those two if Wijnaldum remained. Therefore, it becomes about what each player can bring.
Naby Keita can be incredibly flat-track when allowed space. Alex Oxlade-Chamberlain a player opposition hate because he tries to commit you. Curtis Jones technically as good in keeping ball as anyone on a good day. Harvey Elliot the great unknown. James Milner tactically immense.
In the case of Thiago, Liverpool know they'll get progressive passing (he ranked second in the squad last season with 184, according to FBRef), pressures and the ability to keep Liverpool on the ball.
One argument levelled at the team this season is a propensity for madness, that it doesn't close games out in the manner it should.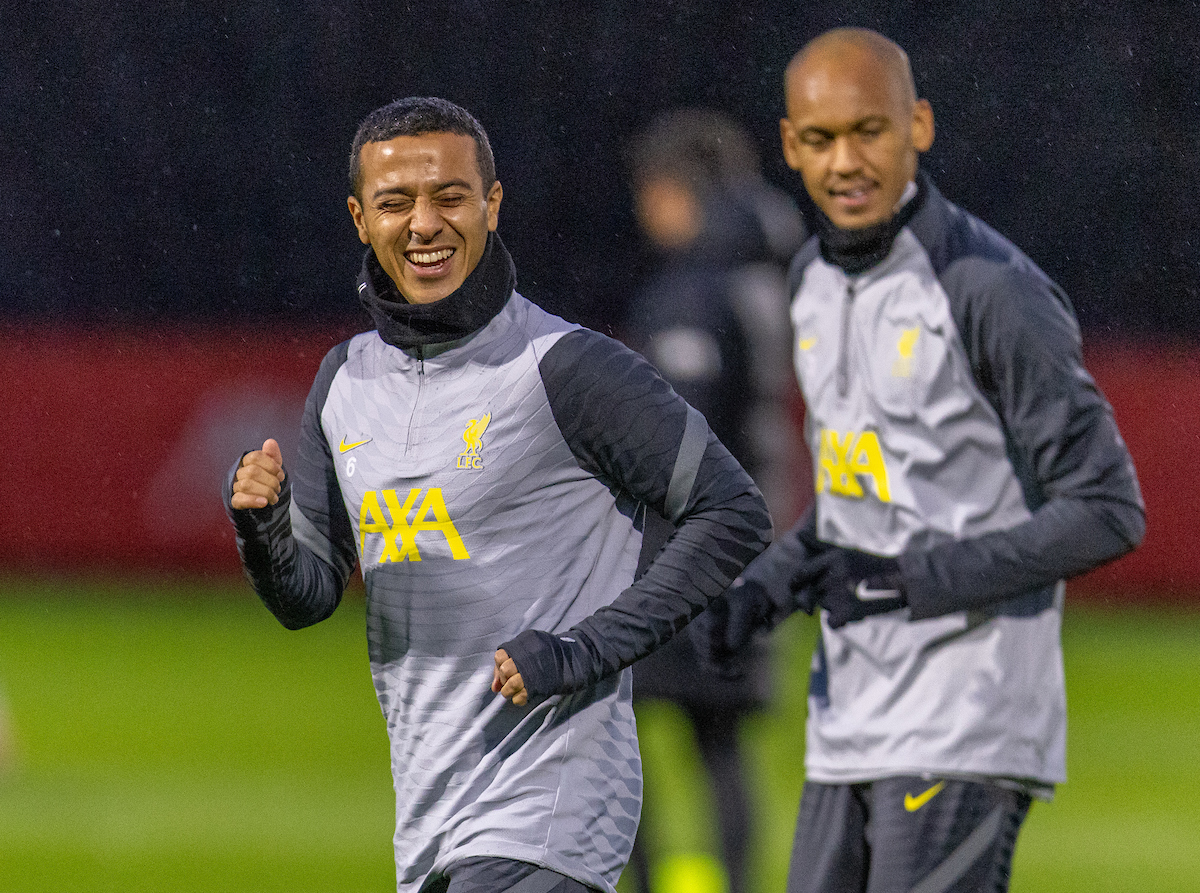 Manchester City's favourite scoreline is at 2-0 up. They can suffocate and monotonies with middle third passing and enjoy it.
What we're all waiting to see from Thiago is that game dominance, the football-on-strings style which was so evident in an empty Goodison Park last October.
That's the player every opposition feared and Liverpool collectively drooled over. He can still achieve that level, and in doing so be worth his weight in domestic and European gold.
On that fateful encounter against Everton, Liverpool lined up with an outfield team of Trent, Van Dijk, Matip, Robertson, Fabinho, Henderson, Thiago, Mane, Firmino, Salah.
It was seen — with Alisson added — as the Shangri-La of Klopp's building process. It was Liverpool reaching a state of football perfection. Thiago was central to its narrative.
It was barely over a year ago. A year in which so much happened. Thiago Alcantara's biggest job is now to remind us that a year in football isn't always as long as it seems.
His entire Liverpool career now depends on it.
---
"I'd like to see Henderson and Fabinho so we can control the midfield and allow Jones more freedom."

🎥 West Ham United v Liverpool | The Preview Show

🗣@robbohuyton is joined by @kevwalsh_

To watch in full and to access all our premium content 👇https://t.co/RZ5ckXvRKw pic.twitter.com/R1HGBc3khM

— The Anfield Wrap (@TheAnfieldWrap) November 5, 2021
Recent Posts: