Neil Atkinson's preview ahead of Liverpool v Southampton at Anfield, with The Reds able to welcome back a few more fit midfielders…
THERE should be a word in football for the space between fully fit options and full out injury crisis. It is here Liverpool currently sit.
Liverpool's midfield options are injury-leavened. Liverpool are fitjured in the middle of the park. There a few schminjuries in the engine room.
Basically the manager has a lot available but they've all got teeny question marks next to them. The likely fittest is Alex Oxlade-Chamberlain, but it feels like he could do with perhaps being managed. James Milner has had a long lay off. Jordan Henderson has been managed but should be close. Fabinho wasn't 100% last weekend, but surely gets both of the next two. We don't want too much of a burden on Thiago Alcantara, but we'd love another bowl of him. Tyler Morton will make the bench.
They'll all want to feature Wednesday night too. There should be a word for games before big games too. The game you need to win but can't help looking past, sitting down for your breakfast but talking about your tea.
Let's issue a strong word of warning, though: Southampton need our undivided attention. They have only lost four of their 12 league games. They got a point at Manchester City and were 1-1 at Stamford Bridge until James Ward-Prowse got himself sent off in the 77th minute.
They've lost the fewest games in the bottom half and only six teams have lost fewer than them this season.
Their non-penalty xG difference so far this season is zero. They aren't attacking brilliantly but they aren't giving a great deal away. A flat zero is enough to place them eighth in this metric in the Premier League this season.
I think the manager occasionally likes a bit of toffee, I think he occasionally can really sympathise with a side when he reminds himself of his Mainz days, I think he understands that struggle and knows to expect fight and not much else but talks the fight up.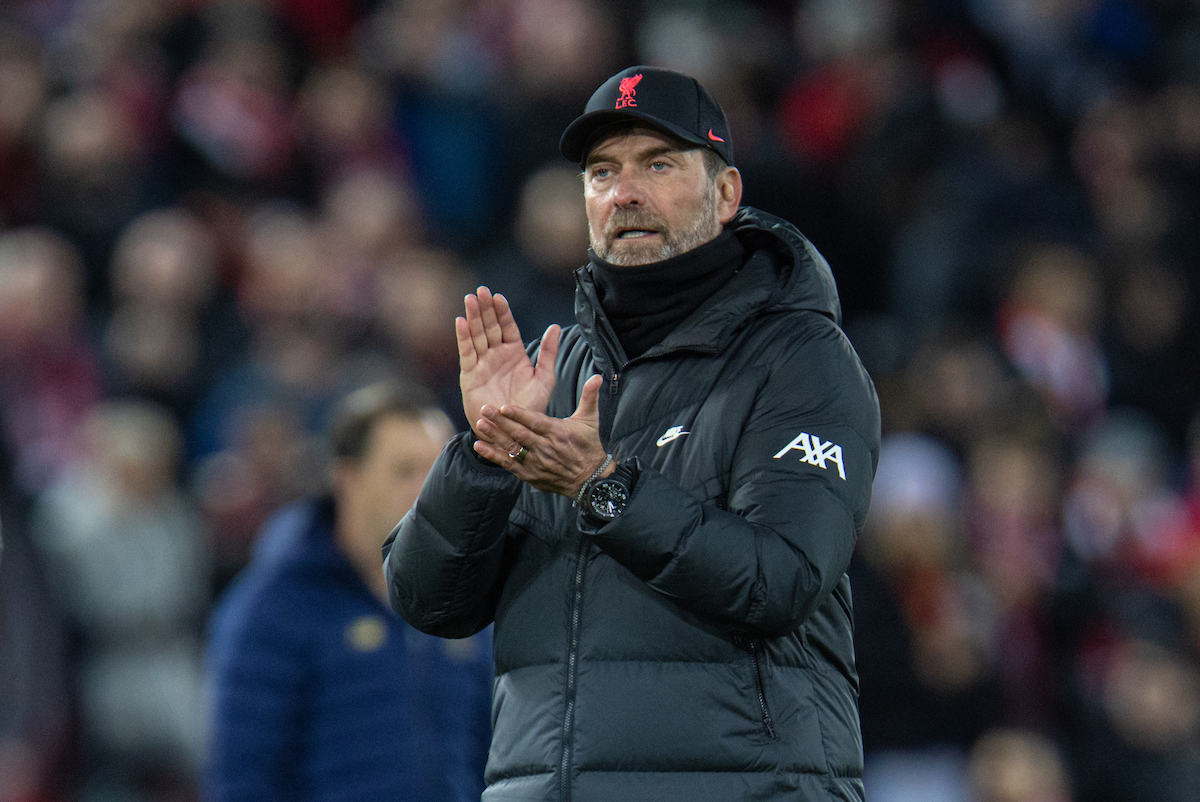 However, where Southampton are concerned today at his press conference, I think he legitimately rates them as an outfit and knows how tough they could prove to be. They've found an odd robustness, one that sometimes can only hold for 60 minutes or so against a side near Liverpool's pace, but one which can really man the barricades for 60.
They are a young side. Nineteen-year-old Valentino Livramento absolutely pounds up and down the flank, 23-year-old Mohamed Salisu has played every league minute so far at centre back and impressed, Adam Armstrong is 25 with a lot to prove and he won't stop running.
The 2019-20 game at Anfield against them is the side we can expect to face. For the first half it was as stern a test we had had at Anfield. It looked like a 4-0 was a world away at half time.
Then the goals came for Liverpool and Southampton ebbed away. By the time Liverpool made it 3-0 on 71 minutes it felt like they could finish 7-0.
There should be no surprises from The Reds. Klopp will keep them for Wednesday. I'd expect the keeper; the first choice back four (which will still have Andy Robertson in for Jurgen Klopp); Fabinho, two of the fitjured; Jota, Mane and Salah.
I'd be eager to start Thiago and Oxlade-Chamberlain together for this one again, if the sports science allows, with an eye on 30 minutes of Jordan Henderson and then a lot of him on Wednesday night. An eye on Wednesday night. You can't help it, you really can't.
But we have to. We have to keep the pressure on Chelsea and there are no more home points to drop. Harsh in November? Absolutely. It's tough at the top. It's tough against Southampton. Now's the time the tough get going.
Twenty-six to go. Twenty-five to go can wait.
Predicted 11: Alisson; Alexander-Arnold, Matip, Van Dijk, Robertson; Fabinho, Oxlade-Chamberlain, Thiago; Salah, Jota, Mane
---
"We just need to keep our focus going into Saturday. Brighton and West Ham have half been the story of the season, so we need to click into gear during this busy period."

🎥 The Preview: Southampton | #TAWVideo

Subscribe to Watch
👉https://t.co/oaOWcUzrlr pic.twitter.com/A4ttEMTs7h

— The Anfield Wrap (@TheAnfieldWrap) November 26, 2021
Recent Posts: