Josh Sexton's preview ahead of Everton v Liverpool at Goodison Park, with Jurgen Klopp sending out a clear message to his players…
JURGEN Klopp was particularly dismissive of questions in today's press conference.
On Saturday, after Liverpool's 4-0 win over Southampton, he told Sky Sports: "It's always a completely different game, so I really very often don't like the intensity of the game, it's too much for me. I like physical football, I have no problem with that, we play that, other teams play that, but in that game very often people put too much in. I can't say it's my favourite game of the year to be honest, because of that."
It was interpreted as though Klopp was trying to get an early edge over The Reds' next opponent, as opposed to another example of the honesty he always speaks with. The fact that he felt his words were once again being used against him was clearly a big frustration.
"You are all not able to write it in a proper way. I have nothing else to say about it. I said what I said. And that's it. From that moment on, I prepare as normal for a football game."
I mean, fair enough.
From that quote on he would consistently emphasise that it's just another game. Klopp won't want to give Everton any extra motivation to be up for this game — they won't need it anyway, to be fair — but he may feel as though the journalists have done some of that damage for him now.
Pin it to the dressing room wall, as former Red and Blue Don Hutchinson suggested.
The 'just another game' message will be the same message the boss has served to his players over and over again this week, though. He'll not want anybody to get drawn into any kind of personal battles or embrace revenge narratives. The best way home for Liverpool is to keep their calm and keep 11 men on the pitch.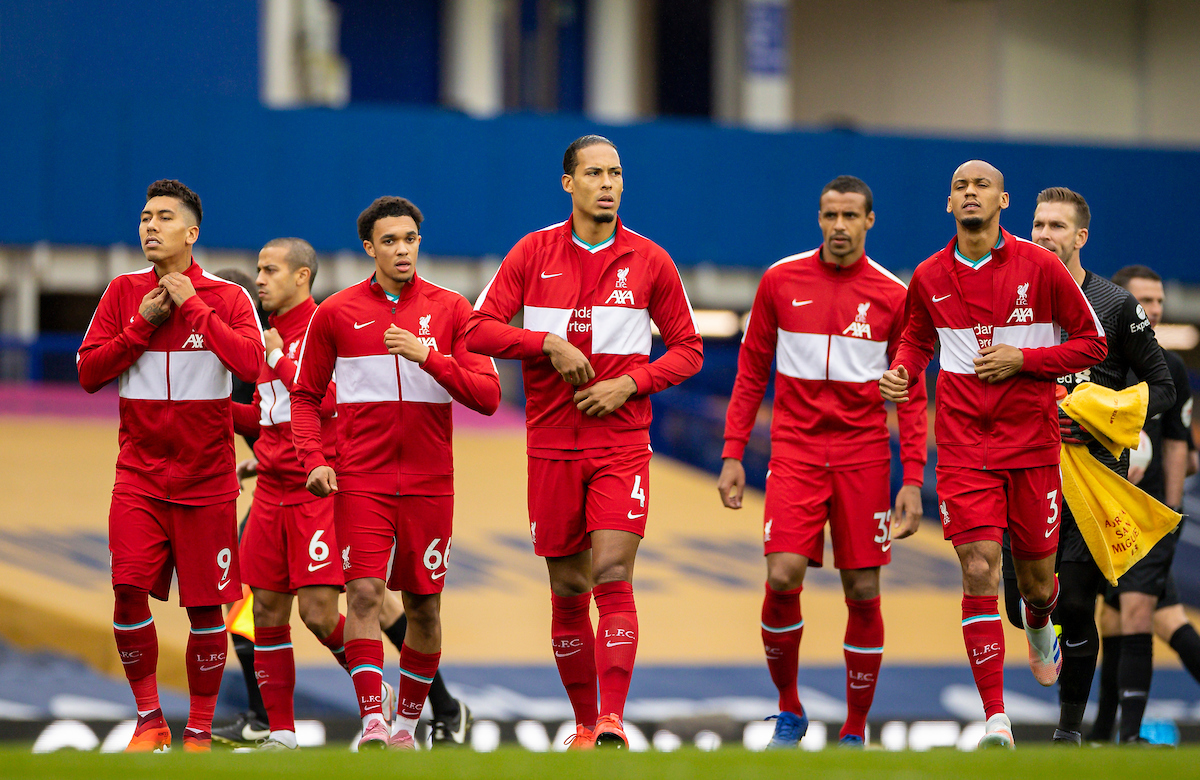 But which 11 men will take to the field at Goodison Park? It may be the closest The Reds have got this season to a team being able to pick itself for all the right reasons.
I expect the back five to be the same; with Southampton hero Alisson Becker back in, and assist machines Trent Alexander-Arnold and Andy Robertson also being asked to go again, either side of the talismanic Virgil van Dijk and his most familiar running mate Joel Matip.
Ibrahima Konate and Kostas Tsimikas can be benched once again with the incentive of a chance to play in the historic San Siro next week, and possibly a start for at least one of the two against Wolves on Saturday.
In midfield, Klopp's recent strategy seems to have been catered towards getting the trio of Jordan Henderson, Fabinho and Thiago Alcantara all on the pitch together once again. All three started together at Goodison last year and showed a glimpse of what they could eventually become in tandem. Let's hope this is finally the start of that after all this time.
Upfront, the free-scoring trio of Mo Salah, Diogo Jota and Sadio Mane will surely be given the task of going again, though it may not be long into the second half before we see either Takumi Minamino or Divock Origi — armed with the confidence of recent game time and a great Merseyside Derby record, respectively.
The message within the Liverpool dressing room will be that it's just another game. Inside Goodison Park, in the city centre and across Merseyside it will feel like anything but.
A win, after all, would mean so much.
Predicted 11: Alisson; Trent, Matip, Van Dijk, Robertson; Henderson, Fabinho, Thiago; Salah, Jota, Mane
---
Recent Posts: