Telling the story of Manchester United 0 Liverpool 5, and one of the greatest away days following Liverpool Football Club at Old Trafford…
HOW was your Sunday?
I'll be honest, mine started very hungover. My Saturday night out had very little respect for the size and scale of what Sunday was to become, and I was made more than aware of that come Sunday morning.
I'd spent Saturday night in the company of a few Manchester United fans, and as the night progressed more seemed to spawn around me. They were all crying it in. I was much more candid.
"I don't think we'll batter you, it never goes like that. Think it will be close."
It never goes like that.
My Sunday morning ended up being a bit of a hungover scramble to make The Anfield Wrap's Kiev/Madrid bus, even though it was due to leave town at 2.15pm for Old Trafford. When I eventually got there and we had departed, the spirits were high — and that wasn't just because Craig Hannan was waving a bottle of Buckfast around.
While I think we all knew Liverpool were the far better side heading to Old Trafford, most weren't necessarily sticking their necks on the line. It didn't help that some early team news was floating around and it looked mad. It never had the ingredients of a battering.
It never goes like that.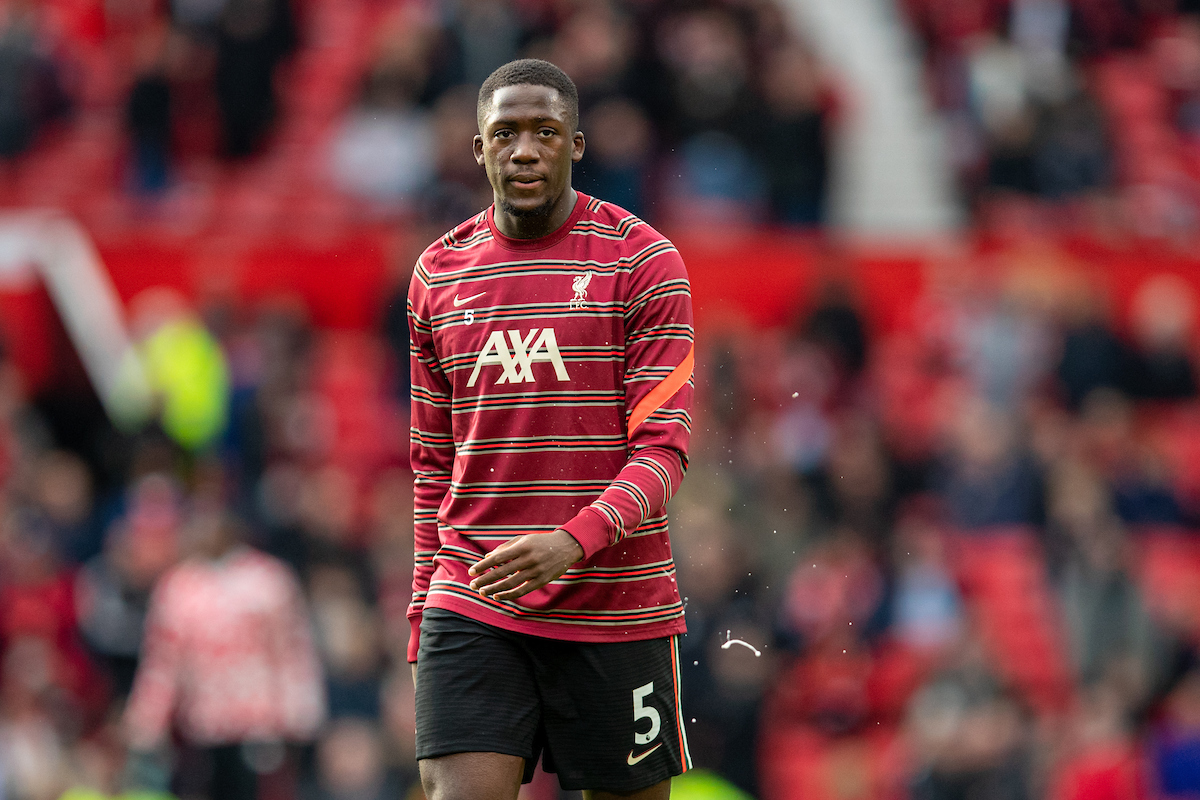 As we pulled closer to Old Trafford, and with the ale now well and truly flowing, the aforementioned mad team news was confirmed to be true. No Joel Matip, no Fabinho (at all) and no Sadio Mane. It did little to dampen the spirits or confidence, though. After all, it was still a side we had full faith in.
The arrival at Old Trafford came with all the usual carry-on. Away fans tend to congregate in the coach park which sits outside the away end, but the walk to the turnstiles crosses one of the main routes up to the stadium for the home fans. Even that short walk held a 'justice for Heysel' shout or two, and of course some songs about poverty and unemployment.
You know, the hits.
Arrival at the turnstiles comes with the much better background noise of our Reds inside the ground, who can be heard already getting the party started. The noise intensifies as you enter the bowels of the stadium. As on the bus, spirits in the ground were high, and why wouldn't they be? We had the best player in the world and a load of £3 pints to drink.
As old and a bit decrepit as Old Trafford is, it holds a certain air as an away fan. It could be a personal thing, but you can feel the vitriol as you emerge into the stands. It wasn't even there as much as it usually is, I think their fans felt a sense of impending doom. Similar to the 3-0 in 2014. I'd have taken 1-0 immediately before kick off, 3-0 felt like asking for too much.
It never goes like that.
Naby Keita's goal after five minutes felt as though it had almost come too early, but you couldn't sense that in the celebrations. It was the perfect start to the game and the perfect way to shut down the surprisingly few home fans who had decided they fancied a very distant argument with their opposite number today.
If Diogo Jota's goal felt only like respite (I know, I'm a shithouse), Mo Salah's felt like absolute dreamland. He'd done it again and, not only am I struggling to comprehend his brilliance, but also we're 3-0 up at Old Trafford and this is absolutely bananas. The fourth is almost taking the piss. Just look at the way we walked through them.
It never goes like that.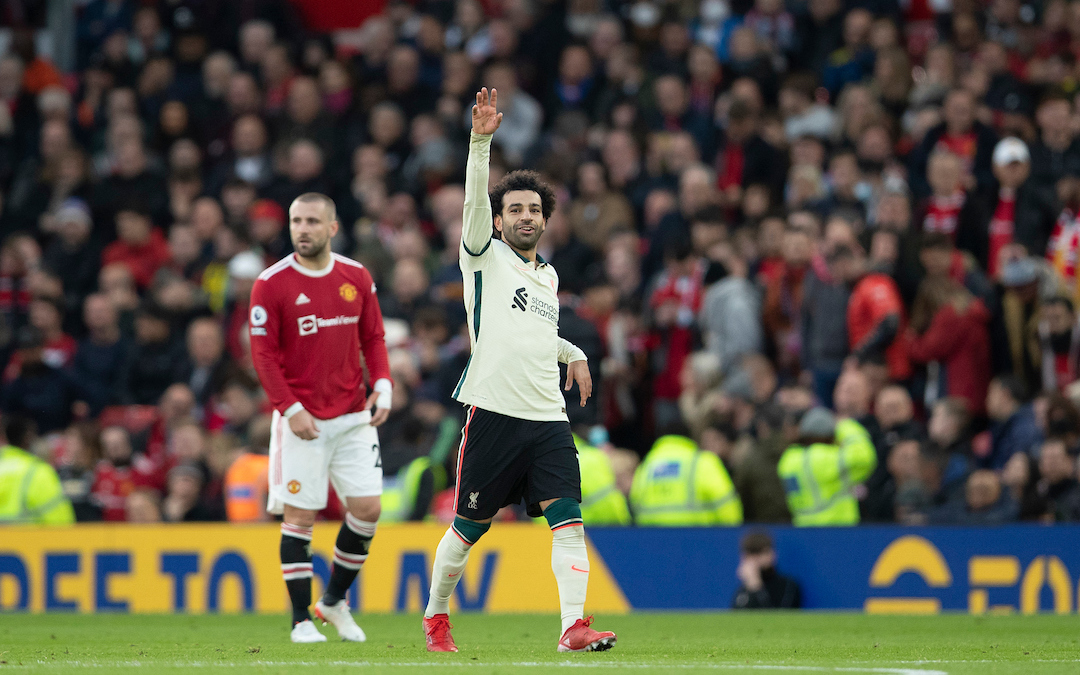 Down on the concourse, the party is well and truly in full swing. I tell everybody I've spent the whole first half hugging that I've never seen us win at Old Trafford and even in the back of my mind I'm thinking "please god, don't let this be a false dawn" (I know, I'm sorry). Status Quo booms around the Old Trafford walls, to Scousers All Over The World but also Salah Scored 10 In A Row.
It felt like we didn't even need to go back up for the second half, but that's the kind of drunken complacency that can make you miss more moments of Mo brilliance. As the roars from the stands rolled down into the concourse, those remaining rushed up the steps to catch a glimpse of the celebrations. This was obscene. How many more could it be?
The Manchester United fans who couldn't quite bring themselves to leave at half time had already changed their minds just five minutes later. I wonder what they thought as they heard the noise coming from behind them when Ronaldo's shot went in. I turned to Sian Bennett as the VAR check began and said "ahh, imagine if this gets disallowed".
Hahahahahaha.
The weirdest thing was a load of them had decided to properly celebrate the goal before it was disallowed. Gave it the absolute big one about it. I don't know if they genuinely thought they had a chance at coming back, or they were just hurting so much that they had no other option. It caused a few more of them to head to the exits, anyway.
Pogba's red card followed not so long after that. It was hard to tell from the away end how bad it was at first, but Naby Keita seemed in a lot of pain. Only watching it back after the game revealed the pure cowardice of it. Luckily Naby seems alright. Oh, and it caused another mass exodus of their fans — as seen on the telly.
From that point on I think both sides would've shook on damage limitation. For United they knew they had nothing left to give besides both their feet off the floor in the tackle. For Liverpool they thought 'we could do without any more injuries here, lads, let's just pass it round them'.
They did. Liverpool were able to because they had taken the piss, and their nonchalance only ramped that up. The away end made that abundantly clear, both directly and indirectly by reinterpreting a few of the home support's songs.
'Ole's at the wheel,' sing the Liverpool fans 🔴#LFC pic.twitter.com/mNGPppjXsR

— Neil Jones (@neiljonesgoal) October 24, 2021
The party continued after the final whistle as we were kept in, but I secretly love that bit anyway (even if the actuality of it is that football fans are still treated and policed heavy handedly, though to be fair the bobbies on the job that day were mostly a laugh in my experience). I love us all bouncing inside their empty stadium. Like we've conquered it. Well, I suppose we literally did.
It was everything you wanted from an away trip, from a football match and from everything else around both of those things. Just the perfect storm, and the content from The Anfield Wrap bus after perfectly summed up the madness of it all. Our party went long into the early hours of the next morning, well, because it's not every day you beat United 5-0 at their place.
It never goes like that.
It never goes like this. These are truly the days of our lives, and I feel sorry for anybody who is struggling to enjoy the here and now of it for fear of the there and next. Seasons are marathons, but The Reds have been running them for years and know the ropes by now. They've yet to really concede any ground in this year's edition.
Sunday October 24, 2021 will be a day I'll look back on with fondness forever. One to tell the grandkids about.
"You don't just win 5-0 at Old Trafford every year, kids. It never goes like that."
This time it did.
---
🎥 Manchester United 0-5 Liverpool

A story of the day… pic.twitter.com/SXW5Qe9uLG

— The Anfield Wrap (@TheAnfieldWrap) October 25, 2021
Recent Posts: