As Liverpool supporters add more songs to their songbook, they prove once again they're singing from the same hymn sheet as the players…
NOSTALGIA is currently wreaking havoc with me.
Not that I can ever think back to a time when Liverpool had a week in which they won in the Wanda Metropolitano, followed by sticking a flag firmly in the centre of Old Trafford to signal our conquest. Look at me, I am the captain now.
What happened last Sunday will set a signpost in the minds of many as the halcyon — a time when Liverpool was truly magic and Manchester United (and lest we forget Everton), tragic.
It shouldn't be forgotten, it won't. We won't banish from our minds the time we became the reality of their worst nightmares. The ball, the ball, you hardly touched the ball.
My nostalgia comes from a more personal source. It involves a playlist I've compiled named "26 to Hackney Wick", spoilers; it's mainly late 90s synth-filled house and electro, which if you're under 25-year-old you'll probably find to be an atrocity.
But then life creeps up on you fast. No longer am I the millennial who was viewed as slightly experimental for practising yoga, as I am now a man in his mid-30s bowing to the impressive assertiveness of Gen Z, while listening to Everything But The Girl when slightly pissed on the upstairs deck of a London night bus.
SALAH SCORED 10 IN A ROW pic.twitter.com/UaQ85kX0Fn

— The Anfield Wrap (@TheAnfieldWrap) October 24, 2021
That's the thing about music, songs and chants. They can transport you to a place in time. They can release electrolytes of joy unconfined. But then one rule applies: It has to bang.
Football isn't exempt. To capture a moment with a song will reflect a time you were going to "bounce in a minute", or when you simply "just can't get enough".
As the chants of "Salah's scored 10 in a row" rang out across the Trafford skies, the social crossover once again had me pondering: Is it more about the song than the individual?
Chants involving Liverpool in a plural sense come with the required affection — but Mo Salah is a great example of someone revered, respected and appreciated by The Kop, yet externally viewed as underappreciated.
I like his chant, but often it feels like it gets a little lost. The same with Sadio Mane's. Yet Roberto Firmino and Virgil van Dijk can be serenaded in synchronisation across every terrace, usually about 130bpm quicker than what they should be.
Perhaps that's why we still occasionally sing about Luis Garcia, Luis Suarez and the likes. They had chants which just worked. It becomes less about the person, in that sense. They can be great players who do or don't fit a certain ditty.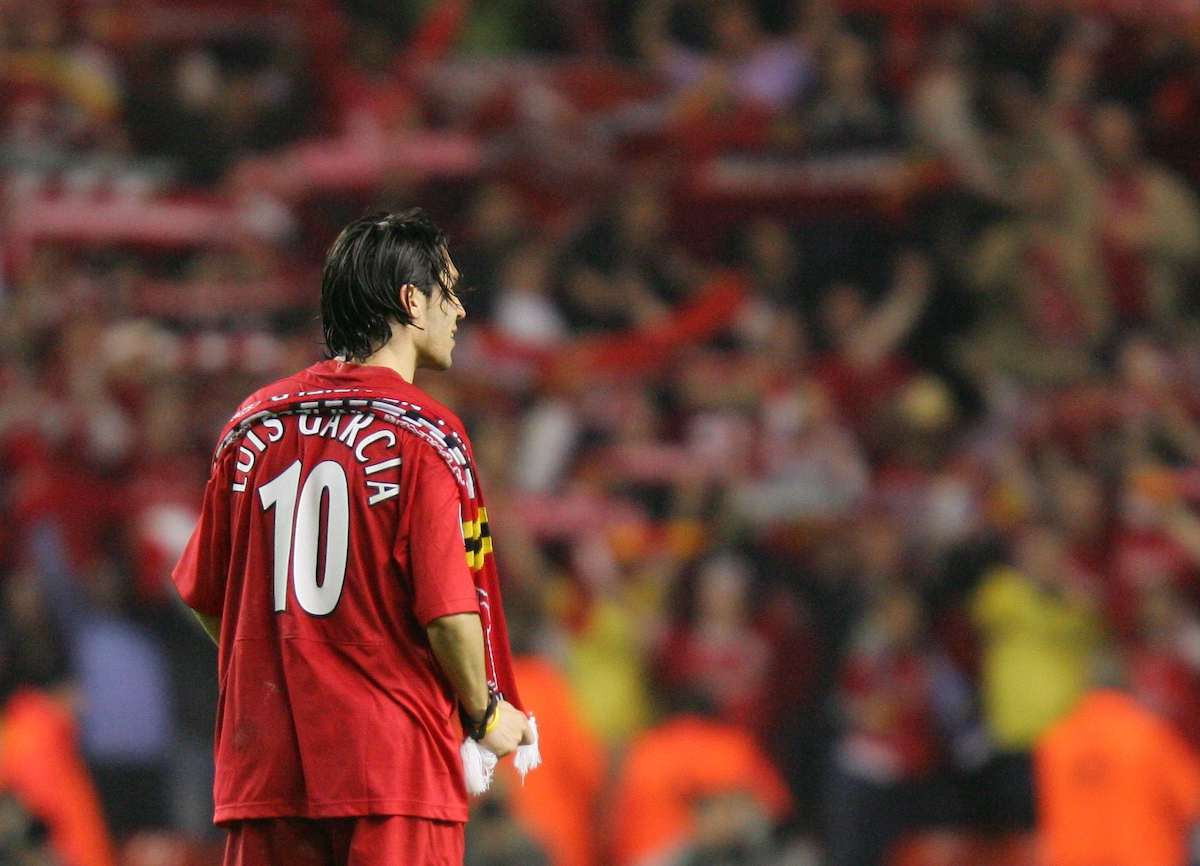 Shelf lives can be brought forward or extended, of course. Liverpool "won it five times", but by the end of 2007 Sloop John B had been pillaged by every Soccer AM banter-ridden fanbase across the country in their own form.
As ever, we'll make our own fun. There's a lot of it to be had in the moment. It will inspire more innovation and appreciation for as long as it lasts.
Most importantly, the connection remains between team and supporters. They feel all of what it means to go to Old Trafford and do that. They don't need individual hymn sheets — just to see us dancing to their relentless tune is enough.
My personal nostalgia through the London night has taught me it's about the joy of sounds which transport us to a time when life was pulsating with opportunity. Off the pitch that time is the past, but on it couldn't be more present.
And I like it…
---
🎥 Manchester United 0-5 Liverpool

A story of the day… pic.twitter.com/SXW5Qe9uLG

— The Anfield Wrap (@TheAnfieldWrap) October 25, 2021
Recent Posts: