Gareth Roberts' preview ahead of Liverpool v Brighton & Hove Albion at Anfield, with both clubs and their supporters enjoying the good times…
FOOTIE conversations will always, inevitably, come back to winning trophies.
That's the bit that goes into the history books, onto the honours' list and will be indelibly committed to the collective mind of a club.
But in any season, before all that is decided, there is the day by day, the week by week and the match by match.
For us, it's the perk that can punctuate a weary week, a high to counter the lows, the great escape. Well that's the theory anyway. But for so many fans, every weekend, it's anything but.
I remember years back having a pint with a Sunderland fan who religiously went home and away to support his beloved club. At the time, The Mackems were in the midst of a losing fight to stay in the Premier League. We discussed relegation, how that feels and what it's like when it becomes inevitable, when you're attending games out of duty rather than joy.
I'll be honest, it sounded grim. The closest I have come to anything like it is the double whammy of Tom Hicks and George Gillett in the boardroom and Roy Hodgson in the dugout. Hodgson, by the way, was our manager for just 31 games. Thirty-one too many, granted. But you take the point.
My Sunderland mate said he was actually looking forward to The Championship because at least it might mean he got to see his side win more often. They had, before then, yo-yoed between the divisions a number of times. And not unreasonably, he had fond memories of winning away days on the way to watching his side lift the still spectacular old First Division trophy.
As it happened, it didn't turn out that way this time around. After Sunderland's last stay in the Premier League, a 10-season one at that, they now find themselves in League One, albeit winning more often than not once again.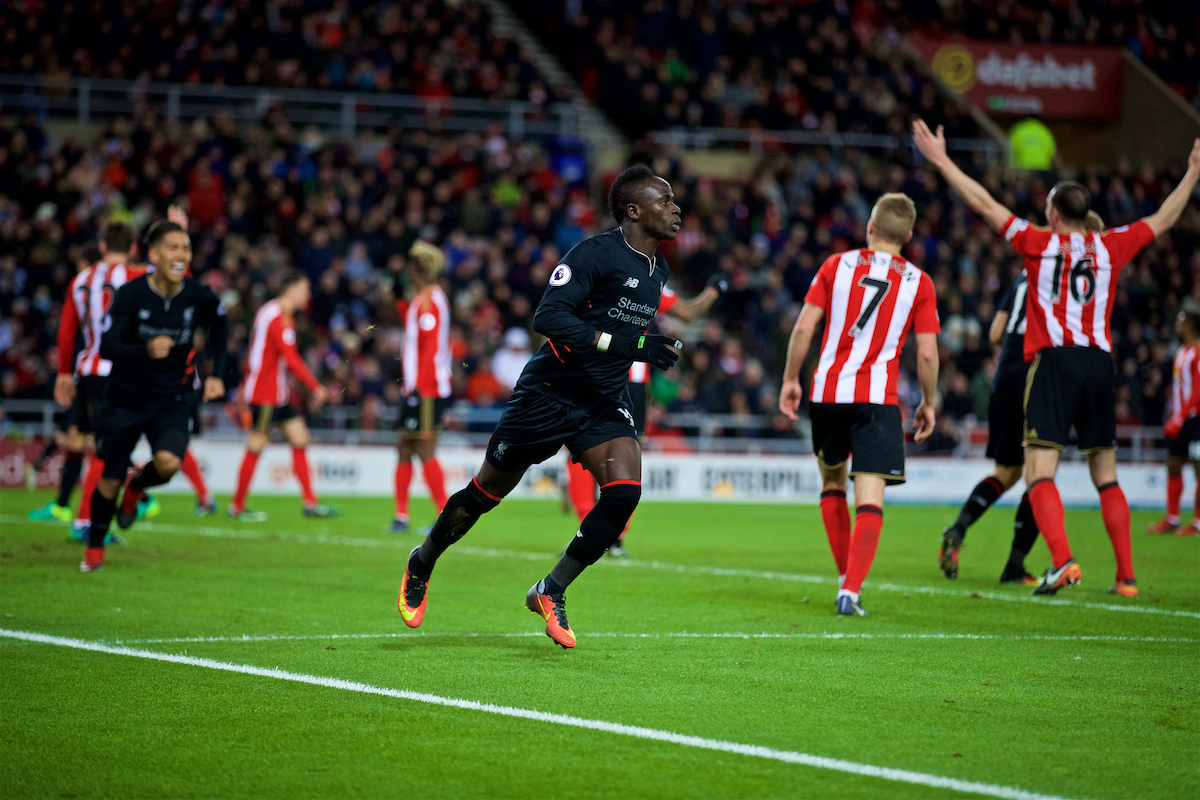 In those 10 seasons in the top flight, the most Premier League games Sunderland won in a season was 12. In five of the 10 seasons, victories were in single figures. The season they were relegated they won six. Half a dozen victories in 38 games. Uck.
Yes, there is all the other very important stuff. Seeing your friends. Mixing with mates at the match. The social side. But come on, we're kidding ourselves if we don't say winning helps. Winning helps a lot. And each and every one of those wins should be cherished. Particularly if said win is the victory of a lifetime at Old Trafford.
Which brings me to Brighton.
I roomed with a Brighton and Hove Albion fan, Noel, at university in 1994. Then, yes, yes, a long time ago, they were kicking around in the old Division Two and they were still playing at the dearly departed Goldstone Ground.
By the time our spell at the University of Sheffield was done, they had dropped into Division Three and in our final year they had finished 23rd in the table for the second season running.
That's 91st out of the 92 league clubs. Twice. A place away from relegation to non-league football. Twice.
Imagine that?
The first time, the club debt ridden and facing up to being homeless because of the proposed sale of the ground, faced a final day showdown with Hereford to stay up. Brighton had been deducted two points because of fans protesting about the situation with the ground.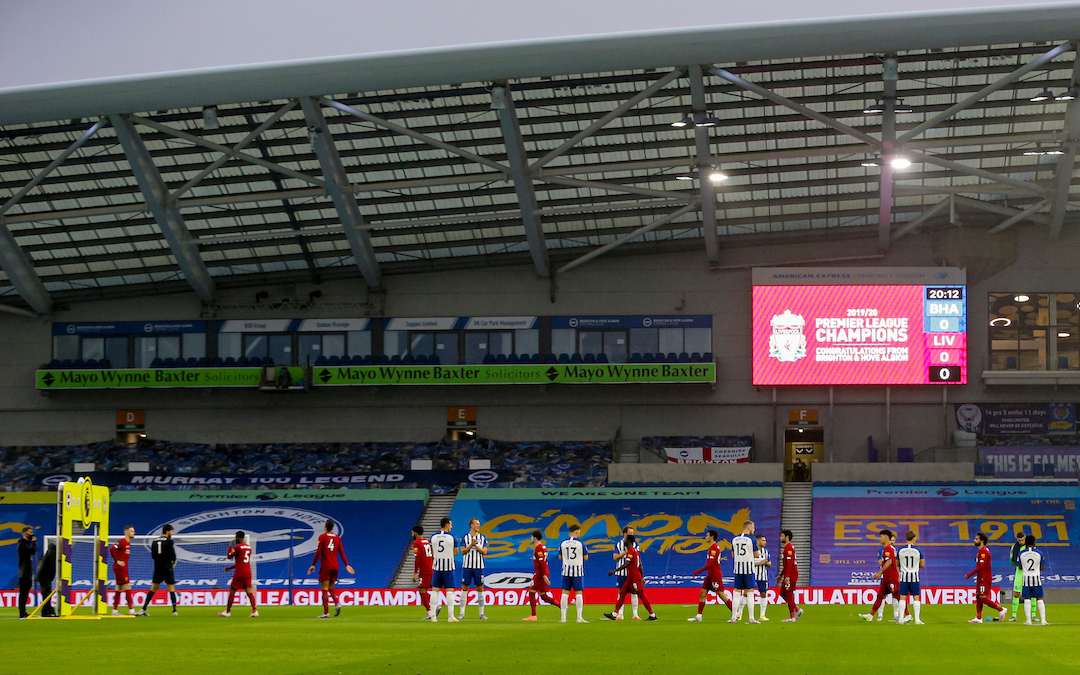 They had the same points and inferior goal difference to Hereford. They survived on goals scored thanks to a second-half equaliser on that very last day. And all this just 14 years after contesting an FA Cup final.
The second time, they won just six of 46 league games all season. The Goldstone Ground had been demolished and the club had survived a vote to expel them from the league.
The team was playing its games 75 miles away in Gillingham, averaging "home" gates of just 2,300. They won three "home" games all season.
Fortunately for them, Doncaster were woeful. And Brighton clung on to league status once more.
Can you imagine going through all that as a supporter? I'm stressed just writing it.
And so here they are now in the Premier League, currently fifth, playing at their own ground and into season five of playing in the top flight after their previous spell in the top division ended in 1983.
I got a tweet off Noel the other week, just before Brighton travelled to Crystal Palace: "BHAFC could go 12 points clear of the relegation zone for the first time ever and top the league for a few days with a win."
They drew. But the wider point stands. These are the days if you're a Brighton fan.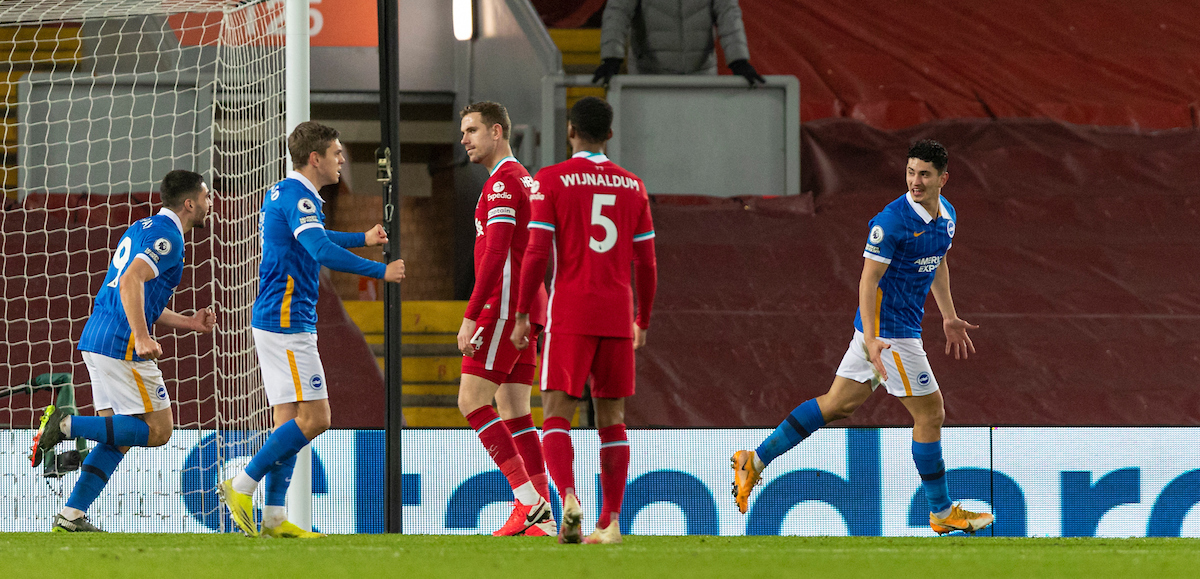 In each of The Seagulls four seasons back in the Premier League they have chalked up nine wins. Last season, that included a 1-0 victory in front of Anfield's empty stands.
This season they have managed four victories already in only nine games, with wins at home to Leicester and away to Brentford the standouts.
Manchester City were much too strong for them in their last league game though, and it goes without saying that the Liverpool Graham Potter's side face this season are a much different beast to the one they defeated in February.
The Reds are now unbeaten in 19 Premier League matches (won 14, drawn five) and they have scored 27 goals in their last nine games in the top flight.
Pre City, Brighton's defence had appeared mean, but in Mo Salah, the best player in the world right now, they have a huge task on their hands come Saturday 3pm at a now, thankfully, packed Anfield.
The Egyptian King — 10 Premier League goals in nine Premier League games this season — has been directly involved in nine goals in his eight top-flight games against Brighton, scoring five and assisting four, and few would bet against him socking it to The Seagulls once more.
So that's a superstar forward. The best manager in the world. A side in form and scoring goals for fun, and a club that has won the biggest trophies in recent history and will continue to challenge this season and beyond.
It's not bad is it? Savour it. Enjoy it. And keep it in perspective.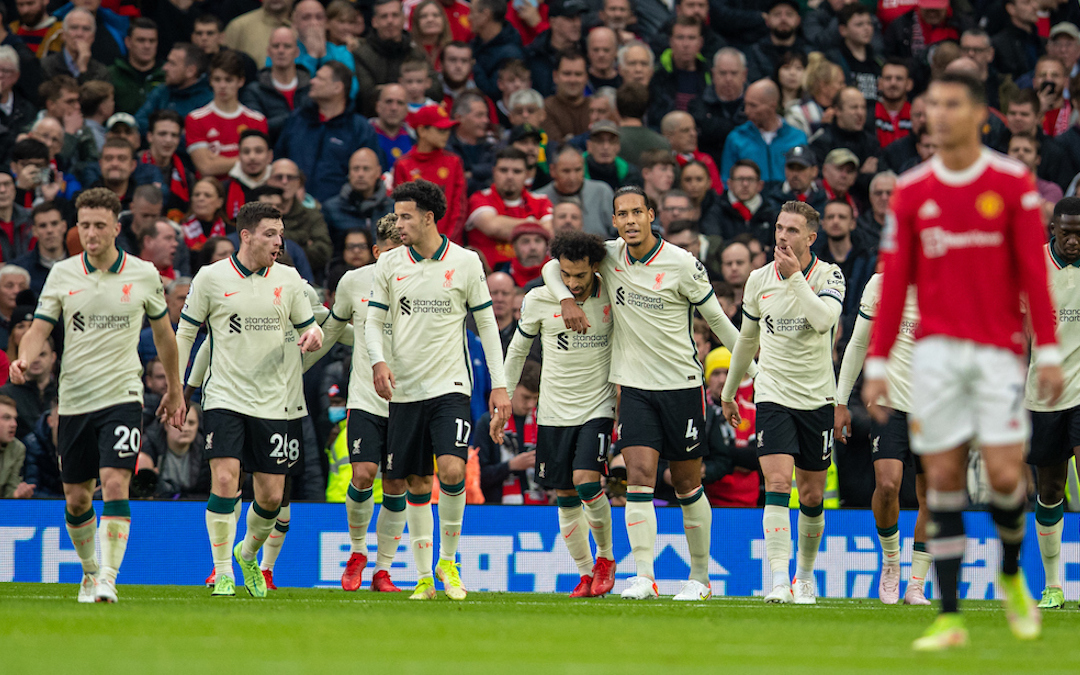 Those league wins I mentioned? That Sunderland lad who witnessed only six in a season. Brighton fans remembering the same at the bottom of the league pile. Even the current generation savouring just nine Premier League wins a season on the regular.
Look at ours for a moment. In 2018-19 — 30 league wins. In 2019-20 — 32 league wins. Last season, with it's lulls and lows, still 20 league wins.
The lowest it's ever been in my lifetime is 14 league wins in 2011-12. And even then The Reds won the League Cup and reached the FA Cup final.
We're lucky to be Reds, lucky to support this club and watch this side, and lucky to be served up the football we are witnessing right now. Thousands would love to walk in our shoes.
As we like to remind a certain set of supporters not too far away: we see things you'll never see.
Here's to more wins, more goals, and more 'problems' like being a midfielder short.
Up the fucking Reds.
Predicted 11: Alisson; Trent, Matip, Van Dijk, Robertson; Keita, Henderson, Jones; Salah, Firmino, Mane
---
"I think Klopp asks Jones to go gain along with Henderson and Fabinho." Agree?

🎥 The Preview Show: Liverpool v Brighton

🗣 At Oakfield Coffee House, @johngibbonsblog is joined by @kevwalsh_
to look ahead to Saturday.

👉 https://t.co/RZ5ckXeglW pic.twitter.com/PRx26ib1iM

— The Anfield Wrap (@TheAnfieldWrap) October 29, 2021
Recent Posts: