With Trent Alexander-Arnold finally playing a game in midfield for England, can the debate about his best position finally be put to bed?
THERE'S a few things in life that make my tummy turn.
That split second when the plane leaves the grounds after take off is one, baked beans are another — and seeing Liverpool players named on the team sheet during international break is a definite third.
Without generalising, Liverpool fans have always had a problematic relationship with international football. Last season did little to help the cause, as we lost Joe Gomez to injury when we least needed it during a training session that felt pointless. With game after game packed into a tight schedule, much of it feels pointless.
In the current climate, though, and with a break commencing after just three Premier League rounds, I doubt there are many fans that are fully on board with this one. Players should be able to represent their country with ease, but in the midst of a global pandemic balancing the interests of club and country is more difficult than ever.
The chaos that ensued five minutes after kick off between Brazil and Argentina confirmed that the club were right to hold Fabinho, Alisson Bekcer and Roberto Firmino back. Another international break looms in October and November, and the pressure will be on to fix problems that have arisen. After today's debacle, I don't have too much faith that will happen.
However some players did get the chance to go and represent their country on the international stage. After fighting for his place in the team over the summer, Trent Alexander-Arnold was ruled out of the Euros the following day with an injury. So, it's no surprise he seemed delighted to get the chance to prove himself in an England shirt last week.
Southgate has long teased the idea of trying Trent in midfield, as he juggles with an abundance of options at right back and is tasked with getting all his best players on the pitch. That test became a reality against 134th in the world Andorra this week, an ideal opportunity for the manager to test the waters.
We as fans are confident in our belief that Trent is the best in the world at what he does, but there's still a nagging doubt for some that he might be able to use his skillset to affect the game more in midfield. So we can be thankful that he got to try it with little at stake for Liverpool.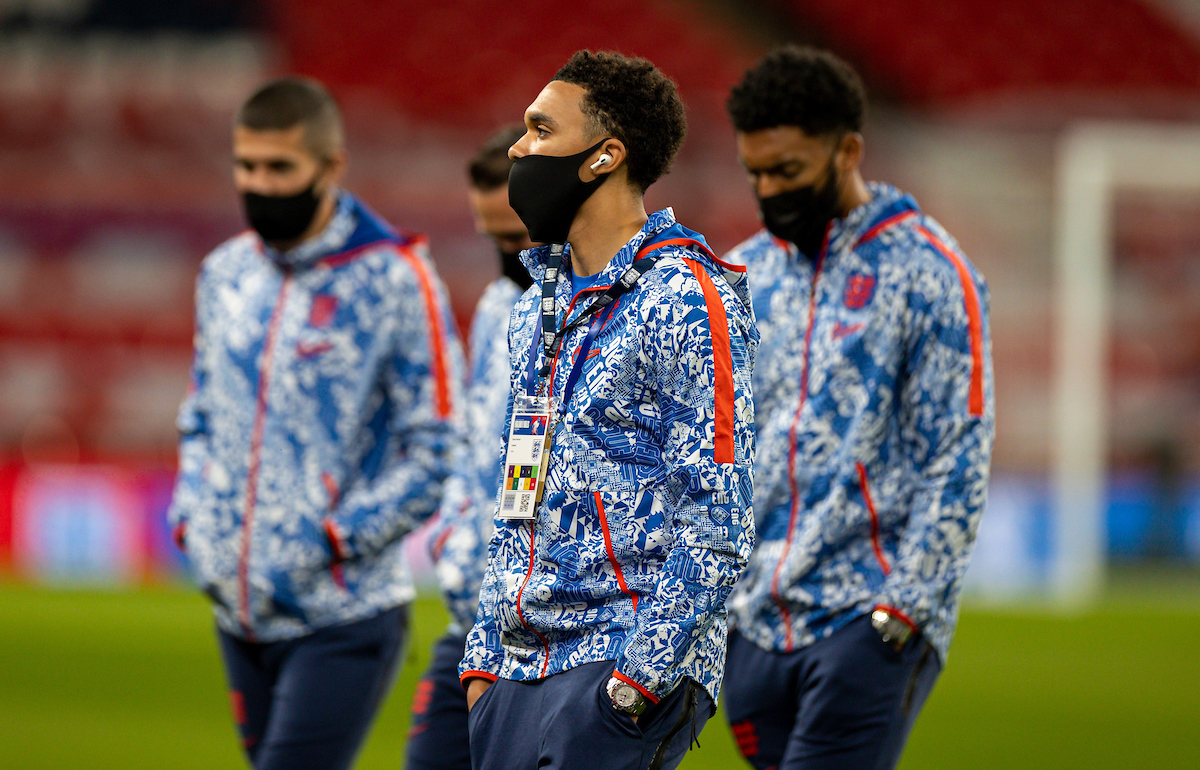 I wrote last week about the importance of experiments, and this wasn't one that paid off for Southgate. Without adequate preparation he looked lost in midfield, admitting that he struggled to get time on the ball.
Playing at full back, Trent is able to drift into the midfield and unleash his attacking capabilities when necessary. Starting from that position, though, his creativity was stifled. The extra second he normally gets to look up and take stock was robbed from him in midfield, as even weak opposition quickly swarmed the centre of the pitch.
Meanwhile, our system is set up to allow him to thrive. With Fabinho in a holding position and Henderson playing deep, they hang back and cover to allow Trent to push into advanced positions and make runs.
He averaged 100 touches per 90 minutes last year, and is second only to Kevin De Bruyne when it comes to assists across four seasons. Contrastingly, in the first half against Andorra he made just 33 touches, disproving the notion that moving him into midfield would allow him more time on the ball.
Importantly, he's also not a player desperate for a change or crying for a chance in midfield. "No-one grows up wanting to be a full back," said Jamie Carragher a few years ago. That was until Trent and Andy Robertson came onto the scene.
He has redefined what it means to be a full back, and he loves playing there. We love him playing there, too. There's barely a player in the world that could replicate what he does — we witnessed that first hand last season when he was unavailable and the system fell apart.
Trent is an extraordinary talent. I'm undeniably biased, but even many neutrals would agree he brings a dynamic to the England team others cannot. He sets the tempo of the game, delivers crosses that catch the opposition off guard and has the vision to switch the play in seconds. He would be my pick of the bunch all day long.
The midfield experiment has put any doubts about his position to bed for a little while. His game may well evolve in the years to come, but for now we have one of the best in the world at right-back.
That should be enough to see him stay right there.
---
Recent Posts: