Assessing Liverpool's relationship with the Luis Suarez song after it was being sung at Carrow Road in the League Cup against Norwich City…
"DON'T dare sing his name at any point."
My reaction to merely thinking about the Luis Suarez song which once rang loud from every corner of Liverpool supporting congregations could perhaps be described as extreme.
This particular plea came not from a rambunctious Tuesday night at Norwich City in the League Cup third round, but a Champions League semi final at Anfield.
Suarez came back to Anfield two years ago laying on the charm offensive after he'd laid on all imaginable shithousery in the previous leg. He was the assailant masquerading innocent proximity all along. The character you're never quite entirely sure of throughout the plot.
The biggest testimony he got from The Kop that night was "fuck off Suarez", which was I suppose a fitting tribute to his Machiavellian nature.
You see, Luis Suarez will never change. He wants to win so bad he'll do anything. He has crossed lines. He will forget himself in a fog of polluted determination which can manifest from punishing brilliance against Norwich City to all of the ugliness we had to witness.
In many ways, it's fine to remember Suarez's Norwich incumbent more often. We should celebrate the truly elite we've seen in the flesh, the things they'll never see, because we've been privy to truly special footballers.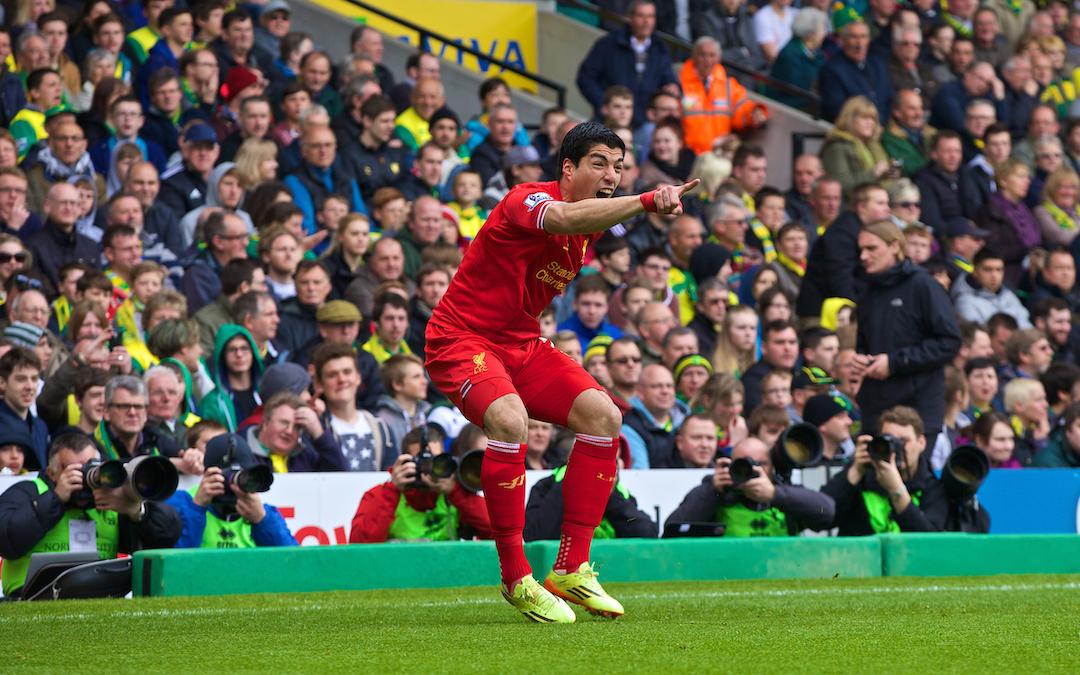 So what's wrong with a harmless, reminiscent chant on a Tuesday night in Norfolk?
As ever with Suarez, it's complicated. He acted in a way which dragged Liverpool through the mud. He put the club and its leading ambassador in a situation they should never have been in. Everyone was culpable, the club particularly knew what they were taking on after the 2010 World Cup.
If you can look past that and maintain the irrelevance of bellowing his name on a September evening, then there's also the fact he's about to play us — twice. The usual caveats of doing anything to win will apply, and therefore we will enter white-collar territory when he and Atletico Madrid arrive.
We can often be "too Liverpool" about these things, which equate to clapping Cristiano Ronaldo off at Anfield after he's scored twice in a 1-3 loss, being unequivocally happy for Rafa Benitez and Everton, and unconditionally welcoming ignorant goalkeepers.
Perhaps we should be a bit spikier when it suits? Maybe we can get George Sephton to keep a list of 'keepers who didn't acknowledge The Kop and he can remind everyone pre game on their next visit, between renditions of Heart As Big As Liverpool and The Lightning Seeds.
My biggest Suarez gripe of all comes bowling at you in pure Egyptian goodness. Mohamed Salah is seemingly everything Suarez isn't from a responsibility viewpoint. He is a walking emblem of hope for an entire continent carried with unmitigated grace.
More pertinently: he's the best footballer in the country right now. He has 130 goals in 150 appearances with 35 assists. He's as deadly as Ian Rush, as strong as Kenny Dalglish and as quick as everyone thought Mark Gonzalez would be. I could be wrong, but I didn't hear his name once at Norwich.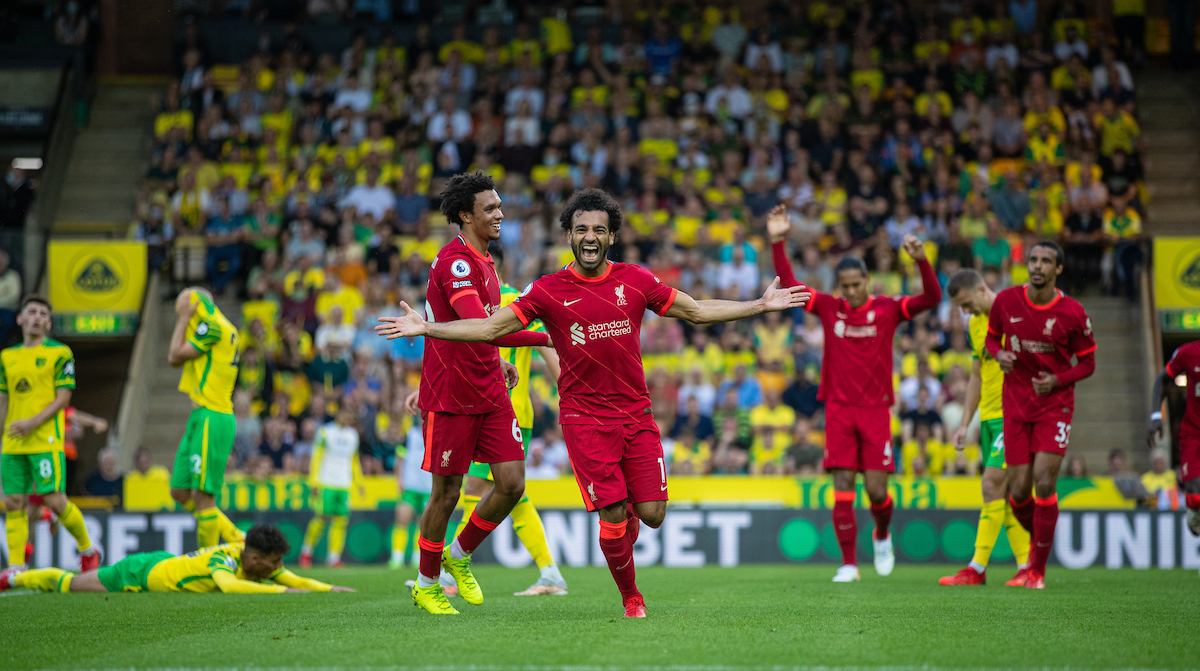 My point is that we should spend every waking second lauding Salah and this team. They should have a repertoire of bangers dedicated. If this was a discography, we should be hitting My Beautiful Dark Twisted Fantasy levels of consistency in tribute to this team.
We should do so for every Midlands club affiliated to the England National Team to keep their eternally unoriginal eye on for purging. We owe it to them if not ourselves. Where else are they meant to get their material?
I don't think we celebrate this team enough because I don't think we've had the chance to. Collective momentum halted when the link between football and fans was broken. Football became a hardship to a collective group of people having the time of their lives.
We're slowly getting back there — and so we can be excited about the prospect of European aways inspiring a culture of new material from our culturally inspired youth. You would want it no other way.
There should always be room for nostalgia. There should be the opportunity to remember those whose talent made you alive from head-to-toe. For a list of reasons, lauding the memory of Luis Suarez and Liverpool isn't for me, but that's a personal choice.
Football doesn't always make sense on a personal level. Cristiano Ronaldo's Manchester United return can be described as "erotic" on national television and the grim irony seems to be lost on everybody. Football doesn't always make sense in general.
When Suarez once again returns, my mantra will also be the same: I won't dare sing his name. We've got much better things to shout about right now, and they're dressed in Liverpool red.
---
Subscribe to TAW Player for more reaction to all the news and events that matter to you…
"I know everyone is scrambling over going to watch Ronaldo at old Trafford, but we get to watch Mo Salah in his prime…You can't beat that."

🎥 The Preview Show: Brentford

👉 https://t.co/oaOWcUhPWR pic.twitter.com/2sSKxfNpu1

— The Anfield Wrap (@TheAnfieldWrap) September 24, 2021
Recent Posts: