Chants from some Leeds United and Liverpool fans put a dampener on Sunday, but should the media do more to shine a light on certain songs?
I HAD never been to Elland Road.
I've gone past it countless times but never been searched and allowed access to the stand.
Like many grounds it's reminiscent of others. A bit of Selhurst Park, a feel of White Hart Lane and an essence of Turf Moor.
They've spent money on it but have somehow forgotten that people might want to eat or drink something in it. Such are the queues that getting a half-time pint would necessitate a thirty-minute half-time break. Anfield was quite similar in the '80s – serviced by a kiosk at one end and one at the back of The Kop. Ideal for a stand capacity of 27,000.
There was something about the game which struck me as nostalgic.
Firstly, I was with Chee, my oldest mate. That's not his real name but one acquired at school and seldom explained. He moved to Leeds in 1987 and we think that this might have been our first game together since the month of our 18th birthday. Back then we were stronger of hair and steadier of gait and maybe a little less cynical. I doubt it, though. Now we're more like the two old lads from the Muppets than princes of the city.
The fixture too smacks of the past. Liverpool v Leeds outdates even us pair of old sweats. I've always liked the story of Don Revie's side running out at Anfield in the '70s in tracksuit tops with the players' names on the back and their numbers on their sock tie-ups. They then did some elaborate warm-up exercises and baffled our lads sufficiently enough to leave with a draw.
The saddest part of the day was that the game itself was relegated to the undercard. Come the conversations it was all about Harvey Elliott, the diabolical parking options around the ground and the chants.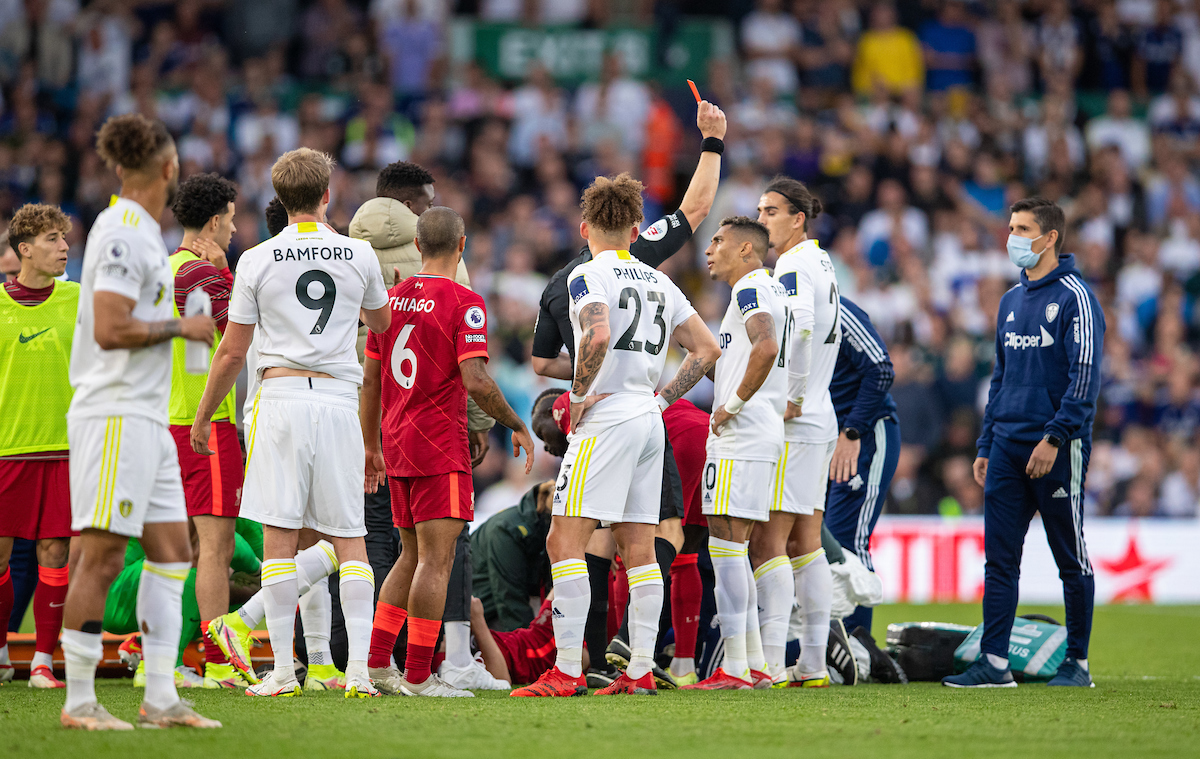 I'm no Pollyanna. The modern world doesn't shock me. I like a bit of edge at a match. Maybe that's because I'm a throwback to the old days of terracing and an expectation of to-and-fro across the divide. I miss it too. When people praise Arsenal's ground I frown in confusion. That's not a ground — that's a cinema. Highbury was a proper football ground. Now it's all popcorn and padded chairs.
And there's something to be said for that. We, more than anyone, are aware that ground safety is paramount and if kids are coming in and getting into the game then all good, but it misses out on so much too. One of the great things about football is singing with your mates and shouting at an adversary for a couple of hours.
But yesterday was a race to the bottom. Snide. It was like there'd been a group meeting to ascertain what was the most offensive thing they could sing.
Yesterday was a shock because we don't play Leeds too often and had forgotten what Elland Road was like. You expect the Hillsborough and Heysel songs at certain other grounds, just as you expect complete media silence about it afterwards, but that took me by surprise.
Again, I'm not new to this stuff and have a thick skin. Sticks and stones and all that. A bunch of dickheads singing about a disaster that took place before many of them were born isn't going to hurt me, but think about others.
There was a man of about 60 to my left yesterday. He'd been quiet throughout the game save for the odd song and round of applause. He was standing near two stewards and a pretty heavy police presence in our end.
The second the Hillsborough stuff started he was on his feet shouting, roaring at those in the Norman Hunter South Stand to our right. His face contorted into a scowl. I was busy doing my own shouting, but after a while I watched him instead. It took me a while to realise he was crying.
The whole story came clear. He must have been in the pens or he lost people that day. Maybe he was from Leeds and was furious at his own people. In any case, he was clearly traumatised and the look on his face will never leave me. It was a mixture of fury and despair.
"Nine years ago today an independent panel published a report around Hillsborough which made clear – yet again – as a matter of record that supporters present that day were the victims. It wasn't their fault."

✍️ @Knox_Harrington's review…

Read here 👇https://t.co/Xo5KM1iYSz

— The Anfield Wrap (@TheAnfieldWrap) September 12, 2021
To be gleefully told that '96 will not be missed', when there were people there who very much miss those of the 97, was too much for him to take. The stewards were excellent and stepped in to calm him down rather than telling him to sit down. They read it perfectly.
It may have just been a song to some but to others it's an attack on the psyche.
If you're a Leeds fan and about to indulge in some 'whataboutery' then I'm coming to you.
Let's talk about Chris Loftus and Kevin Speight. They were the two lads who were stabbed and killed in Istanbul in April 2000, on the eve of Leeds's UEFA Cup game with Galatasaray. Four men were convicted and jailed a full 10 years later. Ten fucking years.
Granted the 'Galatasaray' shouts and the flashes of Turkish flags on mobiles came from the few rather than the many yesterday, but even that was too much. How can you talk about respecting the 97 one minute and then laugh about two dead lads in Turkey the next? As I said, a race to the bottom.
Who's to say the man who was so upset in our end wasn't mirrored by the family and friends of Chris and Kevin in the other stands?
True, the Hillsborough songs are largely ignored in the game. Sky used the term 'near the knuckle' to describe the Leeds songs yesterday while Match Of The Day made a point of praising them for applauding Harvey as he was stretchered off. They were in the ground. If you're going to say anything about chants, why not mention that?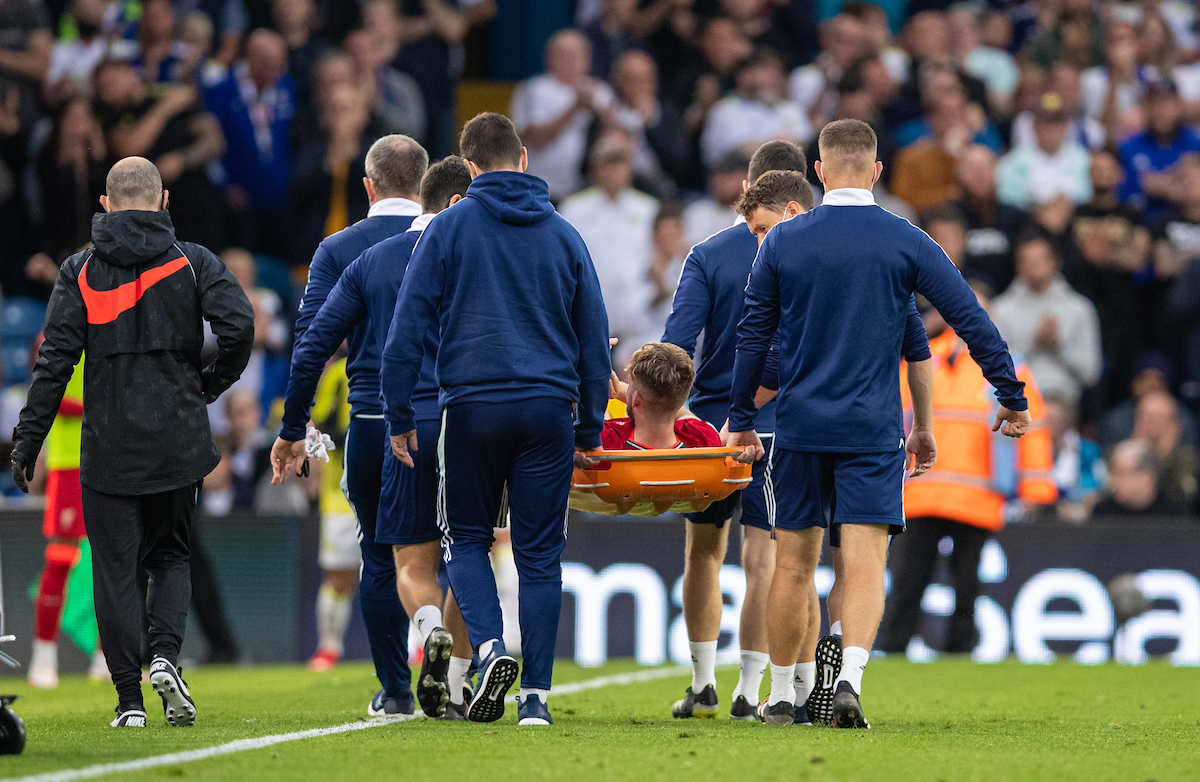 And talk about a skewed moral compass. This is the same media who were singing themselves sick on Saturday in praise of a man facing some strong accusations about his past behaviour in America.
Look, I don't especially want a sanitised game. I like singing to the people over the divide (though I just prefer to sing about my own team these days) and a bit of needle is lovely if you know you're all going to go home safely afterwards, but we should all be better than this.
We can't do anything about what others sing. The authorities can't either really, but the media can at least highlight it when it happens.
Chelsea fans reminding us that they're European Champions is fine, us reminding them that we know more about being European Champions than they ever will is fine — that's all part of the day out — but poking the traumatised or those with a different sexual preference to the majority isn't.
Yes, the bad stuff came (from what I can make out) from one stand rather than all of them, so there's truth to the defence of 'just a minority' but we can all be teachers here.
We can all look after our own shop but the authorities and media can at least acknowledge its existence rather than turning a blind eye.
That's not too much to ask, is it?
---
✊ Leeds 0 Liverpool 3 | TAW Matchday Montage from Elland Road

For all the rest of our post match reaction and more, subscribe to TAW Player and then download The Anfield Wrap App 📱

👉 https://t.co/oaOWcUzrlr 👈 pic.twitter.com/BrkvRWuMJq

— The Anfield Wrap (@TheAnfieldWrap) September 13, 2021
Recent Posts: