Trent Alexander-Arnold's bumper new contract is the latest statement of his importance to Jurgen Klopp's Liverpool, writes Karl Coppack…
SOMETIMES it's not just about buying players.
I mean, don't get me wrong. I'd like us to buy some. Good ones ideally. The sort who brings sighs from rivals when they see photos of them holding a hastily found club scarf up for the cameras. Someone to shake the morale of the others – much in the same way I felt when Chelsea signed Andriy Shevchenko.
It's great to see them making their debuts too. I'll never forget Dirk Kuyt charging onto the pitch to make his debut against West Ham and I felt cheered when I saw Ibrahima Konate stroll onto the pitch in Austria. He looks like one of those big grocks who Bruce Lee fights at the end of his films when he's seemingly battered everyone else. A bit like Sideshow Raheem from the Simpsons.
Signings are good. But sometimes it's about keeping hold of the ones you've got too.
Liverpool very craftily snook the news of Trent Alexander-Arnold's contract onto the Red world just after we'd seen Virgil van Dijk and Joe Gomez appear on the pitch for the first time since Goodison. It was a feel-good moment. Three quarters of the back four all back and fresh. That's nice.
A cynic might argue that the reason they announced his new deal was to ward off criticism about a lack of further signings. You never know about these things but it doesn't seem overly busy on that front and with the squad getting older we'll need gradual change over the next two or three transfer windows.
I'm not full-on FSG Out, but I'm hardly a fan either, though that's mostly because I frown at the idea of someone having control over something I love. I'd be the same with any owner. There's always the risk they won't understand just what's at stake.
We're not an asset. We're not a plaything. We're not something to put behind the Red Sox on a meeting agenda and there are times when I'm not sure they understand that.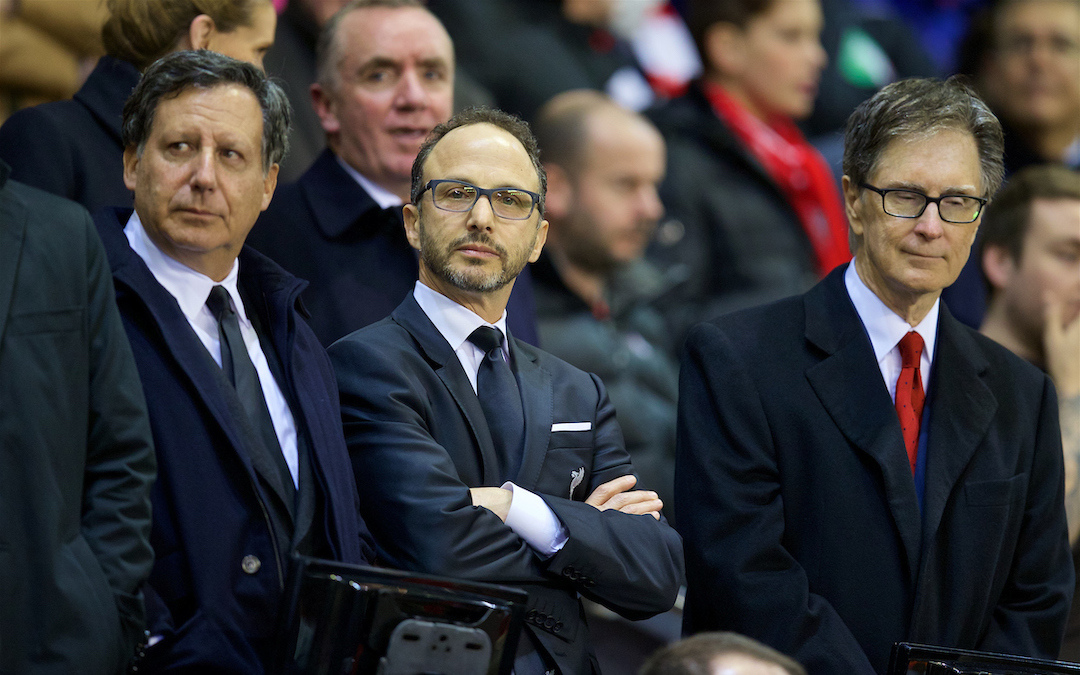 But they've kept Trent for a few more years and, though I can't imagine that would have been the hardest of sells, that's a great thing.
The 22-year-old's been saying for years that he wants to be captain and lead the club for a long time to come. This week he's pointed out that not all captains wear an armband and that he wants to emulate James Milner as much as Jordan Henderson when it comes to mentoring younger players.
For a player closing in 200 appearances for the club it's hard to believe that he's still so young and mature for his years. The captaincy will come in time.
We like a local lad being captain. Jordan's been adopted so that counts too but going back to Gerard Houllier and Phil Thompson there's something special about a Scouser with the armband. It means so much to those of us from the city and though it's a mistake to live our lives vicariously through a footballer, it's wonderful to see someone from the same streets reach the highest accolade.
It hasn't always been like this. Last season saw a bit of flak handed out to Curtis Jones by naysayers who claim that he's only in the side because of his accent. Trent had a bit of that when he was a fresh recruit, but it's hardly an accusation anyone could level at him now.
Though his national team manager needs a bit of persuading, Trent's one of the best full backs in the world. I think he is the best, to be honest, but you're always accused of hyperbole when you say such things.
True, he lost a bit of form last year but it would have been weird had he not had some sort of drop off at some point. There are levels and there are Trent's levels.
A lot of that expectancy comes from his and Andy Robertson's importance to the side. Classic Liverpool sides relied on the midfield to provide the creativity, but the Jurgen Klopp era has rewritten that.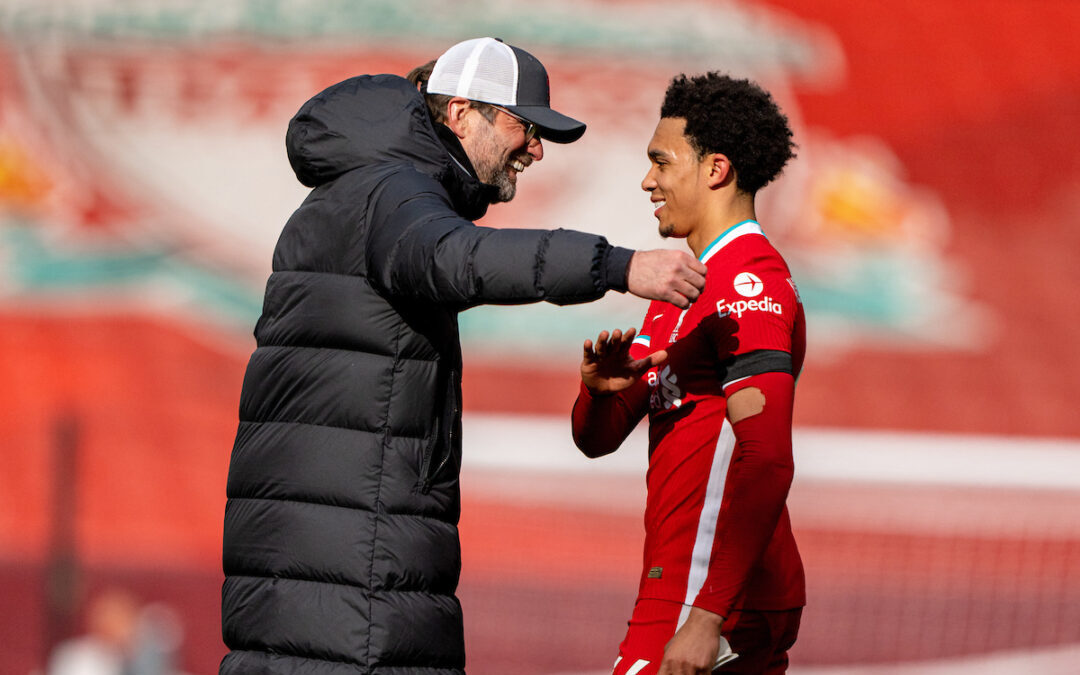 Manchester City have relied on the delicacy of David Silva and Kevin De Bruyne and force of Yaya Toure to wave the wand, whereas Manchester United utilise the pace of their forwards with Bruno Fernandes behind them. Liverpool go wide.
And the risk to that is injury. I like Neco Williams but he's not the best full back in the world and it's a tough ask for him to do what Trent does, in the same way we could never ask Divock Origi to be a direct Roberto Firmino replacement.
If there is a worry to Trent it's that he becomes indispensable. Robbo too. You can't replace what they do no matter how much money you spend or how talented the replacements are. Sometimes only one person will do and you can blow millions on a dud trying to replicate it. A bit like when Chelsea signed Andriy Shevchenko.
Only Firmino comes close with that level of specialised play. They've reinvented their positions to such a degree that it's easier to change formation altogether than shove sub-Trent players into the system.
We might see that when Firmino leaves. Playing three strikers is one thing but it's different when one of them is a Firmino forward. You can't really ask a player to 'do whatever the hell it is he does'.
I deplore this common trait for typing 'buy someone' every time the club makes a non-football announcement, but this contract extension could be the best thing the owners have done this summer. Trouble is, Ibou apart, it might be the only thing.
We'll find out at Carrow Road, I suppose. That's still a fortnight away and the window deadline is even further away so hopefully something will happen.
I hope so. Sometimes it's not just about renewing contracts.
---
"Sometimes you can take young lads or local players for granted thinking they'll stay forever but we shouldn't. Trent is one of our best players."

"It gives the young lads at Kirkby a boost – this is possible for you."

The Anfield Wrap FREE Pod🗣

👉 https://t.co/Rqto1eKIRZ 👈 pic.twitter.com/M88Itmdjvs

— The Anfield Wrap (@TheAnfieldWrap) August 2, 2021
Recent Posts: