How having Liverpool's fab four – Mo Salah, Sadio Mane, Roberto Firmino and Diogo Jota – firing can be a defining factor in the title race…
IT was a pretty emotional weekend all in all.
It started with Arsenal getting beat by Brentford on Friday, though the joy there didn't necessarily come as a result of The Gunners' despair (not that it wasn't hilarious).
The refereeing standard seemed to be a level above what it was last season. Rather than VAR, handballs and offsides being the big talking point, Brentford were firmly in the spotlight for all the right reasons. An opening evening they'll remember forever.
It was still early days, though. For the refs that is. Let the rest of the weekend play out and then we can truly assess the situation.
So when Saturday afternoon's games played out without a hitch — though if I could have everything, I'd rather Manchester United and Chelsea didn't pick up three convincing points — we sat up and took notice.
And that took us on to Carrow Road.
It started that morning for The Reds travelling down to Norwich City at the crack of dawn, every single one of them looking absolutely made up. Coaches and train carriages filled up. It just felt normal, felt right.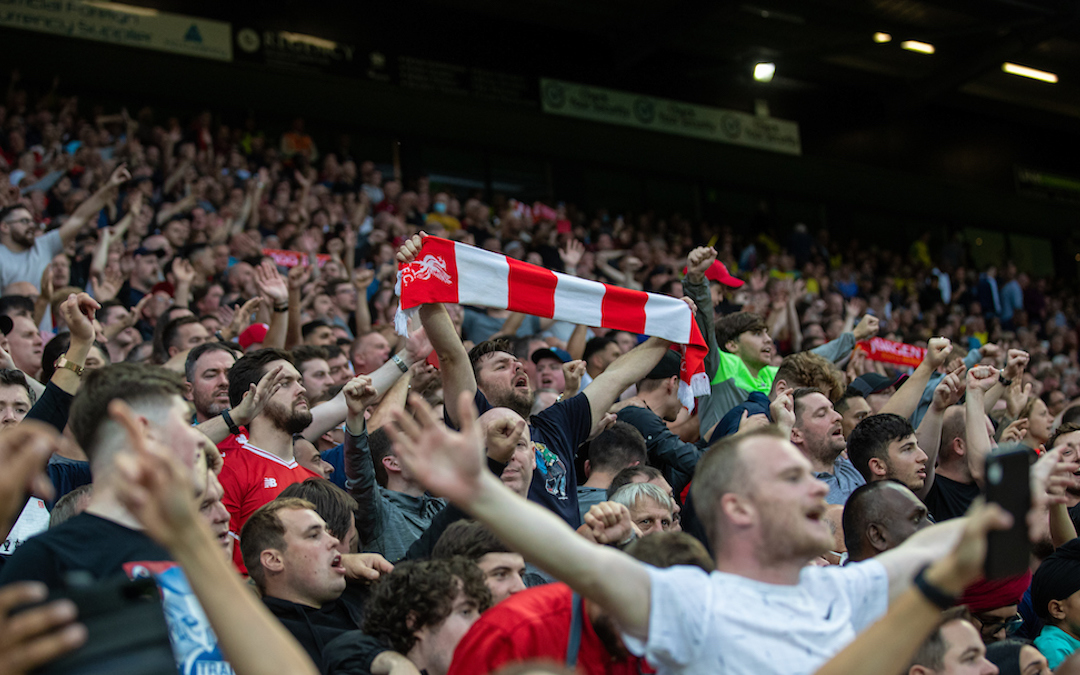 Then seeing them all inside the ground. The videos of them singing along to Jamie Webster's This Place and drowning out the tannoy it was being played from. The colour and the soundtrack to the game was back. It just felt normal, felt right.
And then, of course, there was the game. That first goal felt like a moment in time. Watching from Liverpool City Centre and celebrating with mates and fellow Reds. Diogo Jota finally getting the chance to celebrate in front of fans. Roberto Firmino coming off the bench to get his goal. Mo Salah's constant graft paying off with a sumptuous strike.
It was normal and it was absolutely right.
There was so much wrong with last season, but this weekend felt like the moment the curse was reversed. The pay off at the end of a year of utter shite.
While Liverpool's root problems came at the heart of the defence, which had a knock on to the midfield and so on, it's hard to dispute that The Reds would've been able to win themselves more points if they'd just been able to take their chances. It wasn't like anybody was battering us, at least in terms of the scorelines.
So to see all of Liverpool's fab four forwards getting themselves involved against Norwich was a much welcome sight.
Of course Sadio Mane didn't score – and I feel sorry for the Burnley defenders off the back of that – but he was so involved. Constantly a threat, constantly dragging defenders all over the gaff, constantly being a nuisance. He almost set up Salah for a peach of a volley with an even better cross.
Mo looked the likeliest early on, but the best chance fell to Jota from a header which forced Tim Krul to tip over his own bar. So it was no surprise when the two of them linked up for the first goal. Finally our Portuguese maestro getting his moment in front of the fans. And what a moment it was, having taken his chance with aplomb as it fell to him.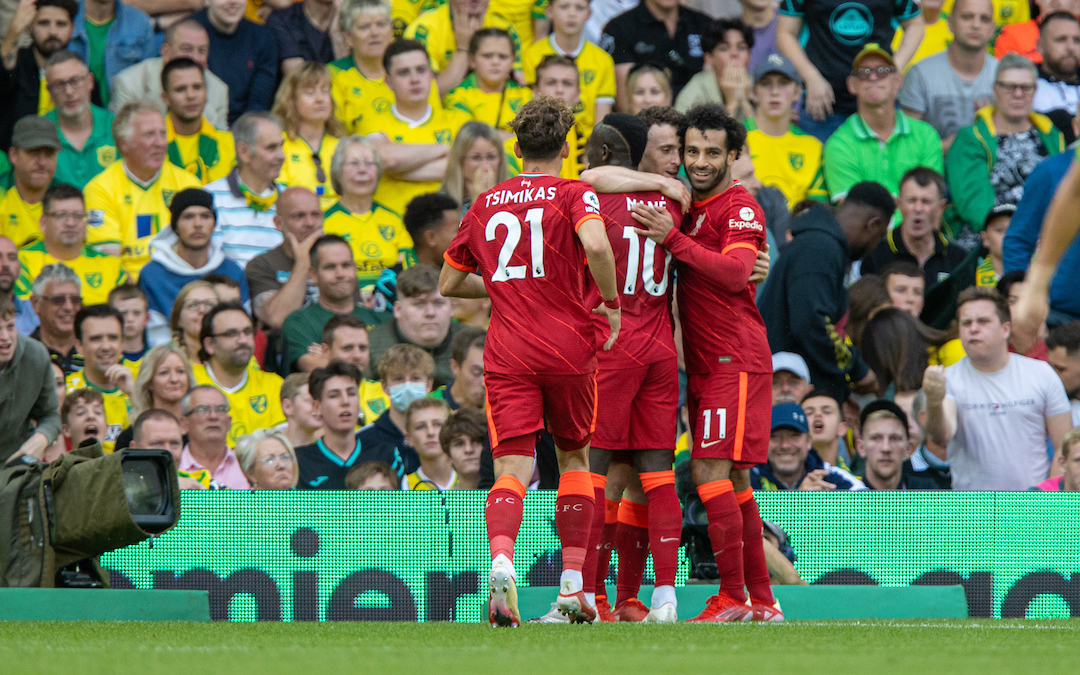 Then Bobby off the bench, just a few minutes after being introduced. It was half surprising he didn't start after his performance against Osasuna, but pre-season friendlies can play tricks on us. Anyway, here he was. Finishing again. Looking like he was back at home with an audience to witness his magic. Living to entertain us.
And what about the main man. It's hard to not put Salah on a pedestal against his fellow forwards, but he places himself among some of the best to ever pull on the red shirt. He's certainly up there in my lifetime. Two assists, a load of chances, and then the sweetest of strikes. The icing on a big, massive cake. And we were all tucking right in.
Not wanting to pitch Salah against his teammates comes by virtue of not wanting to get drawn into the conversations about which of the front four deserves to be dropped. Because none of them do. In fact, I'd have all four starting against Burnley.
Burnley took our unbeaten record at Anfield last season. They're back to take our points again. Let's show them the way to go home. Make them tired and wanting to go to bed. Wanting the ground to swallow them up. It just might.
I absolutely cannot wait to be back in said ground on Saturday. It's going to be emotional. It's going to be hostile. Burnley aren't going to know what's hit them. It could, and probably should, have Liverpool's front four written all over it.
They'll be ready. We'll be ready. We all had a taste last weekend. We want more this time.
Another Manchester City loss would be sound too.
---
"Firmino is the one out of all of our players that the fans will have the biggest effect on."

🎥 🗣Norwich City 0 Liverpool 3: The Free Podcast | #LFC

Listen👉https://t.co/yDXu8BENU5
Watch👉https://t.co/T6phzqJghQ pic.twitter.com/Q4P6eMveqs

— The Anfield Wrap (@TheAnfieldWrap) August 16, 2021
Recent Posts: