John Gibbons' preview ahead of Liverpool v Chelsea at Anfield, a game already being billed as a Premier League title race six pointer…
FEELS early in the season for such a big game, doesn't it?
Are the team going to be ready? Are the fans? Are the frigging turnstiles???
I'm sure ideally both Jurgen Klopp and the Head of Operations at Anfield would prefer such a big game to be later in the season, but we are where we are and Liverpool host Chelsea in August in a game that feels like it might still matter in May.
Yesterday I spoke to former Liverpool tactical analyst and first-team coach Alex Miller for a new show where I asked Alex how they beat Chelsea in 2005 and 2006 and how he would beat Chelsea now. Unfortunately the answer to all was "with great difficulty".
Not that it particularly matters but I'm a little surprised to hear so many of our supporters talk Chelsea down. I understand the argument that we finished the season ahead of them despite having no centre backs for most of the season, but then we also need to factor in that they only had a real manager for half of it.
They also had some distractions towards the end of the season. Not least a Champions League run. I've seen their European Cup win dismissed as well. We should know full well how difficult that is. Anyone dismissing any of ours better do so a long way away from me.
No, astute tactical minds like me and Alex know this Chelsea side, under this manager, are the real deal and will need some beating on Saturday. But fortunately we have a manager and squad that is even better. That has achieved more and will continue to achieve more. Lucky us.
I type this as I watch Jurgen Klopp's press conference where he is asked a bit about the game and a lot about transfers. I bet he can't wait until September 1. Jurgen smiles politely and answers carefully when I sense he just wants to say: "We're really good you know, mates". He almost says: "The rest are buying more players because they fucking need to". I'd have liked it if he did.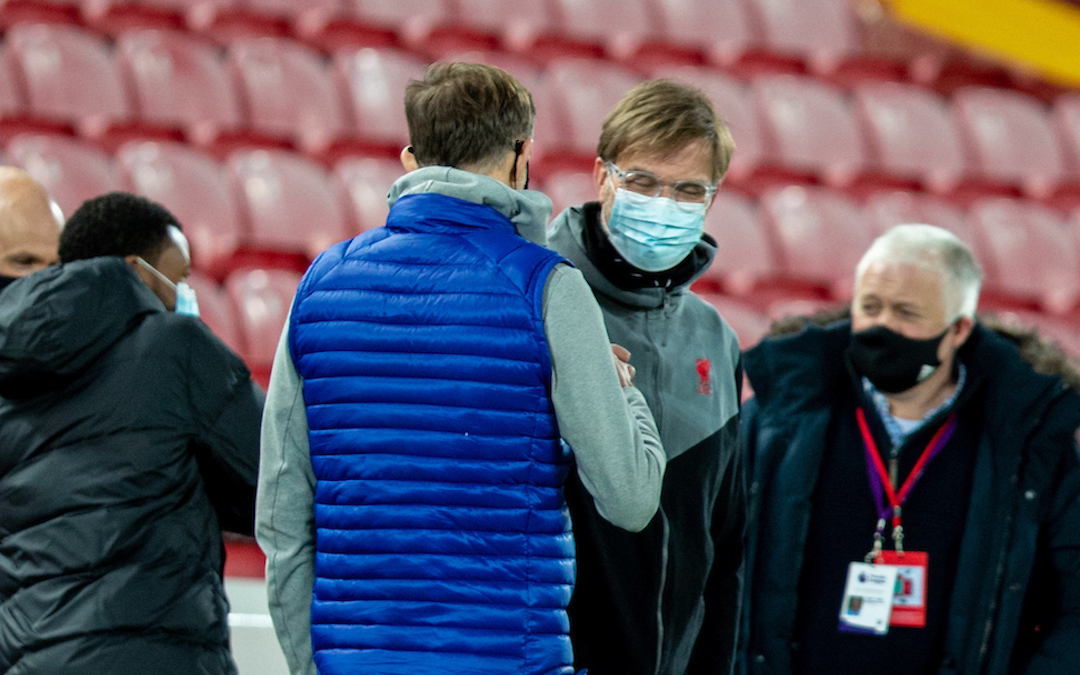 Of course, he would be right. Chelsea needed a top striker because they created loads of chances and scored less goals than everyone else – 10 less than Liverpool and 25 less than Manchester City. But now they have one and he's really good, a much better player than the one who left Manchester United heavy, in body and mind. He worries me for Saturday. A few of them do.
As I say, my main concern for this game is more the timing of it. Chelsea, as Jurgen pointed out in the press conference, are in a "great moment" and will come to Anfield full of confidence, as European Champions and having won here last year.
Liverpool have also won both their league games so far, but they're beating teams that are nowhere near Chelsea's level. In fact, two of the four are bookies' favourites to go down.
This Liverpool team will get there, and by there I mean Champions, but are we 'there' yet? I'd like more weeks out of Virgil before a game like this. I'd like Jordan Henderson and Thiago Alcantara to be further along. I'd like Fabinho to have played more and I'd like Andy Robertson to have played at all. But nothing is ever perfect and the team we put out will still be far better than most, if not all, we picked last season.
We can only control ourselves and that includes us as supporters. Tickets have been unusually plentiful so far this season, this morning we had a full member's sale on the club website, but that's a nice thing. More different people are able to see The Reds.
Saturday will be the first time back to Anfield for thousands, including one or two from The Anfield Wrap. For those of us who warmed up against Burnley the excitement will remain for a good while yet. It should be bouncing at 5.30pm on Saturday, should everything go as it should. I can't wait.
They're good but we're better. In every sense. I wouldn't swap our manager, I wouldn't swap our squad and I certainly wouldn't swap our fucking fans.
Into these, Reds. Each and every one of us.
Predicted 11: Alisson; Trent, Matip, Van Dijk, Robertson; Fabinho, Keita, Henderson; Salah, Jota, Mane
---
Liverpool v Burnley Buildup | Talking Reds@johngibbonsblog is joined by @HarrietEPrior to chat about Liverpool's return to Anfield.

Watch Now👉https://t.co/oyyzDMOLfX pic.twitter.com/xCO8o7hv3b

— The Anfield Wrap (@TheAnfieldWrap) August 20, 2021
Recent Posts: