John Gibbons' post-match review after Liverpool 2 Burnley 0 in the Premier League at Anfield in front of a full crowd…
WHEN I got on the train at Liverpool South Parkway this morning I had to stop myself breaking into song.
It felt like that moment on a European away when you bounce on a metro and just start singing because you can't contain your excitement to be going to watch The Reds. Commuters bemused as their quiet train home is invaded by drunken scousers singing about Ste Gerrard or Mo Salah. As ever. Soz abar us.
On the train I bump into Tizzer and his lad. A lovely surprise. We share the journey to Sandhills, the Soccer Bus to Anfield and the can of lager in my coat pocket, as we share stories of past journeys and past victories and how we might feel today.
Tizzer is a great example of the people who come into your life through football. I wouldn't know him without Liverpool Football Club, our paths would never have crossed, but I love him dearly. His boy Charlie predicts 2-1. Tizzer always predicts 3-0. Beautifully they are both wrong and both right.
Off the bus we have a short walk to Taggy's. More friends. Some pints. A couple of videos for The Anfield Wrap's social. It's always a pleasure and work, but the work is pleasure. Especially on a day like today. The excitement doesn't need to be encouraged. It's pouring out of your veins. It's bursting out of your pores. Get me in that ground.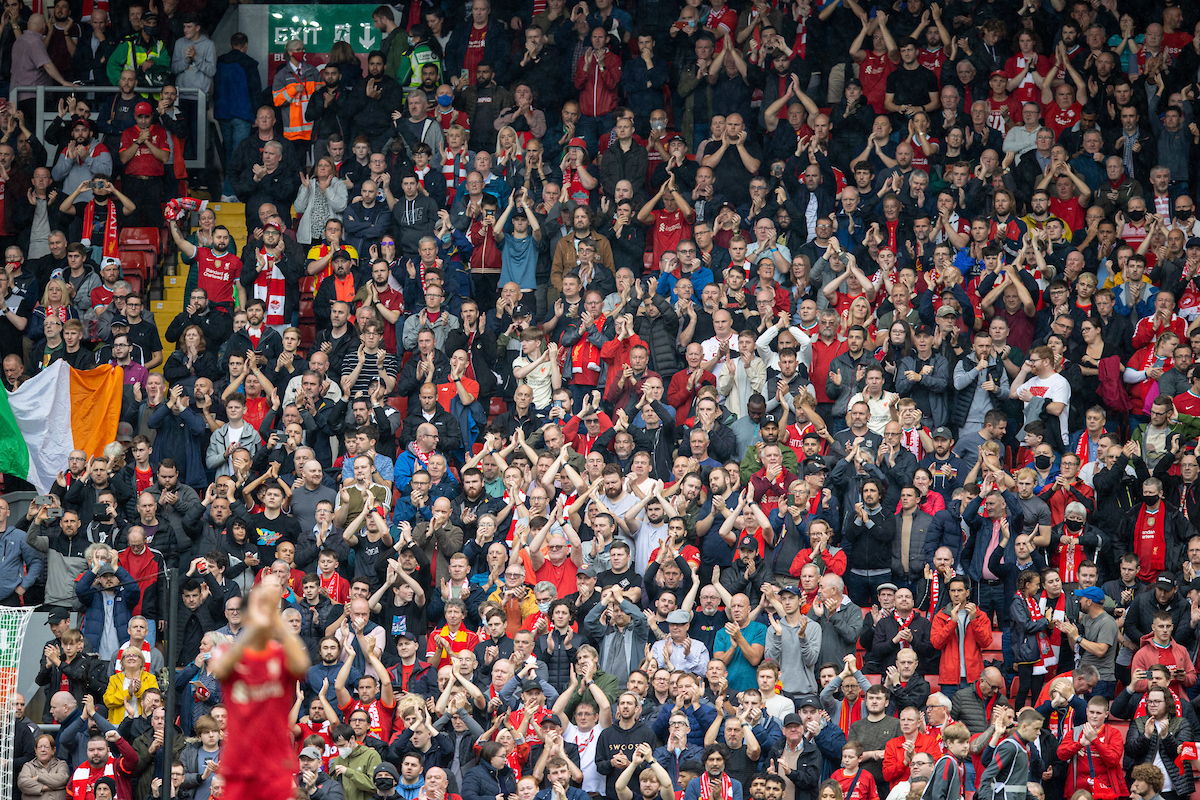 I know some struggled to get in. I seemingly got lucky with my entrance. It looked full on kick off. It certainly sounded it. You forget how loud 50,000 people clapping is. It almost hurt my ears. Liverpool kick off and everyone is rampant. They turn us round. All the best. Diogo Jota. Kop End. Boom.
Burnley had their moments and Liverpool had their fragilities but it was our day not theirs. World-class players take chances and Liverpool took theirs with some to spare. When necessary the centre halves were supreme. When required the 'keeper was a wall. Right to the end. He's the fucking best.
Now I'm in Taggy's again surrounded by friends and songs and beers and love. I'm going to go, not because I don't want to talk to you, but because I so want to be with them.
It's great to be back but these Reds want to be back with a bang. We're here for fun and glory. These boys aren't messing about. None of us are messing about.
There is a league to be won. And Liverpool are fucking top.
---
"The Red's were brilliant, we're top of the league!"

👇 Subscribe for all of our post match reaction after Liverpool's 2 nil victory against Burnley at Anfield https://t.co/hl0F0QfaL9 pic.twitter.com/QkPL6rfD1A

— The Anfield Wrap (@TheAnfieldWrap) August 21, 2021
Recent Posts: