The Old Trafford protest split opinion between Liverpool fans, but Karl Coppack writes that this isn't about rivalry with Manchester United…
I'VE never got on with Queen. Maybe you like them, I don't know, but they're not for me.
I can't explain it fully, but I think it's the showing off. I get that Freddie Mercury had range. I get that he was a showman and was good at it. But sometimes I'm just happy with the songs.
Brian May can do solos too. He's good at them. I get all of that, but I didn't want it thrown at me every time they approached a microphone. Just do your song and leave it at that. Stop showing off.
That can't be it completely though, as I love Bowie and he showed off more than any artist alive or dead. Prince too.
But sometimes it's hard to accept that someone you don't like has a point. Sometimes it's difficult to counteract a stereotype even deep within your own mind even when you feel you should accept something for what it is. 
Sunday was frustrating for many people. A Bank Holiday weekend and three teams – neither a fan of the other two – were in play. Liverpool and Manchester United is always of interest.
You could nod at the pre-season game a few years back and say that it had nothing riding on it, but I bet you remember that we won. There's no such thing as a friendly between us and them. If our respective managers indulged in a televised game of rock, paper, scissors I'd be taping it in as well as tuning in. I bet Solskjaer would cheat too.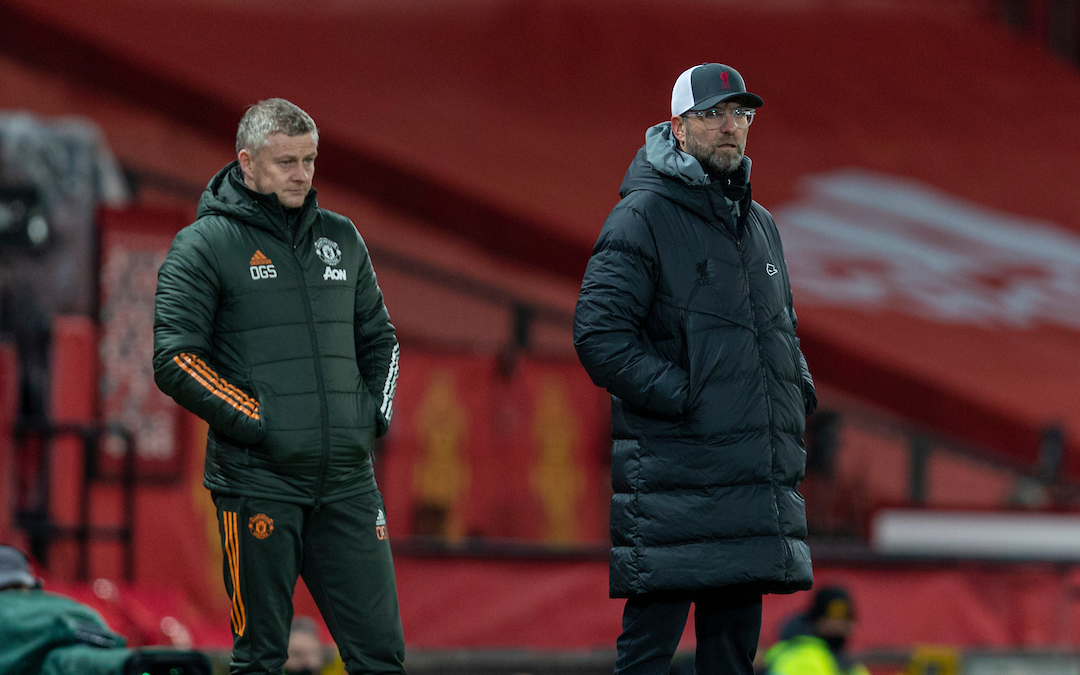 There was so much at stake. A win there and Manchester City win the Premier League. Neither of us wanted that either. We'd lose our tag of champions and United would have to watch their nearest nemesis win what they'd still consider theirs.
United would want to beat us and, for a few days at least, City on the same day. That has a hell of a lot of riding on it and, with the greatest respect to Arsenal, Newcastle, Sheffield United and Spurs, you were just the undercard.
Liverpool v United is more than just the biggest game of the season for us, it's huge for the (ugh) product. Even the casual observer would have a look at it. League positions are irrelevant. I say this as someone who will sit through El Classico without the slightest knowledge of the La Liga table. We all enjoy a grudge match.
That was the level of victory of the United fans who protested on Sunday. They stopped that going ahead. The biggest game the greatest league can produce, and they stopped it.
It's easy to look at them and look at our own prejudices for validation. We like frowning at them and them at us, but they were right this time. Incredibly right. Right in the same way that Crazy Little Thing Called Love is right because it's just a song. Someone I don't especially like did something alright.
But this is a Liverpool site, isn't it? What has this got to do with us? I didn't see them marching with us in 2010.
Nothing depresses me more than that argument.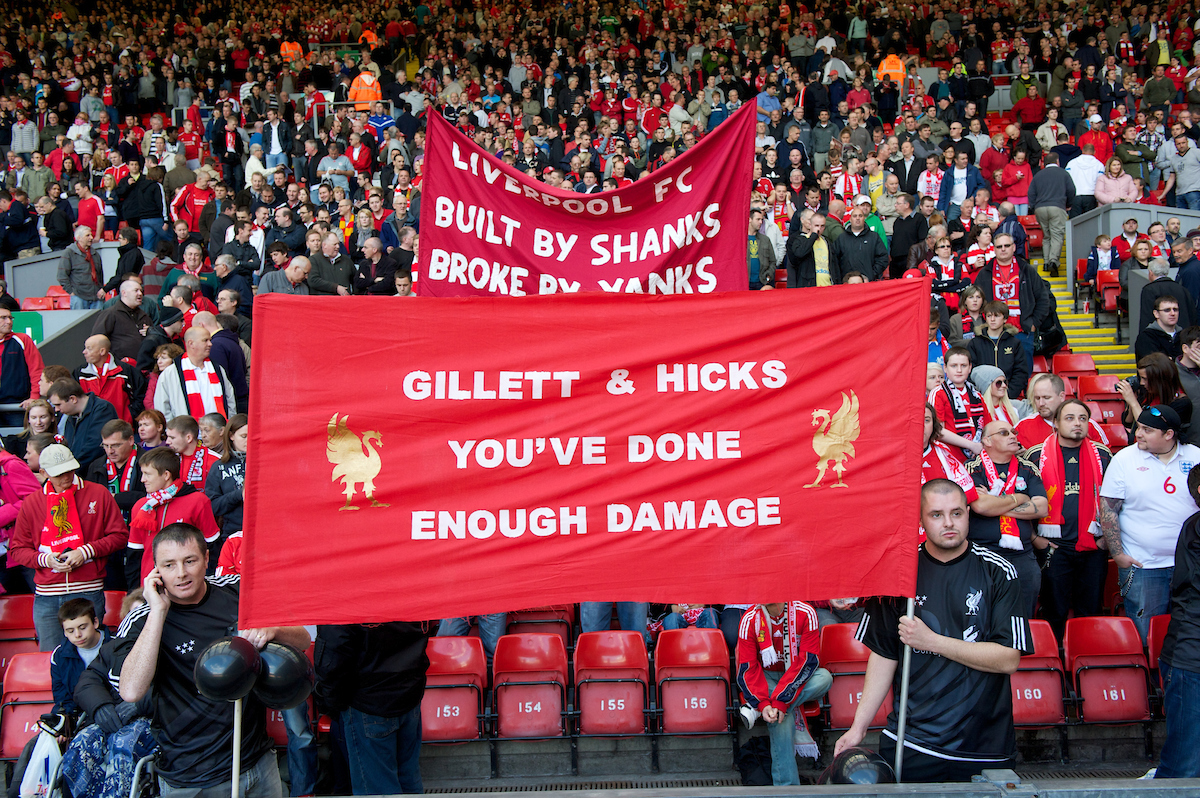 I only support one club. That's more than enough, but I'll happily sit and talk to other fans about their own experiences.
Do they like Aston Villa away? Maybe they'll know a better pub near the ground as I've never been fond of the one we go to. How much are they paying for their tickets back in the days when we were charged more than most? That's before we talk about service stations.
Granted such conversations don't happen with United fans that often, but we all do the same thing on matchdays. We go to the same pubs and go through the same routine, so we all have that in common. If they've got a problem, there's a fair chance that it's going to be my problem one day.
Most of us have suspicions about our owners too. 
This is a Liverpool site, yes, but this is also a club which has had more than its fair share of battles with its owners. Only last week Billy Hogan wrote to Spirit Of Shankly to discuss how they could repair the damage of the European Super League debacle.
We're not quite at the same stage as United are with the Glazers, but in 2010 we were fighting the battle they're facing now. Leveraged buyouts, heavy interest payments, more resources going out than in etc. Things can change quickly.
Many of us marched in 2010 but many more took photos and applauded or frowned from afar. Those photos did not remove the owners. Actually, nor did the march, but it made a point and the more people who were aware of the protests the better.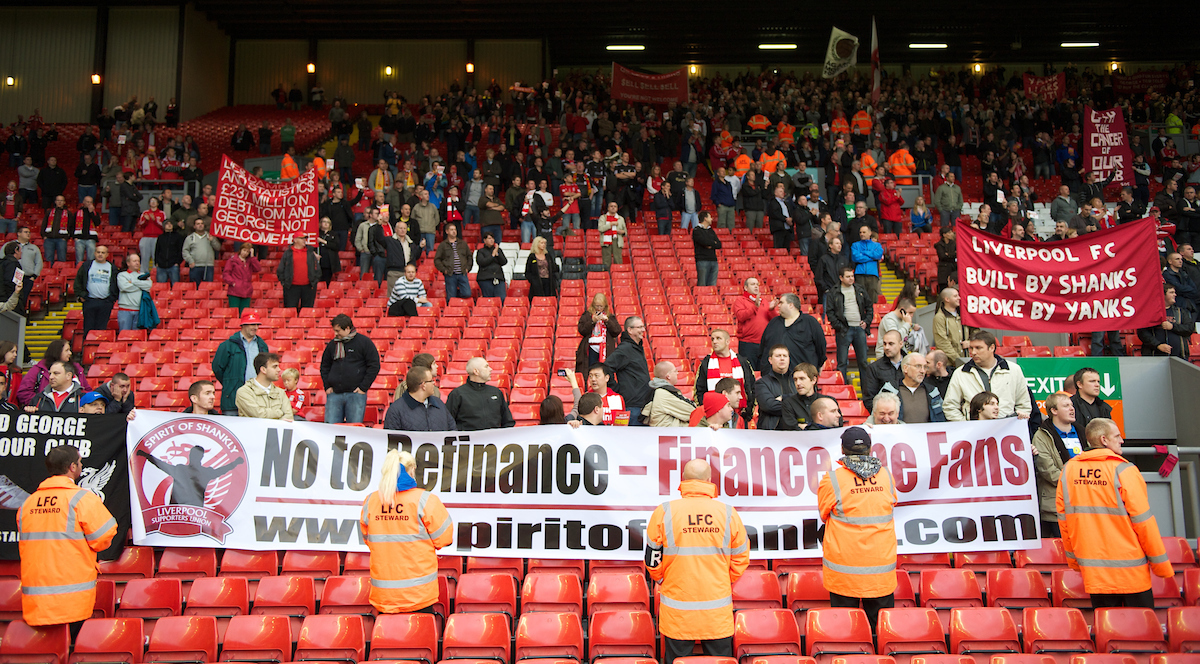 United have done all that. They've worn the scarves, they've leafleted, they're written acerbic pieces in the press. They've shouted, sang and waved. Nothing. The Glazers still sat in silence thousands of miles away – something they've done for the past 16 years.
When the ESL news broke our owners too sat in silence. They got around to their appalling half-arsed written apology eventually before releasing the video, but there was silence when people were at their angriest and, as every child knows, there's nothing more frustrating than complaining to an indifferent parent. 
So United fans went in for direct action. That wasn't popular either. On Match of the Day 2, Shearer and Jenas spoke eloquently about it being the 'wrong type of protest' but what is the right sort? Wearing scarves? Leafleting? Acerbic press releases? They've done all that. How often has that shone a light on their issues?
With some respect to them too, they're in the wrong place to judge. I'll be happy to admit I'm wrong but I'm guessing both men seldom pay to get into games. I doubt they've sat on a coach for hours and I'm certain they've never had their club loyalty rewarded by higher ticket prices or seeing them sold off to corporates when they reach a final. 
Jim White does not go to the game in jeans. I doubt he ever has. Gary Neville does not speak for me. Alan Shearer does not wince when he realises just how much he's paying to go to the game.
We all watched the Sky coverage on Sunday, and they all pontificated on the causes of the events. How many fans did they speak to? 
Look, no one's happy that people were injured or stuff got damaged, but please don't view those images with a tut and 'typical Mancs' mentality. Hate them for other stuff but not when they're a high-profile club with concerns about the future of their club.
I'm very worried about mine. Not because ours are quite as shame-faced as the Glazers, but because they have a history of making huge decisions without talking to us.
Remember the £77 ticket hike? There was a 13-month consultation period with fan groups before that where they were repeatedly told that that was too much. They listened and did it anyway. Then hid. They then climbed down in an embarrassing fashion. We've seen last week's apology before and they haven't learned. Rinse and repeat.
No, this isn't The Old Trafford Wrap but we do have certain similarities in our current history and it'd be foolish not to keep an eye on developments over there. They can go back to their wailing operatic scales and overlong solos now but on this occasion, they've just played a simple three-minute song without excessive gilding the lily.
They're right here. They're fans like us with a concern about their direction and I'd always listen to a fan more than an ex-player who has never had to queue nervously next to a shitting police horse.
You know which other set of fans are worried about their club? All of them. We should be in no position to judge when we could be next.
Disagree on everything else, sure, but not on the gradual erosion of trust between owners and fans. This is bigger than that. They deserve recognition sometimes.
Oh, and Under Pressure. That's okay too.
---
🗣 Manchester United v Liverpool: Postponed Match Show | #FreePodcast | #LFC

Our reaction from Sunday to the game being postponed as @Knox_Harrington hosted @johngibbonsblog, @robbohuyton and @TheCenci…

Listen for free 👉 https://t.co/jSRVmoBdah pic.twitter.com/QbKiuxp5yT

— The Anfield Wrap (@TheAnfieldWrap) May 4, 2021
Recent Posts: