Liverpool were doubted at various times throughout this season, but David Segar writes that Jurgen Klopp and co have turned that round again…
I WAS never worried. You?
OK, fair enough. Less than a month ago, after Liverpool's frustrating 1-1 draw with Newcastle United at Anfield, I did accuse this team of being "mentality mice" and added that: "Top four looks unlikely, so in a mad way, perhaps the pressure will be off when they go to Old Trafford to play Manchester United next weekend."
Of course, that wasn't the case as the United game was moved, and then when it did come around the pressure was very much back on, but Liverpool more than rose to the occasion.
All of a sudden, they started regularly displaying the steel, determination, and never-say-die attitude that came to define this group of players over the last few years. The mentality monsters came roaring back to prove the doubters wrong and take their Champions League spot.
Proving people wrong feels good. Having the world fundamentally doubt you and spit in your face hurts, and there's no sweeter feeling than to be able to turn around and hang a physical or metaphorical "I told you so" over all of their heads.
Trent Alexander-Arnold has fought back against his critics by being arguably the best player in the league in the last two months. His performances and celebrations in recent weeks have had the faint whiff of "have some of that you doubting bastards, not just those of you wearing waistcoats!"
Thiago Alcantara went from being apparently useless because he wasn't getting goals or assists to scoring once and all of a sudden being appreciated as the world-class playmaker that he has always been.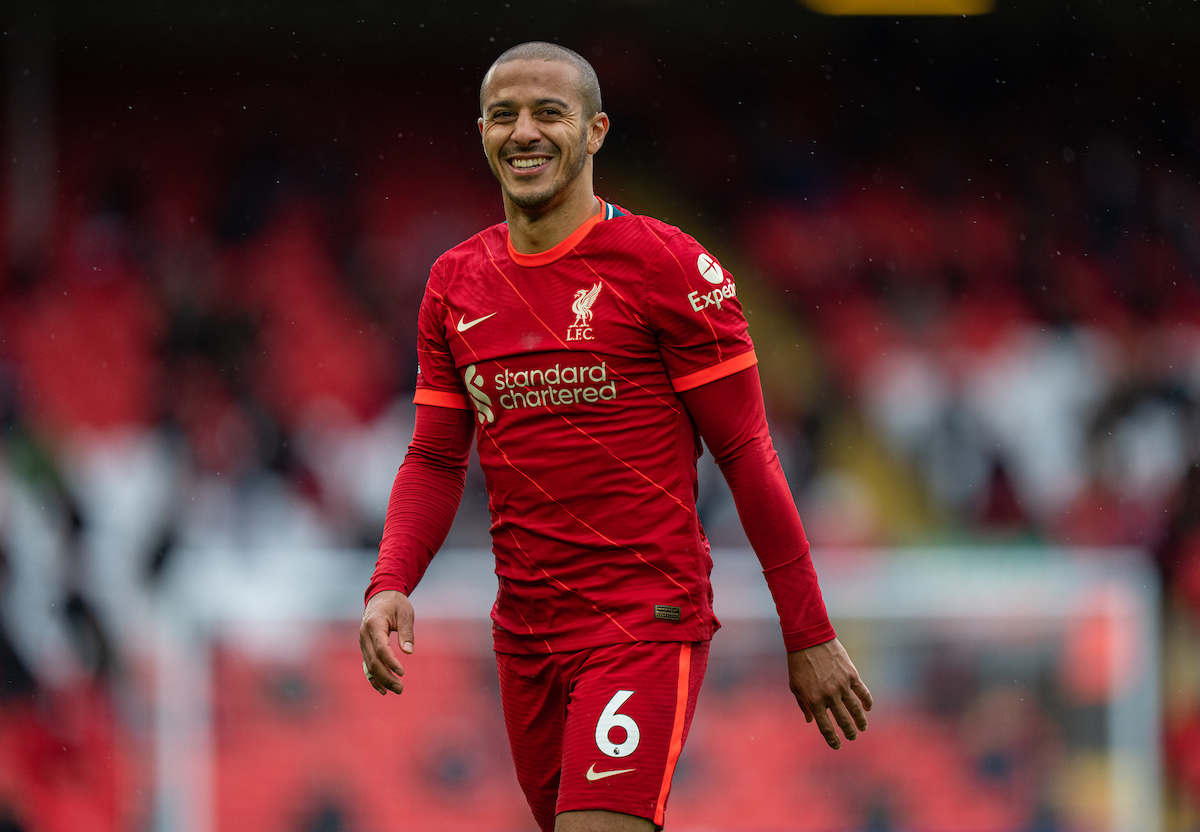 Granted, he struggled to get up to speed initially after having Covid and a horrific injury in the first half of the campaign, and mostly having to play with a sellotaped together version of Liverpool in the second, but by the season's end he had Reds checking the odds for next year's Ballon d'Or.
Sadio Mane and Roberto Firmino have had under par seasons, but both ended the campaign showing just how good they can still be, and it was no coincidence. With fans back in attendance, don't be surprised to see them return to previous high levels next season.
Undoubtedly, though, the (slightly bruised) faces of proving people wrong has to be the dynamic duo of Rhys Williams and Nat Phillips.
Let's be real, neither one should have played a single minute of Premier League football this season. Williams was coming off a loan spell in the Conference North and his first ever taste of senior football, while Phillips was back from being 3rd/4th choice at VfB Stuttgart, then of the second tier in Germany.
The former was given an outing in the League Cup before the injury crisis but that likely would have been it, and he would then almost certainly have gone back to being part of the U23 setup, while the latter was all set to join Swansea City before the deal fell through, and wasn't even named in the initial Champions League squad.
Andrew Beasley (@BassTunedToRed) put up a table on Twitter on Sunday showing that Liverpool had to field 20 different centre-back pairings across the season, which is quite a thing when you consider that the club began it with only three senior centre backs.
To emphasise the handicap the defending champions had in 2020-21, there were only 480 minutes across the entire campaign in which they were able to play a pairing made up of Joel Matip, Joe Gomez or Virgil van Dijk.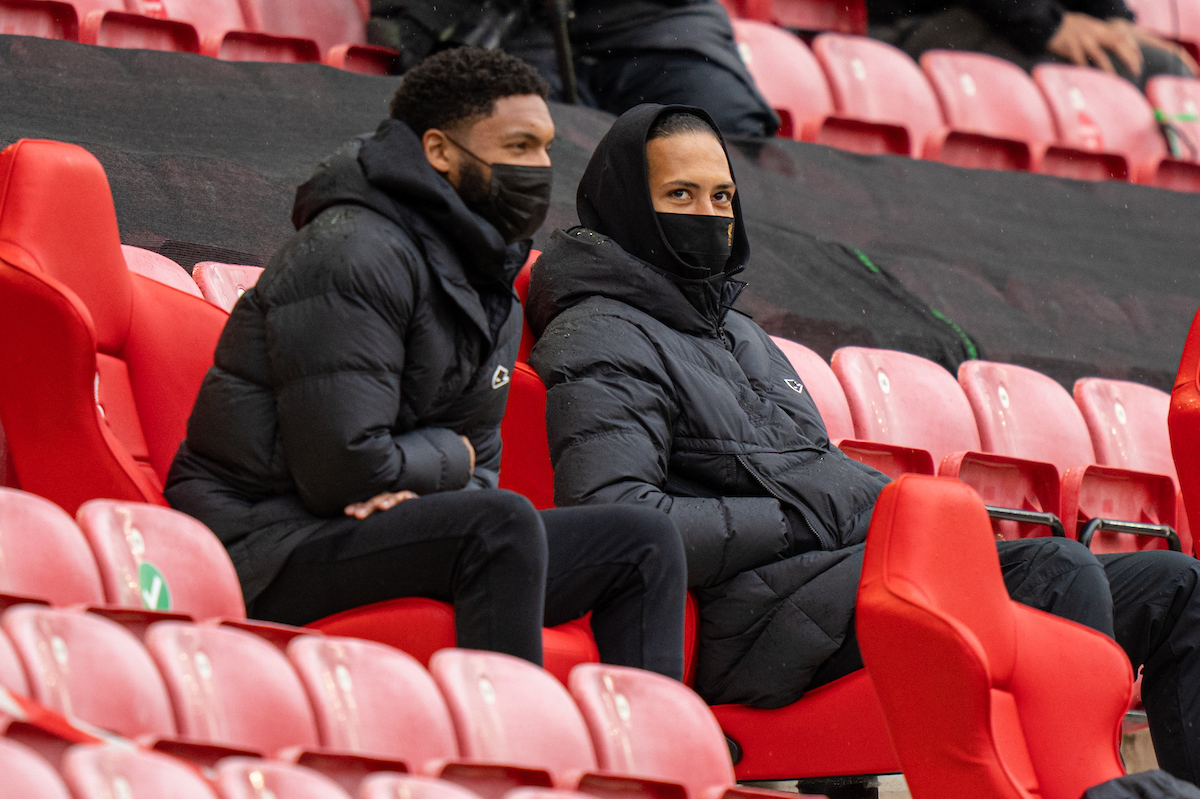 The incredibly inexperienced Phillips and Williams played together for an hour longer than that (540 minutes).
To their immense credit, the unlikely duo conceded just four in their seven appearances together. There were wobbles, of course, but a pairing that many would have anticipated watching through their fingers ended up doing as much as anyone to secure a frankly remarkable third place finish for their team in the Premier League.
The irony is that there is a good chance neither is at the club next season, but that's also potentially a good thing for both. If Phillips is happy to be a squad player at Anfield, that's great, but if the 24-year old wants to continue to play regular games from here on in, he'll likely be hoping for a bid to arrive this summer, which it very well might after his impressive performances this season.
Williams will have Championship clubs ringing the phone off the hook (do phones still sit on hooks?) to get him on loan next season, which would definitely be the best scenario for all concerned. He has shown a lot of promise, and getting a further 40-odd games under his belt at that level will only help shape him further for a future top-level career.
At the start of the season, if you'd have offered Liverpool fans an ending of no trophies and third place, they would likely have thrown some sort of rotten cabbage at you. However, with the barrels and barrels of wider context, the final outcome has to go down as a success.
Some may argue that Liverpool managed to come third in what was always supposed to be a two-horse race, but it wasn't really, was it? It was more like coming third in a 20-horse race in which your leg falls off after the first few furlongs, then the fences are raised higher just for you, then someone shines a light in your eyes, throws a custard pie at the horse, puts a paper bag over its head and calls it a prick.
These heroic and exhausted players finally have a chance to rest, whether it's now or after the Euros or Copa America, then they can have something resembling a normal pre-season, certainly more normal than last year. The last time they had that, they went on to get 99 points and win the league.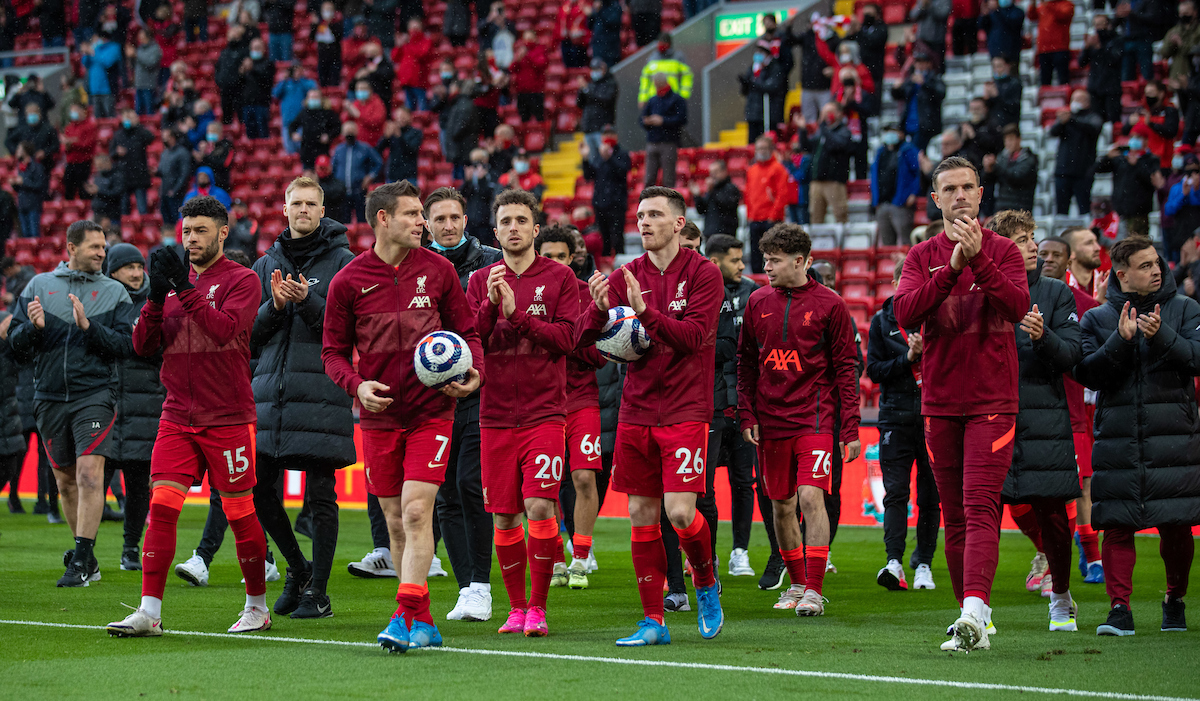 Then it'll be time to step up and show the world that this was merely a freak campaign for this squad. A squad that was labelled the "worst champions ever" before going on to win eight of their last 10 games, within minutes of winning all 10, finishing closer to Manchester City than City did to them last season, and becoming one of only two teams to finish in the top four after winning the league this decade.
With some rest and refreshment in personnel, a Jurgen Klopp pre-season in their legs, a determination to once again shove the faces of their doubters in the mud, albeit without Gini Wijnaldum (immediately bursts into tears), and of course with fans back (touch wood), Liverpool will be raring to go come August and we can all feel this rush again as they aim to win their title back.
And with that, I must bid you adieu. Thank you for reading my various ramblings, daft ideas and crowbarred-in Simpsons references. It has been a slog to write about this campaign if I'm honest, but we all came through it and were finally rewarded on the other side.
When you think about it though, would you change it? Stupid points have been dropped all season but if you were told that Liverpool would finish third regardless, was it not sweeter to do it this way?
To have people doubt this team? To make people think they'd stumble and fall, only for Alisson Becker to break their hearts and greatly enlarge ours (hearts! Enlarge our hearts… ahem!) To turn doubters into the most reluctant of believers?
Frankly, I couldn't have written it better myself.
All the best.
---
"The way they have performed in the latter part of the season, who's still to come back, who we might buy… there are genuine reasons to be made up."

🎥 The Final Word: Crystal Palace | #TAWVideo

Watch First 5 👉https://t.co/YJrxRU1SC1
Watch in Full👉 https://t.co/oaOWcUzrlr pic.twitter.com/OkvzF01fKL

— The Anfield Wrap (@TheAnfieldWrap) May 25, 2021
Recent Posts: