After a season of few ups and many downs, David Segar writes that the return of fans to Anfield can be the boost Jurgen Klopp and co needs…
AFTER Saturday's win against Southampton, Jurgen Klopp said his English isn't good enough to describe what it will mean to him to have fans back at Anfield.
Well Jurgen, I am well good at English, so let me have a go.
It may not shock you to learn that the Liverpool manager is one of my favourite people.
It's not just because of what he has achieved with The Reds, either. I began writing a book on the German coach within a week of him arriving at Anfield ('Kloppite', still available in charity shops and behind old dustbins, and I think on Amazon).
He's just my kind of people. He doesn't suffer fools, always looks for the common sense in everything, and is simply a stand-up, no-bullshit, kind of human being. Admittedly, I'm not like that at all, but I am drawn to people who are.
If I were to have my dream dinner date and could invite two people, I would invite Jurgen Klopp and then deliberately send the other person to the wrong address so it would just be me and the gaffer putting the world to rights, drinking unskimmed Erdinger, and slagging off Gary Neville all night.
Kloppite follows the manager's journey in his first two seasons in England in particular. There were so many different challenges to navigate, but it was noticeable that whenever he felt his back was against the wall slightly, Klopp would turn to the fans for help.
If Liverpool had a must-win game, it was up to the fans to give everything from the stands so that his players could leave everything on the pitch. However, for the last 14 months, Klopp has been unable to play that card.
It's fair to say that it hasn't been a season to remember fondly for Liverpool, who at the time of writing remain the reigning champions of England until Manchester City can squeak over the line. Some City fans have cheekily claimed that Jurgen Klopp's men have been the "worst champions", but at least they waited until they'd won the thing before letting their form drop off a cliff.
The manager has looked exasperated at times, unable to believe quite what has unfolded in front of him. On occasion, he hasn't been the same upbeat "let's dust ourselves down and go again" character we've all grown to love. And frankly, who can blame him?
When you start listing them, it's quite remarkable the amount of setbacks Klopp has had to face in such a short space of time.
As soon as the pandemic began, football stopped and there were far too many conversations being had about making the season null and void after Liverpool had all but won the league. Then, when they did win the league, there were no fans to celebrate with. The best of feelings under the worst of circumstances.
Heading into the new campaign shortly after, there was no time to have a proper pre-season, followed by losing the vote on having extra substitutions in an attempt to save players from injuries and exhaustion, while being accused of self-interest by thinly veiled self-interested managers, before losing multiple key players to long-term injuries.
Not just key players, but key players from the same positions, so all of a sudden, he wasn't just having to call on reserves. He was having to call on the reserves to the reserves, and ask them if they had a mate with a pair of boots who fancied a game. Then having to wait until the last day of the winter transfer window before the owners agreed to let him have tuppence ha'penny to bring in reinforcements.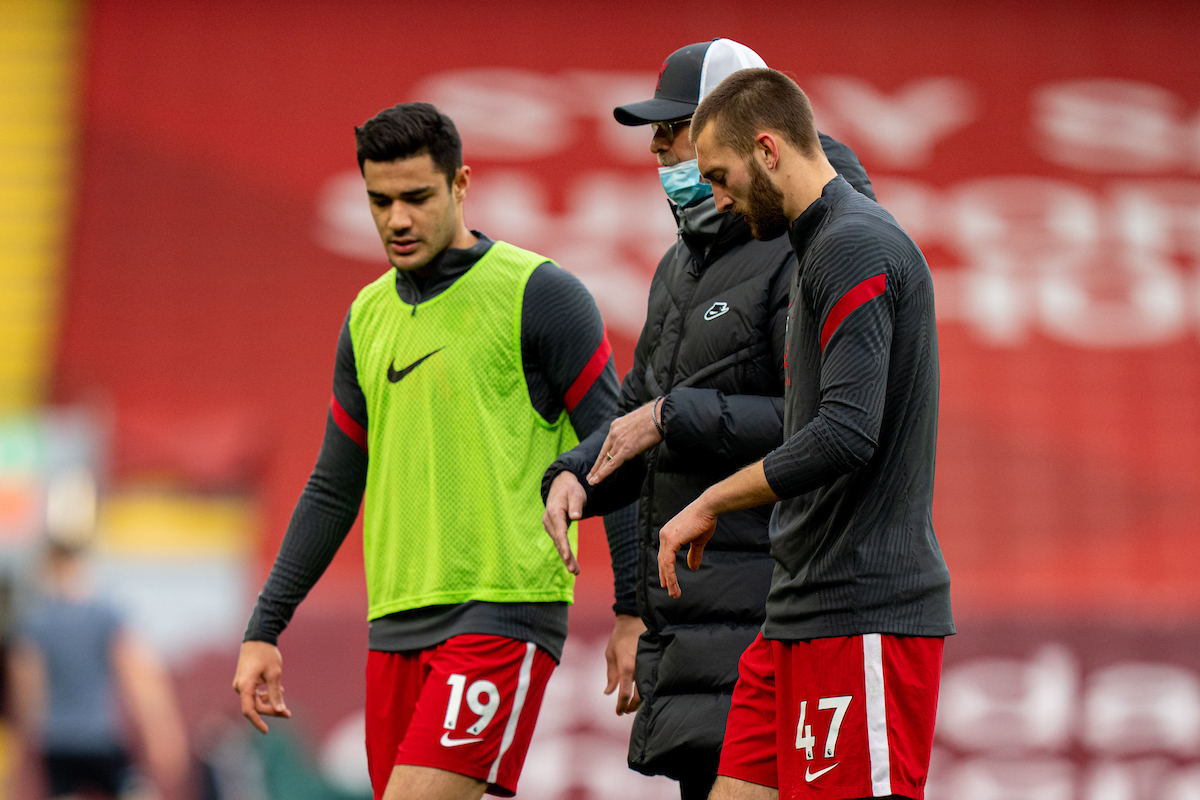 There were also personal tragedies, for him and his goalkeeper, without being able to travel back home to be with their respective families. The worst of feelings under the worst of circumstances.
His team happens to have been the most severely punished by VAR decisions across the entire league as well. Surely that won't be the case on Thursday with both the referee and VAR official being from *checks notes* Manchester.
Just to round things off nicely, the owners decided to enter a European Super League without telling him, and then expected him to answer all the media's questions about it.
It has been the kind of year that must have had Klopp lying awake at night and trying to remember if he may have hit a nun with his car, or smashed a mirror by throwing a black cat at it.
Despite all of that, you can't help but feel that it would have felt so much more manageable if he'd at least had the fans with him. In those moments where his team were toiling away against another smash and grab outfit at Anfield (and in games where his team were being genuinely outclassed, it must be said), he will have wanted nothing more than to be able to turn to the Main Stand and wave his arms up and down, generating a roar and a few more decibels to lift his boys.
Apart from a brief period in December where a trickle of fans were allowed in, not having 50,000 Reds to help him and his players walk through the storm in this most trying of campaigns has clearly been one of the hardest things he's ever faced.
However, the win against Southampton will be the final time that he has to scream in an empty Anfield. From next Monday, the government has confirmed that stadiums can open once more, and when Liverpool line up against Crystal Palace in less than two weeks, there will be 10,000 Kopites cheering the boys on. For Jurgen Klopp, it will surely be the highlight of the whole season.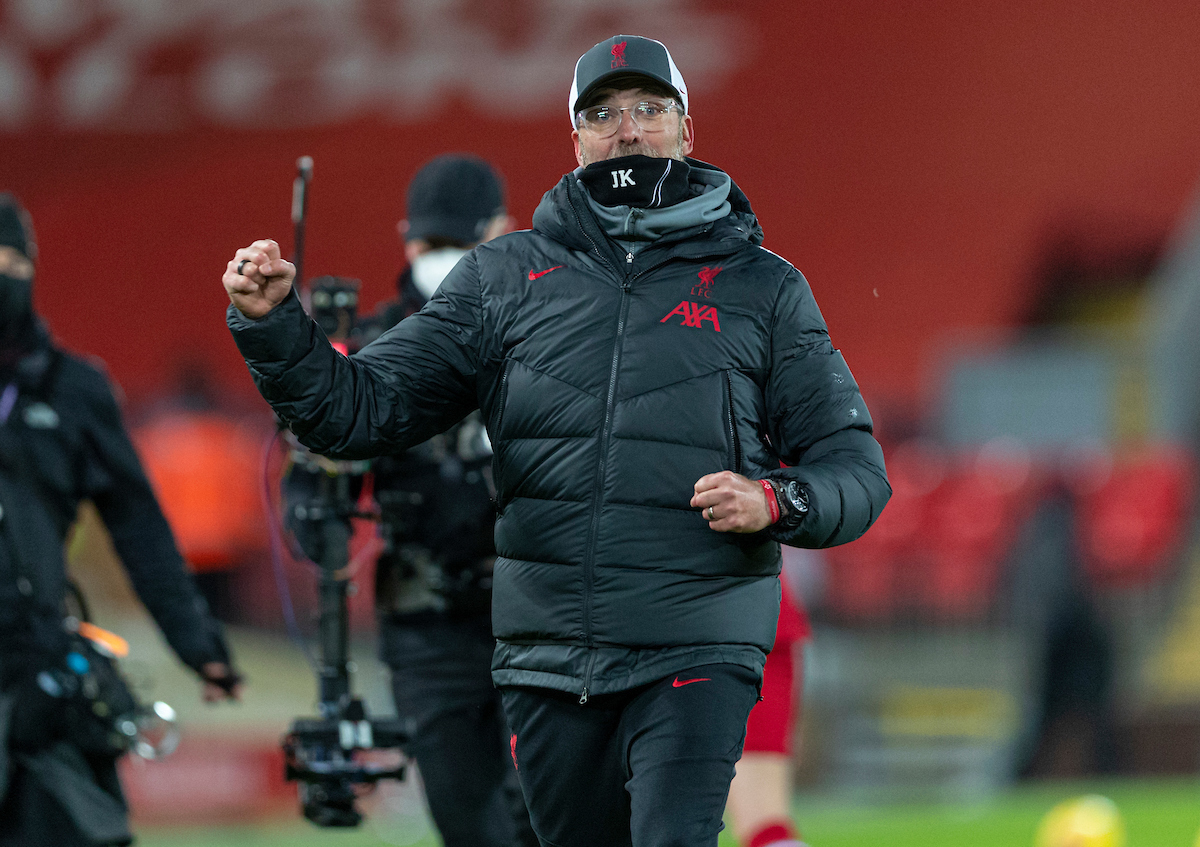 Klopp has always leaned into his relationships with fans. At Mainz, Borussia Dortmund and Liverpool, he has recognised what it means to the people to work your hardest and win games of football, while also knowing how to weaponise that power into more than the proverbial 12th man. If you make the people's lives better, they will do their best to return the favour.
Next season, the hope is that all stadiums will be full again, and we can escape this hollow shell of a sport that football has become in the last year and a bit.
Those lucky enough to be in attendance will, I'm sure, shout twice as often and twice as loudly to make up for lost time, letting a year and a half of bottled up support out and give the manager and his players the boost they've been aching for.
Even with just 10,000 on Sunday week, Anfield will be rocking. If the players can go to Old Trafford, The Hawthorns and Turf Moor and do the business in the meantime, then who knows? Perhaps that atmosphere can be turned up well beyond 11.
Klopp said to LFCTV following Saturday's 2-0 victory "I was asked this question before (about what it will be like to have fans back) and I get nearly emotional about it. It's unbelievable. I love this game for as long as I can think, and it was always about having people around. Even when I played as a kid, there were parents there and they were really with you.
"I can't wait. I can't wait to have a few back. I'm not sure how many we are allowed to bring back in. Is it 10,000? Wow, that's good. That's a start I would say. Then we have the summer break and then we can go again all together. That would be really great."
See Jurgen? There was no need for such modesty. Your English is proper decent.
---
https://twitter.com/TheAnfieldWrap/status/1392163166826729475
Recent Posts: