As Liverpool continue their pursuit of a top four spot, Karl Coppack writes about how Burnley away became the biggest game of the season…
'BACK off before you even think I'm not writing about Ali.'
The tears are still damp on the keeper's cheek and I'm getting missives and diktats from the editorial team. He gets the plum piece.
We beat Manchester United 4-2 on their own ground after they've made 10 changes to keep us out of Europe and then Alisson Becker becomes the first goalkeeper scorer in our history in the last minute of a must-win game and I get to talk about sodding Burnley. Typical. The luck of the Wednesday slot.
He gets footballing nirvana, I get Turf Moor. Delight – Dyche.
But I suppose that's the way it should be. We're often accused of romanticising everything and living in the past so maybe it's best to look forward. Jurgen Klopp will certainly be doing so as there are warnings to heed from the last two games.
West Brom was huge. The way this season's gone it wouldn't be untypical if we go to the home of the media darlings and beat them only to draw/lose to the personification of generic football in Sam Allardyce two days later.
That sounds harsh on Albion who were well-disciplined and nearly held on to spoil the party, but it's telling that the presence of a wildcard in their box left them baffled. Nat Phillips was the nearest centre back to him as they were picking up their men without seriously considering the rogue element. It was the one point of the match where poetry defeated the prosaic.
It was needed too. We huffed and puffed in a game of attack v defence with The Reds running low on ideas and it's that which may have kept Jurgen awake since Sunday. We're looking tired.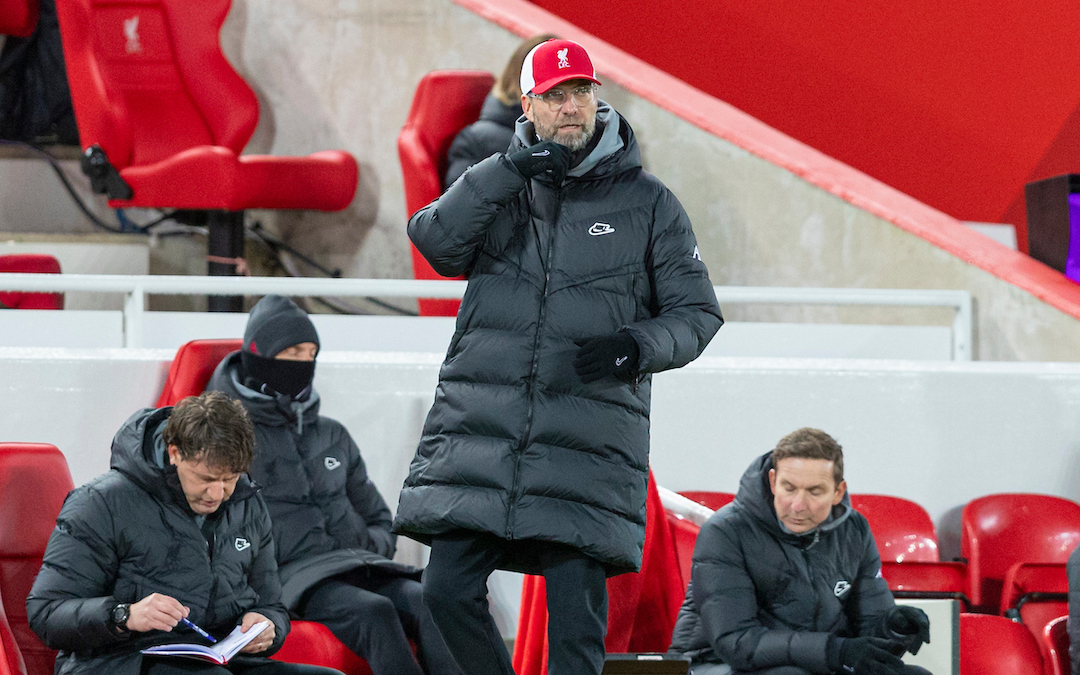 Of course, that's because we are. Knackered. Exhausted. Spent. Mentally as well as physically. I'm amazed Andy Robertson can make it onto the pitch at times and he's still got the Euros to come. We'll need him for another three hours though. As TAW's Phil Blundell said last week, this season cannot die. 
Remember the end of Cape Fear, the remake with Robert de Niro? His character, Max Cady, is released from prison after 14 years behind bars. He enacts revenge on his former lawyer played by Nick Nolte and his family as he could have got him off on a technicality but chose not to.
In the last act he attacks them while they're on a boat in a storm. It kicks off massively and Max Cady just won't die. Just as Nick Nolte sees him off for the umpteenth time and hugs his wife and daughter with relief, Max appears again for yet another round of hitting each other with things.
Leicester beating United seemed like the final act. They and Chelsea were too far ahead with too few games to stay in touch.
Despite living by a credo of 'no runners' – a catch-all term to denigrate those who are convinced we're going to lose just by looking at the line up before the match (see the online reaction to Henderson's inclusion in Munich in 2018) – even I had to admit that things looked bleak.
As much as I wished it, I didn't expect to see Max Cady climbing over the side of the boat once more with a knife between his teeth and a look of grim determination.
But we are looking tired. We're going to have to do these two games on fumes if the West Brom game is anything to go by. The Alisson goal may give us the added spark, but we'll need more to see this off. 
We will, by the way. No runners.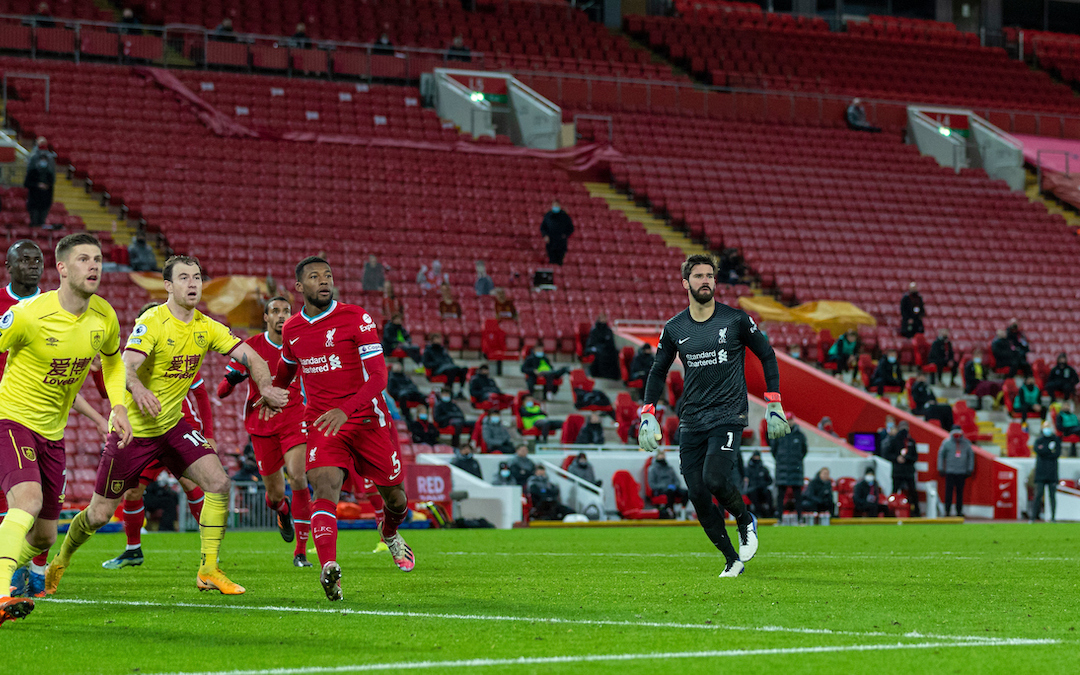 I deplore the idea of fourth place being a success, but if Klopp pulls this off after a pig awful season then it's up there with his key successes. Major injuries in the back four, two kids at centre half at Old Trafford, Sadio Mane out of form and no fans in the ground and he still gets us this close. That's up there with other successes.
But that's the future and though the past looked pretty great (it wasn't just a header, look what he did with the header) everything now is Sean Dyche shaped. Then comes Roy Hodgson.
That last game could be Roy's swansong given that he's 73 and out of contract and he'd love to sign off with two fingers raised to the one club who refused to buy his man-of-the-people charm. That's been in my head a bit, to be honest.
It's all about professionalism now. Pragmatism. We know they can do it too. We saw it at the end of the 2016-17 season when we took 10 points from the final four games to achieve Champions League qualification. We did it without conceding a goal too. The focus was truly impressive.
Two hurdles from home, Reds. Two more finishing lines to cross. We've had to dig so deep this time to even make it to fourth best, but we've come so far. We just need to do this final bit.
Old Trafford and the Hawthorns will be nothing without the next points.
Good luck, everyone.
---
"I can't wait to have you all back…"

A Klopp interview, a win at Old Trafford and the goalie scoring the winner 💥

It's been quite the week…🔊 pic.twitter.com/xYWNGjulI6

— The Anfield Wrap (@TheAnfieldWrap) May 19, 2021
Recent Posts: