After Alisson Becker's dramatic late winner at West Brom, David Segar writes that Liverpool must make that moment count in the top four race…
SO, what noise did you make?
The final moment in a silent stadium led to shrieks of joy heard around the world that would have had that robot fella on Mars turning around and saying "Whassat?"
With the score still West Brom 1-1 Liverpool, Sadio Mane won a corner. The clock ticked over to the end of the four minutes added on to the 90. Everyone knew there would be at most two more strikes of the ball left before Mike Dean blew his whistle to end the game. A must-win game for Liverpool.
Then, through the teeming rain, up came the man in black. Much like Johnny Cash, he was coolness personified.
But this was no boy named Sue. This was a man named Alisson.
He didn't need to walk the line (VAR would have overruled it anyway). He was our sunshine.
When Alisson Becker met Trent Alexander-Arnold's pinpoint corner to head home the vital winner for Liverpool at The Hawthorns on Sunday, it immediately became a moment that would be forever etched into the club's 129-year history.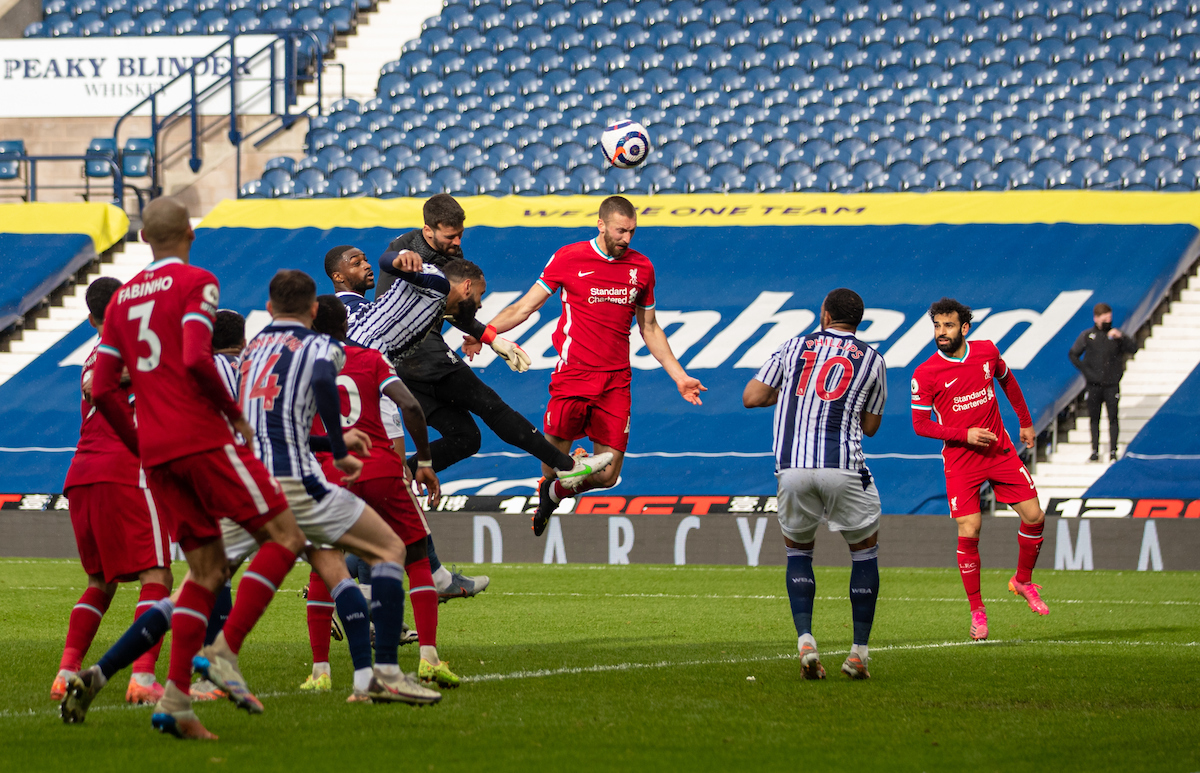 Liverpool has experienced a remarkable number of dramatic and improbable moments since 1892, and many of those have come since Jurgen Klopp's arrival in 2015. A late goal at West Brom wouldn't normally be compared to a last-minute derby winner or beating Barcelona 4-0 in a Champions League semi final, but the wider context made this a season-defining moment. Potentially, a sliding doors moment for this team.
As if it wasn't sweet enough, Sam Allardyce reacted to defeat with all the maturity and grace of a toddler who got the wrong toy in his Happy Meal. The relegated Baggies manager will have known full well that the performance of the referee helped his team far more than it hindered them on the day, and his post-match complaints were nothing more than crocodile tears (or perhaps that should be 'casserole tears').
There were real tears in the Liverpool camp, though. Not just for the goal, but for the goalscorer, and the rollercoaster of emotions he has been through in 2021 alone.
Losing his father in such tragic circumstances, not being able to travel home to go for the funeral and see family, and then his wife giving birth to a beautiful baby boy just last week. Sunset. Sunrise.
Anyone who has lost a father will feel Alisson's pain. Less than two months ago was the 10th anniversary of me losing mine.
It still hurts every day, but I was by his side until the end, and gave the eulogy at his funeral. When I went back to work and got to the end of my first week having hardly done any actual work, I still felt proud of myself and shed a tear on the way home.
Alisson Becker scored a last-minute winner in a crucial Premier League game within weeks of going back to work. That he managed to do that interview straight after such a moment without breaking down is a true measure of the man.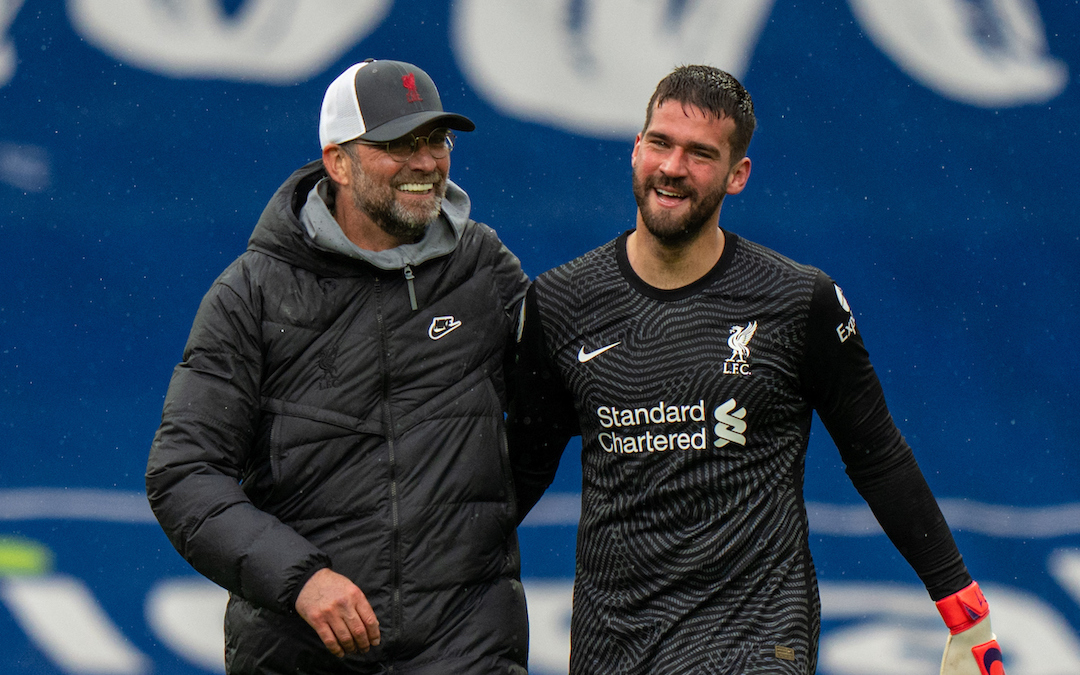 The reaction of Alisson was one thing, but the reaction of his teammates and the staff told you everything you needed to know about the human being, the story, and the desire to force the best conclusion possible to this nightmare season.
It was also a memorable day for another Brazilian, and is it really any surprise that the first game in which Roberto Firmino captained the side ended in such a bonkers fashion? The only real shock was that there wasn't a pitch invasion of a clown on a unicycle juggling fish.
Much like their skipper for the day, Liverpool showed their teeth and won those points. Now, they must do so again. Twice.
The Reds need to take the emotion and drama of the West Brom win, strap it to their backs and allow it to propel them over the line and back into the UEFA Champions League.
The game in the West Midlands was a warning. Liverpool were the better team but until their goalkeeper did something remarkable, they were on course to fall down, almost certainly leaving themselves with too much to do from there. They have a reprieve thanks to the most improbable of happenings, and with two games remaining, must ensure that Alisson's goal doesn't become another historic moment that ultimately didn't lead to the desired ending.
At Turf Moor, they cannot afford to start as slowly as they have in their last two outings. Looking at the reaction from them both in the moment and immediately after the game, the players will surely be champing at the bit to go at Burnley and get the job done a bit more convincingly on Wednesday.
Sunday's laboured victory wasn't down to lack of desire in any way, but if there was any concern about the players doubting themselves or getting frustrated when it appears to be one of those days, they can just remember that Alisson Ramses Becker scored a 95th minute winner.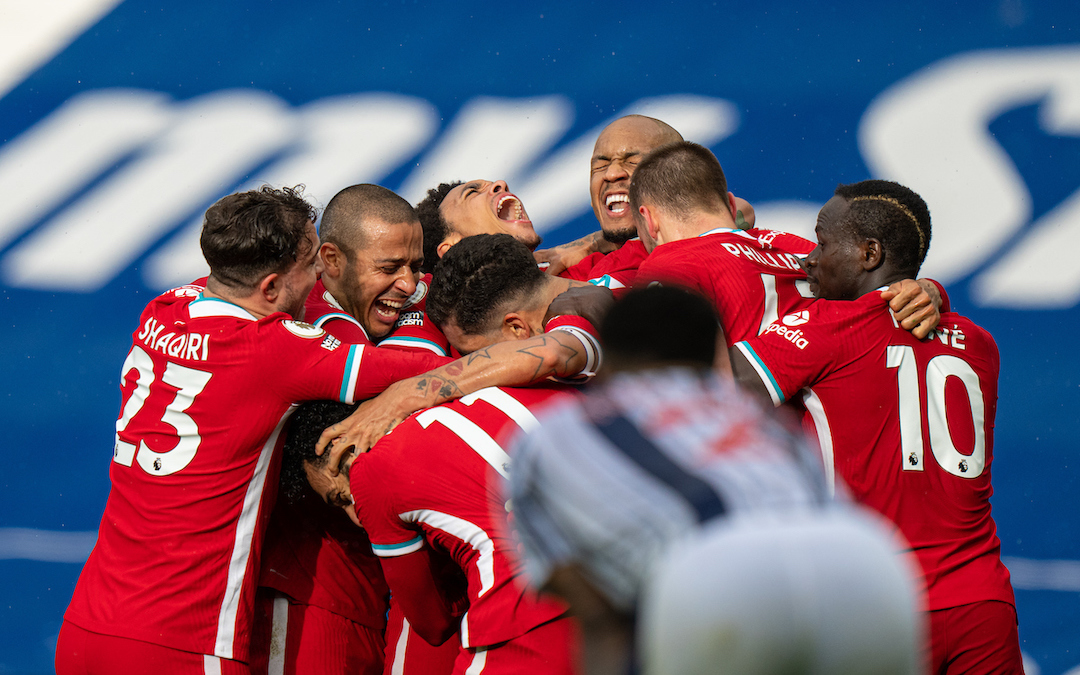 The delirium of the players on the field and those in the stands – including Adrian managing to go all #limbs in a near empty stand – showed just what finishing top four means to these boys.
There is still more work to be done, but there can be no doubt that each and every one of them will do everything they can to give the returning Kopites something else to roar about – this time in person – on the final day of the season this Sunday.
The Holy Goalie made us all say "holy moly" (or words to that effect).
Now for his teammates to ensure that such divine intervention isn't necessary again as they drag themselves back to the top table.
In the meantime, I shall leave you with this. In 'The Man Comes Around', Johnny Cash sings:
"Voices callin', voices cryin',
Some are born and some are dyin',
It's alpha and omega's kingdom come,
And the whirlwind is in the thorn tree,
The virgins are all trimming their wicks,
The whirlwind is in the thorn tree,
It's hard for thee to kick against the pricks."
That's why, when the man came around, Alisson headed it.
---
"That is the first moment in 18 months that has made my heart leap."

"You don't get headers much more perfect, and to see his reaction. It's not often football nearly reduces me to tears." ❤️🇧🇷

The Anfield Wrap Podcast 🗣

Listen 👉 https://t.co/TD7zn6MzHP pic.twitter.com/wwAf855bCq

— The Anfield Wrap (@TheAnfieldWrap) May 17, 2021
Recent Posts: