While football makes us question our faith at times, Josh Sexton writes that Alisson Becker showed us that we can't underestimate its impact…
I WROTE a column earlier this season about football, faith and religion.
So much of it resonated yesterday after Alisson Becker headed the winning goal past his opposite number Sam Johnstone and into the West Brom goal.
The emotion of the occasion was clearly overwhelming for Alisson, who broke down almost immediately.
And then he managed to pull himself together for an immediate post-match interview…
"Football is my life. I've played since I can remember with my father. I hoped he'd be here to see this, but I'm sure that he's seen it with God on his side celebrating."
"I have been away from interviews for a long time, it was a difficult time because always when I talk about it I get emotional."
He seemed visibly relieved at letting that last part be public knowledge. He clearly needed time to grieve after a tragedy few could even try to comprehend, but now seemed like the perfect time for him to open up, after a moment of pure joy followed by a public display of emotion, and you could see it took some weight off his shoulders.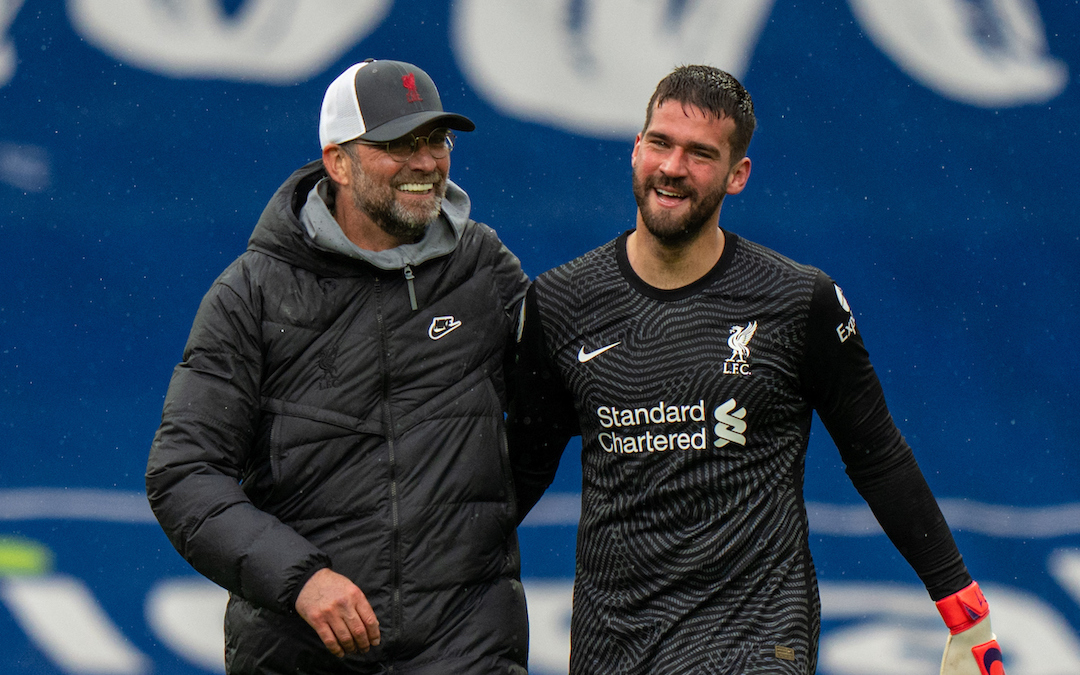 Jurgen Klopp has previously spoken of Liverpool's players and staff not wanting to carry the club's history around in backpacks and it's an analogy I love, because the more you load into your backpack the harder it is, physically and mentally, to move forward.
This last 12 months, these players have had to carry tons in their backpacks, in their personal and professional lives, and the physical and mental toll has been there for all to see.
They've had no choice but to carry it, because there's been no chance to really unload any of it, and any attempt to do so would no doubt be greeted by the 'you get paid too much to have human emotions' brigade.
It has manifested in the shows of sheer joy and relief that we have seen this past week. In Thiago Alcantara shouting, almost in anger, after his first Liverpool goal against Southampton. In Mo Salah collapsing with a roar after he sealed the points against Manchester United.
And then yesterday. In Alisson and every single one of his teammates yesterday.
I wrote that piece on faith, religion and football earlier this season as I began to question my own faith in the midst of greater tragedies happening all around the world. I asked how believers could maintain their faith with all those bad things happening around the world, the things that caused me to feel that my faith in football paled in comparison.
But I answered my own question…
'No matter how bad things get you know there are brighter days to come. Or that you'll have bad days where things are weighing on you but you have something/someone to share that with.'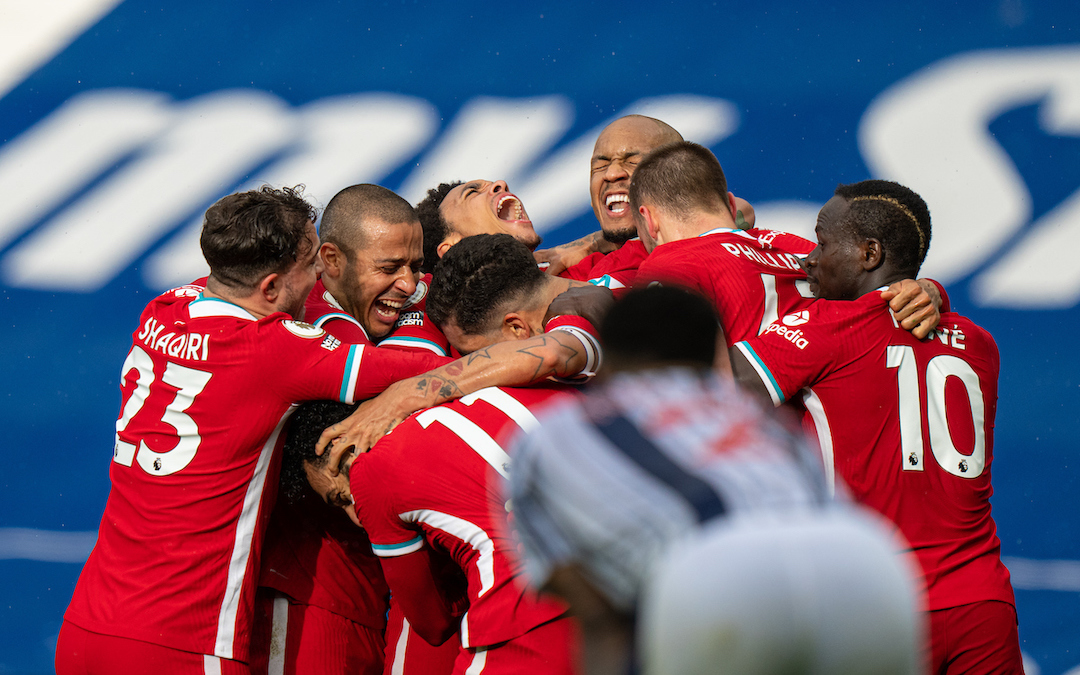 This season has thrown up many questions for fans of all football teams, but we as Liverpool fans have gone from winning the thing we've always dreamed of and not being able to thank our lads for it, to watching our hopes and dreams fade away and only being able to shout at the four walls of our front rooms about it.
Now, as life continues to show signs of getting back to something resembling normality, we can sense the relief, in ourselves and in our football players.
With 10,000 in for Crystal Palace at Anfield, many of us will finally be able to unload our backpacks after 12 months or more of carrying weight, and the players will get their chance to do the same.
It will be emotional, but it will hopefully ultimately be joyful and see The Reds wrap up a place in next season's Champions League.
But most of all I'll think of my faith, think of why I stuck by it even as my heart told me not to, to turn away and take perspective. I'll think of Alisson Becker who stuck by his faith through tragedy that showed us how unimportant football can be at times, and then got a moment of pure joy through that very same game.
The most important of the least important things in life.
I can't wait to be back in. To sing my heart out for these lads and to unload some of the weight in my backpack.
I just hope that, one fine day, we can all be together again soon.
---
"That is the first moment in 18 months that has made my heart leap."

"You don't get headers much more perfect, and to see his reaction. It's not often football nearly reduces me to tears." ❤️🇧🇷

The Anfield Wrap Podcast 🗣

Listen 👉 https://t.co/TD7zn6MzHP pic.twitter.com/wwAf855bCq

— The Anfield Wrap (@TheAnfieldWrap) May 17, 2021
Recent Posts: