As Thiago Alcantara was criticised for a lack of assists this week, Dan Morgan writes that perception in football can play tricks on us…
SOMETIMES it's worth remembering Liverpool were once viewed as getting a steal by paying £6.75m for a player whose corners were facetiously said to be worth £10m alone.
That very player scored two goals and made six assists in just 37 appearances for the club. On this evidence he such be in some ways revered as a cultural midfielder who glided across the Anfield turf with all the elegance of a majestic swan.
That player was Charlie Adam.
Sometimes things don't always appear as they should. Often, the eye test remains what dictates our judgement to make instinctive decisions that often prove right. It's the reason why society won't be made redundant to robots just yet. Gillian McKeith can breathe a sigh of relief, for now.
The roundabout point concerns what should be viewed as a peculiar narrative around Thiago Alcantara this week that has instead become the banal normality when it comes to lazy takes from supposedly credible journalists.
So it went this week that we have to question Thiago's impact based on the fact of him having no assists for Liverpool this season. Quite where these people purged such a golden nugget of insight from remains to be seen, but it must have taken some investigation.
And just as two plus two equals, well, never mind.
The conclusion drawn is that Thiago is ineffective, blunt and worthy only of a yellow card and a decent thumbs up. That's it, pack it up. I don't care if he only got two assists for an all conquering Bayern Munich last season.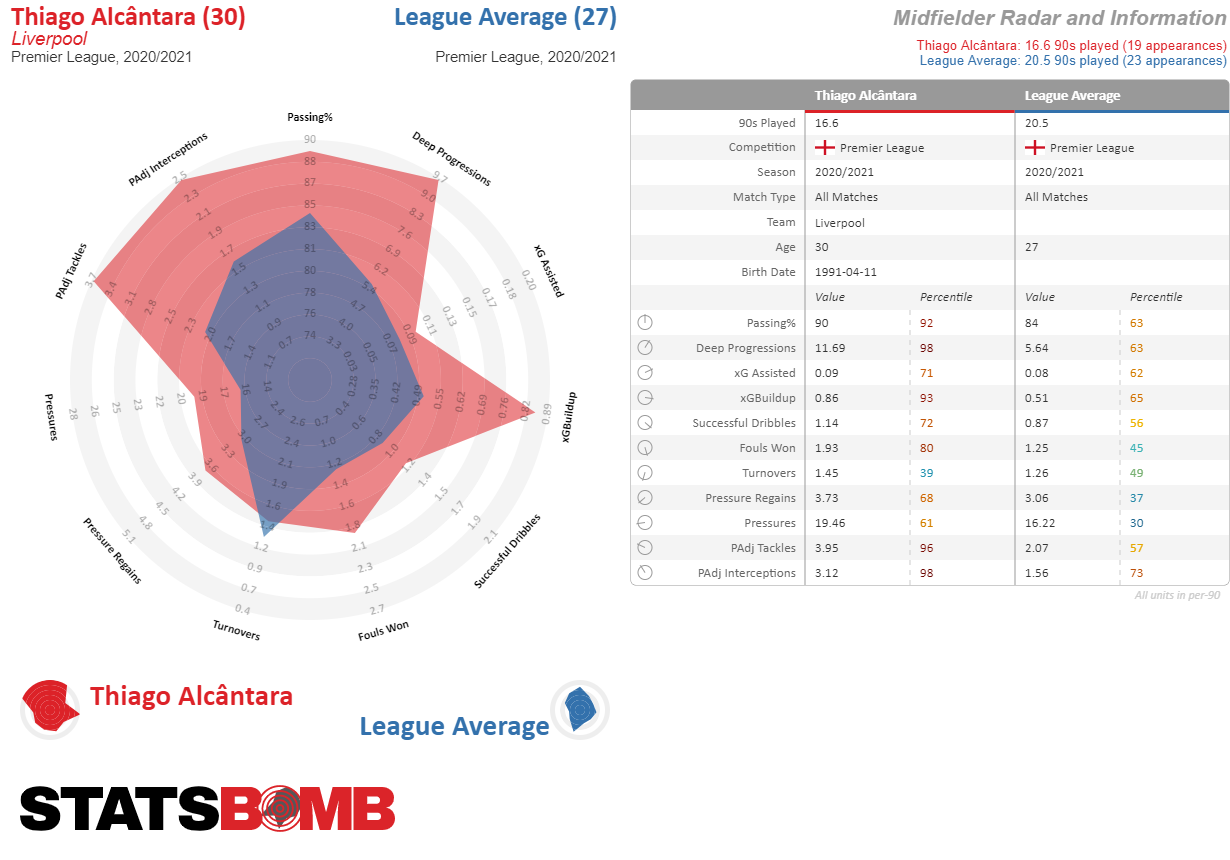 I'm not for making an argument for the player himself. A quick glance at platforms like Statsbomb will tell you that he's acing the Premier League average percentage per 90 minutes on things like pressing (90 to 84), expected goal buildup (93 to 65) and deep-lying progressions (98 to 63).
The point is perception. And what those writing him off on such a ridiculous basis have failed to grasp is that their own perception of him has changed based on expectations from this Liverpool team since the turn of the year.
Thiago was a player signed to come into a winning team. One which required a different type of lock picker at a time when its only concern was how to pick the lock.
A shithouse tackle meant he had to wait until the New Year to gain any type of rhythm — and by that time the team he entered was a lot different to the one he joined.
Liverpool's lack of stability and efficiency all over the pitch has negated any kind of strategy in which he was set to benefit.
But the same lazy narrative is peddled out. As Phil Blundell put it so finely in a WhatsApp group this week; if Trent Alexander-Arnold's majestic volley from 20-plus yards against Newcastle United would have gone in, Thiago would have had an assist.
Liverpool out of nowhere have needed a midfield hero who can don the cape so many have when things are this bad.
Thiago Alcantara isn't that, but neither is he what some are now claiming, some who by their standing and platform really should know better, but seemingly and unfortunately never do.
---
"Football is a mindset. Liverpool are doing 85% of things in a game right, but what they're not doing is what they were brilliant at last year."

"We're missing steel in defence & ruthlessness up front."

Listen for free👉 https://t.co/HL1Sg5ekc3
Watch 👉 https://t.co/XzABa7QkeU pic.twitter.com/l1gssuUHkb

— The Anfield Wrap (@TheAnfieldWrap) April 26, 2021
Recent Posts: