With Liverpool set to face Real Madrid in the Champions League quarter finals, Luke Bridle writes about the key battles between the two sides…
CAN you feel it?
The restless nights, dread-ridden thoughts and overwhelming anxiety that comes with a huge Champions League tie.
It seems an appropriate time to discuss our quarter-final matchup and the battles that will occur. But first the absence of one. A huge one…
Mo Salah v Sergio Ramos
It wouldn't be right to start anywhere else…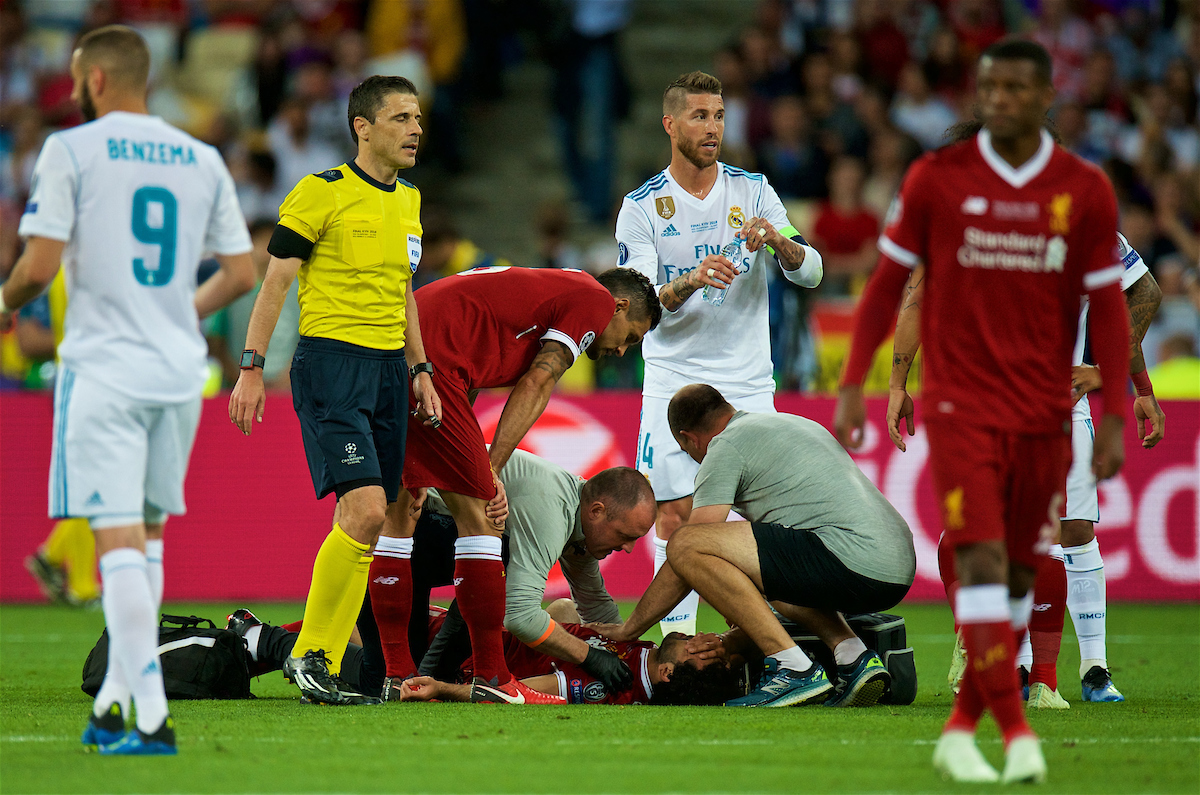 When news broke on Thursday that Sergio Ramos would now miss BOTH legs of our Champions League tie, my immediate thoughts were that it was a poorly thought out April Fools' gag. But when it sunk in that this was reality; I felt empty.
Yes, the elimination of world-class talent from your quarter-final opponents is usually cause for elation. But this feels more like thievery, like something has been silently stolen from our vengeful sequel.
Who can forget the villainous Ramos rolling out a body slam that even the European Judo Union condemned. Some of us would be concealing the truth if we said we weren't hungry for some form of payback, even if the challenge itself didn't have any lasting damage.
Yes, Mo Salah went on to win 'big ears' the following season while maintaining his grip on the Premier League's golden boot; but that challenge hurt. Something about the malicious intent, Ramos's unsympathetic demeanour and the games eventual painful path that leaves an open wound. 
Both winning their respective domestic leagues last year, but currently in sides producing indifferent form. Despite our tumultuous season, the Egyptian King has been up to his old tricks in the Premier League, smashing in 18 goals already. But this game was his season-defining moment.
Ramos is now 35 years of age; the kind of age where an opponent's agility and pace can be overwhelming. Salah will have been dreaming of the prospect of downing Ramos and putting his own name on the back pages.
This is not to say he will go hungry. While current headlines are dominated by the perpetual rumour mill, relentlessly churning out Salah-Spain rhetoric, I had never anticipated a scenario where Real Madrid's rearguard were given a moment's peace once the whistle had blown. 
And with the exclusion of Ramos, the game has ultimately swung in our favour. Progression was always of higher importance. But, few of us would argue that victory could have tasted even sweeter if Salah got his revenge served cold, with a trademark hair ruffle a la Andy Robertson thrown in for good measure.
Thiago Alcantara v Luka Modric
A battle for the football connoisseurs…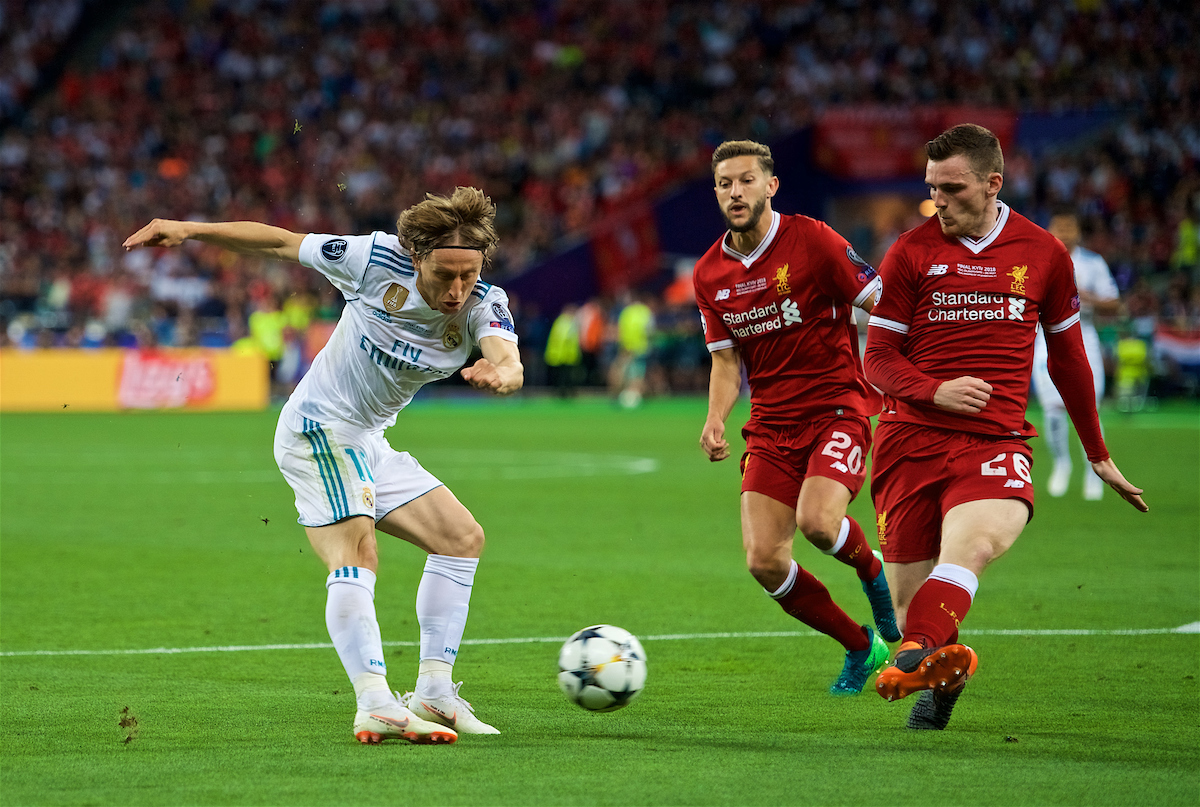 We have already seen Thiago Alcantara excel on European nights, a battleground where his natural ability seems a perfect fit with the pace and precision of European football. Modric is no different; boasting four Champions League titles and a Ballon d'Or, this is a player who knows what's required.
But if Thiago is in the 'last dance' stage in his prime years, Modric, at 35 years old is positively ancient. This is where we look to our midfield to produce the sort of lung-busting displays that can overpower a midfield containing Modric and Kroos; a combined age of 66.
We've seen it before, haven't we? The crushing 4-0 comeback against Barcelona had a lot to do with how we outstripped, outran, and outfought Rakitic and Busquets. But something's changed. 
Under Jürgen Klopp, we have always had the ridiculous levels of resilience but for the first time we have true midfield creators. We can outplay Madrid at their own game.
In a squad lacking the energy of our captain Jordan Henderson but possessing players such as Thiago and Curtis Jones, we could see a Klopp midfield go toe to toe like never before. 
Nat Phillips v Karim Benzema
French finesse meets brute British force…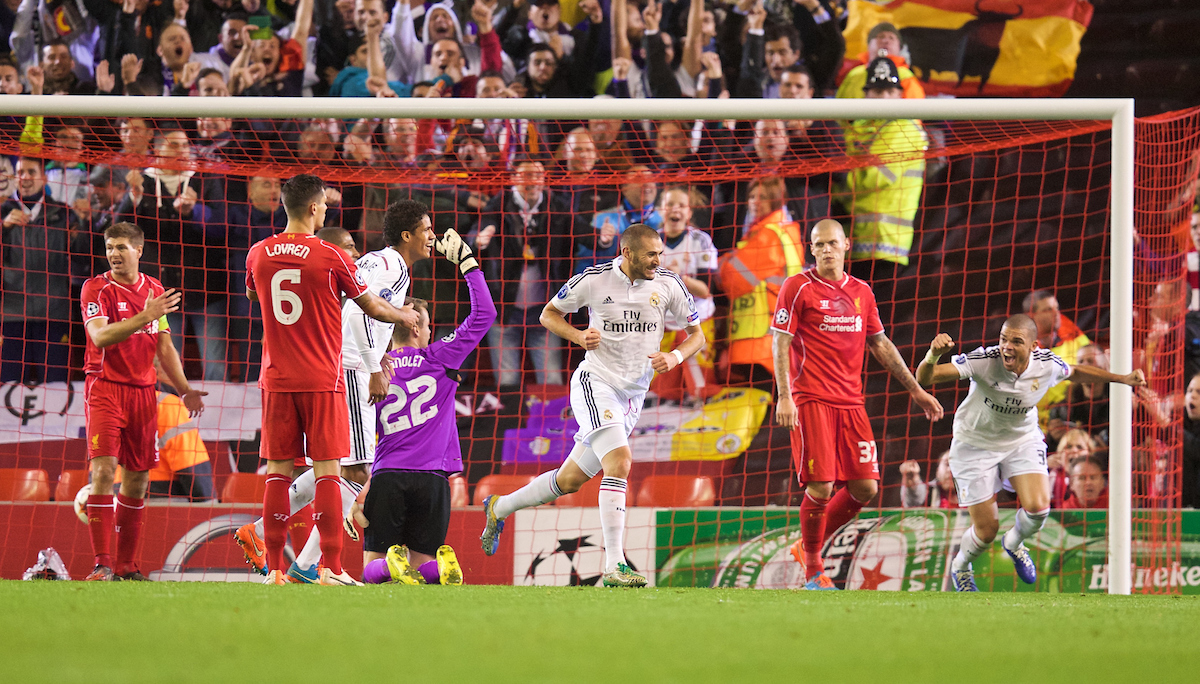 Maybe the biggest sign of the gravitas of our injury situation, that this is one of the key matchups for the tie. It's bizarre that even since the injuries to our three main centre backs, Nat Phillips has had a stop-start season in terms of appearances. For one reason or another he hasn't been fancied.
However, three consecutive clean sheets and some warrior-like performances, has meant that his place against Madrid is almost certainly secure. While Phillips may be the season's unsung hero to some Liverpool fans, Benzema has dominated this title at Madrid.
Some of the most famous pundits have taken to social media to share the opinion that Benzema is NOT an elite forward. Perplexing to say the least. Benzema has recently been named only the fifth player to score 70 Champions League goals, while netting 22 in all competitions this season.
Being the wrong side of 30 should mean that his pace won't be our biggest threat, but his close control and craftiness in the box just might be. Phillips will be tested at his defensive ground-game in ways that it won't have before.
We must not underestimate Benzema's talent, and with the memories of that final in Kiev still looming within this squad, I don't think for a second that we will.
While the pre-match unease won't dissipate until the boys are out on the field, The Reds winning the tie would be the perfect revenge and would leave this season's more stilted performances buried firmly in the past.
And of course, if the lads can get past Real, we would play Chelsea in the semi final with the possibility of another Champions League final in Istanbul.
But that should be the only case of history repeating itself.
---
"As far as this tie is concerned this is as good as it gets. If you're still in the Champions League when the clock turns, when it's light nights – there's nothing better."

"This is the business end and to get Real Madrid – it's such a big tie." ✊

👉https://t.co/oaOWcUzrlr👈 pic.twitter.com/YR7S9ZJlUc

— The Anfield Wrap (@TheAnfieldWrap) April 6, 2021
Recent Posts: