After a torrid week for Liverpool became clouded in more disappointment, Karl Coppack writes that Mo Salah proved he's still a silver lining…
I'LL be honest here. Mo Salah wasn't the first topic for this column.
The original plan was to sing the praises of every Liverpool player who stood up last week and told the owners that they were against the idea of a European Super League. What they did took real guts as most of just cough into our hands and look away when the bosses make a dog egg of a decision. 
True, those ideas aren't usually scrutinised by a worldwide fanbase, but it's great to see the team stand as one and tell their paymasters that the ESL was stupid. You've got to admire them for that. Well, I do anyway.
And then came Jordan Henderson's programme notes. I'm long past the point of seeing footballers as heroes, modern in particular, but I'd like to buy that man a pint/small bottle of coconut water/whatever one day. He's not just a great footballer and captain but a good, good man. I'm proud to have him wear our armband.
That was the plan; 850 words of flowing prose about how lovely it is to have these solid citizens run on our pitch. A real change from years of Ruddock and the banter generation taking the piss on a weekly basis. The current crop are our lads and their bravery makes our communion with them a little stronger. A good and praiseworthy thing.
Come Saturday afternoon I'm not sure I could look any of them in the face. 
The misses, the fruitless extra pass, the shots at the keeper and the final minutes where the champions went from being asleep to being downright comatose. It was like watching them stand in front of a firing squad before a stay-of-execution arrived and then celebrating their good fortune with a game of Russian roulette.
You got away with one, lads. Don't give them the chance of a second chance. Oh, you did.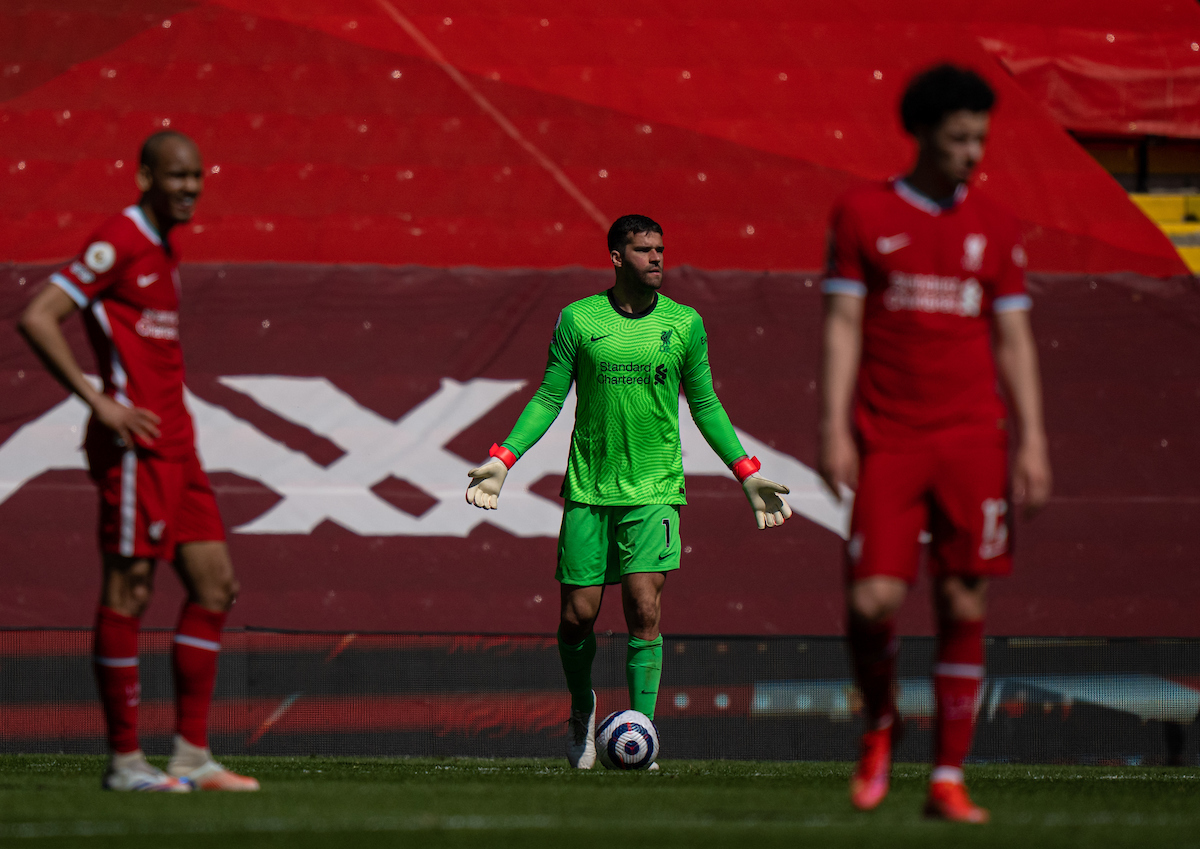 That's a passing thing. We still love them, but they fully deserve the skunk-eye after the last few games. Pitiful, arrogant and, at times, hapless. I liked Fabinho's yellow card challenge though. That was the silver lining on a pretty enormous cloud.
And, of course, we scored from the most difficult chance. Six yards out might as well be the half way line these days, but a 180-degree spin and roof of the net finish and we'll bang them in for fun. But that's Mo Salah for you.
We're nearing the end of the season (mercifully) and it'll be awards time before too long. Take one man out and it's not an easy choice. It reminds me of the old Jasper Carrot joke about the Birmingham City fan who bought a golden goal ticket on the opening day of their season.
For those who don't know what that was, it was a 50p ticket which showed a time for the first goal when you scratched off the silver covering with a coin – 26 mins 13 seconds etc. If you got the ticket with the official time on it, you won a prize. My mate won a signed ball once for being a second out.
This Birmingham fan scratched off the ticket expecting to see a time for Birmingham's first goal. Instead it read 'October.'
There's every chance that you or I could be in the running for the runners-up spot.
Luckily, we do have a winner for Player of the Year. They could have given it to him weeks ago.
That goal took Mo Salah to 123 Liverpool goals in just 198 appearances. He moved up to 12th place on the all-time goal scorers list at the same time equalling Dick Forshaw, a striker from the 1920s. He only needs another seven to make it the top 10 – quite something when you think he's only been here for four seasons.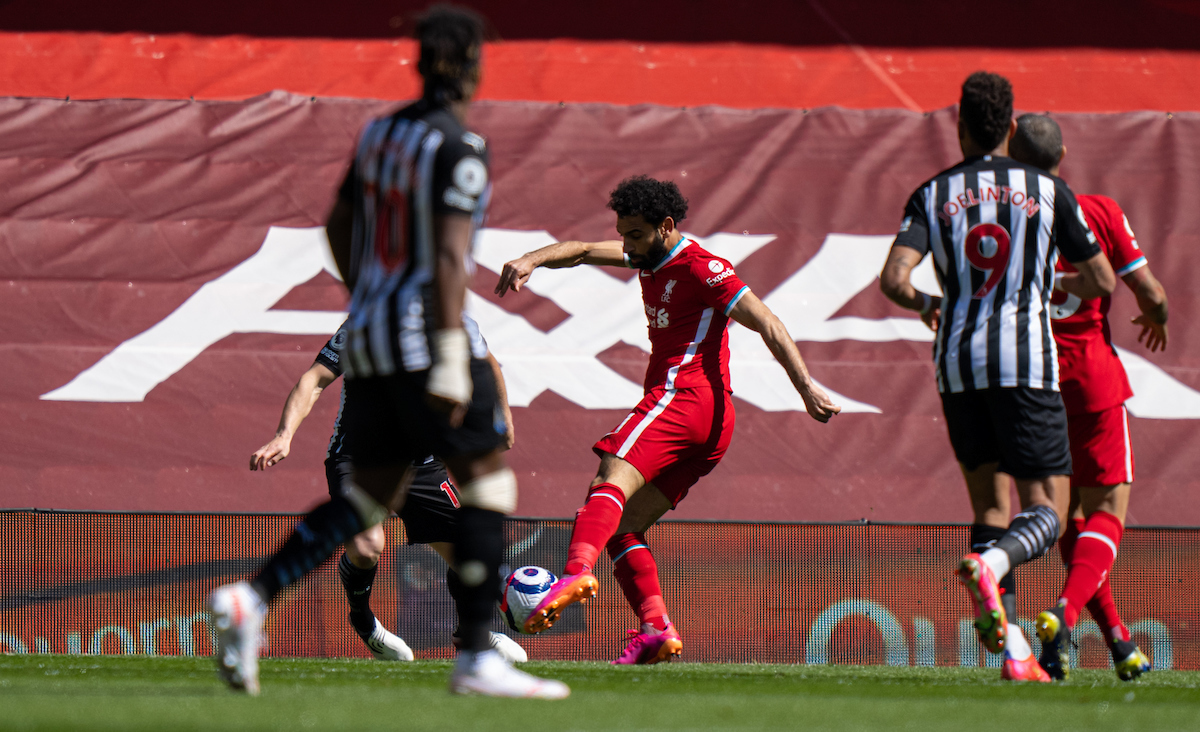 In a campaign where we've been anything but consistent, he's stood apart though he too can be maddening. A mate of mine argues that he's a mixture of former Red strikers – Fernando Torres's drive, Luis Suarez's selfishness, Robbie Fowler's impudence and, sadly, a bit of Dean Saunders when it comes to being clinical.
He does miss a fair few, but he also scores more than anyone. The difference between all of those former greats – and Dean – is that they played centrally. Mo swaps around a fair bit but nominally comes in from the right of a three. That makes those figures even more impressive.
This is already his second best season in a red shirt and only then because it's unlikely the highs he reached in his first year here will ever be met. It may not end up being much as we've failed to win any silverware, but it shouldn't be forgotten either. In one shit season, he's gone above and beyond the call of duty. He's practically held us up at times.
Those are just numbers though and you can do anything with them. John Wark once scored 18 league goals from midfield one season and half the ground couldn't stand him. What sets Mo apart is his consistency. His unerring ability to knock one in when we need it, even if they didn't do us much good in the long run (Real Madrid, Aston Villa, Leicester away etc), is unrivalled.
Poor form can affect all players as we've learned recently with Roberto Firmino and Sadio Mane, but Mo's delivered in other departments when the goals have dried up. He went eight without scoring in 2019 but no one noticed much as the other lads covered for him. That's the way it should be.
He's one Premier League goal behind national darling Harry Kane in the season charts at the moment, so here's hoping he can go two clear after Old Trafford. After all, there's no better place to blow off the cobwebs of a poor spell and even poorer display than Saturday. They're still our lads and will be more so once we've calmed down, but a win there would go down a storm.
Personally, I've been guilty of taking Mo Salah for granted and I don't think I'm alone in that. Once we get this debacle of a season off our backs, I'd like to see him climb higher in the all-time scoring ranks and win the trophies he and the others so richly deserve.
Well, hopefully we'll deserve it next season. We don't at the moment.
---
"The manager's vindicated in terms of what he selects and how they go about it – other than they can't score."

"They have chance after chance. Klopp's got it right."

The Review @Dan_Morgan3, @Knox_Harrington, @Sean_Rogers 🗣

Subscribe to listen 👉 https://t.co/oaOWcUzrlr 👈 pic.twitter.com/zKPmXfcO1e

— The Anfield Wrap (@TheAnfieldWrap) April 26, 2021
Recent Posts: