Neil Atkinson's post-match review after Real Madrid 3 Liverpool 1 in the Champions League at The Estadio Alfredo Di Stefano…
IT'S only half time.
It's only half time and they have Barcelona at the weekend.
It's only half time, they have Barcelona at the weekend and Liverpool had them in the red at times, especially as it wore on.
But let's be clear, let's be honest, it's only half time and given that the main thing that you would say about this Madrid side tonight is that it is wily, pragmatic (in its proper sense), and clever, Liverpool's task to overturn this deficit looks Herculean.
In the aftermath of the defeat at Kiev we all talked about Madrid just being that bit smarter than Liverpool. After the joy of our victory over Tottenham in Madrid and then in winning the league we very much had wised up. Tonight though, we see that Madrid have got wiser too, just wiser from a high base.
Liverpool looked and played like dopes in the first half.
This was a tie where the first goal was always going to be significant. In that context, being absolutely abject for the first half an hour probably isn't a viable proposition and part of how Liverpool have offset their weakness at the back recently has been through being a lot better with the other nine players in the side.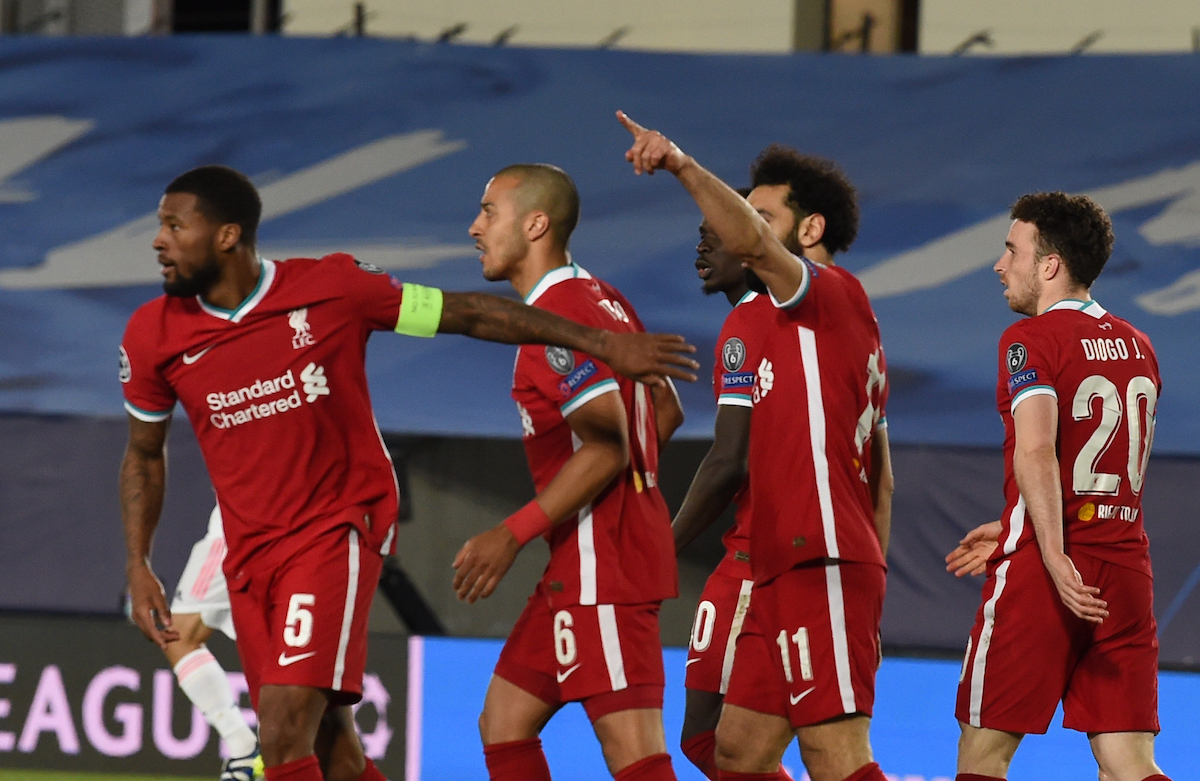 Tonight that was absent. Indeed, for the first third of the game Liverpool's best performer is probably Ozan Kabak. Both midfielders flanking Fabinho were absolutely vacant off the ball and worse when they got on it, one flash from Naby Keita aside. Fabinho himself looked like a man who had had a heavy one Saturday and that impression deepened through the 90 minutes.
Sadio Mane has very, very hard lines first half from the referee, in both halves from the referee if we are honest about it, but right now it doesn't take very much at all for Sadio to exist in his own head, the football match a dark night of the soul. He is spending football matches in his own hinterland and right now that is a dark place and him being anchored there is not helping Liverpool.
In the end Madrid manage to do what no one has done for a while and that is exploit issues with Nat Phillips. They tempted Liverpool's line and it made it impossible to find where it needed to be pitched. Trent Alexander-Arnold's mistake is fascinating for how he has to do something but is positioned to do so little.
The most concerning aspect of it for The Reds in the first half will be how the side simply couldn't make an impression on the game. In the second half it will be how quickly that reverted after Mo Salah's goal.
In the end it is the feeling that Liverpool were tame and tamed that kills you. Diogo Jota couldn't involve himself, Mo Salah was yet again the pick of the attackers but at no point did Liverpool ask the questions that they ask when they are at their best. Only with 10 to go did it feel like there was doubt in any Madrid minds and even then they found their shell. Plus Liverpool were as knackered as they were.
Madrid managed to combine being deep with being compact, rotated Luca Modric and Toni Kroos around Casemiro brilliantly well and knew they could spring. By pulling at times all three centre mids deep they made Liverpool's press impossible; it was a double pivot and, in Casemiro, a single pivot. Liverpool left like a swingball player tangled in the rope.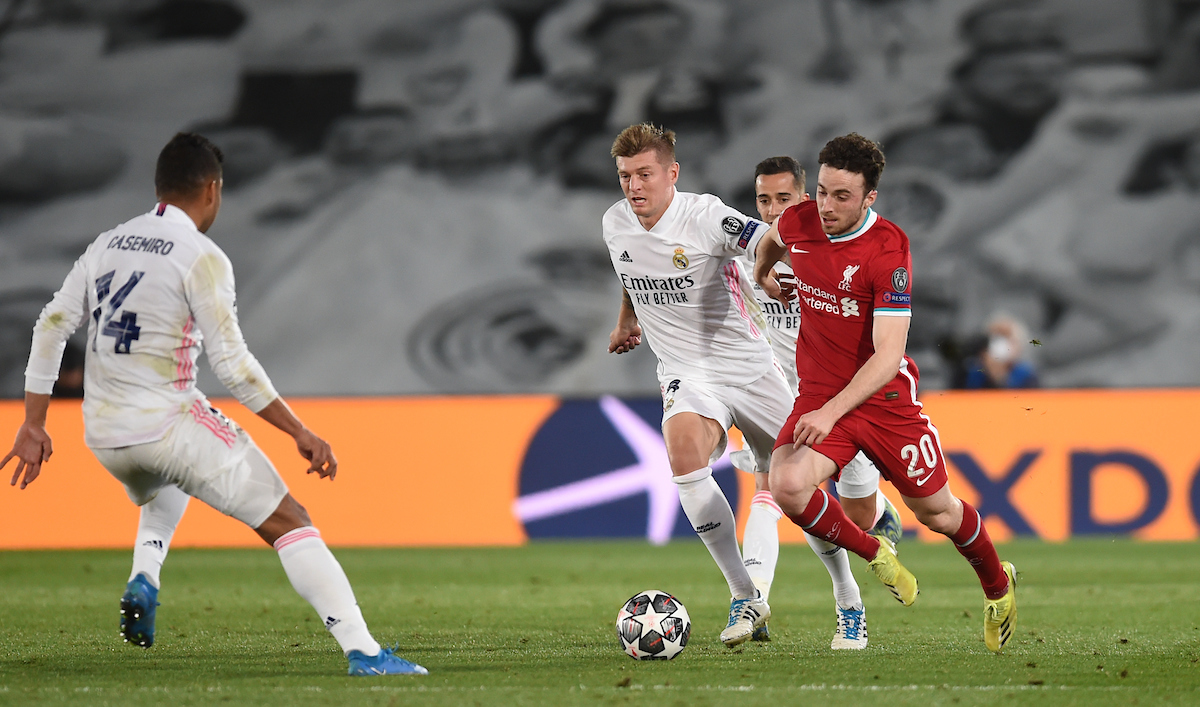 The time though that Kroos and Modric had at times will have driven the manager to distraction. It was Pirlo versus England stuff. Worse, it was Blackpool's Charlie Adam versus Roy Hodgson's Liverpool. If Liverpool didn't have a plan for that then they should have and if they really, truly didn't, then they needed one quickly.
It's only half time. But the Liverpool manager cannot make injured footballers available all of a sudden. Liverpool are not out of the running but it seems unlikely that they can get running unless something changes.
Something has changed before, don't get me wrong. What worries me though is that something changed when it was willed by thousands. The absence of those thousands will almost have a negative capability. That they aren't there could well hurt The Reds. Under normal circumstances I'd be saying "happy with 1-0 with 15 to go," but I have no idea as to whether or not that is the case.
Regardless, as ever, it is only half time. Had Liverpool won 1-3 it would only be half time. But had Liverpool won 1-3 I would be watching on with interest tomorrow as Porto face Chelsea. Now it will barely register.
Liverpool will surely play better than that. They will surely wise up. The problem they have is that Madrid, not for the first time, may well wise up further again. Nous is everything in football at this level. Liverpool need to find theirs in order to drag their opponents down to their level and kill them. But, sadly, so sadly, they won't have us to help them. To celebrate them if they win, to commiserate with them if they don't.
They'll need to be perfect, you know. They can do it, I know it and you know it. It is possible. However, it is hard to find it probable right now being honest. At only half time.
---
"With no crowds, is this version of this Liverpool side good enough to not concede to Madrid at home, I'm not so sure."

🗣 Madrid 3-1 Liverpool | The Post-Match Show | #NewPodcast | #LFC

Subscribe to Listen:
👉https://t.co/oaOWcUzrlr👈 pic.twitter.com/Hn90pTCbBL

— The Anfield Wrap (@TheAnfieldWrap) April 6, 2021
Recent Posts: