Neil Atkinson's post-match review after Liverpool 1 Newcastle United 1 in the Premier League at Anfield…
IF you don't kill games then you get killed.
It wasn't being killed, though. It was torturous. It was watching everything fall down around your ears yet again.
Deserve has been the word of the week and we've all agreed you have to deserve what you get. Liverpool deserved to win 6-1 and didn't deserve anything by the bitter end.
Score the goals that are repeatedly there for you. Liverpool missed chances and wasted chances to create chances in both halves. They were stupidly well acquainted with the opposition penalty area. They were constantly either in or just about to be.
And they never get their second goal. I don't need to tell you. You know.
It's the defining factor of the game. I am all for blaming defenders or talking about individual managerial substitutions but all of it is moot if Liverpool's marvellous players just take their chances. I wish I had more for you but I don't. I have this over and over and over. I had this over and over against Leeds United and now I have it again.
It is astonishing how collectively bad excellent finishers managed to be in front of goal today. Every single last one of them. Even Mo Salah after his early goal still falls into the habit of missing.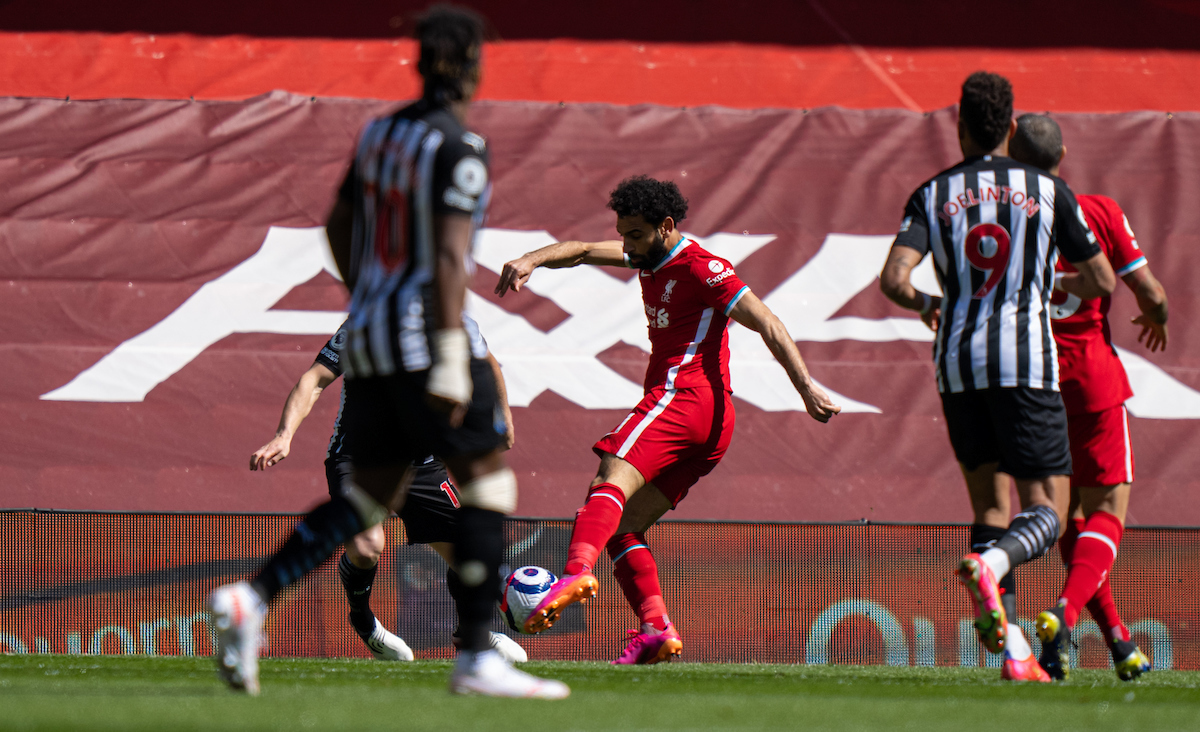 I wonder about the idea of the collective, that if you have a fabulous collective who believe in one another, does it allow bad habits to flow? Does it mean that missing over and over becomes a collective thing?
Whatever is true, it is hard to dispute that Sadio Mane is basically in ribbons and all I want is for 50,000 people to sing his name for a bit. I wish he knew how much we could love him. I wish he knew it was all OK. There was a point today where he pirouetted three times, held people off, did the hardest of hard parts and then got the pass wrong.
He is all over the show and he is such a splendid person and footballer. I wonder if he has ever struggled like this before. I doubt it. He just needs to rebuild one step at a time.
Regardless, Liverpool don't put the game to bed, Newcastle hang on in, to their credit, and then Newcastle turn the screw. The point is that they are happy with 1-0 on 85 and Liverpool can't deal with it. We have no moves left by then, can't anchor ourselves in their half.
None of it is good enough. It's been a long week and it is strange to think Liverpool could win 5-0 and in the end are thankful to VAR, at least theoretically, not to lose.
We needed the release and relief of the goals. We have received neither release nor relief. Talk of points deductions; Liverpool are doing that on their own.
We've a weekend to get on with. No idea how.
---
"With us seemingly looking fluid throughout the game, you still kind of thought this is the perfect opportunity for Newcastle!"

🗣 Liverpool 1-1 Newcastle | The Post-Match Show | #NewPodcast | #LFC

Subscribe to Listen:
👉https://t.co/oaOWcUzrlr👈 pic.twitter.com/dI9MVX4qvS

— The Anfield Wrap (@TheAnfieldWrap) April 24, 2021
Recent Posts: