Neil Atkinson

's post-match review after

Leeds United 1 Liverpool 1

in the Premier League at Elland Road…

LIVERPOOL drop two points but Leeds were worthy of one as the game slips from their grasp.

There is loads to take in there across the 90 minutes. I think, first and foremost, how much Leeds United enjoyed it. This isn't a criticism of The Reds. They are to come. But Leeds wanted to have a big go in that second half and found their way through it. They wanted to spend the second half inside Liverpool's half of the pitch and did so with bravery and brio.

This, obviously, sticks in the craw. Leeds in general. Leeds, in particular, for me. Leeds in the T-shirts. Leeds. But they did the business.

During the second half, other than the corner, Ozan Kabak played excellently at the heart of the Liverpool defence. The midfield was emphatically a Fabinho (or Henderson) down but Kabak was terrific. Until the equaliser of course. But he is 20 years old and will get there. Alisson Becker is a lot older than that and he too was marvellous. Trent Alexander-Arnold played well indeed.

From Liverpool's point of view though, Leeds weren't punished. Tonight is the best example of the season, across 90 minutes, of Liverpool working themselves brilliant situations and working themselves poor or non-existent chances. All the different types of chances to create chances tonight Liverpool eschewed.

Other than the goal. The goal was incredible. Liverpool playing beautifully.

The goal makes it more frustrating. Liverpool won it back high and failed to create a genuine opportunity. Liverpool were gifted it high and failed to create a genuine opportunity. Liverpool broke from deep with a numerical advantage and failed to create a genuine opportunity. Liverpool swept their opponents away across the pitch and failed to create a genuine opportunity.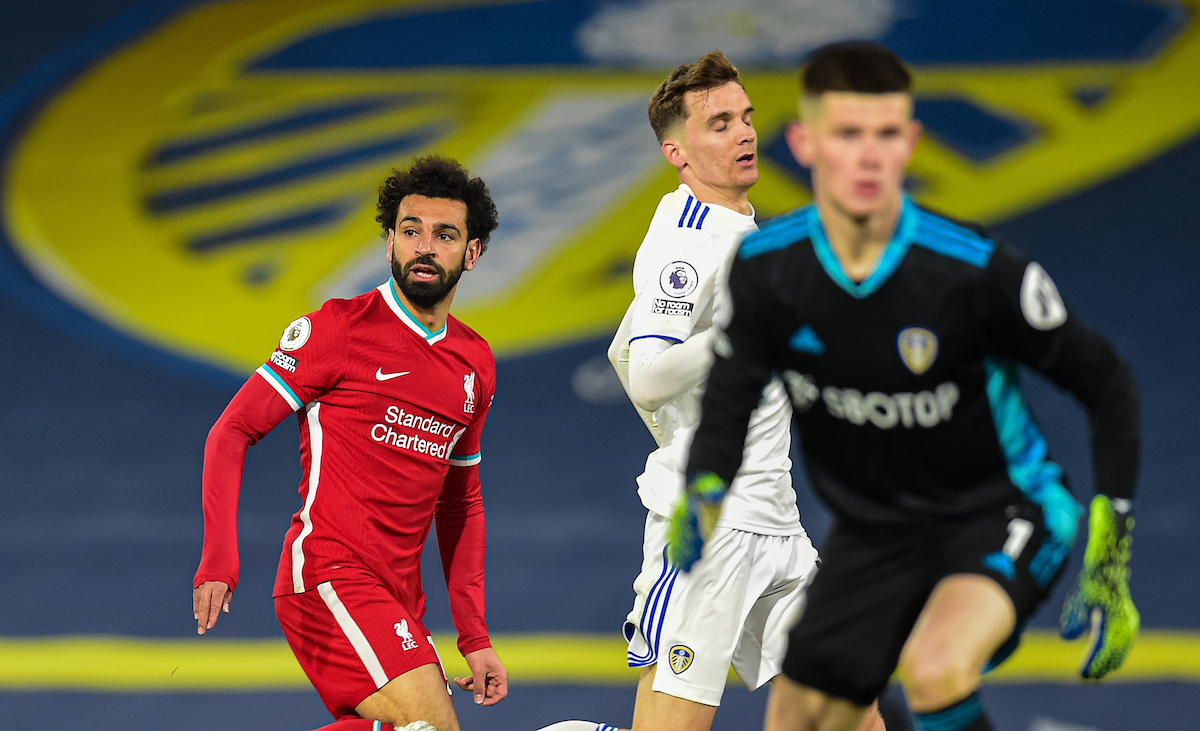 There was no chance to create a chance they didn't turn their noses up at, no moment to shift gears where they didn't stall. The worst was when Andy Robertson just needed to slip Diogo Jota in but utterly overhit the pass. That was the worst. It was the head of a list of about 14 similar occurrences.
There has been a lot which has undermined this side this season and much of it has been outside of their control. While I am prepared to accept the knock-on effects of the issues at the heart of the defence, it is similarly fair to say Liverpool's ability when 4v5, 3v4 or even 3v2 has eroded over three seasons, not just this one.
I'm prepared to give this side a lot of leeway, show them the utmost respect, but they still get themselves into excellent positions to create chances. They just fail to create them.
It's grey area stuff. It's the same footballers in the same areas with the same numbers. They aren't really being defended markedly better, though Leeds did crisis defending very well at times tonight. They are just picking the wrong option and executing it badly or picking the right option and executing it badly.
Picking the wrong option and executing it badly brings us to the other thing that the night's festivities was defined by. We need to be careful. It is hard to say how much it sticks in the craw to be lectured about the dangers of capitalism from a Comcast owned Sky Television platform, Comcast acquiring it from Rupert Murdoch.
Further it sticks even more in the craw for much of this platform to be used by Salford City's finest, with everything that comes with that, to stick the boot into Liverpool first and foremost.
But, as per today's chat, we are all compromised. It is important not to be all "Yet you participate in society. Curious. I am very intelligent" about all this. Jamie Carragher and Gary Neville get to have their chat and while a bit more humility and a bit less snide from Peter Lim's mate would occasionally be welcomed, the irony of them creating a magnificent television product from all of this shouldn't be overlooked nor, for that matter, not applauded.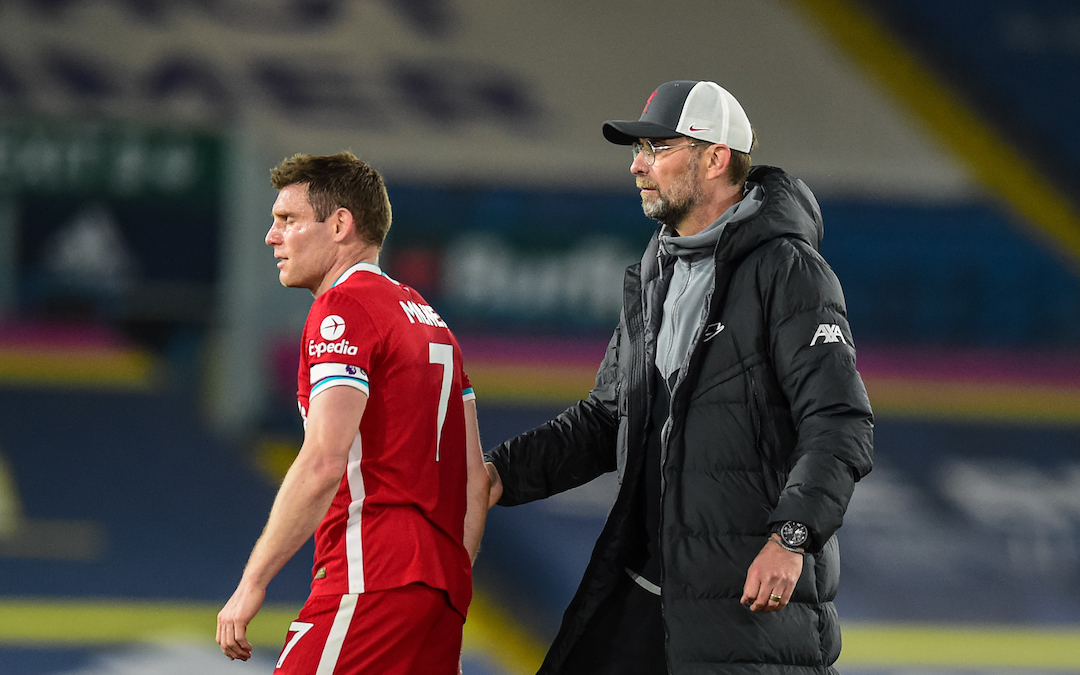 Tonight James Milner and Jürgen Klopp make their feelings clear. But they make all of their feelings clear and we need to engage with the messier ones as well as the ones that you, I or Neville and Carragher would like. They are both hurt and stung by the criticism that they don't feel should be falling their way, nor the actual group of footballers that they captain or manage.
Everyone – and I mean everyone – would do well to avoid language which makes this tribal and so far everyone – and I mean everyone – hasn't really succeeded in that.
Patrick Bamford speaks and wonders why, when the money is involved, the reactions are so much quicker than when all the racism is involved and my god you rarely see truth like it on the telly.
The point about all of this is that when you roll a grenade into a situation, you have no idea where all the shrapnel will end up. And Liverpool's owners have been part of rolling this particular grenade and they, Liverpool's Chairman and Liverpool's CEO, are absolutely nowhere to be seen. Any of them could be interviewed by James Pearce, Paul Salt, Mel Reddy, Jamie Carragher or little old me tomorrow. I'll make time, lads. The calendar is yours.
Instead the Liverpool manager is left seething and wanting to defend his club and his people on national television, a fanbase is taking flags down that celebrated generational heroes, Leeds are gilding the lily and Liverpool are dropping points and you don't know if that means a thing.
Shrapnel everywhere. Shrapnel in my hair. Shrapnel in my bellybutton. If you are going to be ruthless capitalists undermining the fabric of the game, at least have a bit of style about it.
Because this, the firm, this is a shitshow.
---
Recent Posts: