Neil Atkinson's post-match review after Arsenal 0 Liverpool 3 in the Premier League at The Emirates…
ARSENAL 0 The Champions 3.
Europa League Quarter Finalists 0 Champions League Quarter Finalists 3.
Walk around Liverpool. Absolutely walk around them. There was something magnificent about them from start to finish. They worked. They showed for each other. They pushed Arsenal back first half; they punished them second.
Arsenal are not really in the game. They frustrate us slightly in the first half but that falls away as the heat of the counter-press is turned up. They are without key players – Saka especially – but they also look dishevelled and frayed.
I like them, Arsenal. I go through the side and I can tell you all the players I like. I like the keeper. The keeper was megged. I like Gabriel. He was embarrassed in the run up to said megging. I like Holding. He was nowhere to be seen when Liverpool's 5ft8 lad who we thought was an attacking midfielder but is actually Ian Rush heads home like Bob Latchford. I like Tierney. I like Partey. I really like Odegaard. I adore Lacazette.
It doesn't matter because one to 11 every Liverpool player wins his personal battle and simultaneously Liverpool are better set up. It is just joyous from The Reds. It is like taking off tight shoes. It is running downhill. It's the whip of the breeze on your face when you are by the sea. It is bracing and it is vital.
If that is the result, Gareth Southgate can leave our players out of the England squad every day of the week. Seriously. The England manager being wilfully ignorant of the brilliance in the Liverpool team is a bad cliche. But you know what? If the flip side of the rest of the country indulging in their favourite pastime – overlooking Scouse genius – is that genius crossing the ball beautifully whipped and placed like only the foot of Trent Alexander-Arnold can do, then I will take it.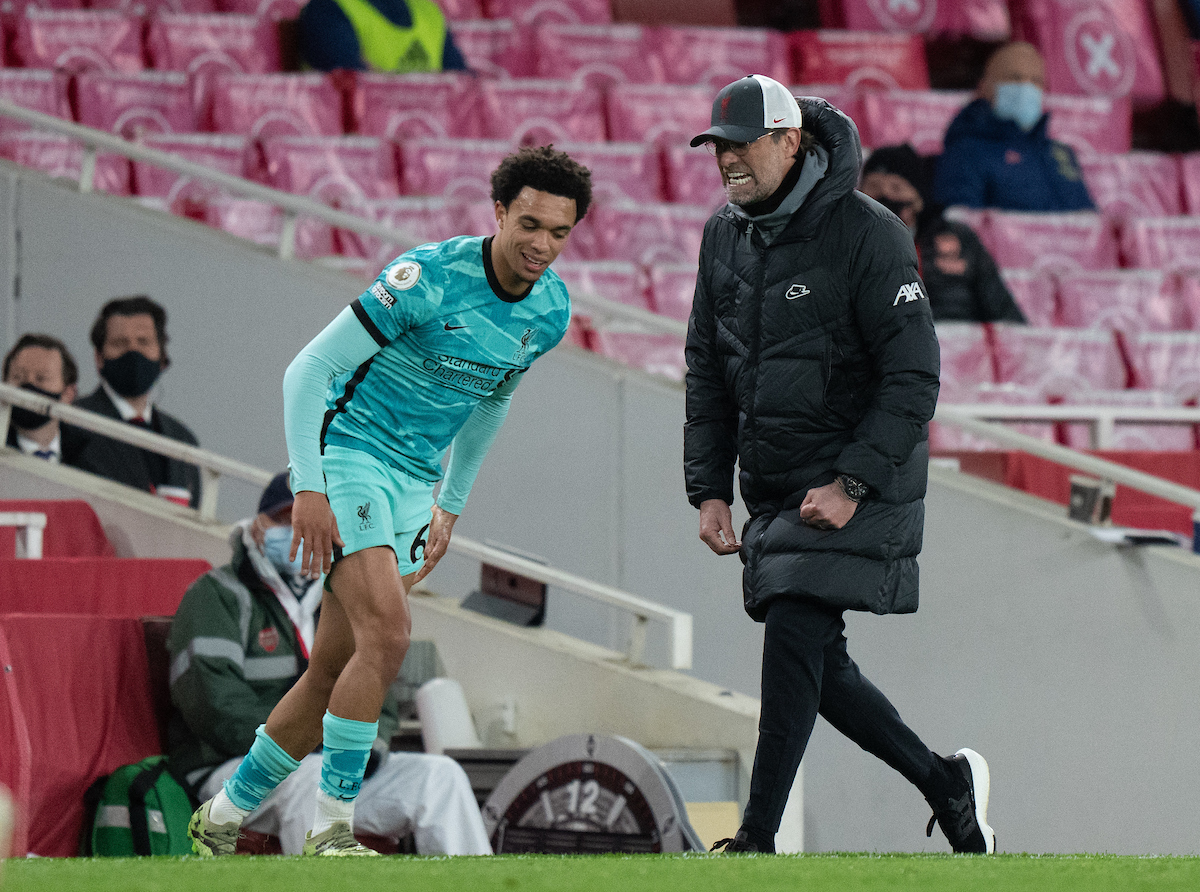 Trent isn't just turning the other cheek, he is blowing the whole joint up, and I would take it every single time. Besides, Andy Robertson is the captain of Scotland. The best revenge is living well. Let's be crystal fucking clear, Trent Alexander-Arnold lived tonight beautifully.
Jürgen Klopp cooks this game up like a slow cooked stew brought to the boil over the 90. For 60 minutes, Liverpool pass well and then better, then better still. We have decent possession over the first half, but when the first sub is made on the 60th minute, they crank it up a notch.
I loved the sub. Resting Robertson knowing they can't get near James Milner, taking a body out of midfield, knowing the game was ours. Chancing 15 minutes with four forwards. Diogo Jota is the perfect. Our most confident current goalscorer strides on the pitch and takes control of the game. It is joyous and perfect in equal measure. Jota is fresh and hungry. When Trent's perfect pass is made there is only one place it is going.
Roberto Firmino and Mohamed Salah spent the game very much on the bounce and picking the ball up everywhere. In this game, the speed – of feet and thought – is truly back. Arsenal were befuddled by it over and over, resorting to seven bodies across the box, hoping for ricochets more than planning for them.
Finally Fabinho plays the ball in to Salah and his pace gets him through to goal. The simplicity of it all is possible because they think fast and act fast. This is Liverpool's game. Clever, tricky, fast. The finish from Salah is defenestrating. Arsenal undone.
The final goal marks it all off. Jota is sublime. You wonder how we lived without him. He arrows between the sticks, inevitable, certain, the ball thrashed home.
When Gini Wijnaldum comes on, the bubbling stew starts to boil. Liverpool pushed Arsenal back first half; they punished them second. And then they swanked about the gaff, knowing Arsenal couldn't land a glove, knowing Arsenal couldn't get close.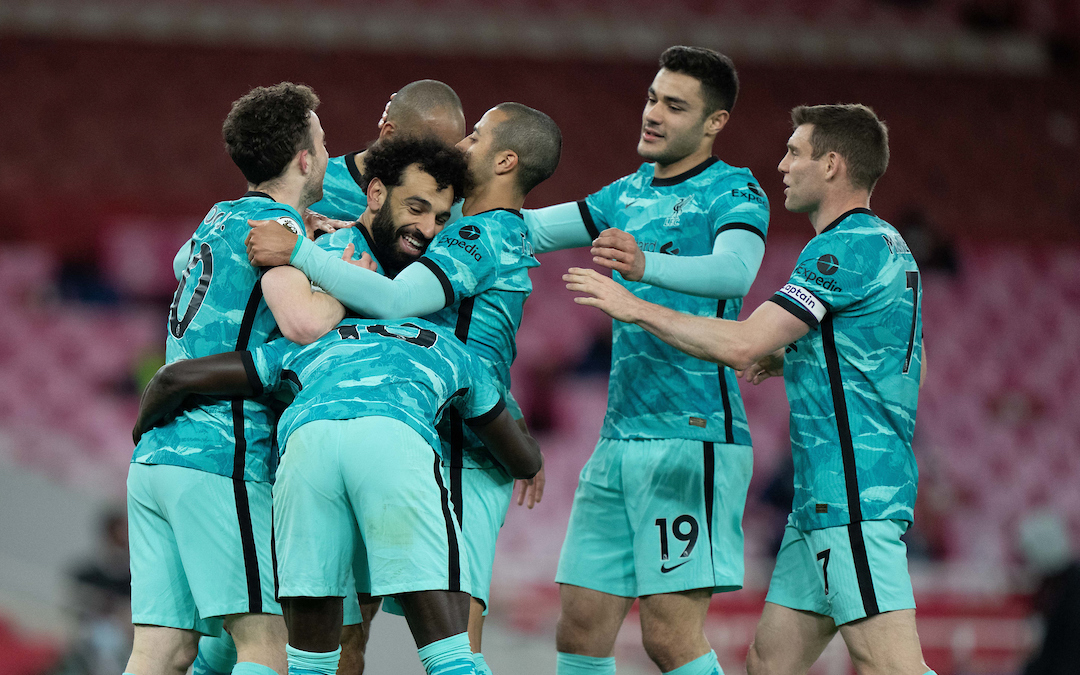 The gulf between the two sides was massive. It's a chasm and it is worth remembering. Some of your writers will write things over the summer about one leap forward or another Arsenal can make. There will be truth to it but there will be greater truth to an acknowledgement that Liverpool have been the most important concept in English football since October 2017.
Only Liverpool can keep Manchester City honest. That remains the case this season, albeit in a European context. Liverpool want to know what they are doing next.
For Arsenal, being fair, it cannot be easy playing against the Revenge Reds. Of course, one pulverising of Arsenal, and one embarrassing of yet another England manager, doesn't make it all OK. There is one job still to do, one bit of magic to find.
Tonight Liverpool looked a side that can win the biggest trophy in world football. They looked like a side who may be able to take a fight for fourth to the bitter end.
But more than that, they were a nightmare to play against and a pleasure to play with. They were the business. They were, as these pages have said before, bitter and so sweet. I could drink a case of them, of you. And I would still be on my feet.
Let's see what's next. Let's be prepared to bleed. Let's prepare for Tuesday.
You know what? There's magic in the night. Tuesday.
---
"The mini revival continues!"

"It's massive today for Liverpool. To a man, they were fantastic. All of a sudden, never say never."

Subscribe for the best reaction, analysis and laughs on audio and video now 👇

👉https://t.co/oaOWcUzrlr👈 pic.twitter.com/UqakVeT6vP

— The Anfield Wrap (@TheAnfieldWrap) April 3, 2021
Recent Posts: