Ozan Kabak has thrived in his last two games for Liverpool, and Aaron Daniels writes that it's important we acknowledge the context…
IN modern football, where we tend to want the very best things to happen immediately, we can often lose sight of one important thing.
Context. The circumstances that form the setting for an event, statement, or idea, and in terms of which it can be fully understood.
It might not be the most important thing, but it is important. Here is some context for you…
Eighteen or so years ago, I was 15 years old and just scored a last-minute equaliser of a cup final for Bryden Boys in the West Derby Junior League. We went on to win on pens. All 16 parents of our team go wild on the line. Maccies all round.
Five years later I am 20 and I haven't got a clue. Still haven't.
When Ozan Kabak was 15 he was a Galatasaray youth player working his way through the ranks, learning his trade, and putting in the work.
Five years later he is 20, and he has confidently steered Liverpool Football Club to a Champions League quarter final. He has all of the clues.
Comparison is the thief of joy. I compare my meagre outcome to that of Kabak to humbly contextualise the fact that this is a very young lad, doing very grown up things, for a very big club. 
We can argue the toss over how the owners should or shouldn't have acted in the January transfer window of 2021 (bit bored of that to be honest though), yet the fact remains Kabak was rushed in at the last minute.
His arrival brought excitement, it brought questions, and it brought hope. Hope that we have got at least one actual fit centre half.
Early performances turned those questions into doubt. His debut away to Leicester which saw him and Alisson Becker have a meltdown between them resulting in a goal, to his home debut against Everton which we won't go into for obvious reasons, had a lot of people writing him off after 180 minutes. 
It is easy to just say someone isn't good. It is easy to point out the mistakes and use them to back your argument. At times that can be valid, in all honesty. What is often more difficult is the ability to accept the context within which those bad things happen.
Is it reasonable to expect a 20-year-old lad, rushed through last minute from a struggling side in Germany, to a new country, to the Champions of England, to hit the ground running and cure all our defensive ills in the context of us being absolutely shite anyway before he came? I don't think it is.
Yet here we are again mentioning the C word (I mean context again).
The context has changed for Kabak, and for the rest of the side. Kabak has now been in the country for nearly two months, and has had nearly two months' worth training and being able to understand the requirements of operating in the Liverpool side.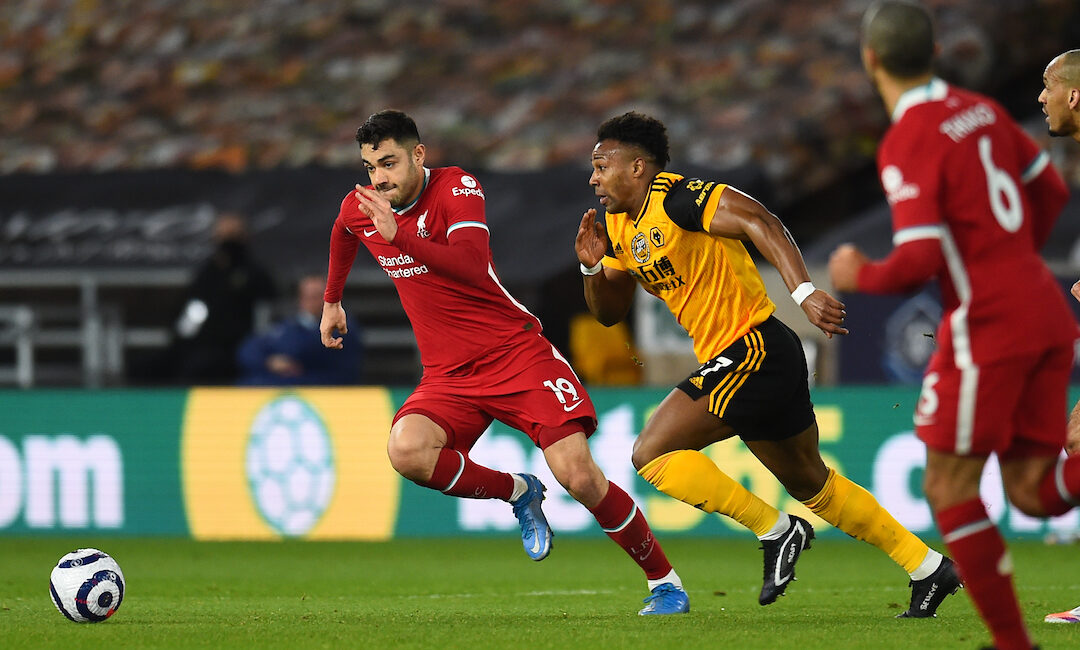 Players are also returning from injury, and key players are now able to play in their preferred roles; most notably Fabinho.
Having the best defensive midfielder in world football in front of you as a centre half must be a liberating experience. It is no secret that this dynamic has helped Kabak's performances. 
The budding partnership of not only two centre halves being able to play in their actual positions, but the emergence of Nat Phillips, the 'Bolton Baresi' who has shown he'd be willing to head an asteroid, has furthered the cause of the progression of Kabak and some recent positive results.
It would be naive to suggest that the young Turkish defender would retain his position as a starting centre back once the big guns return to the fold. Kabak may not even be a Liverpool player by then, but if recent performances are anything to go by, one could assume that a place in the squad would be his to keep in the future.
His loan deal from Schalke has an option to purchase for around £18million. In a world of insane, inflated, and eye-watering football transfer market prices, this price tag looks increasingly as though it would be one worth gambling on, and one that very much fits the FSG model of seasons past.
To the tune of "Young, Gifted, and Black" by Bob and Marcia, sing it with me…
"Young, Gifted, Kabak… And that's a fact!"
---
"The main reason we have to sign Kabak is that he sold his house! But I love that! I love the idea that he backs himself. " @johngibbonsblog is joined by @mxkes_, @HarrietEPrior, and @paul7cope!

🗣Weekender | Liverpool's Loan Rangers

Listen FREE 👉https://t.co/MDYcznAUea pic.twitter.com/OVejatLmdg

— The Anfield Wrap (@TheAnfieldWrap) March 19, 2021
Recent Posts: